Editor's note: You may want to read more of Autotrader's model vs. model comparison car reviews as well as the 2017 Honda CR-V review and the 2017 Ford Escape review.
The 2017 Honda CR-V represents a complete redesign for the best-selling SUV in the United States, while the third-best-selling 2017 Ford Escape receives key updates to help it remain competitive and appealing. Let's take a look at both to see which might be a better fit for you.
2017 Honda CR-V
The Honda CR-V was completely designed for 2017. It's now bigger and has more ground clearance, its driving experience is more refined, and its cabin offers improved quality and comfort. A new turbocharged engine option also improves fuel economy, while feature content has been bolstered.
Read our article — 2016 vs 2017 Honda CR-V: What's the Difference? — to learn about all the changes.
2017 Ford Escape
The changes are less substantial for the Ford Escape, but it was completely redesigned more recently than the CR-V, so the same level of change wasn't necessary. Styling has been tweaked a bit, there are new and updated engines, additional infotainment and safety features debut, and the cabin receives key updates that free up some much-needed small-item storage space.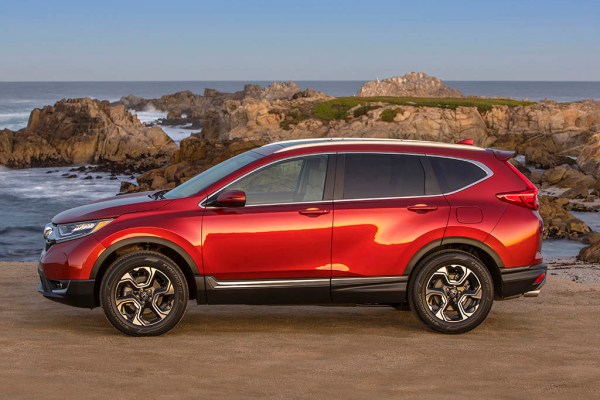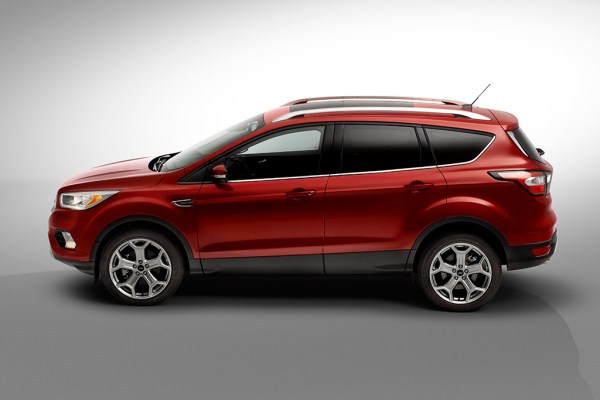 Reliability
The current-generation Ford Escape has elicited numerous customer complaints for its MyFord Touch infotainment system, but since the system's been replaced for 2017 with SYNC 3, we're expecting that to change. It's also had a fair share of recalls, but otherwise, reliability ratings have been quite good and customer complaints few.
The 2017 Honda CR-V is too new to have reliability data, but its predecessors have proven to be some of the most reliable cars on the road. We would expect that to continue, though Honda's touchscreen infotainment system has caused problems in recent models like the Civic and Pilot. The CR-V gets an updated version of this system, but problems are still possible.
Fuel Economy
Both the CR-V and Escape are available with different engine options, so you'll have to weigh their respective fuel economy, performance and cost to purchase. Not every engine is available on every trim level, either.
This is the first time the CR-V has been available with more than one engine option. The base LX is essentially the same engine as before: a 2.4-liter 4-cylinder that produces 185 horsepower and 181 lb-ft of torque. All other trims get a 1.5-liter turbocharged 4-cylinder that produces 190 hp and 179 lb-ft. As you can see, their output is similar, and although they do behave differently, fuel economy is the key difference. The base engine returns 26 miles per gallon in the city, 32 mpg on the highway and 28 mpg in combined driving with front-wheel drive (all-wheel drive lowers all figures by 1 mpg). The turbo engine returns a superb 28 mpg city/34 mpg hwy/30 mpg combined, but the difference is really only equal to about $50 in average annual fuel costs.
No matter which Ford Escape engine you choose, you'll get considerably worse fuel economy — although better performance is possible. It's best to ignore the base 2.5-liter 4-cylinder, since it has the worst performance and fuel economy of the bunch. Therefore, the 1.5-liter turbocharged 4-cylinder is the one to consider first. However, it produces less power (179 hp, 172 lb-ft) and returns worse fuel economy than either Honda engine (23 mpg city/30 mpg hwy/26 mpg combined with front-wheel drive).
The Escape's 2.0-liter turbocharged 4-cylinder is therefore more appealing. Yes, it's a bit less efficient (22 mpg city/29 mpg hwy/25 mpg combined), but its 245 hp and 275 lb-ft of torque provide a degree of performance that the CR-V, and indeed many competitors, cannot match. If you'll be routinely lugging around full loads of people and stuff, or just want an SUV with guts, the 2.0-liter EcoBoost Escape would be one of your best choices in this segment.
Safety
Besides the usual array of front and side airbags, the 2017 Escape features a standard driver knee airbag, blind-spot mirrors and Ford's MyKey system, which allows parents to set certain vehicle parameters for teen drivers. The CR-V doesn't come standard with any such extras, but the EX trim level and all others above it come standard with a forward-collision warning and auto-brake system, blind spot monitoring, rear cross-traffic alert, lane-keeping assist and adaptive cruise control. These features are options only on the top Escape Titanium, which the exception of blind spot monitoring and rear cross-traffic alert, which are standard on Titanium and included in the SE trim's Technology package.
The 2017 CR-V has yet to be crash-tested by a third party. The Escape received a perfect 5-star overall crash rating from the government as well as 5-star ratings for front and side protection. The Insurance Institute for Highway Safety gave the Escape a best rating of Good in all categories except for the newer, more stringent small-overlap front crash test, where it got a second-best Acceptable rating.
Technology
If you're looking at the least-expensive versions of the Escape and CR-V, you'll probably find Honda's basic array of buttons and knobs, and the large color screen, easier to use than Ford's confusing setup of buttons and the small, separate screen located higher up on the dash. Feature content is similar between the two, however.
Optional on the Escape SE trim and standard on the Titanium is the recommended SYNC 3 touchscreen interface. This isn't an overtly visually interesting or fancy system, but it makes sense and its virtual buttons are easy to press. It's also easier to use than the revised Honda touchscreen included on the CR-V EX and above. This updated Honda system adds welcome menu shortcut buttons and a volume knob to the otherwise similar system in the Civic and Pilot, but it's still slow to respond and can be convoluted.
The CR-V's feature content is more abundant above the base model. Beyond the various safety-tech items, the EX and higher trim levels include Apple CarPlay, Android Auto, satellite radio and four USB ports front and rear. You have to get the Escape SE's Technology package to get Apple CarPlay and Android Auto (satellite radio is standard on the SE and there are only two USBs up front), but if you can live without the safety extras, at least its total price is lower.
Interior Space and Quality
The 2017 CR-V makes up for its predecessor's unremarkable interior design and quality with a more premium appearance and improved materials. It's actually more in keeping with the Ford Escape, which has always impressed since its complete redesign for 2013. Less impressive was its dearth of interior storage up front — there was nowhere but the cupholders and the small armrest bin to keep your various odds and ends, including a smartphone. That has been corrected for 2017 with better cupholders and two smaller bins. The new CR-V is still a bit better, though, as its deep under-armrest bin and versatile movable tray better accommodate smaller and larger items alike.
For people and cargo, the CR-V has a clear advantage. Simply put, if you're looking to put these SUVs to family uses, the Honda is a much better choice. Its back seat is considerably larger for full-size adults, teens, and rear-facing child seats. The Escape can feel cramped when fully loaded. The CR-V's cargo area is actually bigger than the midsize Ford Edge's, and stands out with its low lift-over height. The Escape is still pretty useful, though, and its cargo area's boxier shape makes it a bit better for carrying around bulkier items or large dogs than some other small crossovers.
Driving Experience
The Ford Escape is one of the most engaging small SUVs to drive, possessing sharp steering and responsive handling that evokes the fun-to-drive Focus compact sedan. Its turbocharged engines also feel more energetic than the CR-V's, and we also appreciate the controlled ride. If you're coming out of a car, especially a sportier one, the Escape will probably feel like the better SUV to drive.
The 2017 CR-V is the more refined choice, however. Its ride is comfier and everything feels just a little more relaxed and isolated. Its handling is actually quite capable, but it doesn't really draw attention to itself — especially with the steering — as does the fun-to-drive Escape.
Value
Generally speaking, the Escape has lower prices and more options, while the CR-V includes more standard equipment and no options. This can make it tough to make apples-to-apples comparisons.
If you can get them similarly equipped, though, they tend to cost around the same. However, the CR-V provides more space, better resale values and makes its high-tech safety features more widely available. You'll also be saving more money on gas. So unless you desire the Escape's extra power, the Honda probably makes more financial sense.
Autotrader's Advice
The 2017 Honda CR-V is the more refined, grown-up and sensible purchase, especially for families. However, the 2017 Escape is more appealing to drive, offers more power and its high-quality cabin continues to impress. Both are excellent — it really depends on your needs.
Find a Used Honda CR-V for sale