Car Comparison
2017 Honda Ridgeline vs. 2017 Toyota Tacoma: Which Is Better?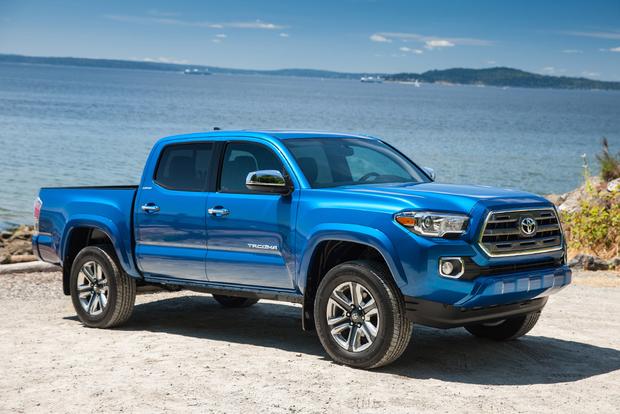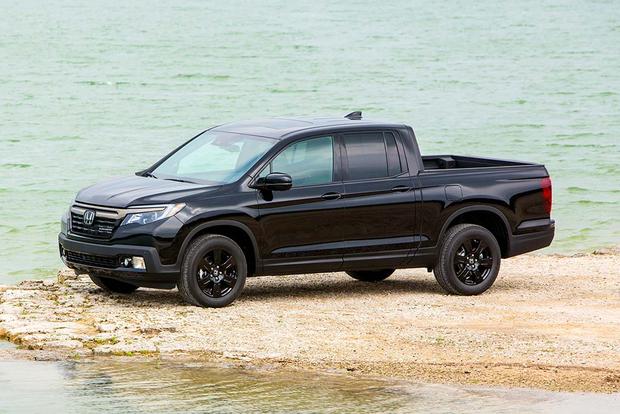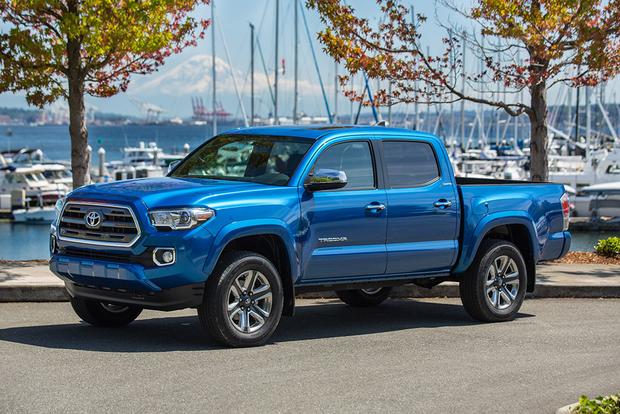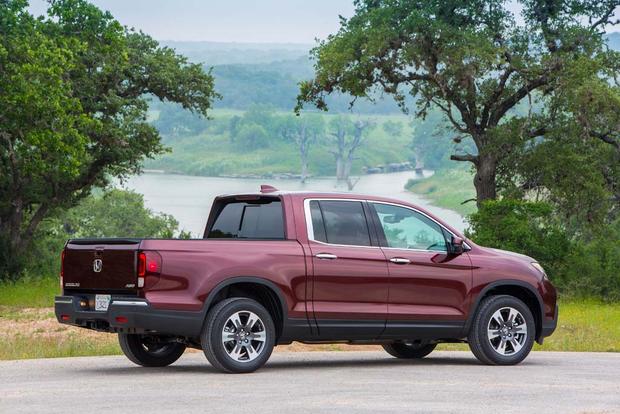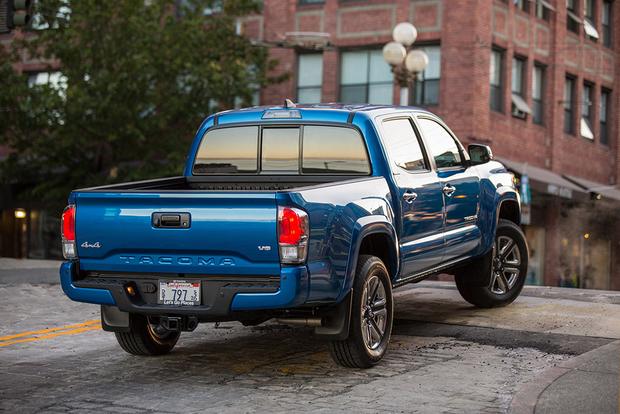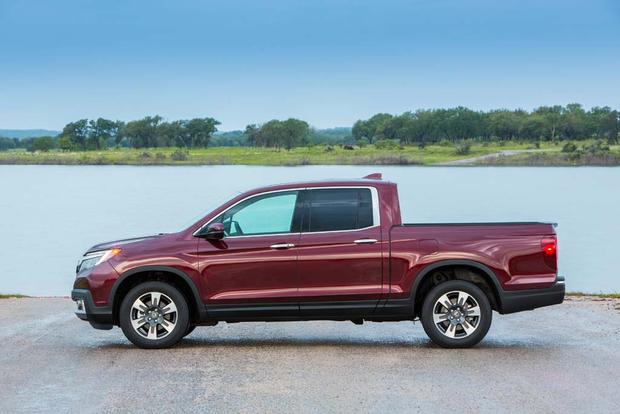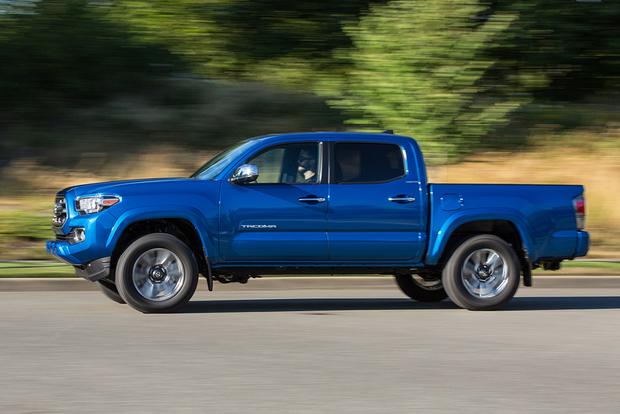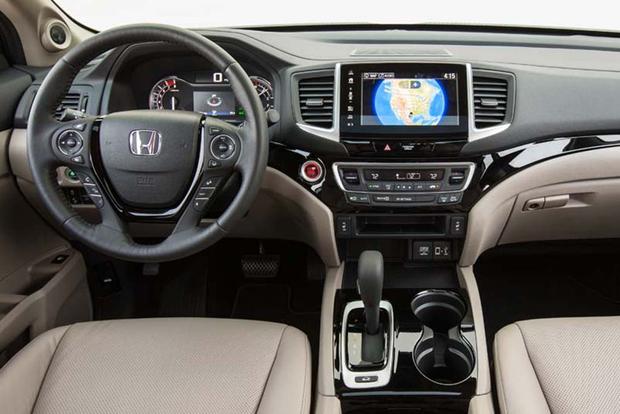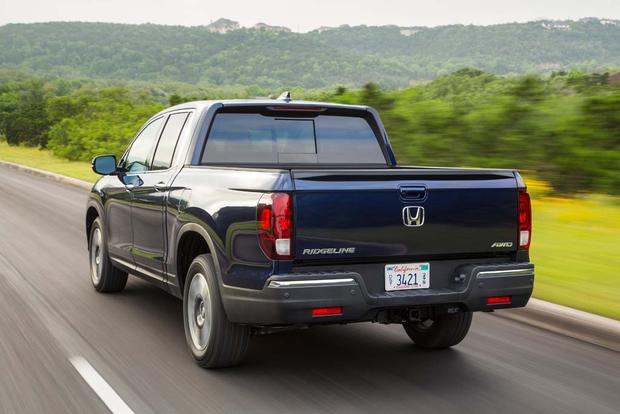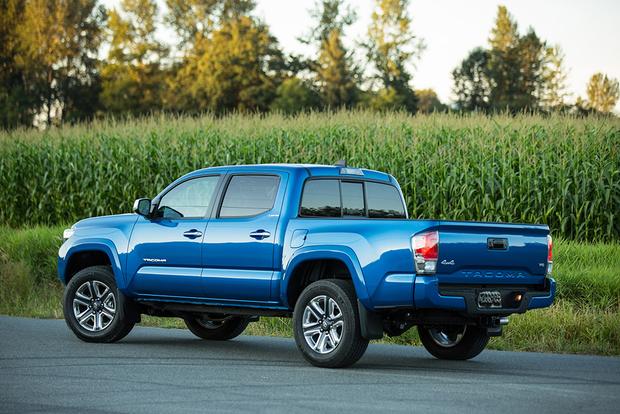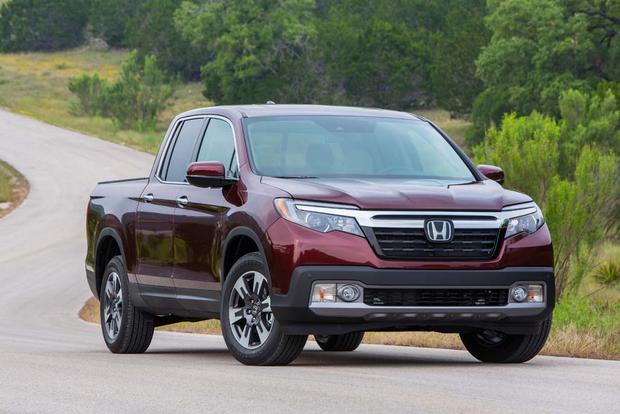 The 2017 Honda Ridgeline and 2017 Toyota Tacoma are both midsize pickup trucks, and many consider them to be competitors. However, they're fundamentally different in design, purpose and capability. In fact, many would argue the Ridgeline isn't a truck at all, since it features unibody construction indicative of a car or crossover. The Tacoma, like every other truck, consists of body and bed mounted atop a frame. Each approach is better suited to different types of truck buyers, so let's take a closer look to see which might prove a better fit for you.
2017 Honda Ridgeline
The Ridgeline is all new for 2017, representing a complete redesign from its predecessor. Principally, it has a more conventional look outside and a plusher interior borrowed almost intact from the Pilot crossover SUV, which it shares a great deal with. Fundamentally, though, the Ridgeline maintains its predecessor's unique features and crossoverlike construction, bringing both advantages and disadvantages.
2017 Toyota Tacoma
For 2017, the Tacoma adds a new TRD Pro trim with tougher looks and greater off-road capability. Otherwise, the Tacoma goes unchanged after a redesign last year that saw revised styling, a new V6 engine, modern interior design and features and a relatively quieter, more comfortable driving experience.
Reliability
The Honda Ridgeline is an all-new vehicle, so apart from its touchscreen infotainment screen eliciting complaints from the owners of other similarly equipped Honda vehicles, we can only go by its predecessor's sterling reliability history. The last-generation Tacoma was also exceptional, but owners have reported problems with the model's new powertrain.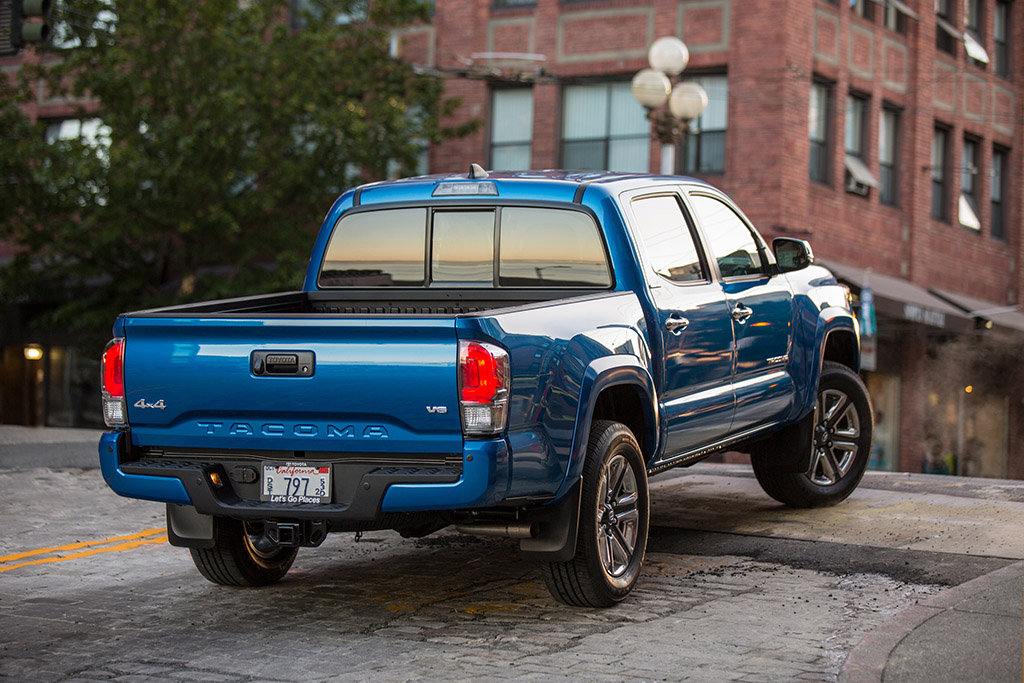 Fuel Economy
According to the Environmental Protection Agency (EPA), the Ridgeline returns 18 miles per gallon in the city, 25 mpg on the highway and 21 mpg in combined driving. That's with optional all-wheel drive, which differs from the driver selectable 4-wheel-drive (4WD) system found in the Tacoma. Another point of difference is the unique, standard front-wheel drive that returns an extra mpg in each driving cycle.
The Tacoma comes standard with a 4-cylinder engine, but let's focus on the more popular V6, since its fuel economy is essentially equal, and its power aligns more closely with the Ridgeline. A manual transmission is also standard, but choosing it essentially lowers your fuel economy by 2 mpg. With the V6, an automatic and 4WD, the 2017 Tacoma returns an EPA-estimated 18 mpg city/23 mpg hwy/20 mpg combined. Opting for rear-wheel drive tacks on an extra mpg in each cycle.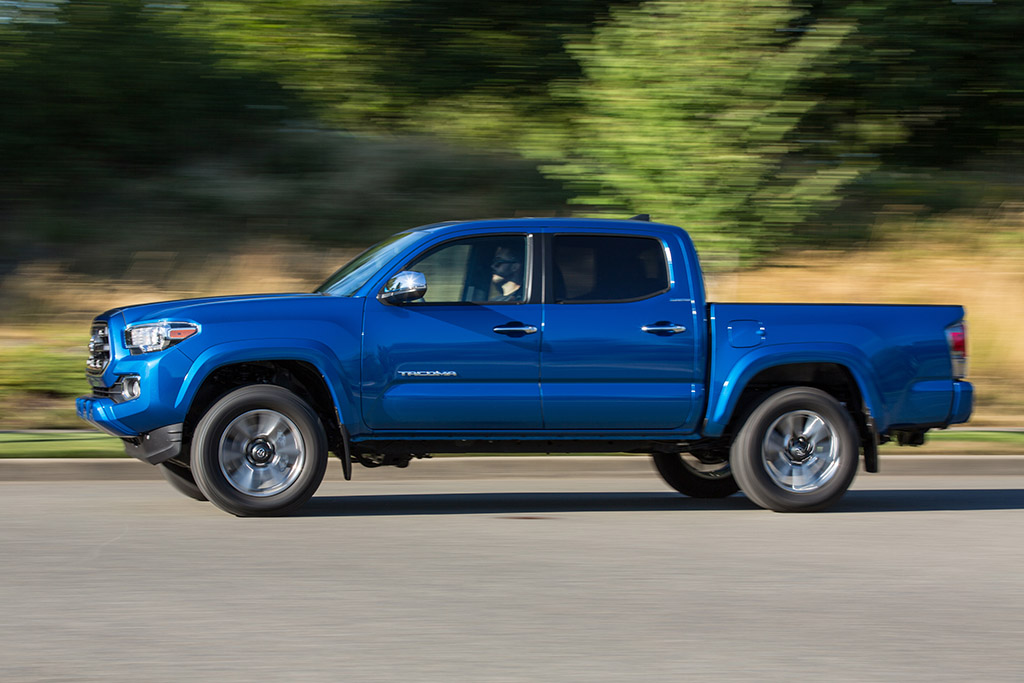 Performance and Towing
In terms of engine specs and manufacturer-reported curb weight, the 2017 Ridgeline and 2017 Tacoma Double Cab are remarkably similar. The Honda has a 3.5-liter V6 producing 280 horsepower and 262 lb-ft of torque, while the Toyota's optional 3.5-liter V6 produces 278 hp and 264 lb-ft of torque. Each also has a 6-speed automatic transmission, although the Tacoma comes standard with a 6-speed manual, and both differ in their drivetrains. (Read more about the differences between 2-, 4- and all-wheel drive).
When it comes to towing, the V6-powered Tacoma owns the advantage with a capacity of between 6,400 and 6,800 pounds, depending on cab and drivetrain. By comparison, the Ridgeline can manage only 5,000 pounds, which is about what you can expect from a large family crossover.
Off-Roading
The Ridgeline's all-wheel-drive (AWD) system is well suited for those who need extra traction for snow and ice. It has special settings for mud and sand, but those change throttle and traction control response, as well as the AWD system's front/rear, left/right torque split. Its ground clearance of 7.87 inches and approach angle of 20.1 degrees are greater than your typical crossover or SUV, and only the biggest obstacles and the steepest, nail-biting descents are likely to cause scraping.
The Tacoma, however, eats its lunch off-road. If you're looking to get your truck dirty, this time-honored Toyota pickup is likely your best option, period. It has a huge 9.4-inch ground clearance, and its approach angle is between 29 and 32 degrees. Certain models, specifically the TRD Sport and TRD Pro, have dedicated off-road-ready suspensions and tires, plus a locking differential, a terrain select system (similar to Honda's system but generally more capable) and a Crawl Control feature that essentially functions as an off-road cruise control.
Safety
The Tacoma Crew Cab received four out of five stars from the government for overall crash protection. The Insurance Institute for Highway Safety gave it the best possible rating of Good in the moderate-overlap front and side crash tests. The Ridgeline has yet to be crash-tested by a third party, but it does offer advanced accident-avoidance technologies not available on the Tacoma (apart from available blind spot warning).
Interestingly, the Tacoma has rear drum brakes, versus the rear discs found on the Ridgeline and most other trucks. Expect brake performance to be inferior to the Ridgeline's, especially when equipped with off-road tires.
Technology
Every Toyota Tacoma comes standard with a user-friendly touchscreen interface, but there are 6.1- and 7-in screens available, depending on trim and option packages. The Ridgeline comes standard with a traditional system of radio buttons and a display screen, but it can be upgraded with a touchscreen that has drawn abundant criticism from reviews and Honda owners alike. Simply put, it can confuse, frustrate and distract. However, Honda does offer features like Apple CarPlay, Android Auto, adaptive cruise control and the previously mentioned advanced safety tech not available on the Toyota. It can also be equipped with four USB ports versus the Tacoma's single USB.
Comfort and Utility
A major difference between these two trucks is the bed and cab designs. The Tacoma is available with an Access Cab that features a pair of vestigial rear jump seats and rearward-opening doors, as well as the Double Cab with conventional back seat and doors. The latter is available with 60.5- and 73.7-in bed lengths. The Access Cab only has the longer bed. Depending on drivetrain, the Double Cab's maximum payload is 1,115 pounds, while the Access Cab's is 1,540 pounds.
The Ridgeline is available only with the equivalent of a crew cab and a 64-in bed length. It actually has a greater maximum payload than the Double Cab, between 1,465 and 1,580 pounds, depending on drivetrain and trim level. It also has some tricks up its sleeve. Its dual-action tailgate (flips down and swings out) allows for an easy step up to the bed and easy access to the deep, trunklike well that serves as securable storage or a drainable cooler (that, along with the available integrated speakers, makes it great for tailgate parties). This clever utility carries over inside with a flat rear floor and versatile storage bins up front that greatly better those found in the Tacoma.
When it comes to comfort, these two trucks aren't even close. The Ridgeline's crossoverlike construction grants it a plush ride free from the rigid, bouncy body motions offered by the Tacoma, which only get worse when its off-road trim levels are specified. The Honda's cabin is also exponentially more comfortable and spacious than the Tacoma Double Cab's, not only in the back seat, but up front, too. Not only does the Ridgeline offer a highly adjustable driver seat, but the Tacoma has an awkward, incredibly low driving position with no height adjustment.
Value
The Tacoma's available Access Cab, 4-cylinder engine, manual transmission and sparser base trim level means its base price is about $5,000 lower than the Ridgeline's. However, the difference between a base Ridgeline AWD and a base V6- and automatic-equipped Double Cab 4x4 is less than $2,000. Considering the Honda's greater equipment, refinement, space and comfort, there should be compelling comparative value for many buyers. If you value the Tacoma's off-roading and towing capabilities, its value is obvious. Really, price shouldn't play that much in your decision.
Autotrader's Advice
For those in need of traditional truck capabilities, the Toyota Tacoma is the way to go. It can venture places off road the Ridgeline would cower from, its available long bed allows you to carry larger objects and its greater towing capacity should allow you to bring along heavier toys. However, for those more interested in a truck's look and added bed capability, the Ridgeline has sufficient capability for most, plus superior driving manners and an abundance of clever features. Its greater comfort and space also make it a better choice for families.
Find a Honda Ridgeline for sale