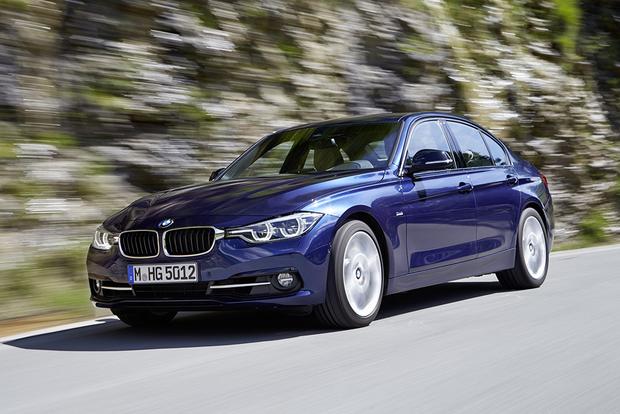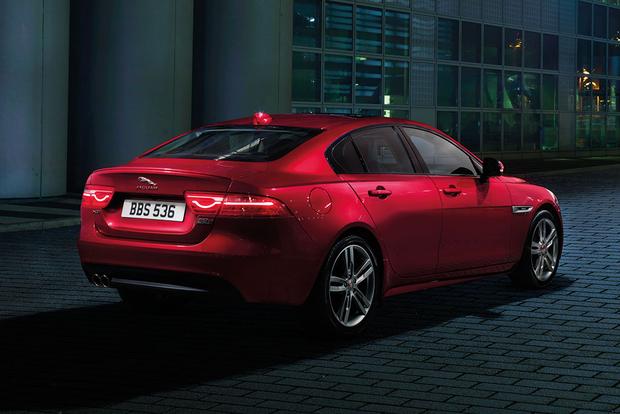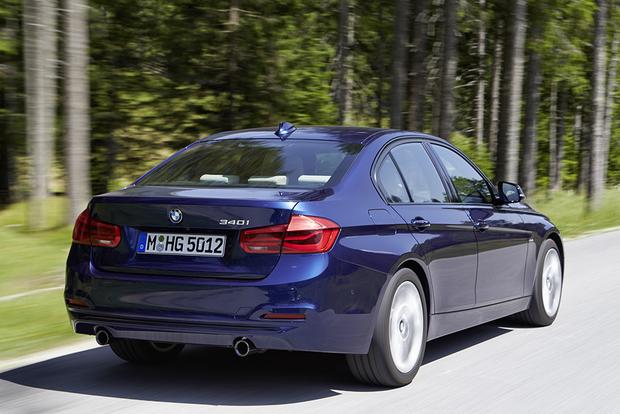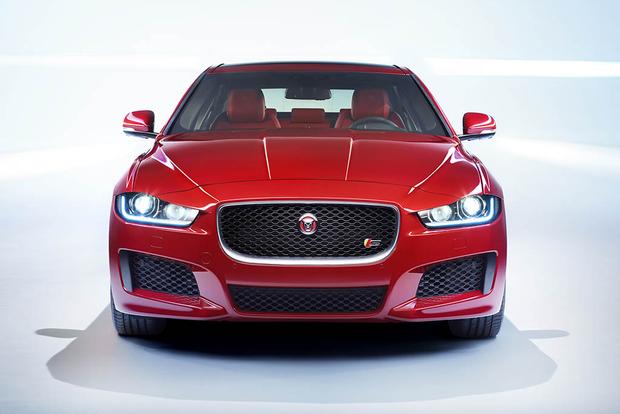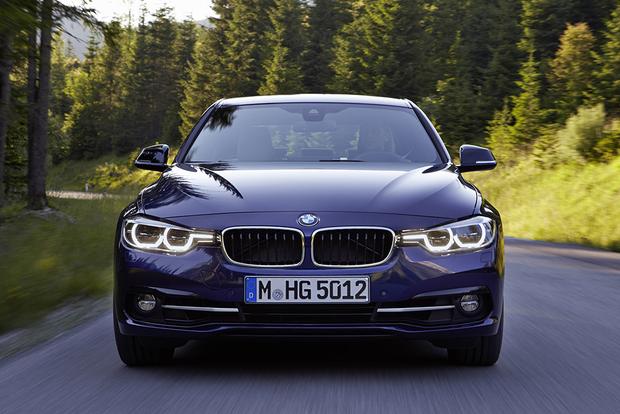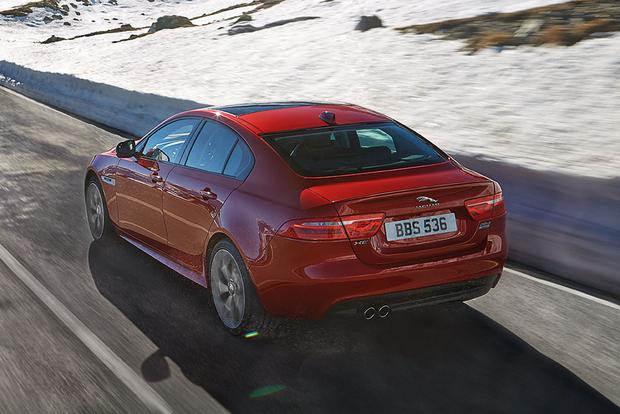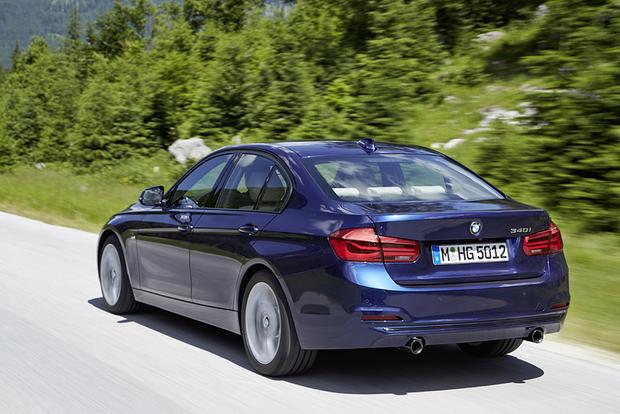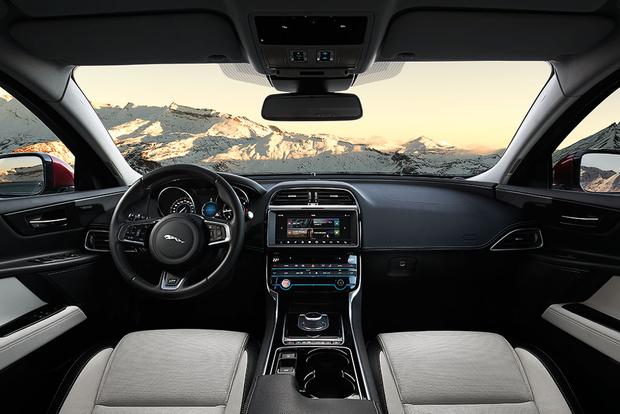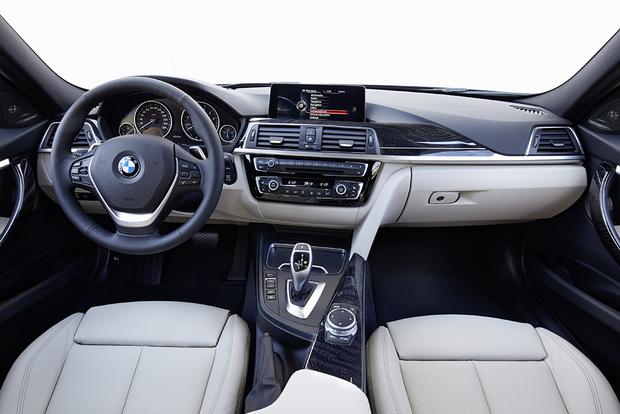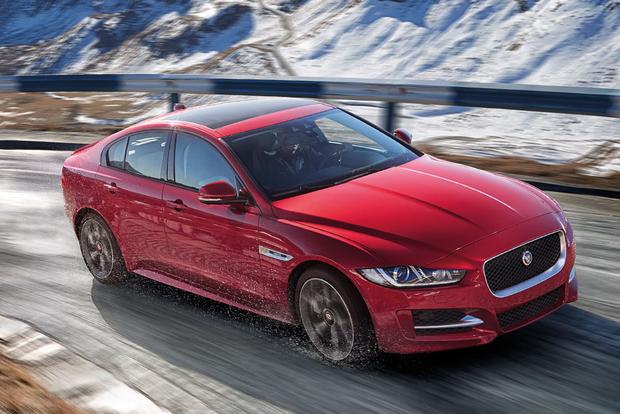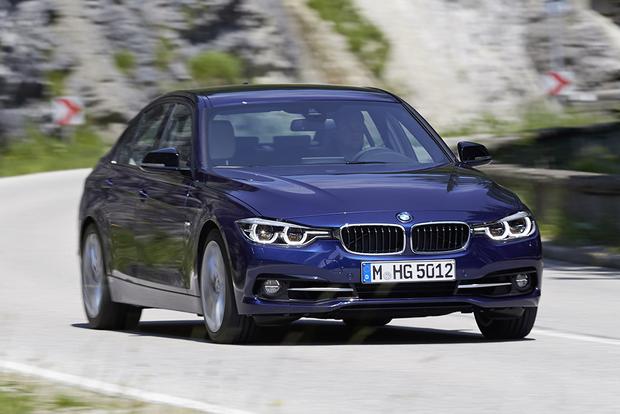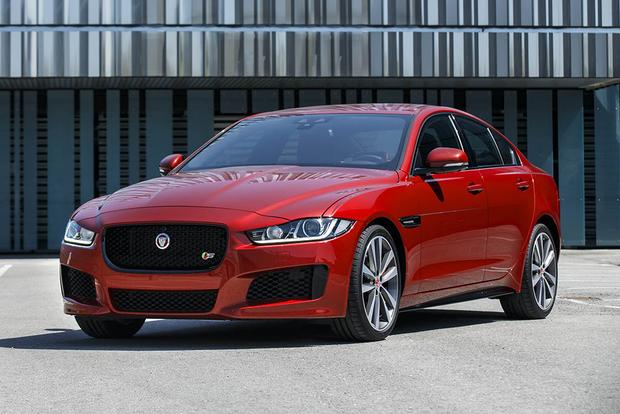 As it's a British car, it seems fitting to put the 2017 Jaguar XE into royal terms: It's a challenger to the throne. The king would be the 2017 BMW 3 Series, the latest, updated version of what has been the sport-sedan benchmark for decades. Contenders and pretenders have come and gone, and the 3 Series itself isn't as spry as it once was, but it remains atop the throne. Does the XE have enough of what it takes to carry out this metaphor? Let's take a look to see which might be better for you.
2017 Jaguar XE
The Jaguar XE is an all-new luxury sport sedan.
2017 BMW 3 Series
For 2017, the midlevel 3 Series gets a new engine and a name change, to 330i. The 340i now comes standard with the M Sport package, but one can still specify the less aggressive Sport and Luxury packages as no-cost extras. The iDrive tech interface has been updated as well, while Apple CarPlay can be added as an option.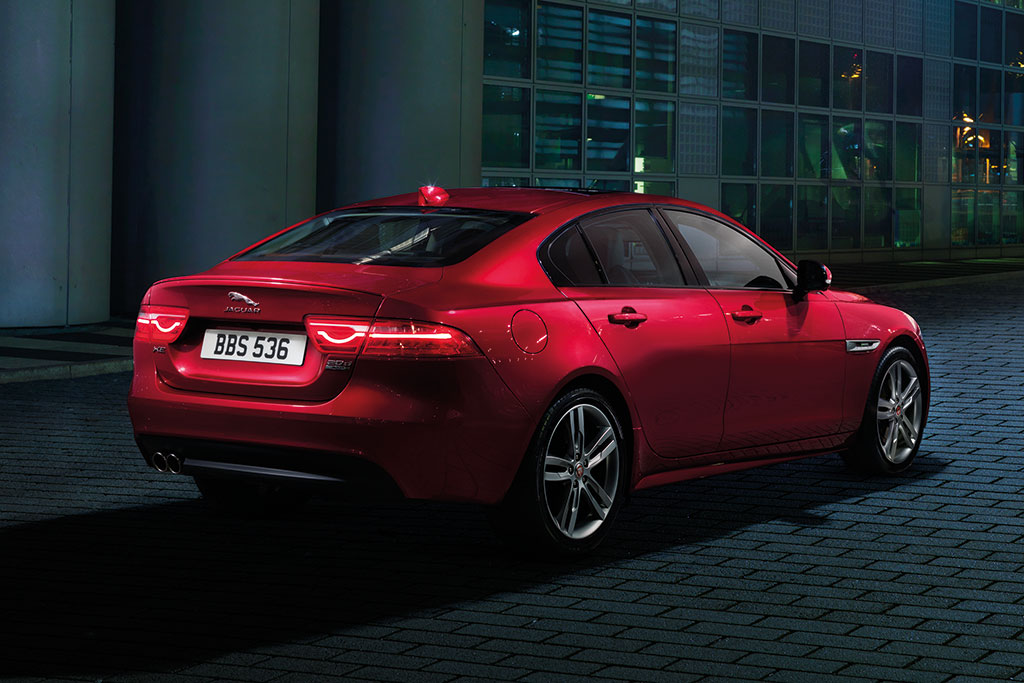 Reliability
Reliability data for the just-released XE is nonexistent, while Jaguar data is rather thin altogether due to relatively low sales in the past. Owner satisfaction scores have been quite high for Jaguar, however, and the brand's 5-year warranty is best-in-class. As for the BMW, reliability data would indicate that the current-generation 3 Series has been reasonably trouble-free, but as history has shown, once BMWs get beyond a certain age (say, five or more years), pricey repairs tend to be the norm. It has a 4-year warranty.
Performance
The BMW 320i and 330i are powered by different 2.0-liter turbocharged 4-cylinder engines producing 180 horsepower and 248 hp, respectively. This difference in power equates to about a 2-second difference when accelerating from zero to 60 mph -- that's considerable. Acceleration from the 328d diesel-powered model would be similar to the 320i, but its fuel economy (see below) would be much better. The range-topping 340i has a turbocharged 3.0-liter 6-cylinder that produces 320 hp and 330 lb-ft of torque. Despite having less power than Jaguar's 35t model, the 340i punches well above its weight class, and with all-wheel drive (optional on both cars) can hit 60 mph in around 4.5 seconds -- which is really quite astonishing.
The Jaguar XE has a similar engine lineup. Though lacking a 320i competitor, its base 25t model has a 2.0-liter turbocharged 4-cylinder that produces 241 hp. It's unlikely to be as quick as the 330i, however, and its worse fuel economy would lead us to suggest one of the XE's other two engines. If you're interested in fuel economy, the XE 20d model produces the same 180 hp as the diesel BMW, but its potent 318 lb-ft of torque -- versus the 328d's 280 lb-ft -- should make it feel quicker. For performance, the XE 35t's smooth 3.0-liter supercharged V6 betters the BMW with 340 hp and 332 lb-ft, yet is ultimately a bit slower. That's relative, though, as no one would ever call it slow.
Fuel Economy
Despite their considerable power differences, the 320i and 330i have nearly the same fuel economy ratings. With an automatic and rear-wheel drive, the Environmental Protection Agency says the 320i will return 23 miles per gallon in the city, 35 mpg on the highway and 28 mpg in combined driving. The 330i gets 23 mpg city/34 mpg hwy/27 mpg combined, which really is astonishing given how quick it is.
The Jaguar XE 25t is considerably lower, at 21 mpg city/30 mpg hwy/24 mpg combined. Interestingly enough, though, the XE 35t actually gets the same EPA estimates as the 25t. That's pretty good, but again, the BMW 340i outdoes it with 21 mpg city/32 mpg hwy/25 mpg combined.
If you're really interested in fuel economy, the diesel engines are the way to go. The EPA says the XE 20d will return 32 mpg city/42 mpg hwy/36 mpg combined, which is fantastic. There are not yet estimates for the 2017 328d, but expect them to be similar to last year's ratings of 31 mpg city/42 mpg hwy/35 mpg combined.
Driving Experience
If you're looking for a sport sedan that delivers superior steering feel, sharp handling and an altogether ample dose of engagement, there's a very good chance you'll actually prefer the Jaguar XE. It gets even better with the highly recommended adaptive suspension, which ups its road-holding capability while also assuring a comfortable ride at all times. There's a level of driver-car communication present in the XE that used to be the BMW trademark.
That last statement is in the past tense because the 3 Series is not the sport sedan it once was. It's more comfortable and isolating now, reflecting an effort to attract a wider audience. As such, there's a decent chance that those interested in a luxury sedan rather than a sport sedan will appreciate the 3 Series. Still, the BMW is the one that offers a manual transmission, its engines deliver superior acceleration and its handling is still excellent in the grand scheme of things. It's less fun than the Jag, but ultimately better rounded.
Safety
Apart from the BMW's standard knee airbags, there really isn't anything special about either car's standard array of safety equipment. In terms of accident-avoidance tech, both can be equipped with optional blind spot monitoring and lane-departure, rear cross-traffic and forward-collision warning systems, plus automatic emergency braking. The Jaguar also can be had with a driver-inattention monitor. These items aren't available on the base XE or 320i.
The XE has yet to be crash tested by a third party, but the 3 Series received a 5-star overall government crash rating. It received Good ratings from the Insurance Institute for Highway Safety in all tests other the newer, more stringent small-overlap front crash test, where it got a second-worst Marginal.
Interior Space and Quality
Neither the XE nor the 3 Series has an interior that would be deemed outright luxurious, though the Jag may be a tad more visually interesting. The Jag's cabin is of a much lower quality, however, as the materials on the doors and dash look and feel as if they belong in a non-luxury vehicle. The uppermost R-Sport trim improves this, but the 3 Series doesn't suffer such a gulf between models. It's either nice or nicer.
The BMW also has considerably more interior room, especially in the back seat, where a pair of tall adults can sit front-to-back. In the Jag, few could fit behind a driver of even above-average height.
Technology
The XE offers a choice of touchscreens. The optional InControl Pro is the one to get, as it has an especially wide 10.2-inch touchscreen, quick processing, and the ability to pinch and swipe as you would on a smartphone. Its audio controls are a bit convoluted, but in total, it works better than the comparatively antiquated standard 8-in InControl system.
Every 3 Series comes with the iDrive interface, which consists of a 6.5-in dashtop screen and a knob-button controller on the center console. It can be upgraded with an 8.8-in screen that brings with it an upgraded controller that allows you to input finger-written letters and numbers. Unlike the Jag, you also have the option for Apple CarPlay. In general, iDrive may take longer to figure out than the Jag's touchscreen, but it's ultimately easier to use.
Value
The BMW has the lower base price ($33,450 versus $34,900), but that's for the less powerful 320i model. Both are similarly equipped. The BMW 330i is comparably equipped to the XE 25t Premium trim level, but costs more, at $38,750 versus $37,500. That gap is probably tolerable given the BMW's superior acceleration, fuel economy, interior quality and space.
The price difference between the 328d and the comparably equipped 20d Premium is similarly about $1,000, but at least in this case the Jag is comparable (or better) in terms of performance and fuel economy. Finally, if you really want a powerful engine, it's much easier to achieve that in the XE 35t, which starts at $41,700 versus the 340i's base price of $47,900. The BMW is a bit better equipped, but not $6,200 better. The Jag also has a longer warranty.
Autotrader's Advice
The BMW 3 Series is the better all-around luxury sedan, especially when you consider its tremendous best-of-both-worlds engines that manage excellent acceleration and fuel economy. The Jaguar XE, and especially the 35t, is arguably the better sedan to drive. Its sleek styling should also stand out in a crowd that's used to the BMW's very familiar face. Really, give them both a chance.