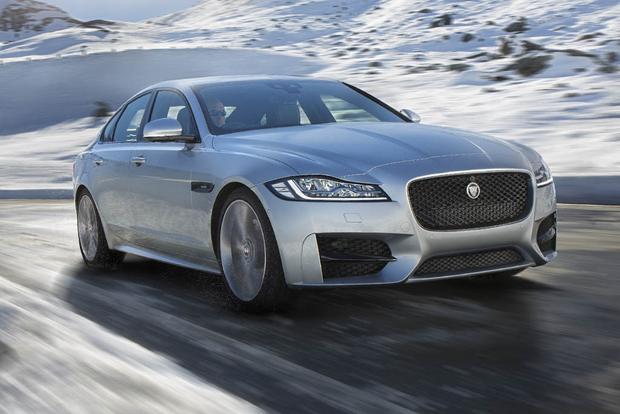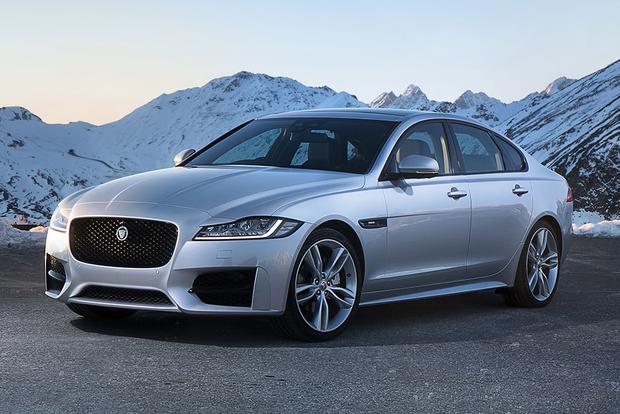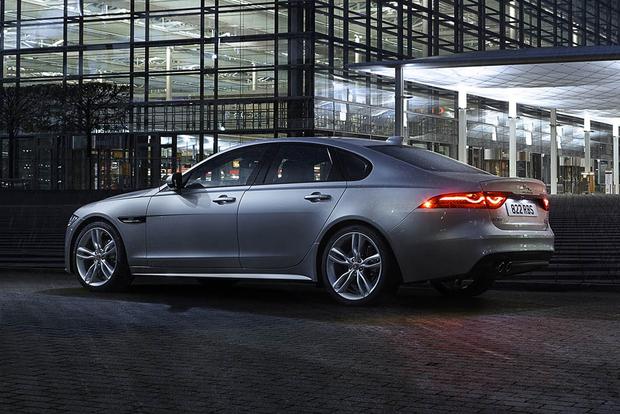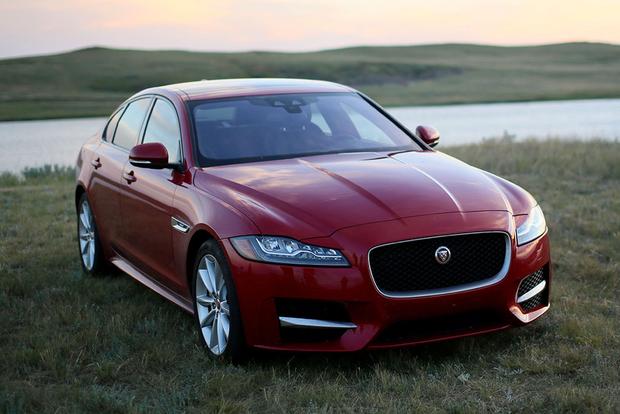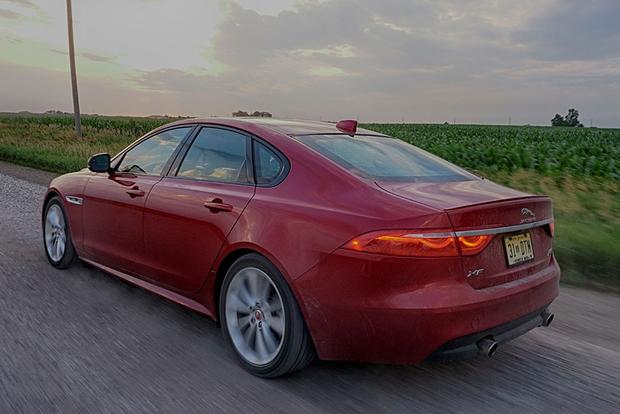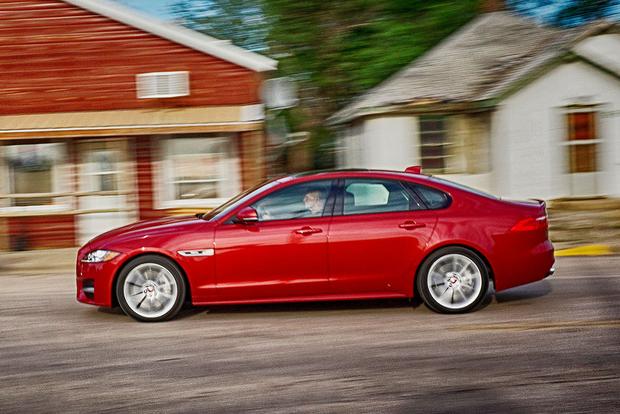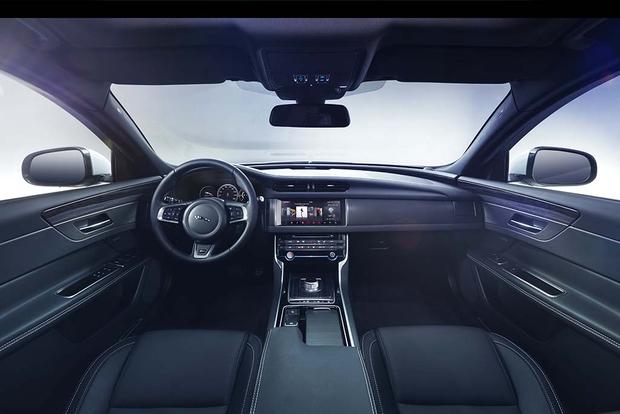 The good things about the 2017 Jaguar XF are arguably true for all premium midsize sedans. They're just the right size for passenger space and road presence, but not so big as to be unwieldy when the corners come up. They're comfortable and quiet for long trips, yet kind of fun for quick errands. They're also full of the cutting-edge technology that mainstream cars will start to get in a few years.

In this crowded and spoiled-for-choice class, the Jaguar XF still manages to retain and project its own personality. It looks distinctive enough, with the kind of visual impact a high-dollar car should have. But that's only the first chapter. The rest of the story is just as compelling. Here's a taste -- the XF recently won an award in Germany for best sedan. Considering how excellent the competition from that country can be, this is quite an accolade.
What's New for 2017?
A second generation debuted for 2016, so the only significant development is the addition of a 2.0-liter turbocharged 4-cylinder diesel engine.
What We Like
Handsome styling; excellent interior; comfortable seats; fine handling; great new technology.
What We Don't
Design not drastically different from that of the previous generation; rearview camera should be standard throughout the range; advanced safety aids only available in higher trims.
How Much?
$48,445 to $63,695
Fuel Economy
The same supercharged 3.0-liter V6 gasoline engine comes in two states of tune: 340 hp or 380 hp. Both have 332 lb-ft of torque.

According to the Environmental Protection Agency (EPA), that extra power has no consumption penalty. Both rear-drive versions are estimated to achieve 20 miles per gallon in the city, 29 mpg on the highway and 23 mpg in combined driving. The optional all-wheel-drive system cuts highway mileage to 28 mpg.

The diesel engine is a turbocharged 2.0-liter/4-cylinder unit generating 180 hp and a useful 318 lb-ft of torque. With rear-wheel drive, EPA estimates are 31 mpg city/42 mpg hwy/35 mpg combined. All-wheel drive adjusts those numbers to 30 mpg city/40 mpg hwy/34 mpg combined.

Every XF has an 8-speed automatic transmission.
Standard Features & Options
The 2017 Jaguar XF comes in base, Premium, Prestige, R-Sport and S trim levels.

The base XF ($48,445) starts out with the diesel engine (badged 20d), along with xenon headlights, LED daytime running lights and taillights, an 8-inch touchscreen, Bluetooth, an 11-speaker Meridian sound system, dual-zone automatic climate control, dual power front seats, leatherette upholstery, a leather-wrapped steering wheel, a power sunroof, 18-in alloy wheels, a rearview camera, a USB port, automatic wipers and headlights, and driver's seat and mirror memory settings. The gasoline V6 is about $3,000 extra.

The Premium ($50,545) adds a power-adjustable steering wheel, a rearview camera, self-dimming side mirrors, and memory settings for the driver's-side functions (seat, mirrors and steering wheel).

The Prestige ($55,195) brings 19-in alloy wheels, keyless access with push-button start, heated front seats and steering wheel, full leather upholstery, front and rear parking sensors, and a navigation system with voice control and app integration.

The R-Sport ($59,295) has adaptive LED headlights, special-design 19-in alloy wheels, sport seats, styling upgrades, satellite radio and an array of high-tech safety features, including automatic high beams, lane-keeping assistance, blind spot monitoring, forward-collision warning with automatic braking, and rear cross-traffic alert.

Topping the range is the S ($63,695), which enjoys the 380-hp V6 exclusively, 20-in wheels, sportier interior and exterior styling cues, an adaptive suspension and memory settings for the front passenger seat.

Some standard features in higher trim levels are available in lower trims. Other options include a heated steering wheel, heated rear seats, cooled front seats, a larger touchscreen, a head-up display, mobile Wi-Fi, a 17-speaker sound system, quad-zone automatic climate control, a power-operated trunk lid, a power rear sunshade and a driver assistance package that features self-parking, a 360-degree camera system and adaptive cruise control.
Safety
Standard items include side curtain airbags, anti-lock brakes and traction control. As mentioned earlier, a rearview camera would have been nice in the base model (if anyone actually buys a basic premium car), and the advanced safety features only become available at higher trim levels.

The options list includes many advanced driver aids, such as rear cross-traffic alert, automatic high beams, LED headlights, an automated parallel-parking system, lane-keeping assistance and a 360-degree camera system.

The XF has not been crash-tested by the National Highway Traffic Safety Administration (NHTSA) or the Insurance Institute for Highway Safety (IIHS).
Behind the Wheel
As good as the XF looks from the outside, slipping into the driver's seat produces another pleasure -- luxury. Supremely comfortable seats with visible stitching on the leather edges offer support and power adjustment. As befits a performance car, the seating position is low and precisely aligned with the controls. Thanks to a wheelbase longer than the first generation's, rear passengers benefit from ample legroom, yet the coupelike profile doesn't encroach on headroom, even for tall adults.

The diesel engine's low-end push is enjoyable, with maximum torque kicking in at just 1,750 rpm, but it tends to run out of strength at higher speeds. If there's a definable Jaguar characteristic of seemingly effortless power and smoothness, the diesel doesn't quite fit the mold.

So the real choice is 340 or 380 hp from the gasoline V6. If it matters, the 340-hp XF is slower from standstill to 60 mph by 0.1 of a second, clocking in a 5.2 seconds. Quick, but neither version is exactly breathtaking.

One welcome aspect is the subtle intervention of the driver-assistance technologies. Whereas German systems tend to be forceful, Jaguar's approach is to give more of a helping hand and not assume the driver is a fool.

The suspension is a joy -- supple, flowing and precise. Combined with well-tuned electric power-assisted steering, the XF has the responses of a much smaller and lighter car.
Other Cars to Consider
2017 Audi A6 -- The A6 or the A7 both offer optional all-wheel drive, a comfortable ride and handsome designs inside and out.

2017 BMW 5 Series -- A new generation debuts for 2017. The 5 Series is traditionally at or near the top of this class, so the 2017 model is a serious contender.

2017 Cadillac CTS -- Anyone checking out a Jaguar is undoubtedly looking beyond Germany for their next car, and their time would not be wasted by test driving a CTS.

2017 Lexus GS -- Surprisingly fun for a Lexus, yet stays true to the usual qualities of excellent build and generous standard equipment.

2017 Mercedes-Benz E-Class -- Also new for 2017. Plenty of new technology on board, including semi-autonomous driving assistance. Plus the usual E-Class attributes of style, space and sophistication.

Used Mercedes-Benz S-Class -- The S-Class is far more than a luxury car -- it's a statement. For new XF money, an S-Class version from the generation before the current model is totally affordable.
Autotrader's Advice
Take a midlevel Prestige, add a few choice safety and technology options, and it becomes a well-equipped, high-tech Jaguar for around $65,000 -- not bad for a brand-new luxury car. By all means, get the more powerful V6, but the difference in real performance is negligible.