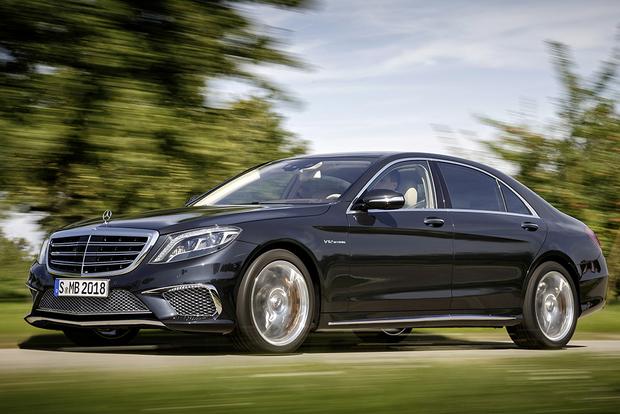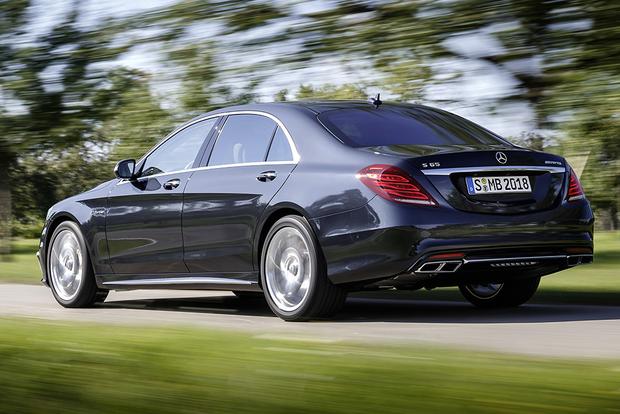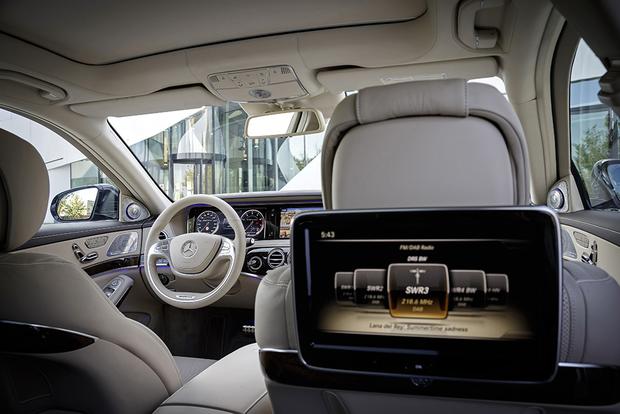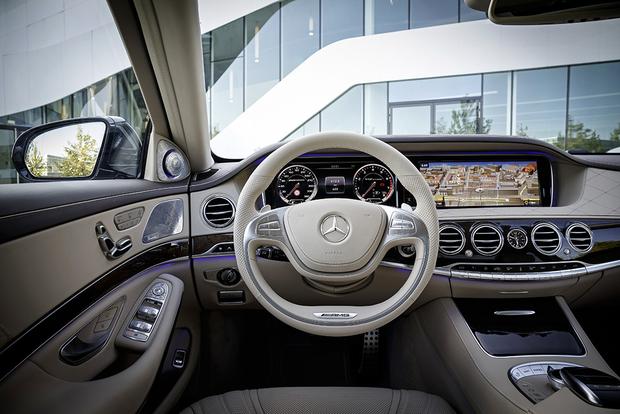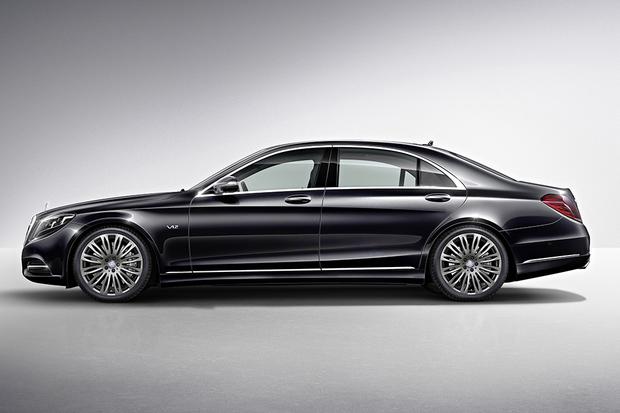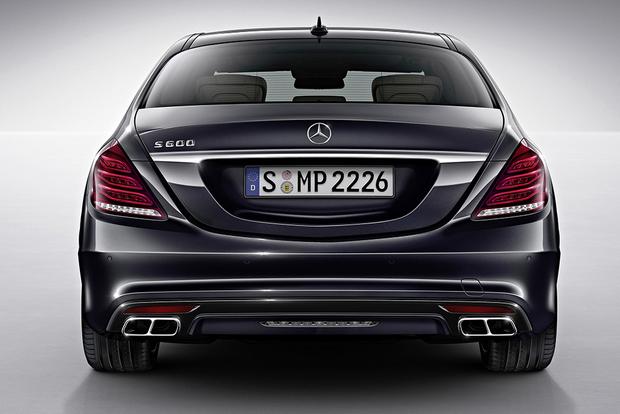 The 2017 Mercedes-Benz S-Class spreads its considerable wings to encompass high-performance soft-tops and long-wheelbase, super-luxurious all-wheel-drive sedans. This is the flagship among flagships, embodying everything Mercedes-Benz has stood for throughout its 100-year-plus history: absolute sophistication, peerless engineering, crushing power and cutting-edge technology.

There are so many features it would take a book to cover them all. The seats don't just offer a massage function -- it's a "hot stone" massage. Fragranced, ionized air wafts through the vents. There's a system that makes speed humps virtually disappear.

As we approach the era of autonomous cars, the S-Class already has several functions. Adaptive cruise control, active steering, blind spot monitoring and collision prevention can all work together to help keep occupants, other road users and animals free from harm.

The S-Class is also a complete pleasure to drive and sit in. The ride is unruffled, the hand-crafted cabin is serene and the engines feel effortless. The range includes cabriolets (convertibles), coupes and, naturally, sedans. This is far more than any rival can offer.
What's New for 2017?
The cabriolet variant is new. So is the Mercedes-Maybach S550 4Matic. A 9-speed automatic transmission is now in S550 models, and the sedan has the option of Magic Sky Control for its sunroof (where it can go darker or lighter at the touch of a button). The previously optional Sport appearance package for the S550 coupe is now standard, along with AMG-design 19- or 20-inch alloy wheels.
What We Like
Tech features galore; amenities we never knew we needed; astonishing acceleration; confident handling; impeccable refinement; attention to the finest details.
What We Don't
Infotainment interface can complicate simple tasks.
How Much?
$97,825 to $248,825
Fuel Economy
The S550 has a twin-turbocharged 4.7-liter V8 making 449 hp and 516 lb-ft of torque. This connects to a 9-speed automatic transmission. The Environmental Protection Agency (EPA) puts fuel consumption for the rear-drive sedan at 18 miles per gallon in the city, 26 mpg on the highway and 21 mpg in combined driving. All-wheel drive (called 4Matic) adjusts those figures to 16 mpg city/25 mpg hwy/20 mpg combined. The all-wheel-drive S550 coupe returns 17 mpg city/25 mpg hwy/20 mpg combined.

The S550e plug-in hybrid has a turbocharged 3.0-liter V6 and an electric motor for a total of 436 hp and 470 lb-ft of torque. A 7-speed automatic transmission sends drive to just the rear wheels. The electric-only range is 12 miles and the EPA estimates miles per gallon equivalent (mpge) figures of 54 mpge city/63 mpge hwy/58 mpge combined, or 24 mpg city/30 mpg hwy/26 mpg combined when using just the combustion engine.

The S600 deploys a twin-turbo 6.0-liter V12 developing 523 hp and 612 lb-ft, connected to a 7-speed automatic transmission. Consumption is 13 mpg city/22 hwy city/16 mpg combined.

The S63 AMG 4Matic features a twin-turbo 5.5-liter V8 generating 577 hp and 664 lb-ft. It uses a 7-speed automatic transmission and achieves 15 mpg city/23 mpg hwy/18 mpg combined in sedan or coupe form, and 14 mpg city/22 mpg hwy/17 mpg combined in the cabriolet.

The S65 AMG rumbles with 621 hp and 738 lb-ft of torque from a twin-turbo 6.0-liter V12, linked to a 7-speed automatic transmission. If any S65 buyer might actually care about fuel economy, it's 13 mpg city/22 mpg hwy/16 mpg combined for the sedan and coupe and 14 mpg city/21 mpg hwy/16 mpg combined for the cabriolet.

The Maybach S550 4Matic returns 16 mpg city/24 mpg hwy/19 mpg combined; the rear-drive Maybach S600 achieves 13 mpg city/21 mpg hwy/16 mpg combined.
Standard Features & Options
The 2017 Mercedes-Benz S-Class is offered in five major trim levels: S550, S550e, S600, S63 AMG and S65 AMG. All are available as sedans; all except the S550e and S600 are also offered as coupes and cabriolets. Add to that list the Mercedes-Maybach S550 4Matic and S600 ultra-luxury sedans.

The S550 sedan ($97,525) and S550 coupe ($123,675) come standard with full LED exterior and interior lighting, 19-in alloy wheels, a semi-active air suspension (Airmatic), adaptive dampers, automatic wipers with heated blades, a wood/leather steering wheel, a panoramic sunroof, auto-dimming mirrors, synthetic leather upholstery (actually quite good), 12-way power-adjustable and heated front seats with memory settings, a cabin fragrance system, dual-zone automatic climate control, power-closing doors and trunk, a 115-volt power outlet, a 12.3-in digital instrument panel, a rearview camera, Bluetooth, a Burmester Surround Sound audio system with dual USB ports, Satellite/HD Radio, 10GB of music storage, mobile Wi-Fi, hard-drive-based navigation, and the Comand infotainment system with a touchpad-enhanced controller and its own 12.3-in display screen.

The coupe also has automatic parallel parking, a sport exhaust and real leather upholstery. The S550 Cabriolet ($132,325) has a power-folding fabric roof, heated/ventilated front seats, a wind deflector, a hands-free trunk lid and keyless entry/ignition.

The S550e sedan ($97,525), the company's first plug-in hybrid, has to accommodate a battery pack, so its trunk space is 12.2 cu ft., compared to the regular sedan's 16.3 cu ft. Otherwise, it's equipped like an S550 sedan.

The S600 sedan ($108,675) has many additional luxuries, such as quad-zone climate control, multicontour rear seats with power-adjustment and massage functions, and even heated door panels and armrests. It also has several driving aids, including adaptive cruise control, blind spot monitoring, self-parking, Magic Body Control (which reads the road surface and adjusts the suspension accordingly), a 360-degree camera system and active front seat bolsters.

The S63 4Matic AMG sedan ($145,625), coupe ($166,675) and cabriolet ($177,325) have their own exterior styling enhancements, 20-in AMG wheels, upgraded brakes, a performance suspension, front and rear parking sensors, predictive adaptive dampers (Magic Body Control), a self-parking system, keyless entry/start, multicontour front seats with active side bolsters and six massage programs, hands-free trunk access with a foot sensor, and Nappa leather upholstery.

The S65 AMG sedan ($227,825), coupe ($237,175) and cabriolet ($248,825) ice the cake with V12 engines and an assortment of AMG styling and performance upgrades.

The Maybach S550 4Matic ($167,125) and S600 ($192,225) have almost every luxury and safety feature, along with extra rear passenger space.

Many standard items in the higher models are optional on lower trims. Additional options include carbon-ceramic brake discs and exterior carbon fiber trim (AMG models only), a night-vision system, dual power rear seats with folding tables on the front seat backs, and a refrigerator for the rear cabin (these last two items can't be ordered with the coupe or cabriolet).

The coupe's trunk area is 10.4 cu ft., which isn't particularly roomy. The cabriolet's cargo space is 12.4 cu ft. with the roof up or 8.8 cu ft. when it's folded away.
Safety
Anti-lock disc brakes, an advanced stability-control system and 11 airbags (front, front side, front pelvis/thorax, driver knee, rear side, full-length side curtain) are all standard. Safety technology includes a collision-mitigation system with automatic emergency braking, a drowsiness monitor, lane-keeping assist, a 360-degree camera system, night vision and a blind spot monitoring system with rear cross-traffic alert. The company also includes Mbrace telematics with automatic collision notification and emergency response.

The S-Class hasn't been crash-tested by the National Highway Traffic Safety Administration (NHTSA) or the Insurance Institute for Highway Safety (IIHS).
Behind the Wheel
Although the S-Class is perfectly sedate under normal circumstances, every model contains a thrill hiding in the accelerator pedal. Even the base S550 hits 60 mph from a standing start in less than five seconds. Naturally, the other models are quicker still; V12-powered variants do a fair impression of a jetliner barreling down the runway.

Thanks to the standard air suspension with anti-roll technology, the S-Class stays uncannily flat through corners; the feeling is one of complete composure. The ride is regal, the seats are beyond comfortable and the audio system would make Mozart weep for joy.
Other Cars to Consider
2017 Audi A8 -- Offers solid competition in this stratospheric category, delivering capable performance and a beautiful interior. A new generation is anticipated for the 2018 model year, however.

2017 BMW 7 Series -- This current generation debuted for 2016, and it's phenomenal. Plenty of flagship sedan space and luxury appointments, but it will also tempt you to demote the chauffeur to part-time duty.

2017 Jaguar XJ -- Available in regular- or long-wheelbase forms. Luxurious yet surprisingly fun behind the wheel.

2017 Lexus LS -- A value proposition providing regular luxury content for a lower cost.

2017 Porsche Panamera -- The driver's choice. A new generation arrives for 2017 with updated styling.

Used Rolls-Royce Phantom -- Perhaps the only car with more presence than an S-Class, the Phantom can be acquired in lightly used condition for the price of a high-end S-Class.
Autotrader's Advice
The entry-level S550 sedan is quick, civilized and well-equipped (even with no options). But at this level, any version is a winner.