Editor's note: You may want to read more of Autotrader's model vs. model comparison car reviews as well as the 2017 Mini Countryman review and the 2017 Mini Clubman review.
The 2017 Mini Countryman and 2017 Mini Clubman aren't actually that mini in size, but as any fan of the brand would attest, there's far more to their favorite car than just diminutive dimensions. There's the quirky design elements — the circular air vents, door handles, key fob and central infotainment pod. There's the cute styling and the umpteen ways to customize it to your liking through fun paint colors, contrasting roofs and distinctive interior combinations. And then there's the way a Mini feels behind the wheel, with responsive controls, a taut ride and general sportiness that's often described as go-kart-like.
Yet despite falling in love with these unique elements ofMinidom, there comes a time when even the most ardent fan realizes their tiny Cooper no longer matches their changing lives. At the same time, there'll be those who can't switch into a Cooper because of their existing lives. In either event, a bigger Mini is needed. That's where the Countryman and Clubman come in, but what's the difference between the two and which might be a better choice for you?
2017 Mini Countryman
Mini's SUV has been completely redesigned for 2017. It's considerably larger than before and more upscale, making it comparable to compact luxury SUVs like the BMW X1, with which it shares many components. At the same time, though, the Countryman is still several inches shorter than its competitors, so although it's the biggest Mini ever, it's not actually that big. Other improvements include a more luxurious interior with more functional controls and up-to-date technology, more features, new engines and a greatly improved ride. See the 2017 Mini Countryman models for sale near you
2017 Mini Clubman
The Clubman received a similarly complete overhaul last year. It too is considerably larger than the car it replaced, gaining two full-size doors within a body now comparable to a compact hatchback like a Volkswagen Golf. It also shares the same interior quality improvements as the Countryman, as well as many of the same features. For 2017, the Clubman can now be had with ALL4 all-wheel drive and its optional 8.8-inch Mini Connected XL infotainment system now features the same redundant touchscreen functionality as in the Countryman. See the 2017 Mini Clubman models for sale near you
Reliability
Both of these cars are too new and too different from their predecessors to provide a fair assessment of their potential reliability. Having said that, Mini has never been a strong brand for reliability. In particular, maintenance and repairs can get quite expensive as the cars get older. Electronics and engines were problem areas in the past, but again, these Minis have updated electronics and all-new engines manufactured by BMW instead of the varied sources of the past.
Fuel Economy
For the most part, the Countryman and Clubman share the same engine, transmission and drivetrain options. That should make your choice a little easier, but unfortunately there are a lot of options.
The base Cooper models have a 1.5-liter turbocharged 3-cylinder engine that produces 134 horsepower and 162 lb-ft of torque. A 6-speed manual and front-wheel drive (FWD) are standard with both, but you can specify automatic transmissions and ALL4 all-wheel drive. With FWD and an automatic, both get 25 miles per gallon in the city, 33 mpg on the highway and 28 mpg in combined driving. ALL4 essentially lowers those estimates by 3 mpg. Although the specific figures of other variations differ slightly, their fuel economy is effectively the same.
The Cooper S models come with a 2.0-liter turbocharged 4-cylinder that produces 189 hp and 207 lb-ft of torque. The Clubman can be had with any combination of manual, automatic, front- or all-wheel drive. The Countryman can't be had with a manual FWD model but is otherwise the same. Fuel economy is also virtually equal, with the Countryman coming in at 23 mpg city/32 mpg hwy/27 mpg combined with an automatic and FWD or 22 mpg city/31 mpg hwy/26 mpg combined with ALL4.
Both are also available with a high-performance John Cooper Works variant that has a 2.0-liter turbo-4 good for 228 hp and 258 lb-ft of torque. Countryman fuel economy wasn't available at the time of this writing, but it seems likely to match the Clubman's figures of 23 mpg city/31 mpg hwy/26 mpg combined with the manual and 21 mpg city/31 mpg hwy/24 mpg combined with the automatic.
Driving Experience
Here's where the Mini men start to differ. Both cars clearly belong to the same family, as their various controls — steering, throttle response, gearbox — are not only comparable to each other, but to those of the traditional Cooper hardtop as well. However, the Clubman ultimately feels more like a Mini. It's lower to the ground and its tauter suspension produces sharper responses. True, it doesn't have the same darty handling of the Cooper hardtop, but it's certainly more involving than cars of similar size or price.
The Countryman ultimately doesn't possess the same degree of handling prowess. It's just not as fun. However, its ride is significantly more comfortable than with the occasionally jarring Clubman (especially with 19-in wheels and even when the adaptive suspension is specified). Not only that, but the Countryman feels pretty sophisticated and in keeping with a small luxury SUV. Many should also appreciate sitting higher off the ground.
Finally, although both come with the same engines, the Countryman weighs about 300 pounds more and will be a bit slower. This is especially important to note with the base Cooper model — although the little turbo-3 feels spunky enough around town in either car, it runs out of steam when trying to merge aggressively onto a highway, exuberantly negotiate a back road or when filled with people and stuff. As an urban runabout, it should be fine, but for more demanding needs, or should you desire greater performance, we'd highly recommend opting for the Cooper S in either car.
Safety
Both Minis come standard with anti-lock brakes, traction and stability control, front side airbags and full-length side-curtain airbags. The Countryman adds front-knee airbags. A forward-collision warning system with automatic braking is available but only once the pricey Fully Loaded package is specified. The models do not offer some common modern safety features like lane-departure warning, rear cross-traffic alert or a blind spot monitoring system.
There have been no third-party crash tests of either car at the time of this writing.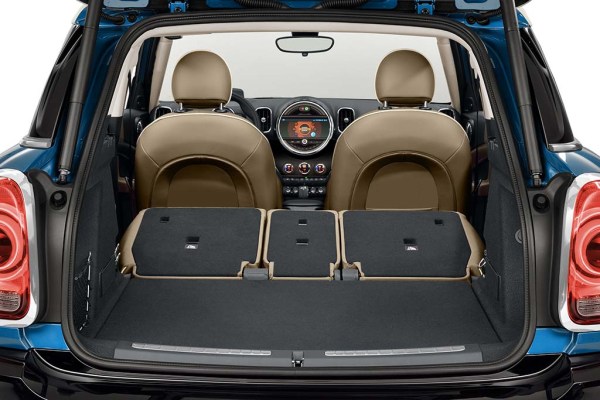 Interior Space
If you look only at the spec sheet, you'll see two cars that are remarkably similar. Cargo capacity is virtually the same on paper, for instance. In practice, however, they're very different. For starters, the Countryman has a taller body that creates an airier feel inside and allows for a higher seating position. This, in conjunction with an already greater amount of rear legroom, means there's more room in the back (although a pair of 6-footers can still sit back-to-back on the Clubman's passenger side). The Countryman's back seat also slides and reclines, which aides comfort and allows the cargo area to expand. The Clubman can't do this, although both have floor panels that can be removed or relocated for greater space.
Then there's the Clubman's swing-out cargo doors. Sure, they're fun and quirky, but opening them is a two-step process (the right one always has to be opened first), and it requires more effort than you'd expect to close them. They also eliminate the possibility of a rear bike rack. The Countryman has a regular lift gate that can be upgraded with hands-free power functionality.
Technology
Both of the Mini men come standard with the Mini Connected tech interface, consisting of a 6.5-in display and a knob-button center console controller. That controller is easily reached in the Clubman but awkwardly low and rearward in the Countryman. Both can be upgraded with the Mini Connected XL system, which includes an upgraded controller and a touch-operated 8.8-in display.
In terms of features, Apple CarPlay or Android Auto aren't available, but there are internet radio control apps, and the Clubman offers wireless smartphone charging. Safety tech is disappointingly limited on both cars.
Value
The Countryman costs more — between $2,000 and $2,500, depending on trim — but comes with more equipment and greater functionality. The same can be said when analyzing the differences between the Clubman and the 4-door Cooper hardtop.
Like any Mini, though, both will seem very pricey for a vehicle of their size if you don't value their many unique elements. In any event, it's probably easier to justify the Countryman's higher price since it's comparable to — and indeed a better value than — compact luxury SUVs like the Audi Q3 and Mercedes-Benz GLA-Class. The only vehicles vaguely like the Clubman are the Volkswagen GTI and Golf R, which are more performance-oriented choices.
Autotrader's Advice
If you're primarily looking for a more functional, refined and even comfortable Mini, the 2017 Countryman is your best option. If, however, you dig the regular Cooper hardtop's look and driving feel, but just wish it had more room, the Clubman is the better call. It feels like a bigger Mini; the Countryman feels like a Mini-flavored SUV. Find a Mini Countryman for sale or Find a Mini Clubman for sale