Editor's note: You may want to read more of Autotrader's model vs. model comparison car reviews as well as the 2017 Nissan Rogue Sport review and the 2017 Nissan Rogue review.
Adding the word "Sport" to a car name usually indicates it's a special, more performance-oriented trim level of that car. That's not what the 2017 Nissan Rogue Sport is. Instead, it's an entirely different compact SUV from the 2017 Nissan Rogue. It's smaller, less expensive, and yes, even a bit sportier. However, they do share many elements, so let's take a look at both to explain the differences and help you figure out if one might be better than the other for you.
Exterior
True, both the Rogue and Rogue Sport are made by Nissan. They each have a U-shaped chrome grille insert and are available in many of the same colors. However, it's pretty easy to tell them apart. The Sport's face is a little more pert in appearance with a less ostentatious grille — there's also less chrome trim throughout the car. There are a few more creases in its sides and there's more of a rake in the cargo area. The taillights are also lower and have a wider, more wing-like appearance.
There's also a big size difference. The Rogue Sport is a foot shorter in overall length, which in car terms is enormous. Much of that comes from its overall body length, especially at the rear, as the wheelbase difference is only about 2 inches. The regular Rogue is also about four inches taller, although their widths are identical. The Sport has a bit less ground clearance (7.4 inches versus 7.8), but it has three extra degrees of departure angle.
Interior
The Rogue is bigger, so it shouldn't be a surprise that its cabin is also bigger. Specifically, you get 4.5 extra inches of rear legroom, which is immediately noticeable. Whether carrying around larger teens or adults, or fitting a rear-facing child seat, it's going to offer more space where it counts. At the same time, however, the Rogue Sport actually has the same amount of shoulder and headroom — both of which are more than sufficient for larger adults. We also found front seat space to be comparable, though like the Rogue, a bit more driver seat travel would be appreciated.
In terms of cargo space, the Rogue also has an advantage, though not as much as you might imagine. It has about 10 extra cu ft. of space with the back seat raised (32 cu ft. versus 22.9), but much of that extra space seems to be up high. That makes more of a difference when carrying dogs or bulky items as opposed to luggage or groceries. For those, the Rogue Sport seems reasonably comparable and certainly better than sub-compact SUVs like the Jeep Renegade.
In fact, with the rear seats folded, the Sport's total cargo capacity of 61.1 cu ft. easily bests the bigger Jeep Cherokee and matches the Kia Sportage. So, although you may initially consider the Rogue Sport a competitor for the Renegade, Honda HR-V and other sub-compact models, it's actually comparable to the Sportage and other smaller compact models. The regular Rogue can be compared to the big boys: the Honda CR-V and Toyota RAV4. Its maximum of 70 cu ft. trails those competitors by just a bit, but bests them by offering a third-row of seats and the handy Divide-n-Hide 2-level storage system. Although the Rogue Sport doesn't have the full version of Divide-n-Hide, it is available with its helpful flip-up grocery divider tray perfect for the sort of urban adventures the Sport is destined for.
Now, in terms of interior design, the two Rogues are nearly identical, sharing the same attractive look and quality interior materials. Yes, the Rogue Sport is smaller and less expensive, but it's not lesser in this regard.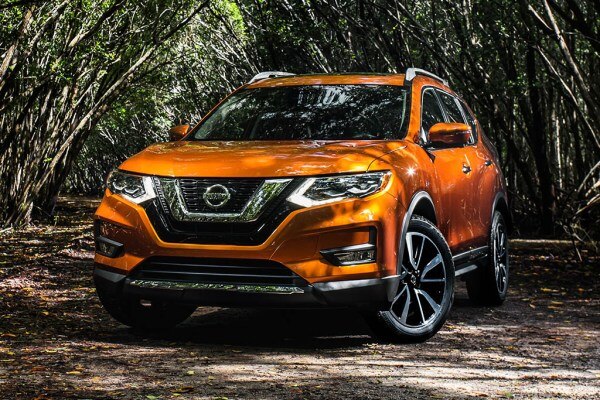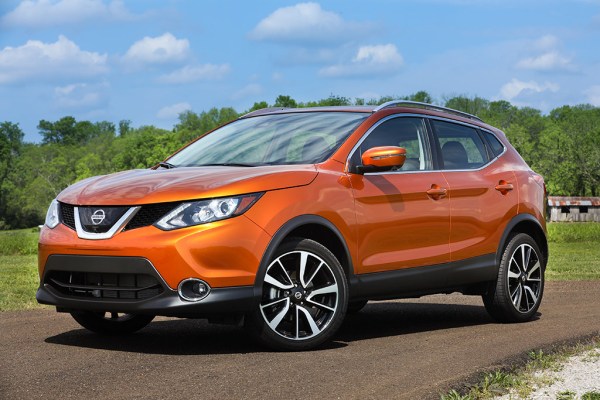 Mechanicals
Underneath the skin, the two Rogues share the same platform and many mechanical components. They certainly have more in common than just a name and a dashboard. However, the Rogue Sport is tuned differently. Its suspension is tauter and the ride more controlled, although it's still quite comfortable and the resulting handling isn't what we'd call sporty. We consider that a win, and indeed, the Rogue Sport is better to drive than its big brother. Actually, that's putting it mildly, as the Rogue is pretty dreary to drive. We also like that the Sport's steering doesn't possess the odd, heavy feel of most Nissans off-center and at slower speeds.
The Sport does have a smaller engine, a 2.0-liter 4-cylinder that produces 141 horsepower and that should reach 60 miles per hour in in the mid 9-second range. By comparison, the Rogue has a 2.5-liter good for 170 hp and a 0-to-60 time that's perhaps a few tenths quicker. That lack of a more significant difference is likely the result of the big Rogue's 200-pound weight disadvantage.
Both come standard with a continuously variable transmission (CVT) and a choice of front– or all-wheel drive. Fuel economy is 25 miles per gallon city, 32 mpg highway and 28 mpg combined for a front-wheel drive Rogue Sport, and 26 mpg city/33 mpg hwy/29 mpg combined for the regular Rogue. Yes, the bigger one is a touch better, but they're effectively equal with all-wheel drive (both 27 mpg combined), and as you'll see below, the less efficiency-minded Sport has its benefits.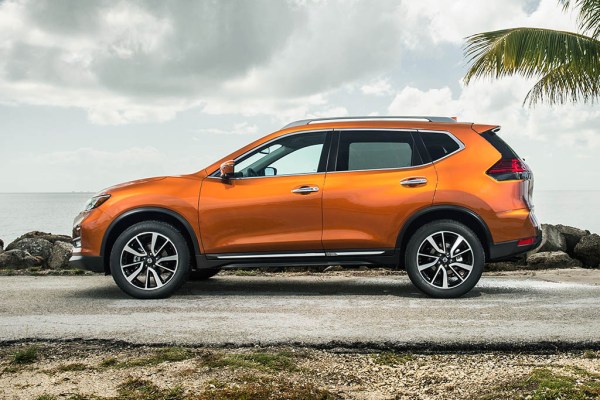 Driving Experience
So yes, the two Rogues' acceleration might seem similar on paper, but that doesn't mean they feel that way in real life. For starters, Nissan tuned the Rogue Sport's throttle response to be much sharper (likely a reason it's a bit less efficient). Sure, that underpowered engine still runs out of steam when charging onto a highway, but around town, that throttle makes it feel eager and punchy in a way the regular Rogue never does (its CVT is also a more constant, annoying presence). While we wouldn't consider the Rogue Sport's powertrain to be a reason to buy it, it's certainly not a detriment like the Rogue's is.
So this, combined with the handling advantages described above, make the Rogue Sport the much better vehicle to drive.
Features & Technology
The bigger Rogue is available with a few extra items — a panoramic sunroof, the full Divide-n-Hide cargo storage system, the third-row seat — but for the most part, the two can be equipped with the same feature content. Even their trim levels are comparable, although the Rogue Sport can't be had as the ritzier SL Premium Reserve that pretty much just adds some quilted leather upholstery.
Both Rogues come standard with the same basic, 5-inch touchscreen infotainment display that pretty much just handles the audio system. There is only one USB port. Available on the SV trims of each and standard on their SL's is a 7-in touchscreen with extra features like navigation, an around-view parking camera and various smartphone-connected apps. Unfortunately, neither can be equipped with Apple CarPlay or Android Auto.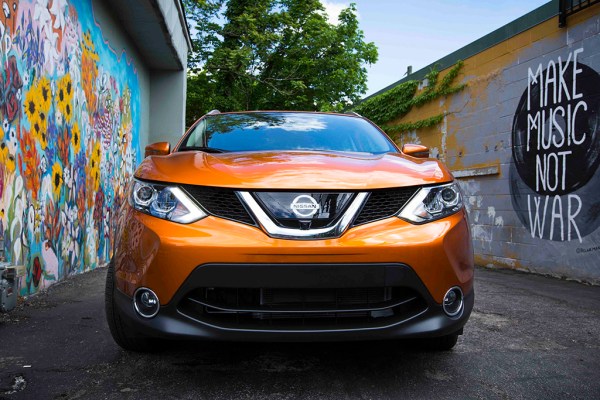 Safety
Both Rogues come with front, front-side and full-length curtain airbags, along with traction and stability control. Blind-spot and rear cross-traffic warning systems can be added to the Rogue Sport through either the Premium package or the SL's Platinum package that also includes lane-keeping assist, adaptive cruise control and forward-collision warning with automatic braking and pedestrian detection. The 2017 Rogue comes standard with all those items except lane-keeping assist and adaptive cruise control, which are only available with its own SL Platinum package.
The Rogue Sport has not yet been crash tested by a third party. The big Rogue received a 4-star overall crash rating from the government, along with 4-star frontal and 5-star side ratings. That trails several competitors. It was, however, named a Top Safety Pick+ by the non-profit Insurance Institute for Highway Safety for its performance in all pertinent crash and crash-prevention categories.
Conclusions
Unless you need the most cargo space possible and a big back seat suited for rear-facing child seats and full-size adults, we think the 2017 Nissan Rogue Sport is ultimately the stronger vehicle. It's much better to drive and a bit cheaper, while possessing the same attractive interior and feature content. It's also a stronger competitor among similarly sized SUV rivals, whereas the larger Rogue falls well-short of the class best.