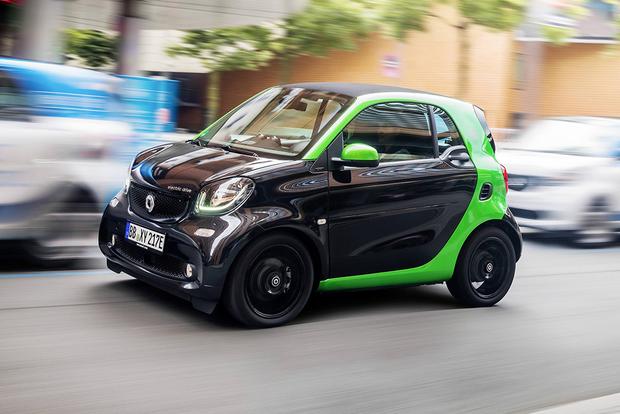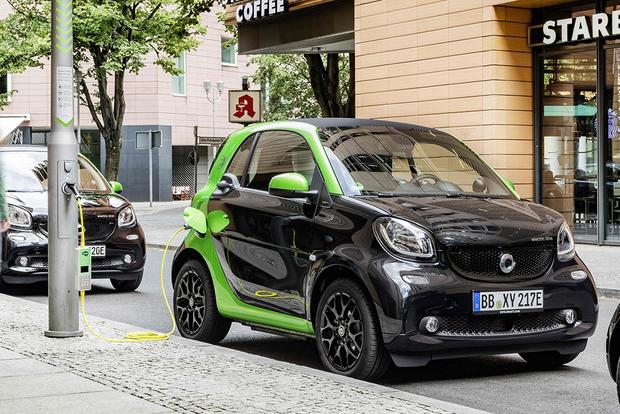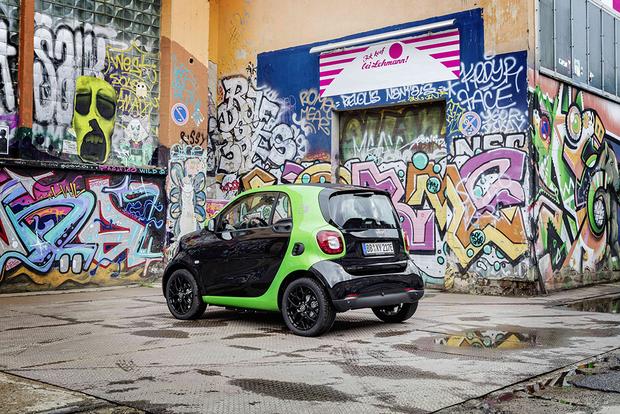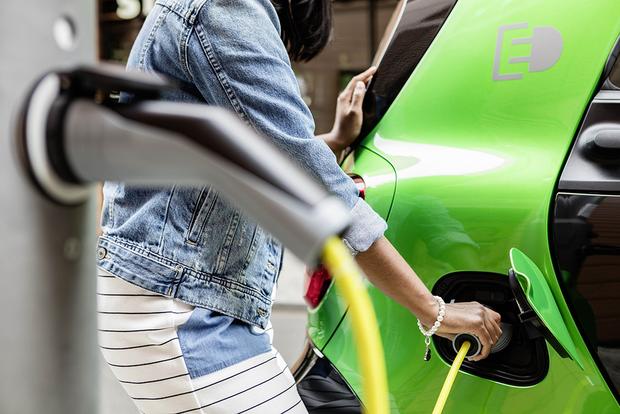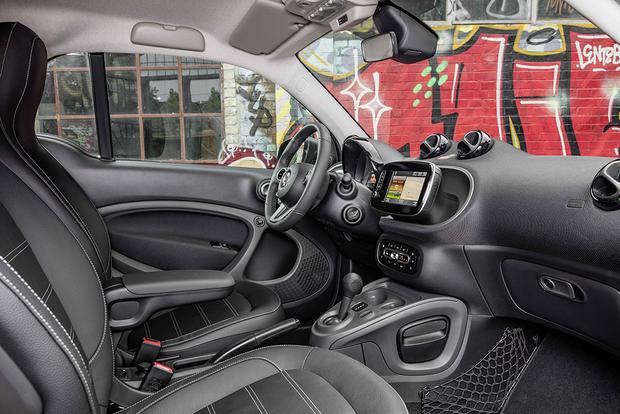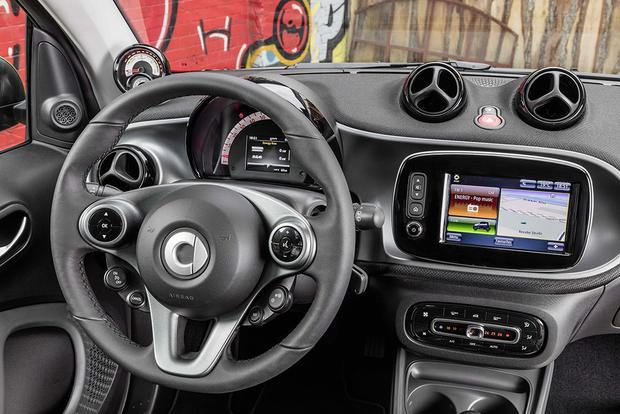 The 2017 smart fortwo Electric Drive has an uncanny ability to make city driving pleasurable, even more so than its gasoline-fueled counterpart. Smart says both cars have the same suspension setup, but the electric version feels a little softer and better able to soak up bumps. Then there's the precise steering and the super-tight turning circle of 22.8 feet, which make maneuvering any smart car easy work. Plus, the fortwo is perfect for those little parking spaces that other drivers will be too scared to try. No one shouts "road trip" and heads immediately for smart's battery-powered 2-seater, but within the confines of the city, it makes total sense.
A new generation of Smart car debuted for the 2016 model year, slightly wider than before, but still with the same layout of engine in the back driving the rear wheels. The small and light smart aesthetic seems tailor-made for an electric drivetrain. But being small has its downsides, too. For example, the car can only house a certain-size battery pack, putting range at around 75 miles. When the 2017 Chevrolet Bolt EV subcompact is said to cover 238 miles, 75 miles seems like ancient technology.
Current
The battery itself is lithium-ion. Charging to 80 percent of capacity takes 2.5 hours using a 240-volt charger, and the pack is covered by a warranty that lasts for 8 years or 60,000 miles, depending on which arrives first. It drives an electric motor that develops 81 horsepower and 118 lb-ft of torque. Top speed is 80 miles per hour, and 0 to 60 mph happens in an unremarkable 11.5 seconds. But the zip up to 30 mph is the most satisfying part, allowing the driver to go for those little gaps in the traffic.
While some other electric vehicles like the BMW i3 have a one-pedal driving approach, where accelerating and slowing down are mostly done just by pressing the throttle or easing off, the fortwo Electric Drive doesn't really follow suit. Yes, it has a regenerative function (where energy from braking is fed back into the battery), but this is another area where the car seems to be behind the curve.
Still, a floor-mounted battery pack means a low center of gravity, which is always a good thing from a handling standpoint, yet the seats are set quite high for excellent outward vision. Passenger space is large enough to accommodate two adults of average size, and accessing the 8 cu ft. of storage space behind the seats is done courtesy of a handy 2-piece tailgate.
Currency
The 2017 smart fortwo Electric Drive is set to go on sale in the U.S. in spring 2017, and it will be available in all 50 states, not just those on the coasts that are usually friendlier toward electric vehicles. Official pricing is still to be announced, but expect it to start somewhere in the region of $25,000.
It's at this point that the car becomes more attractive. The aforementioned 2017 Chevrolet Bolt EV costs at least $10,000 more. It's more car for the money, with rear seats and rear doors and a usable cargo area, but some people's requirements may be more modest.
Right now, there's a federal tax credit of $7,500 for buying a car that runs on an alternative fuel source. Some states also offer financial incentives. Various cities have dedicated parking spaces with chargers. Then, you can factor in time saved by using the HOV lane.
Trim levels are Pure, Passion and Prime, in ascending order. Pure starts out with 15-inch steel wheels, automatic climate control, cruise control, a multifunction steering wheel, Bluetooth, an extra dial on the dash that gives a readout on battery life and a choice between black cloth or black faux-leather upholstery.
Passion adds 2-tone exterior and interior color schemes, a leather-wrapped steering wheel, 15-in alloy wheels, power-folding heated side mirrors and a retractable cargo cover.
Prime brings LED daytime running lights and taillights, real black leather, a panoramic sunroof (in the coupe), ambient cabin lighting and heated seats.
Curiosity
Smart recently introduced a convertible version -- summer 2017 will see that body style combined with the electric drivetrain, making it the only soft-top electric vehicle and possibly the cheapest convertible on the market.
Emissions-free driving is a wonderful and admirable thing (smart cars are also made in an eco-friendly factory), but until there's some appreciable development in battery technology that makes range greater and charge times shorter, electric vehicles like this are limited in their appeal and best suited to serve as second cars.
To gain access to this information, Autotrader attended an event sponsored by the vehicle's manufacturer.