Editor's note: You may want to read more of Autotrader's model vs. model comparison car reviews as well as the 2017 Toyota Prius Prime review, the 2017 Ford Fusion Energi review, 2016 vs 2017 Ford Fusion Energi and Prius vs Prius Prime: What's the Difference?
We've already shared how the 2017 Toyota Prius Prime compares to the Chevy Volt, ultimately finding that its lower price and greater practicality may outweigh its all-electric range deficit for some buyers. Now, let's look at how it stacks up with the 2017 Ford Fusion Energi, a totally different type of plug-in hybrid that brings with it a unique set of variables to consider. Which one might be better for you? Let's find out.
2017 Toyota Prius Prime
The Prius Prime is the plug-in hybrid version of the Toyota Prius. It features a larger battery capable of being recharged from an electrical outlet, which makes it capable of providing an estimated 25 miles of all-electric range before turning effectively turning into a regular hybrid. Besides its battery, however, it has different styling inside and out, a unique vertically-oriented touchscreen interface and, controversially, only a 2-person back seat. See all 2017 Toyota Prius Prime models available near you
2017 Ford Fusion Energi
In Ford's world, "Energi" means a plug-in hybrid. Like the regular Fusion it's based upon, the Energi gets subtle yet effective styling changes for 2017, smart interior updates that yield more storage, the new-and-improved Sync 3 interface and an extra two miles of all-electric range. See all 2017 Ford Fusion Energi models available near you
Reliability
The Prime is a new version of the 2017 Prius, a car itself too new to have reliability data. But there's little reason to doubt that it'll deviate from the flawless reliability record of the Toyota Prius.
On the other hand, the Fusion Energi has been around for several years now, and along with the entire Fusion line-up, reportedly enjoys above-average reliability. Indeed, for a car that sells in such high numbers, it has very few customer complaints, and the current-generation Fusion has proven to be one of the more reliable midsize sedans. Now, there have been customer complaints about infotainment, including the new Sync 3, but that has more to do with functionality than reliability.
Fuel Economy
This is the big one, obviously. For starters, it's important to look beyond simple mile-per-gallon figures. Because the Prius Prime and Fusion Energi can operate on electricity alone, your specific driving tendencies will determine your actual mpg figures more than for any other type of car. For instance, if your journey to work is only 20 miles round trip, it's perfectly feasible that you won't burn any gasoline as long as you can recharge at night.
As such, it's important to consider all-electric range. In this case, the two cars are nearly equal, with the Prius Prime squeaking out a few extra miles: 25 to the Energi's 22. Therefore, if you're going to be spending the majority of your driving around town, commuting and staying within that electric range, it's pretty much a wash (unlike when comparing either car to a Chevrolet Volt).
Yet, if you're going to be routinely going beyond that all-electric range, the Prime will have a big-time advantage, returning an estimated 54 mpg in combined city/highway driving. The Energi returns 42 mpg combined. If you never used the all-electric range, that would equate to an average annual fuel cost difference of $200.
That's not a realistic scenario, though, since why would you buy a plug-in hybrid and never plug it in? Again, you have to look at what type of driving you're going to routinely do.
For more information, read more in our real-world test of the Prius Prime's fuel economy and electric range.
Driving Experience
Despite being on the market for five years and facing new and greatly improved midsize sedan competitors, the Ford Fusion continues to be one of the best of its breed to drive, possessing a balance of sharp handling and a plush ride that evokes luxury sedans. That extends to the Fusion Energi, which gains the quiet, effortless acceleration of an electrified powertrain. Its refinement is leaps and bounds beyond what the Prius Prime provides.
So, if you do spend most of your driving in that all-electric range, the Fusion's driving experience may make for a better, more relaxing commute. And, even if you don't, its better driving experience on longer journeys may outweigh the fuel economy advantage.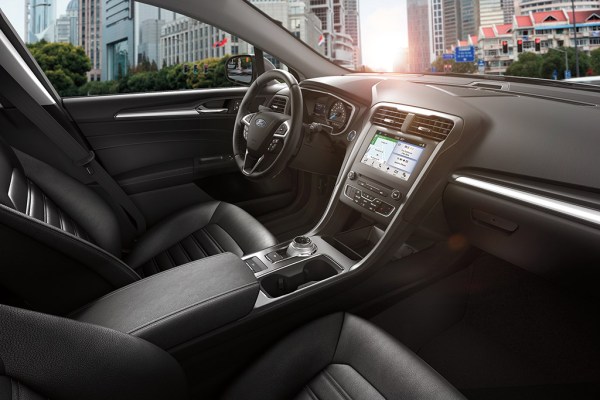 Safety
A win for the Prius here. Every Prius Prime distinctively comes standard with a forward-collision warning and auto-brake system that can detect pedestrians, plus lane-departure warning with steering assist, automatic high-beams and adaptive cruise control. A blind spot monitoring system and rear cross-traffic alert are optional.
The Fusion Energi's optional Driver Assist package includes lane-departure warning with steering assist, automatic high beams, blind spot warning and rear cross-traffic alert. Adaptive cruise control is bundled separately with forward-collision warning, pedestrian detection and automatic emergency braking.
Neither the Prius Prime nor the Fusion Energi have specifically been crash-tested by the government, but the regular Prius and Fusion received the same 5-star overall crash ratings. The non-profit Insurance Institute for Highway Safety named the regular Fusion a Top Safety Pick for its top crash test and crash prevention tech ratings. The Prius Prime specifically was named a Top Safety Pick+ thanks to an Acceptable headlight score.
Technology
Every Fusion Energi comes with the same Sync 3 touchscreen interface, an 8-inch touchscreen with a pair of configurable screens within the instrument cluster. It's a pretty user-friendly system featuring virtual icons that are easily read and pressed. The climate controls are pleasantly separate from the system as well. Standard tech features include two USB ports, satellite radio and both Apple CarPlay and Android Auto — features that aren't available on any Toyota.
Although it includes a standard navigation system, the Prius Prime ultimately comes with less standard equipment. Toyota's perfectly user-friendly 7-in Entune touchscreen is standard, matching the top system available in the regular Prius. We don't think you'd mind it. However, the Premium and Advanced trims come with a large, 11.6-in vertically-oriented touchscreen bound to impress your passengers and maybe even wow your kids.
Functionally, it can be a mixed bag, as the smaller standard touchscreen actually does a better job with the audio system (you can't see your radio presets and song/channel information at the same time, for instance). The simplified climate controls located alongside the screen also aren't as user-friendly, and the standard volume knob is replaced by a touch-activated button, which is never good.
Interior Space, Comfort and Quality
The Fusion is a much bigger, more comfortable car that legitimately seats five people. The Prius Prime has only four seat belts, so it's immediately at a disadvantage. We also think the Ford has more comfortable seats, a better driving position, superior interior materials and a more functional center console design with better storage. Some may also appreciate its more traditional design and gauge layout.
The Prius Prime has a vast utility advantage, however. It may not have quite as much cargo space under its hatch than the regular Prius (its bigger battery has to go somewhere), but it's a far larger and more versatile space than what you'll get in the Fusion Energi. Its sedan trunk is severely compromised by its own larger battery pack, reducing overall space to a paltry 8.2 cu ft. indicative of a sports car. So sure, you and your passengers will be more comfortable on a road trip, but you won't be bringing much luggage.
Value
The Fusion Energi comes with far more standard equipment and starts at $33,120. Adding its optional advanced safety tech to match the Prius Prime's brings the price up to $34,505.
On the other hand, the Prius Prime may come with less standard equipment, but it also costs $27,100. That might make it a slam dunk if you don't need a lot of stuff. If you want to bring it up to the Energi's equipment levels, you'll be looking at the Advanced trim that costs $33,100.
Really, the Prius Prime will always be less expensive than the Fusion Energi, which will always provide more equipment, comfort and refinement. Yet, it's also important to remember that all of these prices (for now, at least) come with hefty federal and likely state tax rebates that together can remove as much as $10,000 from the price tag. The Prime can actually be less expensive than a comparable regular Prius. It's also important to note that the Fusion Energi will probably be more heavily discounted than the newer, more popular Prius Prime.
Autotrader's Advice
We wish we could say one of these plug-in hybrids is definitively better than the other, but we can't. The Prius Prime is the better, more eco-friendly car, delivering superior overall fuel economy. It also has the futuristic look many expect from a hybrid. However, the Fusion Energi is more comfortable, refined and better to drive with a higher-quality interior and more passenger space. It really comes down to your priorities and the type of driving you'll do.
Find a Toyota Prius Prime for sale