Editor's note: You may want to read more of Autotrader's model vs. model comparison car reviews as well as the 2018 Chevrolet Equinox review and the 2017 Jeep Cherokee review.
The two best-selling compact SUVs come from Japanese manufacturers, but those from GM, Ford and FCA aren't exactly struggling to move metal. Indeed, you can't drive down a highway in the heartland for too long before spotting a 2018 Chevrolet Equinox or 2017 Jeep Cherokee. They're extremely popular, so let's take a look at this red, white and blue pair to see which might be better for you.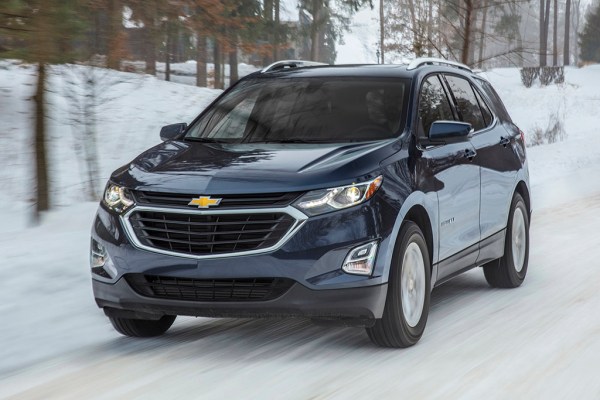 2018 Chevrolet Equinox
The Equinox is all-new for 2018, replacing a vehicle that, while a popular seller, was getting pretty long in the tooth. The new version is a bit smaller on the outside but bigger on the inside, and a decrease in weight allows it to rely on a small turbocharged engine. There will also be an efficient diesel option. GM's latest infotainment and safety technologies are also on hand to bring the Equinox fully up to date. See all 2018 Chevrolet Equinox models available near you
2017 Jeep Cherokee
The Cherokee will be getting revised styling for 2018 and likely other updates as well, but at this particular moment you'll be cross-shopping the new Equinox with the 2017 Cherokee. It only receives some minor equipment updates (xenon headlights became standard on all trims but the base Sport), but it's also the first full model year for the range-topping Cherokee Overland trim. See all 2017 Jeep Cherokee models available near you
Watch our 2017 Jeep Cherokee Overland: The Best Cherokee? – Video
Reliability
The Equinox is too new to fairly predict its reliability, but after a lot of problems during its first two years on the market (2010 and 2011), the prior generation ironed things out considerably. There were still a fair share of engine complaints, but that particular engine is no longer in the Equinox.
The Cherokee, on the other hand, is part of a generation that's received an enormous number of transmission complaints. Some of this is simply due to the inherent shortcomings of its 9-speed automatic transmission — a unit known for poor performance whether in Jeeps or the Honda Pilot — but failures and other faults have been reported. The Cherokee has also had some electrical problems. In total, it's actually one of the least reliable new cars on the road.
Fuel Economy
The 2018 Equinox is one of the most efficient compact SUVs. With its optional turbodiesel 4-cylinder (137 horsepower, 240 lb-ft of torque), it returns 28 miles per gallon in the city, 39 mpg on the highway and 32 mpg in combined driving with front-wheel drive. That combined figure matches the Toyota RAV4 Hybrid and just slightly trails the Nissan Rogue Hybrid. It trounces both on the highway.
The gasoline-powered Equinox is also among the best in class when equipped with the standard 1.5-liter turbocharged 4-cylinder (170 hp, 203 lb-ft). It returns 26 mpg city/32 mpg hwy/28 mpg combined with front-wheel drive; all-wheel drive (AWD) knocks each of those numbers down by 2 mpg. The more powerful 2.0-liter turbo four (252 hp, 260 lb-ft) returns a comparatively solid 22 mpg city/29 mpg hwy/25 mpg combined; AWD essentially reduces those numbers by 1 mpg.
Meanwhile, reporting fuel economy with the 2017 Cherokee is tricky since it's available with so many more powertrain combinations than its competitors. No matter how you look at it, though, the Cherokee is less efficient. The base 2.4-liter 4-cylinder engine (184 hp, 171 lb-ft) returns 21 mpg city/30 mpg hwy/25 mpg combined with front-wheel drive. That means the Cherokee's most efficient powertrain combo is barely better than the Equinox's least efficient. The engine is also coarse, unrefined and feels less gutsy than its seemingly sufficient output numbers would indicate.
Therefore, if considering a Cherokee, the 3.2-liter V6 is basically a must. Its 271 hp and 239 lb-ft of torque lend it a gutsier, more traditional power delivery than the Equinox's big turbo four while also allowing for greater towing capacity. It also pairs better with the two available 4-wheel-drive systems (4WD). Fuel economy with the V6 ranges from 21 mpg city/29 mpg hwy/24 mpg combined with front-wheel drive (nearly matching the 4-cylinder) to 18 mpg city/24 mpg hwy/21 combined in the off-road-oriented Trailhawk model with its Active Drive II 4WD system.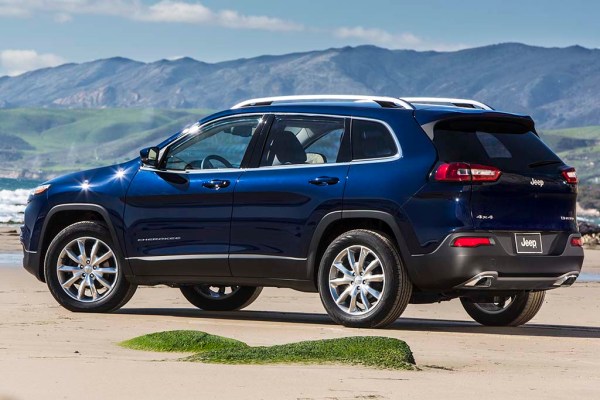 Safety
Both the Cherokee and Equinox stand out from the pack with standard rear side airbags, while the Jeep also features standard front knee airbags. The Chevy, however, includes a standard rearview camera — it's optional on the base Cherokee but standard on the rest. Warning systems like blind spot monitoring, rear cross-traffic alert and lane-departure warning are available on the Equinox's LT and Premier trims, as well as the Cherokee's Trailhawk, Limited and Overland trim levels. Forward-collision warning and low-speed automatic braking are included with those items on the Cherokee but are only available on the Equinox's top Premier trim.
The Cherokee received a 4-star overall crash rating from the government, along with 4-star frontal and 5-star side ratings. The nonprofit Insurance Institute for Highway Safety gave it the best-possible rating of Good in the moderate-overlap front and side crash tests, Good in the roof-strength test and a rating of Superior for its frontal crash prevention system, but it got a second-worst Marginal rating in the small-overlap front crash test.
The Equinox has not yet been crash-tested by a third party.
Technology
Every version of the Cherokee comes with some type of touchscreen — either the small-but-user-friendly standard 5-inch model or an 8.4-in screen that's one of the easiest and most straightforward infotainment systems available — we recommend opting for that. However, as much as we like the Jeep's interfaces, it falls short on content. Basics like Bluetooth and 3G Wi-Fi are available, but Apple CarPlay and Android Auto are not yet options on the Cherokee.
The Equinox is also always equipped with a touchscreen. The standard 7-in unit, like the Cherokee's, is more rudimentary and pretty much handles the audio system. The larger 8-in MyLink touchscreen has much greater functionality and superior graphics. It's fairly easy to use, but the Jeep/Chrysler system is a bit better. Nevertheless, Chevrolet offers more tech than most brands do. Apple CarPlay and Android Auto are standard, along with OnStar emergency services and 4G LTE Wi-Fi. Four USB ports and wireless smartphone charging are also available.
Driving Experience and Off-Roading
The Cherokee offers a degree of go-anywhere capability unmatched by anything in the segment thanks to its available Active-Drive II 4WD system and the off-road-oriented Trailhawk model. It boasts low-range gearing, a rear locking differential, increased ground clearance, better approach/departure angles, and Jeep's Selec-Terrain system, which automatically sets its various systems for an assortment of different surfaces.
By contrast, the roughest terrain the Equinox can handle is perhaps a Christmas tree lot — it's a soft-roader only. It's certainly more comfortable, quieter and offers better handling than the Cherokee Trailhawk, but less off-road-oriented Cherokees (which still offer superior go-anywhere talents) aren't exactly cumbersome Wranglers on the pavement. Behind the wheel, we can't say either is especially great to drive, though. If you're seeking that, take a look at the Mazda CX-5.
Interior Space
The Cherokee's available full-size spare tire and heftier 4-wheel-drive components result in a higher load floor and contribute to an overall smaller cargo capacity. Those elements definitely have their merit and indeed represent some of the Cherokee's selling points, but really, if you don't plan on getting it dirty, you'll be living with a reduction in utility. To put that into numbers, it has 24.6 cu ft. of space with the back seat raised and 54.9 cu ft. with it lowered (the sliding back seat helps things a bit but can only do so much).
By comparison, the Equinox has 29.9 cu ft. with the back seat up and 63.5 when you lower it from the lift gate using a pair of handy pull handles. While that maximum figure trails the class-leading Honda CR-V and Toyota RAV4 by at least 10 cu ft., it's still a useful average amount and clearly superior to the Jeep.
Value
The most basic 2017 Cherokee Sport costs $23,695. That's with the unappealing base engine, front-wheel drive and no rearview camera. The Equinox starts at $23,580, with a substantially better engine and more standard equipment. The prices stabilize a bit as equipment levels go up, but the Equinox continues to deliver more stuff for your money (not to mention all its other advantages).
Autotrader's Advice
Unless you value the Cherokee's go-anywhere talents (or even the Trailhawk's go-anywhere looks), it's quite simply hard to find an area where it outdoes the Equinox. The Chevrolet is more efficient, more spacious, less expensive, better-equipped and likely to be more reliable.
Find a Used Chevrolet Equinox for sale