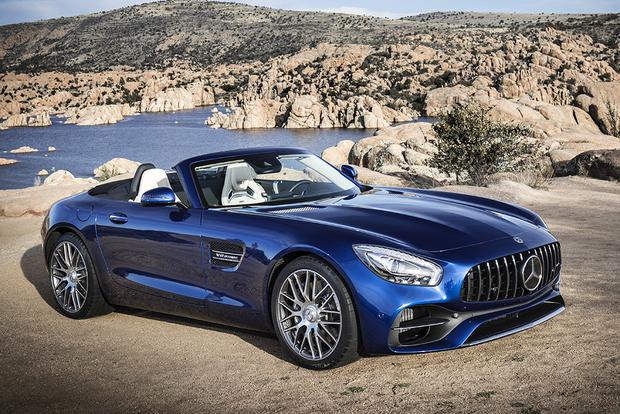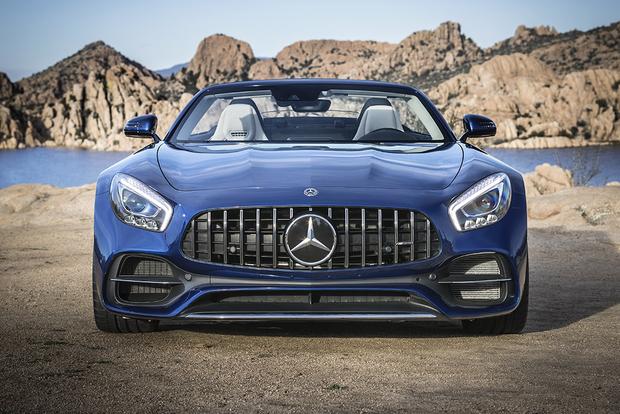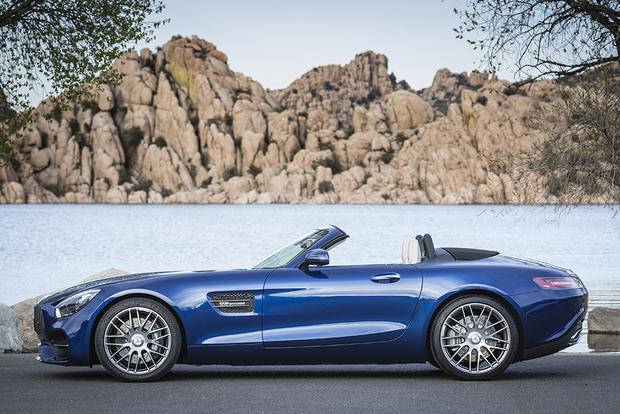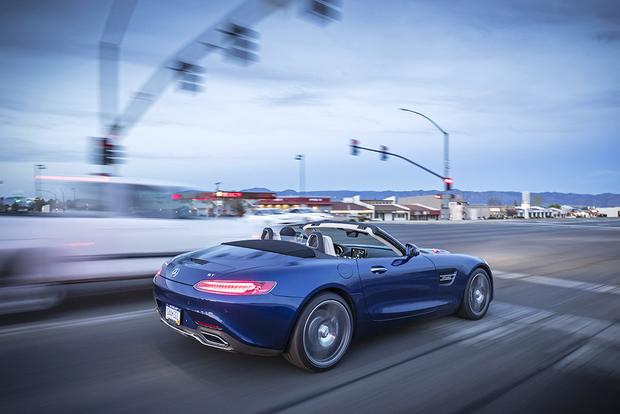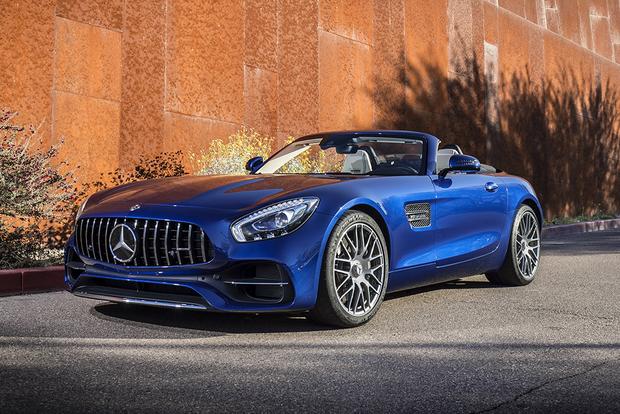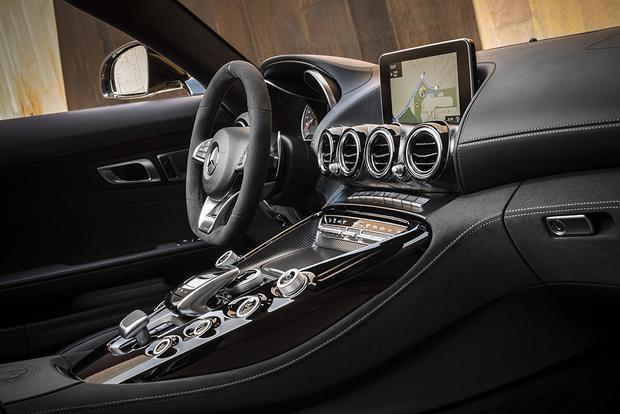 There are base models and then there are base models. Neither sound especially appealing, but when it comes to the 2018 Mercedes-AMG GT Roadster, this base model isn't exactly bargain-basement. Nor is its place on the bottom rung of the AMG GT model ladder any indication that it's anything less than a superb performance machine ... and a gorgeous one at that. Low-slung, with its long hood and pertly curvaceous short deck, the base GT may actually be the most beautiful of the bunch, free of the extra vents and wings that add visual noise to what is such a classic, elegant design.
That design does change a bit for 2018, though, as the entire GT range adopts the AMG Panamericana grille first seen on the range-topping GT R model. Characterized by its vertical chrome slats, it's not only the new face of the GT, but of most (and perhaps all) future AMG models as well. The other noteworthy update this year is the addition of the GT Roadster body style, which joins the already-on-sale Coupe, as well as the higher-performance GT C model we also got a chance to drive during the press launch in central Arizona.
So What Do You Get With This 'Base' Model?
Tucked under that long hood -- but behind the front axle in what is technically a balanced midship placement -- the GT is powered by a 4.0-liter turbocharged V8. That's the same basic engine fitted to every GT, but various differences amount to differing outputs. Per its place at the bottom of the totem pole, the GT "makes do" with 469 horsepower and 465 lb-ft of torque. That equates to a car that's blisteringly fast, needing only 3.9 seconds to reach 60 miles per hour, according to Mercedes. The engine also sounds stupendous, with an addicting mechanical yowl that's bolstered by the bellowing song of the available AMG Performance Exhaust system (pressing a button on the center console makes it louder).
So what sets the GT apart from its more expensive siblings? Well, if you look at their various 0-to-60 times, you'll find there's only a 0.4-second spread between the "slowest" GT and "quickest" GT-R. However, in this instance, 0-to-60 numbers don't tell much of the story, as they are very much limited by the amount of traction the GT's rear-wheel-drive layout can possibly provide. The difference lies in what you feel, and both the GT C (550 hp, 502 lb-ft) and GT R (577 hp, 516 lb-ft) feel like the far more powerful and torque-rich cars that they are, pushing you into the hard AMG Performance seats with considerably more authority. Do you need that extra power? No. But is it enough for you to appreciate the difference and desire it? Perhaps.
Besides power, the 2018 Mercedes-AMG GT Roadster also lacks the aerodynamic enhancements found on the GT C and GT R (such as the vents under their trunks and aft of their wider rear fenders) and includes a less advanced limited-slip differential. It also comes standard with a non-adaptive sport suspension, though a continuously variable adaptive suspension is available as an option. That's the version we experienced, but despite sharing the same hardware with the GT C, the two cars are tuned differently. The result is that the GT is the more comfortable car, soaking up bumps better and being the more pleasant car to spend time in. For a car dubbed GT, or "Grand Touring," we think that counts for a lot.
At the same time, that adaptive suspension aids handling as well. Selecting its Sport or Sport+ driving modes firms up the dampers and sharpens its road holding, resulting in a car that tackles corners with impressive balance and control. This isn't a scary car to drive fast. The steering isn't as sharp in the GT C, though, as there's a bit more play on center and a touch of numbness, especially in the car's default Comfort mode. That's quite relative, however, as the GT still has superb steering -- fluid and consistent in its effort and abundant in feedback. It's really just degrees of greatness we're talking about.
How Is It as a Convertible?
There will always be those who expect their automotive weekend plaything to be a convertible, so the addition of the GT Roadster to the lineup should certainly be greeted with a hearty round of applause. And as far as convertibles go, the GT is a beauty -- both literally and figuratively.
Impressively, it manages to maintain much of the coupe's sleek profile when the thickly lined soft top is in place. Lowering it takes a scant 11 seconds and can be done at speeds of up to 33 mph. Noise and wind buffeting is kept to an acceptable degree, but despite the somewhat rattly wind deflector mounted on the rear bulkhead, you won't find the sort of trick pop-up wind deflector on the headliner included on the Mercedes E- and S-Class Cabriolet convertibles. You will find the Airscarf neck-level heaters on every GT, though, which is a great feature for those of us who view convertibles as more of an autumn attraction than a summer one.
Sun worshippers, though, will likely appreciate the ventilated seats and the dash-mounted COMAND screen that is practically impervious to glare. Convertibles typically render newfangled displays and touchscreens all but useless -- not so in the GT.
Can You Take It on a Road Trip?
Pleasantly, the Roadster also maintains the Coupe's reasonably spacious cabin. A 6-foot-4 driver can fit quite comfortably in the driver's seat for several hours, which is not something that could be said of the old SLS Roadster. The AMG Performance seats that come standard on all GTs verge on rock-hard, but they're nevertheless supportive during long drives and feature not only 8-way adjustability but power-adjustable side and bottom bolsters as well. Whether you're big or small, you're likely to find a comfortable position for the fun drive ahead.
The trunk loses the Coupe's sloping cargo-shelf area (guess where the convertible roof stows away!), but that wasn't especially useful to begin with, and the Roadster's remaining trunk is perfectly functional for a pair of overnight bags. You may even be able to fit a golf bag back there. Either way, it's pretty good in comparison to other high-dollar sports cars.
So in that way, and indeed many others, this AMG "base model" lives up to its GT name. It's a car you can drive on an early Sunday-morning back-road blast or one that you can pack up for a lengthier weekend road trip for two. Sure, you're giving up something by not opting for the AMG GT S, C or R, but you're still getting a whole heckuva lot. If anyone looks down on you for getting this base model, that's their snooty problem, not yours.