Editor's note: You may want to read more of Autotrader's model vs. model comparison car reviews as well as the 2018 Range Rover Velar review and the 2018 Range Rover Sport review.
If you're having trouble telling the new 2018 Land Rover Range Velar apart from its pricier sibling, the 2018 Land Rover Range Rover Sport, you're not alone. To be perfectly honest, we were scratching our heads a bit when another Range Rover was introduced that didn't seem all that different from one already on sale. Yet, taking a closer look reveals key differences, so let's do just that with the 2018 Range Rover Velar and 2018 Range Rover Sport to see which might be better for you.
Exterior
There is no denying a strong family resemblance between the Range Rover Velar and the Range Rover Sport. If anything, the Velar looks a bit like a sleeker, more futuristic version of its pricier sibling. Certain dimensions are pretty similar, too, as the Velar is only 2 inches shorter in length and wheelbase. It's 3 inches narrower, however, which is a greater difference when it comes to width and it's a considerable 4.5 inches shorter in height. That can be attributed to the Sport's taller greenhouse, which is one of the easier ways to tell it apart when parked side by side. Another is the Velar's retracting door handles, the dark band between its taillights and a deeper grille with an almost protruding, chin-like lower bumper section. See the 2018 Range Rover Velar models for sale near you
Interior
While the Velar was the first Range Rover to debut the brand's new dual touchscreen center console interface, the Range Rover Sport gets it as well for 2018. As a result, the designs are pretty similar. Key differences are center console details: The Sport's is lined in the silver trim, whereas the Velar's piano black finishing goes to the edges of what is a "floating console" design. The Sport also has a rotary off-road settings controller and each has a different shifter designs: the Velar has a rotary-style shifter whereas the Sport has a push-pull electronic shifter.
The Velar does, however, offer interior color choices and finishings not available on the Sport. Specifically, there's a unique "Dapple Grey Premium Textile" unlike anything currently available on a new car. It's refreshing to see a car brand offer a luxurious alternative to leather.
The two differ more considerably in terms of space. There's a much higher seating position in the Sport, which is indeed more in keeping with the range-topping Range Rover model (which itself is a completely different SUV, but we'll save those comparisons to another day). Despite this, the Sport has more headroom, which should be expected given the taller greenhouse. In terms of backseat legroom, the Velar essentially has the same amount, but its narrower width means it'll be squishier with three people across.
In terms of cargo space, the Velar actually has more maximum space at 70.1 cu ft., making it one of the most generously sized SUVs in the "compact" luxury segment. By comparison, the Sport has only 62.2 cu ft. This difference could be because of its beefier off-road mechanicals underneath, or the fact that its third-row seat is taking up extra space while folded. Ah yes, that third-row seat. It exists, which may be beneficial, but don't count on putting especially large humans back there.
Mechanicals
Here's where things really start to diverge. Simply put, the Sport is heavier, more powerful and more capable off-road. The lighter Velar makes do with smaller, more efficient engines and is more suited to on-road duty. See the 2018 Range Rover Sport models for sale near you
The new Velar comes with a choice of three engines. There are a pair of 2.0-liter turbocharged 4-cylinder engines: the P250 gasoline (247 horsepower, 269 lb-ft of torque) and D180 diesel (180 hp, 317 lb-ft). Then there's the P380 supercharged gasoline V6 good for 380 hp and 332 lb-ft. All have all-wheel drive as well as Land Rover's Terrain Response off-road settings and an available air suspension that can raise the Velar to greater heights. These elements are shared by the Range Rover Sport, which is nevertheless the more capable off-roader.
It also has stronger engines. The Sport starts off with a less powerful version of Land Rover's 3.0-liter supercharged V6 good for 340 hp and 332 lb-ft of torque. There's then an optional diesel engine, but it's a turbocharged V6 good for a far mightier 254 hp and 443 lb-ft.
Then there are the performance upgrades. The Supercharged and Autobiography trims have a supercharged V8 good for 518 hp and 461 lb-ft of torque, while the nutty SVR has 575 hp and 516 lb-ft.
Of course, the Sport weighs considerably more, starting off at 4,839 pounds. The Velar is 4,217 pounds. So the Velar's engine doesn't need to be as powerful, but it nevertheless can't match the Sport's range-topping powertrains.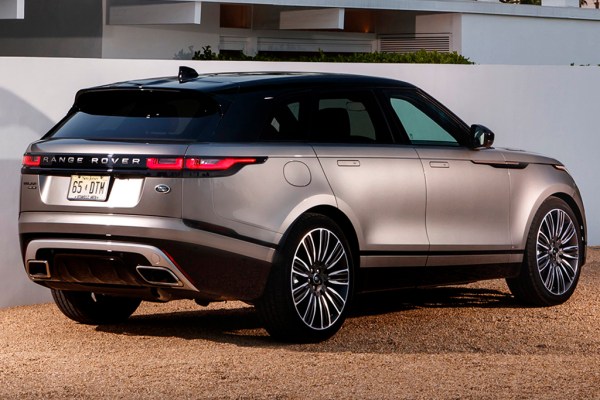 Features & Technology
Both the Velar and Sport come with Land Rover's new Touch Pro Duo system that features a 10.2-in upper touchscreen that handles infotainment controls, and a second touchscreen below that handles the climate system and other vehicle functions. It's a futuristic and sleek look, but responsive times and functionality could be better. Apple CarPlay and Android Auto are also not included.
Both Range Rovers comes standard with a variety of accident avoidance tech, including forward-collision warning, automatic emergency braking and lane-departure warning. Blind spot monitoring, lane-keep assist, adaptive cruise control and a driver inattention monitor are available, as are advanced parking aides.

Driving Experience
The Velar is the smaller, lighter and more agile of the two Range Rovers, feeling more in tune with the Jaguar F-Pace with which it shares a number of mechanics. The Sport is mechanically related to the regular Range Rover, which grants it a larger, more stately driving demeanor. Despite these differences, however, both demonstrate impressive ride quality (though staying away from the biggest wheels is always a good idea in this regard).
Really, the biggest difference you're going to find is in the power department. With either of its 4-cylinder turbo engines, the Velar is merely just fine. Stepping up to the supercharged V6 is really required to get this Range Rover at its best. The Sport, meanwhile, is more than sufficient regardless of the engine you choose and boasts not one, but two rip-roaring supercharged V8's. So, although it may not entirely live up to its Sport name when going around corners, it definitely has it covered in the acceleration department.
Safety
Neither Range Rover has been crash tested by a third party, but each comes with the same safety equipment. Besides the usual allotment of airbags, it includes an automatic emergency braking system and lane-departure warning. The Sport further includes parking sensors. Both are then available with packages that include a variety of driver aids. The Drive package includes a driver inattention monitor, blind spot monitoring and traffic sign recognition that alerts you of speed limits. The Drive Pro package adds to that lane-keep and blind spot assist (and steers for you if needed), adaptive cruise control and higher-speed automatic emergency braking.
Conclusions
The new Velar is the more fashionable choice that's lighter on its feet on-road and not exactly a slouch off-road. The Sport, meanwhile, still has a great deal of presence — it feels like the bigger, heavier, more sophisticated and more capable vehicle it is. Oh, and it's available with far more powerful engines. If your budget allows, check out both. If not, the cheaper Velar still delivers a true Range Rover experience. Find a Land Rover Range Rover Velar for sale or Find a Land Rover Range Rover Sport for sale