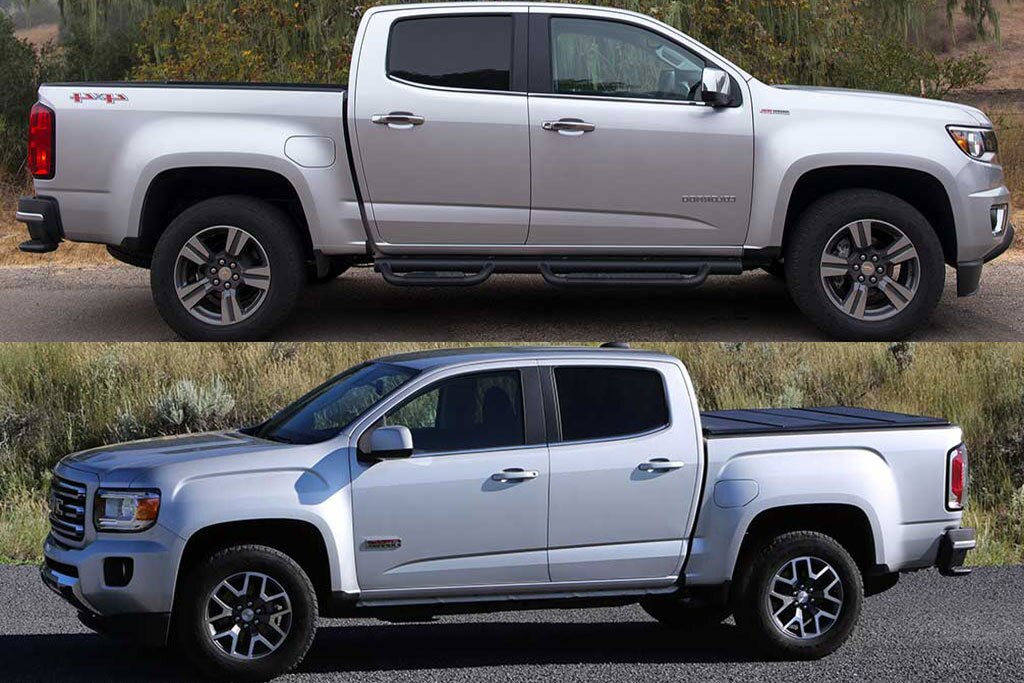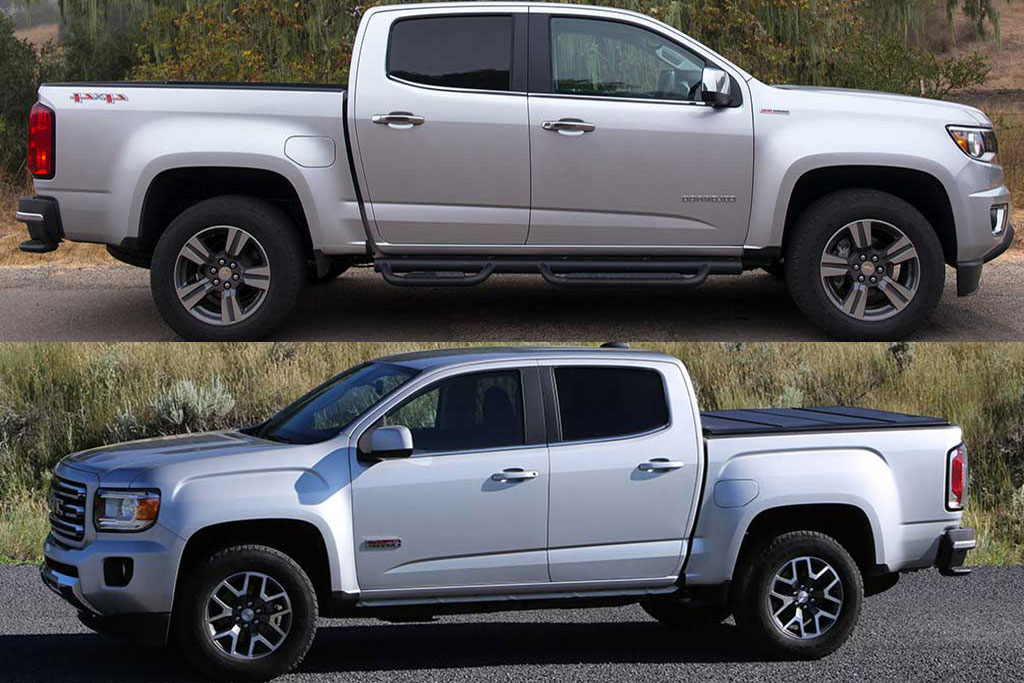 GM builds two midsize trucks: the Chevrolet Colorado and the GMC Canyon. They're virtually identical to one another. The main differences come down to badge engineering and some trim levels once you get into the upper price points. Either way, it's likely that if you're considering one of these trucks, you'd be open to the other, so we've compared them below in a number of categories to highlight just exactly what their main differences are.
Exterior
Styling is where these trucks differ the most. The Canyon wear's GMC's corporate front end, with a big blocky grille, square headlights and chunkier features. The Colorado looks pretty generic. It's got Chevrolet's bowtie grill up front, but beyond that, it doesn't have much character in its mainstream trims. See the 2020 Chevrolet Colorado models for sale near you
Both trucks are offered in extended and crew cab configurations. Again, their cabs are identical. Five- and 6-foot beds are offered. The extended cab comes with a 6-foot bed, while the crew cab typically comes with a 5-foot bed but can be had with the 6-foot bed as well. See the 2020 GMC Canyon models for sale near you
Interior
If a decent interior is what you're after, look elsewhere. Even when you include the Canyon's Denali trim, the Colorado and Canyon twins have a lackluster interior. Functionality and ergonomics are fine, but materials quality and aesthetics are at the bottom of the segment. In terms of space, these two trucks are offered in extended and crew cab body styles. Extended cab models seat up to four, but only in a pinch. If you want to carry more than one other passenger around comfortably, the crew cab model is the way to go. With room for five passengers, the Colorado and Canyon offer 35.8 inches of second-row legroom in their crew cab configurations, which is on par with your average midsize sedan.
Mechanicals
These two trucks are offered with two different gas engines, plus a class-exclusive diesel. The base gas engine is a simple 2.5-liter 4-cylinder that makes 200 horsepower and 191 lb-ft of torque. This comes paired to either a 6-speed automatic or a 6-speed manual transmission. The engine you want though is the 3.6-liter V6, which is rated at 308 hp and 275 lb-ft of torque. The V6 comes exclusively with an 8-speed automatic.
The available diesel engine is a 2.8-liter turbocharged 4-cylinder. It's rated at just 181 hp but 369 lb-ft of torque. The diesel comes with a 6-speed automatic. No manual is offered. All around, the diesel offers some advantages with regard to towing and low-speed technical off-roading, but you'll pay for it on the highway, as acceleration is remarkably slow, especially when compared to the V6. The diesel also comes at a big premium when compared to the gas V6. Expect to pay around $4,000 more for the oil-burner. Our advice? The diesel certainly sounds cool, but just get the V6.
Fuel economy for the 4-cylinder with 2-wheel drive is 20 miles per gallon in the city, 26 mpg on the highway and 22 mpg in combined driving, while 4-wheel drive gets you 19 mpg city/24 mpg hwy/21 mpg combined. V6 models return 18 mpg city/25 mpg hwy/20 mpg combined with front-wheel drive and lose an mpg all around with 4-wheel drive. Diesel models are rated at 20 mpg city/30 mpg hwy/23 mpg combined with 2-wheel drive or 19 mpg city/28 mpg hwy/22 mpg combined with 4-wheel drive. Colorado ZR2 models lose a few mpg all around.
V6 models are rated to tow up to 7,000 pounds in their most capable configurations, while diesel models are the most capable, rated at up to 7,700 pounds.
Features & Technology
Feature content is about the same on these two trucks. Available features include a sliding rear window, automatic climate control, heated seats, Bose audio, a locking rear differential, running boards, hill-descent control, heated front seats and a heated steering wheel. Only the Canyon Denali comes with ventilated front seats. Neither truck offers a sunroof.
Both trucks are available with an 8.0-in infotainment screen offering Android Auto and Apple CarPlay compatibility. While the software is branded a little differently, it's all the same underneath, and you'll likely find that it's pretty intuitive and easy to use.
Like other GMC products, the Canyon is available in a top-spec Denali trim, which increases curb appeal with larger wheels and chrome exterior bits, heated and ventilated leather front seats, a heated steering wheel, wireless charging and a few other elements. Chevrolet takes things in a different direction for the Colorado's top trim, offering the off-road-oriented ZR2 model, which boasts high-performance off-road shocks, locking front and rear differentials, and a bunch of unique styling elements. For more off-road capability, mostly in the form of underbody protection, look to the ZR2 Bison model, offered in conjunction with American Expedition Vehicles.
The Colorado and Canyon are a little behind the times when it comes to overall safety. Neither earns any kind of award from the Insurance Institute for Highway Safety for its crash test performance. As you could probably guess, the two vehicles earn identical scores. Both earn only a score of "marginal" in the passenger side small-overlap crash test, a "poor" for headlights, a "marginal" for LATCH child safety system ease-of-use, and offer a very limited front crash prevention system. Speaking of active safety, these trucks are pretty far behind in that area as well, offering only forward-collision warning and lane-departure warning, both of which are optional. If safety is a high priority for you, the Tacoma, Ridgeline and Ranger are all better options than GM's midsize trucks.
Pricing
Pricing between these two is so similar that the specifics really don't matter, but here they are. Factoring in destination fees, the Colorado starts at $22,995, while the Canyon comes in at $23,890. A loaded 2020 GMC Canyon Denali with the diesel engine tops out at around $52,000 before factoring in whatever financial incentives GM is offering at your time of purchase. The Colorado is at its most expensive in its ZR2 Bison trim, which tops out at about $54,000.
Conclusions
The 2020 Chevrolet Colorado and GMC Sierra are extremely similar. In fact, they probably share over 99% of their parts. If you're looking for a mainstream midsize pickup, either one will do, and your decision will probably come down to which one looks better to you and which is offered with more cash on the hood by your local dealer. That said, if you're looking for a luxury look with lots of chrome, the Canyon Denali certainly offers it, while only the Colorado is offered in a true high-performance off-road trim that rivals the likes of the Toyota Tacoma TRD Pro and Jeep Gladiator Mojave. Find a Chevrolet Colorado for sale or Find a GMC Canyon for sale