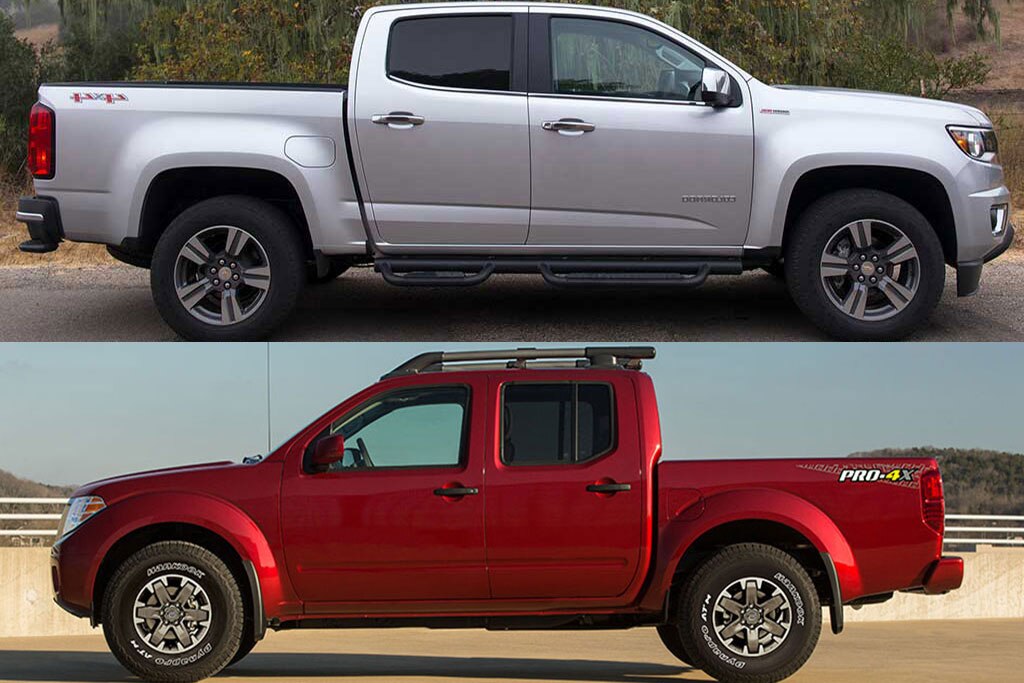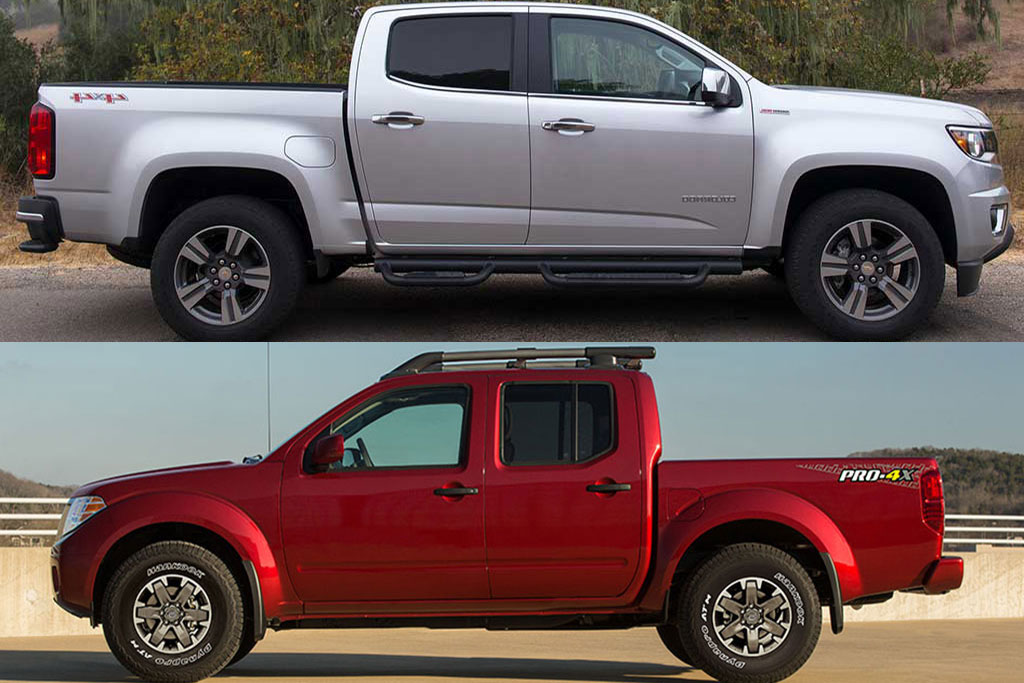 Two of the more value-oriented pickups on the market today are the 2020 Chevrolet Colorado and the Nissan Frontier. Neither is particularly modern. While it went on sale in the U.S. for 2015, the Colorado has been on sale in its current form in foreign markets since the 2013 model year. The 2020 Nissan Frontier is the oldest new passenger vehicle on sale in the United States today, having last been fully redesigned for the 2005 model year. While an all-new Frontier will go on sale for 2021, the 2020 Frontier gets the all-new engine and transmission that was designed for that new truck, making the 2020 model an odd mix of an ancient body with a modern engine and transmission. Either way, if you're looking for an affordable midsize truck here in 2020, either of these pickups would fit the bill. Below, we'll compare them in a number of categories to help you understand how they match up.
Exterior
The styling of these two trucks is pretty conservative. If you want to really express yourself through your midsize truck, look to the Toyota Tacoma or Jeep Gladiator. Compared to the Colorado, the Frontier has a blocky, old-school vibe, which makes sense given that it's been on sale now in its current form for 16 years. By comparison, the Colorado is pretty plain looking, offering soft, inoffensive body lines. See the 2020 Chevrolet Colorado models for sale near you
Both trucks are offered in a number of configurations. Extended and Crew cabs are offered. Neither vehicle offers a regular cab — in fact, no midsize truck on sale today can be had with an regular cab. Extended cab models offer two small seats in the back for a total seating capacity of four, but only in a pinch, as quarters are right. Crew cab models have room for up to five. Two bed lengths are offered: 5 feet and 6 feet. Extended cab models come with a 6-foot bed, while crew cabs typically come fitted with the 5-foot bed, although both the Colorado and Frontier can be optioned with the crew cab and long bed as well. See the 2020 Nissan Frontier models for sale near you
Interior
As they are on the outside, the Frontier and Colorado are pretty plain on the inside. That said, the Colorado's interior design is decidedly more modern than that of the Frontier. The Colorado can be optioned with an 8-in infotainment screen running Chevrolet's excellent infotainment software. The Frontier uses a very antiquated 7-in screen running software that would've felt dated a decade ago and is now pretty much obsolete.
Looking at their crew cab configurations, the Colorado offers 38.3 inches of second-row headroom and 35.8 inches of second-row legroom. The Frontier crew cab has 38.6 inches of second-row headroom and 33.6 inches of second-row legroom.
Mechanicals
The main update to the Frontier for 2020 is that it now uses the engine designed for the upcoming all-new Frontier that will go on sale for the 2021 model year. Every 2020 Frontier packs a 3.8-liter V6 putting out 310 horsepower and 281 lb-ft of torque and paired with a 9-speed automatic. No manual is offered, and the 4-cylinder Frontier has been discontinued. With 2-wheel drive, the 2020 Frontier is rated at 18 miles per gallon in the city, 24 mpg on the highway and 20 mpg in combined driving. 4WD models lose 1 mpg all around.
The Colorado offers three different engine options: two gas and one diesel. Base Colorados get a 2.5-liter 4-cylinder that makes 200 hp and 191 lb-ft of torque and comes paired with either a 6-speed automatic or a 6-speed manual. With 2WD, this engine is rated at 20 mpg city/26 mpg hwy/22 mpg combined. 4WD models come in at 19 mpg city/24 mpg hwy/21 mpg combined. The engine you want is the gas V6. A 3.6-liter unit, it returns 308 hp and 275 lb-ft of torque and is paired exclusively with an 8-speed automatic. With the V6, 2WD Colorados are rated at 18 mpg city/25 mpg hwy/20 mpg combined, while 4WD models come in at 17 mpg city/24 mpg hwy/19 mpg combined. The Colorado's diesel engine is a 2.8-liter turbodiesel that makes 181 hp and 369 lb-ft of torque. It's decent for towing and low-speed technical off-roading but seriously limited when it comes to highway acceleration. We'd recommend the V6 over the diesel. Either way, with the diesel engine, the Colorado is rated at 20 mpg city/30 mpg hwy/23 mpg combined for 2WD models and 19 mpg city/28 mpg hwy/22 mpg combined for 4-wheel drive.
Worth noting — the Colorado's off-road-oriented ZR2 model takes a hit with regard to fuel economy. With the V6, the ZR2 is rated at 16 mpg city/18 mpg hwy/17 mpg combined, while the diesel ZR2 is rated at 18 mpg city/22 mpg hwy/19 mpg combined.
V6 Colorados are rated to tow up to 7,000 pounds, while the diesel is rated at up to 7,700 pounds. The Frontier tops out at 6,620 pounds — the second-lowest max towing capacity in the segment, behind only the unibody Honda Ridgeline.
Features & Technology
Feature content on these trucks is pretty basic. Both are available with heated front seats, a spray-in bedliner, hill-descent control, Bluetooth, etc. — there's nothing earth-shattering here. Only the Frontier is available with a sunroof, while only the Colorado's infotainment system includes Android Auto, Apple CarPlay and the option of adding a 4G LTE subscription that turns your car into a Wi-Fi hot spot.
While both trucks keep things pretty simple, only the Colorado offers a performance-oriented off-road model in the ZR2, while those wanting more underbody protection and added exterior armor may be enticed by the ZR2 Bison, which is offered in conjunction with American Expedition Vehicles. That said, the Frontier Pro-4X is a decent value-oriented alternative to milder off-road models like the Colorado Z71 or Toyota Tacoma TRD Off-Road and offers an off-road suspension, all-terrain tires, a locking rear differential, more aggressive styling and more.
Due to their old designs, neither of these vehicles exactly aces the Insurance Institute for Highway Safety's testing regimen. Among other shortcomings, both earn rather unfortunate scores of 'Marginal' for their performance in the Institute's passenger small-overlap front crash test, while the Frontier gets a 'Marginal' in the driver-side small-overlap front crash test as well. On top of that, active safety features are lacking. The Colorado can be optioned with forward-collision warning and lane-departure warning, while the Frontier doesn't have any active safety tech at all. Compare this to the Ranger and Tacoma, which come standard with an array of active safety features like automatic emergency braking, radar cruise control, automatic high beams, and more.
Pricing
Including destination fees, the 2020 Frontier starts at $27,885 and reaches $38,585 in the fully loaded Pro-4X Crew Cab trim. The 2020 Chevrolet Colorado starts at $22,495, while a fully loaded ZR2 Bison with the diesel engine will approach $54,000. Opting for the diesel engine adds about $3,000 to the price of a Colorado, giving us even more reason to recommend sticking with the V6.
Conclusions
If you're looking for a modern midsize pickup and aren't too worried about budget, then the Ford Ranger, Toyota Tacoma, and Jeep Gladiator are all better options than either the Colorado or Frontier. That said, these two trucks are all about value and can be had for a few thousand dollars less than what you'll pay for the competition, whether due to how they're priced by their respective manufacturers or the incentives your dealer will likely offer at your time of purchase. Side by side, the Frontier is significantly older than the Colorado, and while the Colorado's interior still feels pretty cheap, sitting down behind the wheel of a Frontier takes you back to a bygone era. Neither truck offers many cutting-edge modern features, nor do they return the best safety ratings. That said, we've got nothing but good things to say about their respective V6 engines, which match up well with the competition. While both are old school, the Frontier feels especially old, but that's part of its appeal. The Colorado, on the other hand, at least incorporates the bare minimum with regard to infotainment and safety, but still lags behind competitors like the Ford Ranger and Toyota Tacoma in most areas. Which one is right for you should come down to your individual taste and the financial incentives being offered at your time of purchase. Find a Chevrolet Colorado for sale or Find a Nissan Frontier for sale