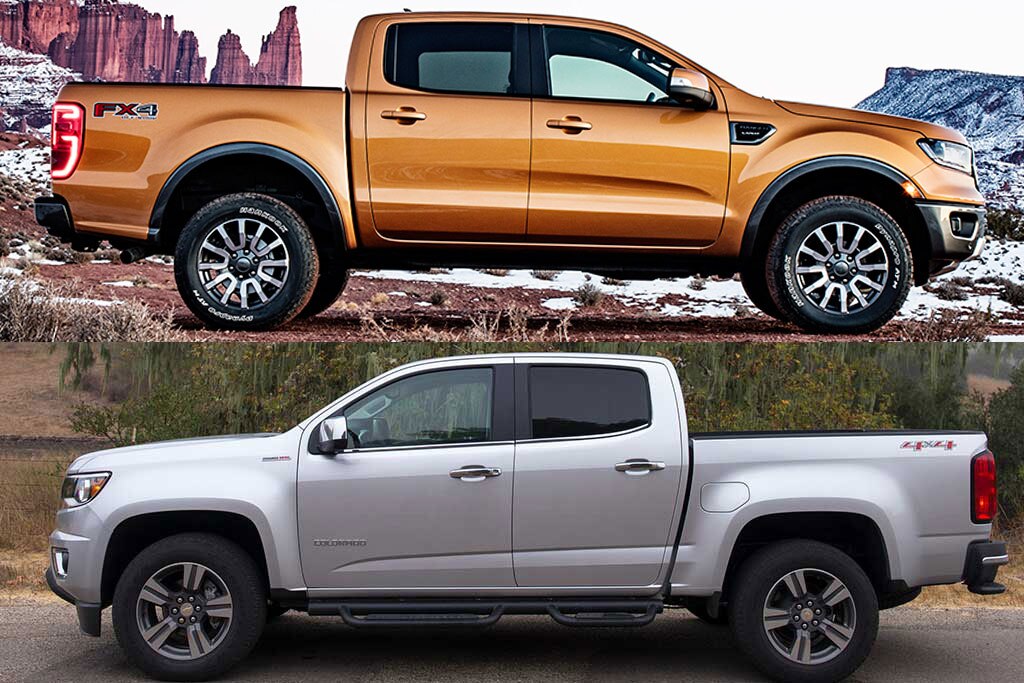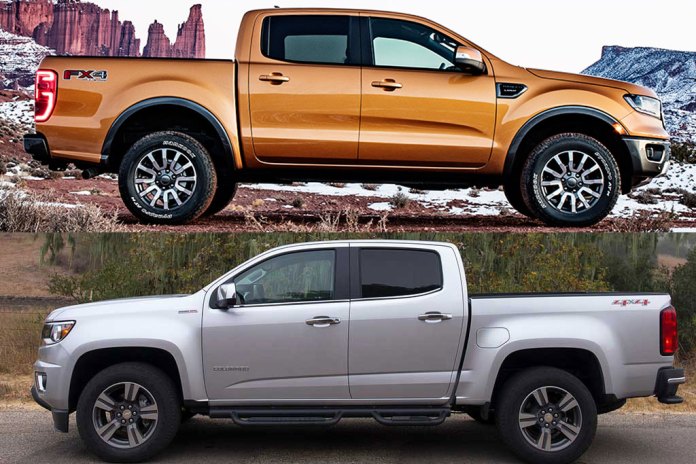 Two of the more popular midsize pickups on sale in the United States today are the Ford Ranger and Chevrolet Colorado. Both offer great capability, but their strengths and weaknesses lie in different areas. Below, we'll compare the two to help you understand which one may be the better midsize truck for you.
Exterior
Both the Colorado and Ranger wear inoffensive, conservative styling. While they're relatively new here in the U.S., these two vehicles have been sold in foreign markets since the early 2010s, so their styling is a little plain, if not dated. Either one is available in extended or crew cab body styles and with either a 5- or 6-foot bed. Extended cab models come with a 6-foot bed. Chevrolet lets you get the Colorado crew cab with either a 5- or 6-foot bed, while the Ranger crew cab comes exclusively with the 5-foot box. See the 2020 Ford Ranger models for sale near you or See the 2020 Chevrolet Colorado models for sale near you
Interior
Inside, these two vehicles are pretty simple — about what you'd expect for this segment. The Ranger's interior is somewhat carlike, with a bulbous center stack and rounded features. Regardless, it's nicer than what you'll find in the Colorado, which uses very uninspired design and cheap materials. Extended cab models offer room for four passengers, while crew cabs have room for five. Looking at their crew cabs, the Ranger has 34.5 inches of second row legroom, while the Colorado has 35.8 inches.
Mechanicals
The Ranger comes with just one engine and transmission. Every 2020 Ford Ranger packs a 2.3-liter turbocharged 4-cylinder engine that puts out 270 horsepower and 310 lb-ft of torque and is paired to a 10-speed automatic transmission, the same unit used in the full-size F-150. This is among the best powertrains offered in the midsize truck segment. When equipped with 4-wheel drive, the Ranger is rated by the Environmental Protection Agency at 20 mpg city/24 mpg hwy/22 combined.
In its most capable configuration, the Ranger is rated to tow up to 7,500 pounds.
The Colorado is offered with three different engines: two gas mills plus a diesel. The base engine is a 2.5-liter 4-cylinder gas unit that puts out 200 hp and 191 lb-ft of torque. This comes with either a 6-speed automatic or a 6-speed manual. The larger gas engine, and the one you'll find in the majority of Colorados out on the road, is a 3.6-liter V6 rated at 308 hp and 275 lb-ft of torque. This engine comes paired exclusively with an 8-speed automatic. The Colorado's diesel option is a 2.8-liter 4-cylinder turbocharged unit rated at just 181 hp but an impressive 369 lb-ft of torque. This makes the diesel great for towing or technical off-roading but fairly limited on the highway, as acceleration happens at a glacial pace, especially when compared with the V6. With the V6 and 4-wheel drive, the Colorado is rated at 17 mpg city/24 mpg hwy/19 mpg combined. Four-wheel drive diesel models are rated by the EPA at 19 mpg city/28 mpg hwy/22 mpg overall. Two-wheel drive models earn back one or two mpg all around.
With the V6, the Colorado is rated to tow up to 7,000 pounds in its most capable configuration, while diesel models are rated at 7,700 pounds.
Features & Technology
The Ranger and Colorado both come with good infotainment systems while also offering Android Auto and Apple CarPlay. Either vehicle also has the capability for a 4G LTE subscription, which turns the vehicle into a Wi-Fi hot spot.
In terms of safety, both vehicles perform all right in crash testing conducted by the Insurance Institute for Highway Safety. They fall short of a perfect crashworthiness score for lackluster performance in the passenger-side small front overlap test — the Ranger earns an "Acceptable," while the Colorado earns a "Marginal." The Ranger comes with more active safety tech than the Colorado. Every 2020 Ford Ranger comes standard with forward-collision warning with automatic emergency braking. Automatic high beams, blind spot monitoring with rear cross-traffic detection and trailer tow monitoring, radar cruise control, driver attention monitoring, lane-departure warning and lane-keeping assist are optional on all trim levels for a reasonable $735 as part of Ford's Co-Pilot360 package. The Colorado is only offered with forward-collision warning and lane-departure warning and only on select trim levels.
If you're looking to venture off-road with your truck, the Colorado offers a more exciting off-road trim level than the Ranger. In its ZR2 trim, the Colorado comes with off-road shock absorbers designed by MultiMatic, a unique front bumper, rock rails and locking front and rear differentials. A front locker is a rarity in the market today. The ZR2 Bison, offered in conjunction with off-road upfitter American Expedition Vehicles, adds more comprehensive underbody protection, steel bumpers front and rear, bigger fender flares and more.
The Ranger's off-road capability comes in the form of a basic FX4 package, which adds off-road shocks and all-terrain tires, a trail control system, a front skid plate and a locking rear differential. As of right now, there is no Raptor variant of the Ranger offered in the United States, and we don't expect one to become available until the Ranger receives a full redesign in the next couple of years. (Remember that despite it going on sale just last year, the current Ranger's basic design is approaching ten years old and is due for an update. The same goes for the Colorado).
Pricing
Factoring in delivery and destination fees, a base 2020 Ford Ranger, which comes with 2-wheel drive and an extended cab, starts at $26,250, while a fully-loaded 4×4 Lariat crew cab model comes in at about $40,500 without factoring in incentives that will likely be available at your time of purchase.
The 2020 Chevrolet Colorado has a starting price of $22,495, again factoring in all applicable fees. A fully-loaded ZR2 Bison with the diesel engine will come in at over $50,000. Diesels command a price premium of more than $3,000 over a comparable V6 model.
Conclusions
Unless you're desperate for a diesel engine or a special off-road trim level, we prefer the Ranger to the Colorado. The Ranger offers an excellent powertrain, a great mix of available safety features and a decent interior — much nicer than what you'll find inside the Colorado. Neither of these vehicles will feel cutting-edge, but while the Colorado's diesel engine and off-road trims are certainly unique, the Ranger is modern in the areas that matter most and will likely have broader appeal among midsize pickup buyers. Find a Ford Ranger for sale or Find a Chevrolet Colorado for sale