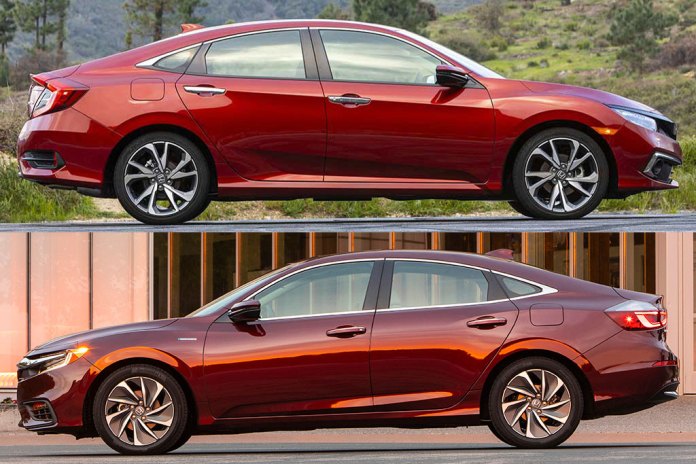 Honda Civic is a compact sedan competing with vehicles like the Toyota Corolla
Honda Insight is a compact hybrid sedan similar to the Toyota Corolla Hybrid
Both vehicles come with modern technology and a healthy assortment of active safety features
Honda's two compact sedans, the Civic and Insight, share many of their major components. In fact, you could just as easily call the Insight the Civic Hybrid and you wouldn't be wrong, given that the main thing differentiating these two vehicles is their powertrains. Below, we'll compare the 2020 Honda Civic and Insight in a number of categories to better highlight their differences.
Exterior
The Civic and Insight share their main bodywork, which is evident when you compare their long, sloping greenhouses. They're identical. The two vehicles share wheelbases and their overall length as well. Honda has done a great job differentiating the two, though, via unique front-and rear-end styling. While both vehicles look conservatively futuristic, the Insight is a little more squared-off up front and in the rear than the Civic. See the 2020 Honda Civic models for sale near you or See the 2020 Honda Insight models for sale near you
Interior
While their outsides are pretty similar, Honda has made an effort to differentiate the Insight from the Civic on the inside. While the functionality is virtually the same, the two vehicles have different dashboard designs. The Insight comes standard with a push-button gear selector, while the Civic sticks to an old-school lever.
In terms of interior dimensions, the two vehicles are pretty much identical. Both offer 37.4 inches of second-row legroom and 15.1 cu ft. of cargo room, except for in their top-spec Touring trims, which come with 14.7 cu ft.
Mechanicals
The regular Civic can be had with two different engines. Base models use a 2.0-liter 4-cylinder that puts out 158 horsepower and 138 lb-ft of torque. A 6-speed manual is available on certain trims, but the majority come with a continuously variable automatic. With the CVT, this engine returns 30 mpg city/38 mpg hwy/33 mpg combined. Civic EX, Touring and EX-L models pack a 1.5-liter turbocharged 4-cylinder putting out 174 hp and 162 lb-ft of torque. In the Civic sedan, this engine comes mated exclusively to a continuously variable automatic. With the turbo, the Civic returns slightly better fuel economy, with ratings of 32 mpg city/42 mpg hwy/36 combined.
The Insight's main selling point is its frugal and efficient powertrain. The Insight uses a 1.5-liter 4-cylinder paired with a hybrid motor for a total system output of 151 hp. This is sent to the front wheels through a continuously variable automatic. Fuel economy for the Insight comes in at an impressive 55 mpg city/49 mpg hwy/52 combined.
Features & Technology
Either of these vehicles packs a reasonable amount of tech. Both come standard with Honda Sensing, which is Honda's suite of active safety features consisting of automatic emergency braking, lane-keeping assist and radar cruise control. Android Auto and Apple CarPlay come on all but the base trims. Other features available on both vehicles include LED headlights, enhanced sound systems, dual-zone climate control and in-car Wi-Fi. Both vehicles can be had with heated seats, though only the Civic is available with a heated second row.
One drawback to either vehicle is the inclusion of Honda's LaneWatch system. In place of blind spot monitoring, LaneWatch is a unique system that projects a feed from a camera located in the side view mirror onto the center infotainment screen any time the turn signal is depressed. As it's not nearly as functional as proper blind spot monitoring, Honda has phased out LaneWatch on most of its vehicles, but it remains on both the Civic and Insight.
Pricing
The 2020 Honda Civic has a starting price of $21,605 when factoring in destination and handling fees. Ignoring the available performance models and unique body styles, a loaded Civic Sedan Touring model comes in at $28,655. A base-model 2020 Honda Insight LX starts at $23,885, while a fully-loaded Touring model has an MSRP of $29,295.
Conclusions
It's best to think of the Insight as the hybrid version of the Civic. While both vehicles offer great fit and finish, a refined ride and similar interior spaces, the Insight returns better fuel economy than the Civic — much better, in fact, with an advantage of about 20 mpg in all categories depending on trim levels and options selected. Beyond that, the Civic does offer a few additional body styles and gives you the option of a manual transmission. The Insight comes solely as a sedan with a continuously variable automatic. If you know you want a non-Si Civic sedan, the Insight is worth considering, given that it requires just a small price premium over a comparably-equipped Civic. To decide between the two, do a little math and see how long it would take you to pay off the Insight's price premium in the form of fuel savings. If the payback happens in a shorter amount of time than you plan to keep the car for, then the Insight is probably a smart move. Find a Honda Civic for sale or Find a Honda Insight for sale