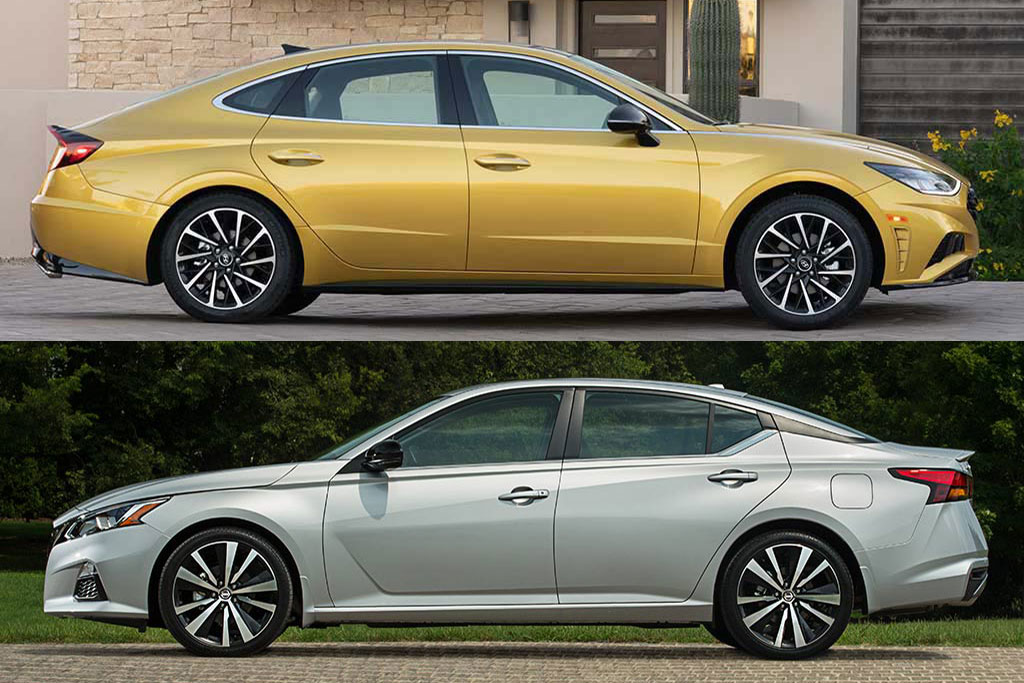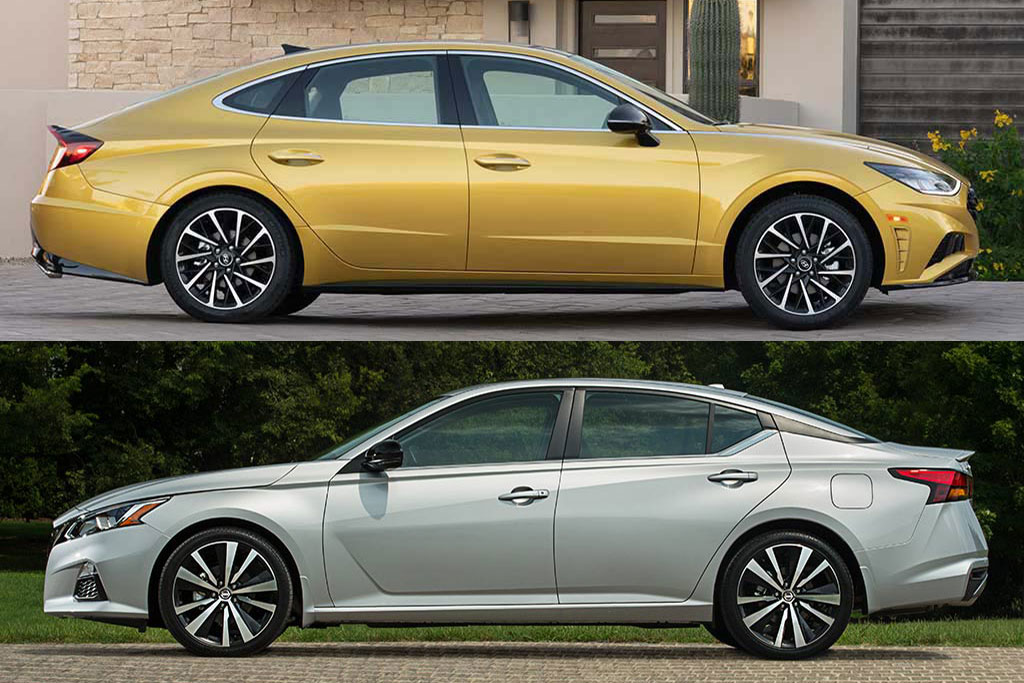 Two of the more modern midsize sedans on the market today are the 2020 Nissan Altima and the Hyundai Sonata. The Sonata is all-new for this year and offers bold design, an upscale cabin and loads of clever features. The Altima was all-new for 2019, and for the first time ever it's available with AWD. Since there's a lot that makes either of these cars stand out in a crowd, we've compared them across a number of categories below to highlight the differences.
Exterior
Both vehicles wear attractive, modern designs, but the Sonata's is certainly the more interesting of the two. Up front, it has a large, broad grill opening that gives the appearance of a wide front fascia. It also has a unique headlight design with LED strips that run up the front fenders and fade into a pair of chrome trim pieces that extend along the greenhouse. Around back, the Sonata's trunk lid is flat and minimalist, incorporating wraparound red LED lighting and a ducktail spoiler. The design looks great, but it makes closing the trunk an awkward maneuver. The Altima is more conservatively styled on the outside. Up front you'll find Nissan's familiar V-shaped corporate grill, while a black trim piece visually separates the roof from the rest of the body. See the 2020 Hyundai Sonata models for sale near you or See the 2020 Nissan Altima models for sale near you
Interior
Both vehicles have zen-like interiors, but again, the Sonata's uses bolder styling. The Sonata incorporates a number of unique design elements, including a four-spoke steering wheel, a push-button gear selector and a large 10.25-in center infotainment screen that's offered on all but the lowest trim levels. The Altima has a soft and serene interior. It uses a muted color palette, rounded edges and simulated wood trim. Both vehicles see their infotainment screens perched atop their center stacks like a tablet computer, which allows the dashboard to be lower overall, making for greater outward visibility.
Looking at the dimensions that matter most, the Sonata has 34.8 inches of second-row legroom, while the Altima has 35.2-in. Cargo volume for the Sonata comes in at 16.3 cu ft., while the Altima has 15.4.
Mechanicals
As its base engine, the 2020 Nissan Altima makes use of a 2.5-liter 4-cylinder that puts out 188 horsepower and 180 lb-ft of torque. This sends power to either the front wheels, or to all four if you opt for AWD, which is a $1,350 option. With FWD, this powertrain is rated at 28 miles per gallon in the city, 39 mpg on the highway and 32 mpg in combined driving, while AWD models come in at 26 mpg city/36 mpg highway/30 combined. The optional engine on the Altima is a turbocharged 2.0-liter 4-cylinder, which is only available with FWD. The turbo puts out 248 hp and 280 lb-ft of torque, and is rated by the EPA at 25 mpg city/34 mpg hwy/29 mpg combined. The Altima comes standard with a continuously variable automatic transmission.
The Sonata comes with two 4-cylinder engines that make strangely similar power and fuel economy numbers. Lower-spec models use a 2.5-liter 4-cylinder putting out 191 horsepower and 181 lb-ft of torque. The EPA rates this engine at 27 mpg city/37 mpg hwy/32 mpg combined in most trims. SEL Plus and Limited models come with a 1.6-liter turbocharged 4-cylinder that makes 180 hp and 195 lb-ft of torque and returns 27 mpg city/36 mpg hwy/31 mpg combined. Either engine comes paired to an 8-speed automatic (which we prefer to the Altima's CVT) that sends power to the front wheels.
Also available is a Sonata Hybrid, which uses a 2.0-liter 4-cylinder engine mated to an electric motor for a total of 192 horsepower. The Sonata Hybrid is rated at 47 mpg combined, or 52 mpg in the efficiency-focused 'Blue' trim.
Anticipate a more powerful N-Line version of the Sonata going on sale in the coming months. It's expected to use a turbocharged 2.5-liter 4-cylinder rated at 260 hp and 310 lb-ft of torque.
Features & Technology
Noteworthy features available on the Sonata include heated and ventilated front seats, a heated steering wheel, a color heads-up display, rain sensing windshield wipers, a panoramic sunroof, a 360-degree camera system and — among other things — a party trick referred to as 'Smart Park' that's offered on its top trim. This allows the vehicle to pull itself out of parking spots autonomously via buttons on the key fob.
The Altima offers a lot of good stuff too, including heated front seats, a heated steering wheel, a surround-view camera, Bose premium audio, active noise cancellation, a built-in garage door opener and more. Oddly, ventilated seats are not available. The Altima comes standard with an 8.0-in infotainment screen across the board. The Sonata gets an 8.0-in screen on its base trims, while all other trims get a 10.25-in unit. The Sonata also comes with a 12.3-in digital gauge cluster available, starting on its SEL trim.
Both the Sonata and the Altima have received Top Safety Pick awards from the Insurance Institute for Highway Safety, earning top marks in all crash test categories. Both vehicles are also available with loads of active safety tech. The Sonata comes standard with forward collision warning, automatic emergency braking, full-speed adaptive cruise control, lane tracing assist, automatic high-beams and a driver attention monitor. The Altima offers forward collision warning and automatic emergency braking as standard, while most of the other features listed above are available on all but the base trim. Both vehicles also feature an assistance feature for highway driving that combines elements of adaptive cruise control and lane-centering to pilot the vehicle down the highway over short distances with minimal driver input.
Keep in mind that Hyundai differentiates itself by offering a class-leading 5-year/60,000-mile basic and 10-year/10,000-mile powertrain warranty, while Nissan's warranty is a more traditional 3-year/36,000-mile basic and 5-year/60,000-mile powertrain. It is worth noting that Hyundai's incredible warranty terms don't transfer to second owners.
Pricing
Factoring in destination fees, a base 2020 Altima starts at $25,025, and AWD adds another $1,350. The Altima tops out around $37,000 in the fully loaded Platinum trim with either the base engine and AWD, or the more powerful turbocharged engine and FWD.
Including all of those unavoidable extra fees, the 2020 Hyundai Sonata starts at $24,575 and tops out at $34,775 in the fully loaded Limited trim. Expect to pay more for the Hybrid and N-Line versions of the Sonata, which will go on sale in the coming months.
Conclusions
In this comparison, we prefer the Hyundai Sonata, unless of course you can't do without all-wheel drive — in which case the Altima is the de facto choice. The Sonata offers a more upscale experience all-around, with dramatic exterior styling, a great interior, and loads of modern technology. Both vehicles are available with all of the modern safety features and a good mix of technology, but the Sonata appeals more to emotions. Long-term reliability for the Sonata is an unknown at this point, but Hyundai's excellent warranty should make up for any shortcomings in this regard. Both of these vehicles are safe and modern, and either one offers most of what buyers are looking for in this segment, but the Sonata just gives you a little more to get excited about. Find a Hyundai Sonata for sale or Find a Nissan Altima for sale