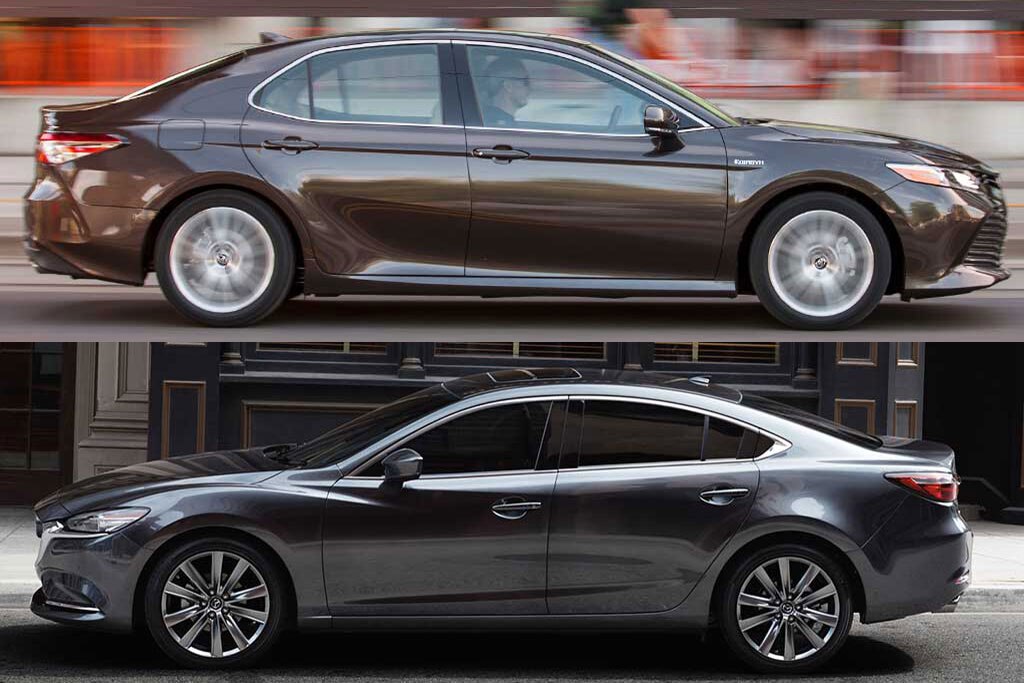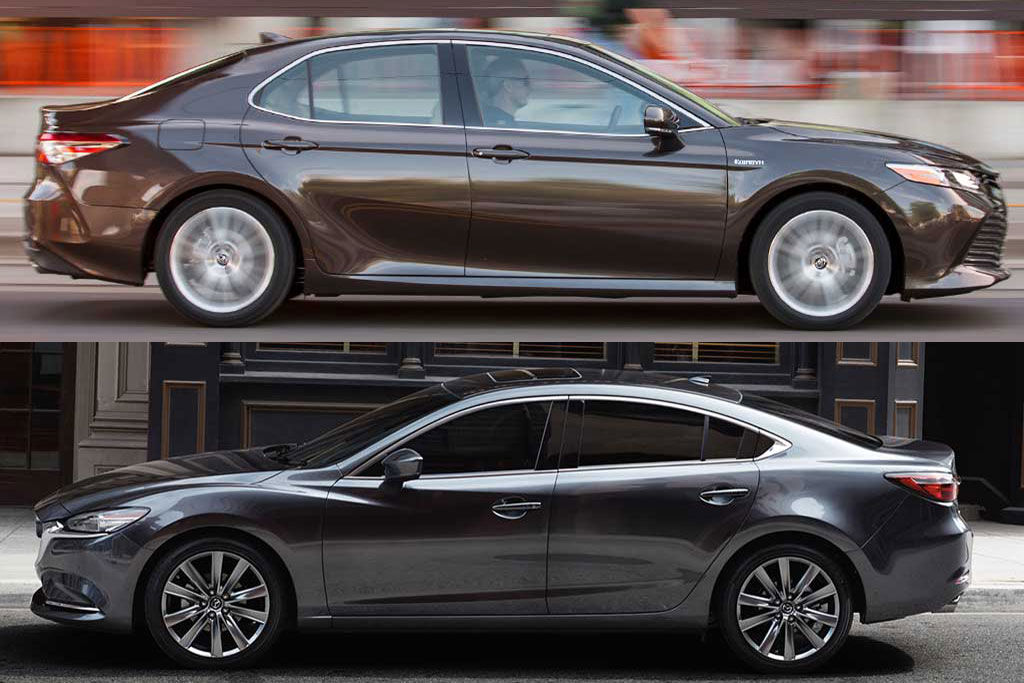 The 2020 Toyota Camry gains optional all-wheel drive.
The Mazda6 is known for premium design and upscale materials.
The Camry offers a fuel-efficient hybrid model.
Two of the more compelling midsize sedans on sale today are the Toyota Camry and Mazda6. The Camry has long been the best-seller in this segment, and for 2020 gains optional AWD and a performance-oriented TRD model. The Mazda6, on the other hand, offers premium design and an overall upscale experience, which helps it stay competitive despite having been on sale since 2014 without a redesign. Either way, these two vehicles are commonly cross-shopped, so here we'll compare them in a number of categories to highlight their main differences in 2020.
Exterior
Neither of these vehicles is boring to look at. The Camry wears an aggressive, sporty exterior not found on previous generations. SE and XSE models have a sportier body kit, while the TRD model packs enhanced handling and braking performance. While the Camry wears a number of different hats, the Mazda6 sticks with a luxury aesthetic throughout its trim level range. It wears a trapezoidal-shaped mesh grille underscored by a broad chrome strip, and a chrome strip connects the taillights as well. Despite being a few years old, the Mazda6 is still a head-turner. See the 2020 Toyota Camry models for sale near you or See the 2020 Mazda6 models for sale near you
Interior
On the inside, the Camry is more utilitarian than the Mazda. The Camry's dashboard is driver-focused, with its center stack tilted toward the driver's seat. Beyond that, there's really nothing too remarkable about the Camry's interior. The Mazda6, on the other hand, has an excellent interior, which borders on luxury-car levels of refinement, especially on upper trims. If you're looking for comfort and sophistication, it's hard to beat the Mazda6.
In the second row, the Toyota Camry has 38 inches of legroom to the Mazda's 38.7. Cargo volume for the Camry comes in at 15.1 cu ft, while the Mazda6 offers 14.7 cu ft.
Mechanicals
The 2020 Toyota Camry's base engine is a 2.5-liter 4-cylinder that puts out 203 horsepower and 184 lb-ft of torque. With the standard 8-speed automatic and front-wheel drive, the 4-cylinder Camry is rated by the EPA at 29 miles per gallon in the city, 41 mpg on the highway and 34 mpg in combined driving. Add AWD, which is newly available for 2020, and those figures take a pretty significant hit, dropping by about 3 mpg all around.
The Camry's available V6 comes exclusively with FWD. AWD is only available with the 4-cylinder. The Camry V6 is rated at 301 hp and 267 lb-ft of torque. Fuel economy is 22 mpg city/33 mpg hwy/26 mpg combined.
Finally, the Camry's available hybrid powertrain puts out a total of 208 hp. The Camry Hybrid LE is rated at 51 mpg city/53 mpg hwy/52 mpg combined, while Hybrid SE and XLE models are said to return 44 mpg city/47 mpg hwy/46 mpg combined.
The engine offered on the Mazda6's Sport and Touring trims is a basic 2.5-liter 4-cylinder that puts out 187 hp and 186 lb-ft of torque. Grand Touring, Grand Touring Reserve and Signature models get a 2.5-liter turbocharged 4-cylinder rated at 250 hp and 310 lb-ft of torque. A 6-speed automatic transmission is standard with either engine. The base 4-cylinder is rated by the EPA at 26 mpg city/35 mpg hwy/29 mpg combined, while the turbo returns 23 mpg city/31 mpg hwy/26 mpg combined.
Features & Technology
The Mazda6 and Toyota Camry are both offered with Android Auto and Apple CarPlay. The Camry gets them standard, while the Mazda offers them on all but its base trim level. Both vehicles come with excellent safety ratings and loads of standard active safety tech, including automatic emergency braking, radar cruise control, automatic high beams and lane-keeping assist. Both vehicles are also available with a 360-degree camera, a head-up display and more.
The Camry offers more choice than the Mazda6. Want an exceptional fuel economy? Get a Camry Hybrid. Want a performance sedan? The Camry TRD is a great choice. Live in a snowy climate? There's now a Camry with AWD. The Mazda6 is exceptional, but it doesn't have nearly as many different versions as the Camry.
Pricing
A base 2020 Mazda6 starts at $25,045 for a base Sport model, while a fully loaded Signature model comes in at $36,345. A base 2020 Toyota Camry starts at $25,250 and tops out at just under $40,000 for a loaded V6 XLE or XSE model.
Conclusions
If you want a hybrid fuel economy, enhanced performance or AWD, then the Camry is really your only option here. That said, if you're looking for a basic sedan with FWD, then this decision becomes a little more difficult. The Camry remains the sensible choice, as Toyota's reliability and resale value are unrivaled, and the current-generation Camry is far more exciting than the ones that preceded it. That said, the Mazda6 offers an exceptional experience. It's got a more emotive design, a nicer interior and sharper driving dynamics than the Camry, and for that reason, many buyers will find it more emotionally appealing than the Camry. Either way, you can't go wrong. Find a Toyota Camry for sale or Find a Mazda6 for sale