Car Buying
Autotrader's 20th Anniversary: Ford F-Series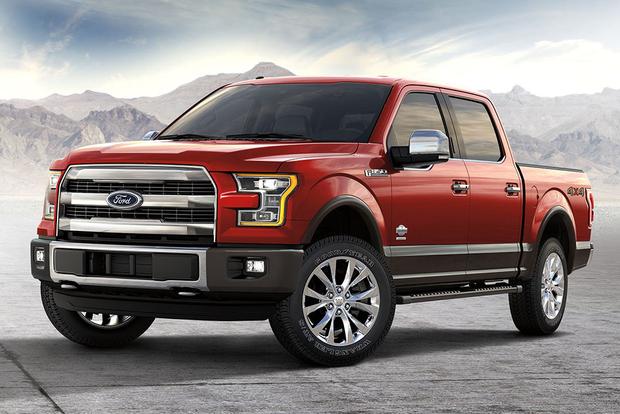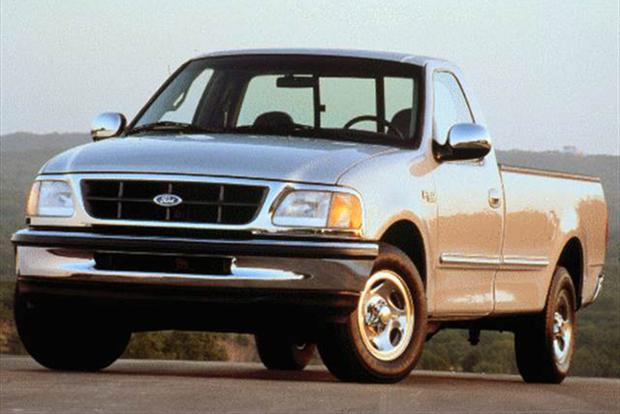 To commemorate Autotrader's 20th Anniversary, we've compiled a list of the top 10 most-searched new cars on the site and compared the current versions to their 20-year-old former selves. Ironically, the only passenger cars to make the list are two high-performance coupes, with not a single sedan or hatchback making the cut.
Number 1: Ford F-Series
As America's best-selling pickup truck, the Ford F-Series has every right to boast. In fact, the F-Series has been the best-selling vehicle in the U.S. for over three decades. This impressive record is not surprising; as Ford offers so many F-Series variations, the popular pickup could stand alone as its own brand. There's the best-selling F-150, the Super-Duty F-250 and F-350, the F-450 dually and the commercial-grade F-550 Chassis Cab. F-150s offer a choice of gasoline engines including the 3.5-liter EcoBoost twin-turbocharged V6, while the Super Duty trucks can be equipped with a 440-horsepower 6.7-liter PowerStroke diesel V8 that enables the F-Series to tow up to 32,500 pounds.
In keeping with its "something for everyone" theme, the F-Series offers a staggering combination of cab sizes, bed lengths, powertrains and wheelbases. Trim levels vary by model and include the affordable base-work truck, nicely equipped XLT and Lariat trims, off-road-ready Raptor and the ultra-luxurious King Ranch, Platinum and Limited.
For 2018, the F-150 will undergo a major design revision, further expanding the use of aluminum in its construction and offering three new engine choices including a diesel engine, a first for the half-ton F-150. Also new for 2018 is a 10-speed automatic transmission and base V6 gasoline engine.
The 1997 F-150
Twenty years ago, the Dow Jones closed above 7,000 for the first time, the world lost Princess Diana in a tragic automobile accident and the average cost for a new car was $17,000. 1997 marked a major change to the F-150. Ford jettisoned decades of boxy exterior design and equally square interior themes for a more rounded, aerodynamic look. Not wanting to drive off their core customers, however, the F-250 and F-350 remained old school. Although its engine offerings were not as powerful as rivals from Dodge and Chevrolet, customers still flocked to the new design. Reviews of the day applauded the F-150's excellent ride and handling, plush cabin and the Super Cab's versatile third-door design. However, disturbingly poor crash test results from the Insurance Institute for Highway Safety prompted Ford to make safety a priority in the next generation F-150: a 2004 redesign that saw a return to the more traditional squared-off styling long associated with Ford trucks.