Car Buying
Autotrader's 20th Anniversary: Toyota Tacoma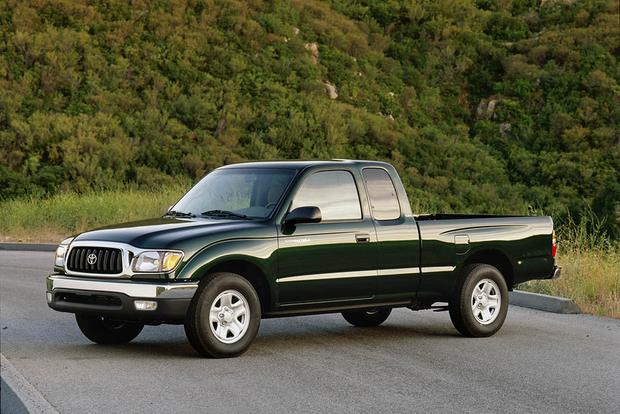 To commemorate Autotrader's 20th Anniversary, we've compiled a list of the top 10 most-searched new cars on the site and compared the current versions to their 20-year-old former selves. As you might have guessed, most are trucks or SUVs.
Number 6: Toyota Tacoma
The Toyota Tacoma has been a favorite among the press and public for as long as it has been in existence. While Ford and Chevy dominate the full-size truck market, Toyota's Tacoma remains the best-selling midsize pickup in the country, having outlived the Ford Ranger, outperformed the aging Nissan Frontier and, until recently, run circles around earlier versions of the Chevrolet Colorado and GMC Canyon. We say recently because GM's latest midsize pickup iterations have begun chipping away at the Tacoma's dominance.
The Toyota Tacoma has built a loyal following by offering a wide choice of models and configurations, stylish good looks and a reputation for dependability and longevity. The Tacoma offers many of the same features and abilities as a full-size pickup, without the added bulk and lofty price. Buyers can choose between a 159-horsepower 2.7-liter 4-cylinder or a proven V6 generating 278 hp and 265 lb-ft of torque. However, unlike the Chevy Colorado, the Tacoma does not offer a diesel engine option, and its 6,400-pound tow rating falls short of the Chevy Colorado's 7,000-pound figure.
The 6-model Tacoma lineup begins with the basic SR Access Cab, moves to the segment-leading SR5 and tops off with the plush Limited trim. In between are three TRD (Toyota Racing Development) models: the TRD Sport, TRD Off-Road and TRD Pro. Within the model lines there are dozens of configurations, including a choice of manual or automatic transmissions, 2- or 4-wheel drive, short or long beds and Access or Double Cab passenger compartments. The TRD Pro is an off-road-ready warrior that has become a favorite among those seeking to get far away from the civilized world.
1997 Toyota Tacoma
In 1997, Tony Blair was elected Prime Minister of the U.K., the first Austin Powers movie hit theaters, and IBM's Deep Blue computer defeated chess champion Gary Kasparov. 1997 was also a banner year for the Toyota Tacoma, it having replaced the highly popular compact Toyota pickup just two years prior. Compared to its predecessor, the Tacoma placed a greater emphasis on power, safety, room and comfort. 1997 saw the Tacoma receive a minor facelift, but the basic bits remained unchanged, including a choice of three engines: a 2.4-liter 4-cylinder, a 2.7-liter 4-cylinder and a 3.4-liter V6. Prices ranged from $12,000 to $24,000 with options, including a push-button shift-on-the-fly 4WD system, a locking rear differential, power windows and a sliding rear window.