While its birthplace will always be Michigan, in 1968 a rather unique Ford Mustang became the car of California dreaming for thousands of car loving enthusiasts. The Ford Mustang GT California Special got its start when a group representing California Ford dealers decided to create a limited number of special edition Mustangs specifically named for and sold in the Golden State. Inspired by a Shelby GT500 prototype, the California Special was conceived by Southern California district sales manager Lee Grey, and signed off on by none other than Lee Iaccoca himself.
Once approved, an in-house Shelby team was put in charge of designing and producing the California Special's unique parts, including a fiberglass rear spoiler decklid, end caps and side scoops. Other details included taillights pulled from the 1965 Thunderbird (minus the sequential signal function), wide side stripes with GT/CS logo, fog lights and hood pins. Customers could order the Mustang GT/CS with almost all of the standard Mustang options, including a number of engine options. Most California Special Mustangs left the factory with Ford's 289 small block V8 and C4 3-speed automatic transmission, although some cars were ordered with the big block 390 and Cobra Jet 428. Horsepower figures ranged from 195 to 335, depending on engine. Initially, 5,000 cars were planned, but final production numbers fell short by about 880 units, with about 250 cars sold in the Denver market under the name High Country Special.
Today, the original 1968 Mustang GT/CS is a highly collectible car, with some of the big block cars bringing as much as $150,000 at auction. However, you don't have to spend big money to own a California Special, because Ford has periodically revived the name and distinct look. Here's a quick look back at other California Special edition Mustangs over the years.
2007-2009 Mustang GT/CS
As the Mustang legend roared back to life, so too did the desire for more high-performance specialty models. In 2007, Ford reintroduced the Mustang GT/CS, offering it as a coupe or convertible and with a choice of manual or automatic transmission. Power came from a 4.6-liter V8 rated at 300 horsepower and 320 lb-ft of torque. As with the original, this new California Special featured side air scoops and wide side stripes that now faded near the rear door edge. New to the GT/CS were 2-tone seats, unique front and rear bumper covers and 18-inch wheels. The model was offered in five different colors and ran through the 2009 model year.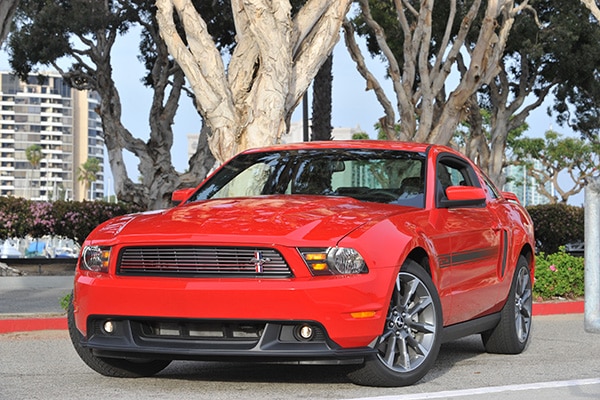 2011-2014 Mustang GT/CS
The Ford Mustang GT California Special returned for a 4-year run and was offered as a package on the 2011 through 2014 Mustang GT. Power for this version came from a 5.0-liter V8 producing 412 hp and 390 lb-ft of torque. Models from 2011 were distinguished by a unique chrome billet-style grille; all other years reverted back to a black plastic grille. As with the previous GT/CS cars, this generation retained its side scoops, faux rear gas cap, fog lights and side stripes. New features included a raised rear spoiler, 19-in wheels and carbon fiber interior trim. Color choices became more vivid, with names like Grabber Blue and Yellow Blaze. Then, 2013 saw the Mustang receive an exterior makeover and a power bump to 420 hp. Mimicking the GT500 that year, the GT/CS' wide side stripe was moved to the lower body and additional stripes were added to the hood. Interior upgrades included suede-like seat inserts, while black accents were added to the wheels and hood vents.
2016-17 Mustang GT/CS
As the Mustang continued to evolve, so too did the GT/CS trim. However, as the car was equipped with the same 435 hp engine and 6-speed manual as the standard Mustang GT, some critics complained the GT/CS was nothing more than a marketing gimmick. Gone were the bulging side scoops, but unique styling cues like the side stripes, faux gas cap and black wheels remained. The 2016 California Special included a black decklid spoiler, a strut tower brace and power leather seats with Miko suede inserts surrounded by red accent stitching.
2019 Mustang GT/CS
The latest Mustang to get the California Special treatment is the 2019 Mustang GT. For 2019, the side scoops are back, and the fading stripes return to the car's mid-section. The black decklid spoiler remains, but the front end now touts the splitter from the Mustang Performance Pack 1. Horsepower is up to 460, while torque is set at 420 lb-ft. Manual equipped models will feature rev-matching technology.