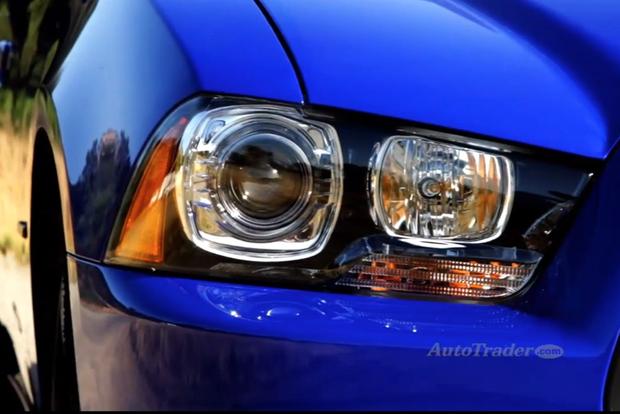 Last year's Dodge Charger offered edgy styling, high-performance engine choices, a roomy interior and up-to-date technology features. Fortunately, the 2013 Dodge Charger picks up right where the 2012 version left off. Only now it offers an all-wheel-drive Sport edition, a Road & Track package and nice appearance upgrades. As before, there are four trim levels, from the entry-level SE to the big and bold SRT8. But we'll focus on the Charger R/T, one giant Hemi V8-powered upgrade over the SXT.
Premium Space Within
The Charger's front seats come in a variety of designs and fabrics, and offer lots of comfort, especially on long trips. And the latest dashboard design is a winner, with stylish curves, some eye-catching aluminum accents and a great 8.4-inch touchscreen display that's one of the clearest and most intuitive we've ever seen. The R/T Road & Track Edition comes with premium amenities such as heated and cooled performance leather seats.
The Charger's navigation system, however, is disappointing. It's a standard Garmin unit redeployed in the dash. Navigation aside, the Charger R/T does offer standout tech options, such as Adaptive Cruise Control and a Blind Spot System with Cross Path Detection.
As far as roominess, the Charger offers spacious seats and generous legroom in the front and rear, so getting comfortable is effortless. Passengers will never feel cramped in this car.
Modern-Day Muscle
Engine choices for the Charger include a V6 and a couple of big Hemi V8s. The 3.6-liter V6 engine yields 292 horsepower and 260 lb-ft of torque. That should be adequate enough for everyone except the most die-hard of muscle car lovers who need the roar of the Hemi V8 to feel alive. The 5.7-liter Hemi boasts 370 hp and 395 lb-ft, while the 6.4-liter thunders out 470 hp and 470 lb-ft. Unfortunately, all V8-equipped Chargers are saddled with an obsolete 5-speed automatic transmission, while the V6 gets a smooth-shifting 8-speed auto.
Obviously, all this power will cost you something at the pump, especially with the bigger engines. The rear-wheel-drive R/T manages only 16 miles per gallon city/25 mpg hwy, while the all-wheel drive is even lower. But V6 models with the 8-speed gearbox allow a much more economical 19 mpg city/31 mpg hwy.
On the road, the Charger's steering is precise. For a car as big as this, it responds like a smaller sport sedan, with agile handling and surprising nimbleness.
The Bottom Line
The 2013 Dodge Charger R/T costs $29,995 for starters. Tack on all the extras in the Road & Track Edition and pricing quickly jumps to nearly $42,000. It has plenty of style, a full slate of accessories and Hemi V8 power. Unless you're a muscle-car fan, however, the R/T's 5-speed automatic teamed with the Hemi could be a deal breaker. It's just too archaic. Our recommendation is the V6 with the 8-speed automatic. It's the more balanced and sophisticated setup, and ultimately delivers the best everyday drive.