Car Video: 
Oversteer
For Just $300, I Bought the Next Highly Collectible "Old" SUV: A 1998 Jeep Cherokee XJ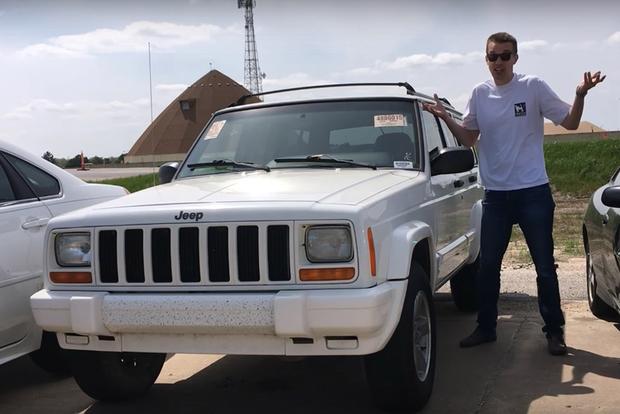 I was recently on the phone with Doug, our editor here at Oversteer, and he asked me how many vehicles I currently own. Honestly, I didn't know the answer. It's gotten that ridiculous: I have cars scattered around four different locations in two states. I had no plans on picking up 4x4 number four, but when "The Next Highly Collectible Old SUV" was offered to me for only $300, I found it impossible to resist.
My history with the boxy bodied XJ chassis Jeep made from 1983 to 2001 goes back to 2010, when I first got my dealer's license. At my first ever trip to the dealer auction, I picked up a pair of old Jeeps. The first, for which I paid $300, was a 1986 Comanche 4x4 -- the pickup version of the Cherokee, which used a modified chassis dubbed "MJ." Its 2.8-liter V6 motor grenaded on me within a few miles of leaving the auction -- but instead of replacing the motor, I dumped the Comanche at a salvage yard for roughly what I paid for it. In hindsight, given how impossible these are to find nowadays, it's painful to think about.
The second XJ purchase that day was a red 1999 Cherokee Sport with 155K miles. Mercifully, this one was in great mechanical condition. I bought it for $1,850 and promptly sold it later that week for $2,950. This encouraged me to buy every single XJ Jeep I could get my hands on. I sold tons of them -- everything from a 1986 Wagoneer with wood paneling to a 1995 Cherokee Country Package to a fully optioned 2001 Limited Edition.
At some point in 2012, it seemed like the door was slammed shut on the steady supply of XJ Jeeps -- and what few were offered for sale brought ridiculous money. It only got worse as time passed, and I haven't owned one in over five years -- until this incredible deal fell in my lap.
I was pretty shocked to come across this 1998 Jeep Cherokee "Classic" 4x4 at the dealer auction -- and I was even more surprised by the condition. The body was in excellent shape, with no rust or damage, and the interior was also in shockingly good condition. What made this even more unbelievable was the 360,000 miles showing on the odometer. Given my affection for interstellar mileage cars, I knew I had to buy this thing.
Unfortunately, I discovered the Jeep was removed from the sale because it refused to start. This auction does not allow cars to cross the auction block unless they move under their own power. I hunted down the used car manager representing the wholesale cars, and asked him about the Jeep. He dismissed it as something that would be hauled off for scrap for $300 -- and he offered it to me for that amount. It was hard to keep my composure while I wrote the check.
In the video, I foolishly think I can bring my Cherokee back to life by jiggling relays and pounding things with a hammer. This obviously didn't work. Once I towed the Jeep to somebody with a few more brain cells, getting it to run only required replacing a $50 starter motor.
I cannot believe how well this Jeep drives for having 360,000 miles. The motor (exhaust leak aside) is very smooth, along with the transmission and the 4x4 system -- and the whole thing cost less than a headlamp assembly on a 2017 Cherokee. Sure, there's a small list of minor repairs needed to make it mechanically perfect-- but of course I'm not going to stop there.