The U.S. economy runs in cycles, and we're now living through a valley. While nobody knows exactly when the economy will turn around or how quickly it will rebound, life goes on — and so do car sales. So if you're interested in selling or buying a vehicle, what does the state of the economy mean to you?
Good News for Sellers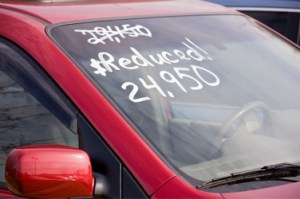 The good news is that even with a down economy, the demand for used vehicles is expected to rise. CNW Marketing Research, which studies automotive trends, predicts that used car sales in 2009 will reach 39 million units, up almost 10% over 2008 figures.
Stephanie Brinley, senior product analyst at Auto Pacific, identified two issues that are positively influencing the used vehicle market.
"With just minor regular maintenance, modern cars can easily last ten or more years, so buying a used car isn't the gamble it used to be," she says. "Also, with the decline in availability of leases for new vehicles, drivers who used to lease are looking to buy late-model used cars because they're affordable, like leases are, but still in style despite not being new."
New "Used" Buyers
James Bell, editor and publisher of IntelliChoice.com, sees the demand for used cars increasing because of the new generation of car buyers. According to Bell, "A huge portion of the Echo Boomer generation is coming of driving age, and these younger buyers will likely buy used instead of new. It's all based on economics." Echo Boomers are generally classified as being born between 1979 and 1994, so these buyers tend to be younger and have less access to credit.
"I think hatchbacks and crossovers will prove to be popular with them," Bell continues. "Minivans might even be OK. These drivers aren't old enough to feel the stigma attached to minivans that Gen-Y drivers acted on when they totally abandoned that class of vehicles."
Two other demographics represented in the "new 'used' buyers" set are first, consumers over the age of 65. They were among those hardest hit by the downfall of the economy and will likely not be able to buy a new car. Second, are consumers in the 40-60-year-old range. Many are still financially stable and will likely buy a car (possibly even a new one), but they are delaying the purchase for now, and are more open to considering used than they might otherwise have been.
Helpful Tips
One of the best things you can do to build trust and close the sale is to provide complete documentation, full disclosure of any accidents or mechanical issues, and a warranty if one is still in place. Now more than ever, car shoppers are looking for vehicles with complete service records and warranties so they have recourse for action from a dealer.
You should also plan your ad carefully and prepare your vehicle to look and run great when prospects start calling. If you're planning to buy a car, use the Autotrader car values page to research the value of the vehicle you have in mind.
With patience, you may find the perfect vehicle at the perfect price — or locate the buyer who wants exactly the vehicle you're selling. The process takes effort, but it will pay off.
Rex Roy is a widely published journalist from Detroit. His work appears in The Detroit News, The New York Times, AOL, and WindingRoad.com.