Editor's note: You may want to read more of Autotrader's model vs. model comparison car reviews as well as the 2019 Toyota Corolla Hatchback review, and the 2018 Honda Civic review.
Civic vs. Corolla. In the world of compact sedans, this is the heavy-weight match up. At the moment, however, the 2018 Honda Civic generally TKOs its older, less competitive Corolla sedan counterpart. The situation is quite different when it comes to their hatchback body styles, though, as the 2019 Toyota Corolla Hatchback represents a complete redesign and is therefore a completely different car than its sedan sibling. It puts up a much better fight against the Honda Civic Hatchback. Let's take a look at both to see which might be better for you.
2019 Toyota Corolla Hatchback
This is an all-new model that replaces the old Corolla iM hatchback and previews what we can expect from the next-generation Corolla sedan. If you're wondering what was updated when creating the new Corolla Hatchback, the answer is pretty much "everything." See 2019 Toyota Corolla Hatchback models for sale near you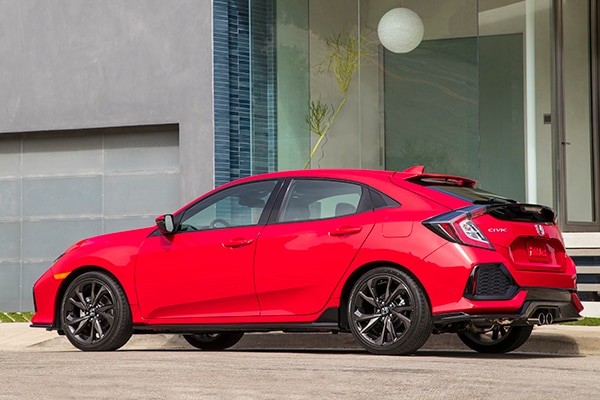 2018 Honda Civic Hatchback
The Civic Hatchback belongs to the same generation as the other two Civic body styles, sharing their interior and mechanical underpinnings. It's not available with the same trim levels and comes standard with the turbocharged 4-cylinder included on the sedan/coupe's upper trim levels. It's also built in England, whereas the others are assembled in either Indiana or Canada. See 2018 Honda Civic Hatchback models for sale near you
Reliability
The 2019 Corolla is way too new to fairly comment on its reliability, but every Corolla before it has been one of the most reliable cars on the road. History is at least on its side. The current Civic has been on sale now for two years, and so far it's followed in the ultra-reliable footsteps of its own predecessors. There have been complaints about its in-car tech, but we consider that a functionality issue, not a reliability one.
Fuel Economy
The 2019 Toyota Corolla comes standard with a 2.0-liter 4-cylinder engine that produces 168 horsepower and 151 lb-ft of torque. That's a huge jump from the Corolla sedan and betters many other compact cars as well. Fuel economy with the standard 6-speed manual transmission is 28 miles per gallon city/37 mpg highway/31 mpg combined. The optional continuously variable transmission (CVT) raises fuel economy to 32 mpg city/42 mpg hwy/36 mpg combined in the SE trim and 30 mpg city/38 mpg hwy/33 mpg combined in the XSE.
While the new Corolla's engine is certainly impressive compared to most other compact cars, the Civic's is even better. Its standard engine is a 1.5-liter turbocharged 4-cylinder good for 174 hp and 158 lb-ft of torque or 180 hp and 177 lb-ft in the Civic Sport trim level. That's a power difference you can most definitely feel. Regardless of trim level, the 6-speed manual achieves 29 mpg city/38 mpg hwy/33 mpg combined. The Civic's own CVT achieves 31 mpg city/40 mpg hwy/34 mpg combined in standard tune, while the Sport lowers those figures to 30 mpg city/36 mpg hwy/32 mpg combined.
Basically, the Corolla can be the more efficient car here, but it depends on the trim level and transmission.

Driving Experience
The Corolla has long been dull and a bit depressing to drive, but that changes with the 2019 Corolla Hatchback. Its new platform lends it a far more responsive and involved driving experience, and although it's certainly not a "hot hatch," it can definitely now be on the radar for those who want a little extra zing from their daily drive. That goes with either transmission choice. The 6-speed manual is easy and rewarding to use, and it comes with a trick rev-match downshifting function you'd normally only find on high-end sports cars like the Porsche 911 and the Chevy Corvette. The CVT is also better than most, simulating the gear changes of a regular automatic for better drivability and offering a manual mode that changes gears with surprising rapidity when called upon by shift paddles.
The Civic's CVT isn't as good, but it's also perfectly livable given the torque-rich power delivery of the standard turbocharged engine. Opting for the sweet 6-speed manual completely changes that engine's character, as you're able to rev it more and enjoy some of that trademark Honda engine sound that gets lost with the CVT and its preference for a lower (albeit more efficient) rpm range. In terms of steering, handling and ride, all are excellent, amounting to a spot-on balance between comfort and driver involvement. There's a reason this latest Civic continues to collect so many accolades.
Safety
The 2019 Corolla outdoes the Civic on the safety front by coming standard with more advanced safety features. Forward-collision warning, automatic emergency braking (with a higher speed threshold and bicycle detection added for 2019) and lane-keeping assist are all standard. Also included is adaptive cruise control, which features full stop-and-go functionality with the CVT.
To get the same basic standard safety tech on the Civic, the Honda Sensing package is optional on every CVT-equipped Civic trim level and standard on the Sport Touring. You can't get it with the manual. These systems aren't quite as sophisticated as those in the Corolla's, but they are at least more widely available than in most other competitor vehicles.
In government crash tests, the Civic Hatchback received a perfect five stars in every category. The nonprofit Insurance Institute for Highway Safety gave every Civic body style the best possible scores for crash protection and prevention. The 2019 Corolla has yet to be tested.
Technology
The Corolla also comes out on top in the infotainment front. Toyota's latest and greatest Entune 3.0 model is not only an 8-inch touchscreen, it also comes standard and is easy to see, reach and use. Its physical menu buttons and volume/tuning knobs are also welcome, and the in-screen menus are easy to navigate. Unlike much of the Toyota fleet, the 2019 Corolla also comes with Apple CarPlay. Other standard features include two USB ports and in-car Wi-Fi.
The Civic comes standard with a more traditional radio head unit featuring buttons, knobs and a large color display. There's only one USB port. Annoyingly, those buttons and knobs disappear with the 7-in touchscreen found on the EX trim and higher, contributing to one of the more frustrating touchscreen interfaces out there. Slow responses and convoluted menus don't help either. There's a reason newer Hondas have a greatly improved touchscreen interface. At least the touchscreen adds an extra USB port along with Apple CarPlay and Android Auto, which is not offered on the Corolla.
Interior Space
Here is where the 2018 Civic Hatchback has its biggest advantage. Its 25.8 cu ft. of cargo capacity is not only greater than other compact hatchbacks, especially the Corolla, but it also features a different layout more comparable to sedan/hatchbacks like an Audi A5 Sportback. This means the space is deeper and wider but not as tall. It should be a more functional space most of the time, but bulkier items may be a tougher fit than in boxier hatchbacks.
The Corolla, meanwhile, has one of the least utilitarian cargo areas in the segment. Its 18.1-cu ft. cargo area is small on paper, but it's actually worse in person. There's so little space above the cargo cover that you really don't have an advantage over a sedan until you lower the back seat. The Corolla also can't match the Civic's clever center console design that provides versatile and spacious areas for smaller items, smartphones and various beverage sizes.
In terms of space for humans, the Corolla is now a far more comfortable car for taller drivers. The latest Civic continues to be. In the back seat, the Civic Hatchback has 1.4 fewer inches of legroom than its sedan sibling, but it has a whopping 6 more inches than the Corolla. Frankly, it's a little hard to believe that difference is accurate (could be a difference in measurement techniques) because although the Civic does seem to have more room in person, it shouldn't be that much.
Value
The base Corolla SE Hatchback ($19,990 manual, $21,090 CVT) comes with more standard equipment than the similarly priced Civic ($20,150 manual, $20,950 CVT), which comes with a more powerful engine and considerably more space. There's certainly give or take there. The price gap begins to widen in favor of the Corolla as trim levels elevate, as its XSE offers the same sort of equipment as the Civic's upper trim levels for thousands less. Again, though, the Civic's inherent advantages remain and its range-topping Sport Touring is more powerful still.
Autotrader's Advice
The Corolla has a clear feature content advantage over the Civic and is a far more competitive vehicle than its predecessor. There's also something to be said for its styling, which has been well received and stands in contrast to the Civic Hatchback's vent-riddled, boy-racer look. Despite this, the Civic's size and power advantages make a big difference, and this is still a supremely capable and well-rounded hatchback. Find a Toyota Corolla Hatchback for sale or Find a Honda Civic Hatchback for sale