Given the wonders of modern logistics, buying a car from an American brand doesn't necessarily mean you're getting a vehicle that was actually assembled in the USA. Many vehicles from American manufacturers are actually assembled in Mexico or Canada using parts made all over the world, while others are developed and assembled overseas with other markets in mind, and are shipped across the ocean to the United States.
Did you know that the Buick Envision you see on American roads is built in China, while the U.S.-market Ford EcoSport is built in India? As for the Chevrolet Equinox and GMC Terrain — both are built in Ontario, Canada, along with a number of other American badged vehicles. On the other hand, the recently announced revival of the Chevrolet Blazer will be built south of the border in Mexico.
The inverse is true as well, and many non-American brands build cars right here in the US-of-A. BMW, for example, produces all of its SUVs at a plant it owns in Spartanburg, South Carolina, while Mercedes-Benz builds the GLE and GLS in Vance, Alabama. The Volkswagen Atlas is built at VW's Chattanooga, Tennessee plant, while the Toyota Sequoia and Highlander are assembled in Princeton, Indiana.
Thanks to all of this globalization, it can be hard to pick out a vehicle that is truly "American-made." Below, we've highlighted eight good made-in-the-USA SUV options, some of which are expected, while some others may surprise you.
Jeep Cherokee
The Jeep Cherokee is built in Belvidere, Illinois. In addition to being assembled in America, the Cherokee actually has a greater American-made parts content than any other vehicle sold in the United States. Refreshed for the 2019 model year, the Cherokee is available in a number of trim levels with three different engines. A 2.4-liter base engine makes 184 horsepower and 171 lb-ft of torque; a 3.2-liter V6 makes 271 horsepower and 239 lb-ft of torque, while the 2-tier 2-liter turbocharged 4-cylinder puts out 270 hp and 295 lb-ft, while also achieving the best fuel economy of the group with 26 miles per gallon in combined city and highway driving. The Cherokee is available in both front– and all-wheel drive configurations. The Overland trim level offers an on-road luxury experience, while the top-of-the-line Trailhawk is quite capable off-road, making it great for the weekend adventurer.
BMW X3
The X3 is built at BMW's Spartanburg, South Carolina assembly plant and offers two engines in either rear– or all-wheel-drive configurations. The base engine is a 2-liter turbocharged 4-cylinder making 249 hp and 258 lb-ft of torque, good for a respectable 25 mpg combined. If you're looking for more power, BMW offers for the first time ever an M-badged X3 in the new X3 M40i, which employs a 3-liter turbocharged inline 6-cylinder, good for 355 hp and 369 lb-ft of torque put to the ground through all four wheels, getting the X3 M40i from 0-to-60 in a brisk 4.6 seconds while still achieving 23 mpg in combined driving. As with most BMWs, the cost of the X3 adds up quite quickly when you start to add options that would usually come standard in other vehicles. But if you can stomach the cost, the X3 offers a great, sporty driving experience in an SUV package.
Honda Pilot
Honda builds the Pilot in Lincoln, Alabama. Sold in its third generation since the 2016 model year, the Pilot gets its power from a 280-hp 3.5-liter V6 engine, good for a combined 21 mpg overall. The pilot offers seating for eight and comes with Honda's suite of modern driver assistance features, and Apple CarPlay and Android Auto compatibility. Honda reliability is some of the best in the industry, meaning that when it comes to hauling the family around, you can't go wrong with a Pilot.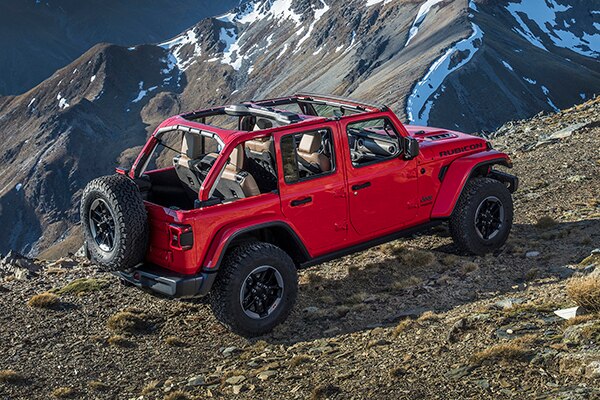 Jeep Wrangler
The Jeep Wrangler is a huge part of the economy for the city of Toledo, Ohio, where Jeep variants have been assembled since the 1940s. Like Jeeps of years past, the all-new 2018 Wrangler "JK" offers endless utility and capability, but new for this generation are many of the modern creature comforts that were absent on Jeeps of generations past. These include blind spot monitoring, parking assist, a great infotainment system and supportive, heated seats, along with high-quality buttons and interior surfaces all around. The removable top has also been dramatically improved as well, offering on-the-go configurability that requires considerably less effort than the prior generation. The all-new 2018 Wrangler ranges in price from around $30,000 all the way up to around $54,000 for a loaded Rubicon Unlimited.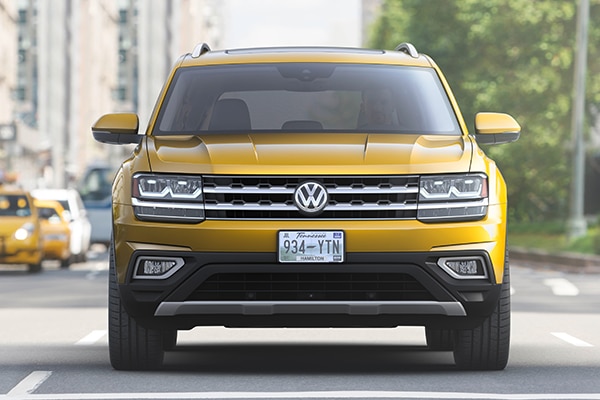 Volkswagen Atlas
As mentioned above, the new-for-2018 Volkswagen Atlas is built alongside the US-market Passat at VW's Chattanooga, Tennessee facility. The long-awaited Atlas offers seating for seven and two engine choices; a 2.0-liter turbo making 235 hp and 258 lb-ft of torque, and a 3.6-liter V6 making 276 hp and 266 lb-ft of torque. We'd recommend the four cylinder for its better combined fuel economy (24 mpg vs. 20 mpg), but only the V6 is offered with all-wheel drive. Either way, the Atlas is offered with Apple CarPlay and Android Auto on most trim levels, along with VW's comprehensive suite of driver assistance features. Additionally, all Atlas buyers will receive VW's awesome 6-year/72,000-mile bumper-to-bumper warranty — the best in the industry.
Find a Volkswagen Atlas for sale
Acura MDX
The Acura MDX is assembled in East Liberty, Ohio. Given that it's a Honda product at its core, the MDX is a great, reliable, reasonably priced luxury 3-row crossover offering seating for seven and plenty of cargo room. Last fully redesigned for the 2014 model year and refreshed for 2017, the MDX now offers Acura's suite of driver assistance features as standard across the board. Buyers are offered a standard powertrain setup consisting of a naturally aspirated 3.5-liter V6 making 290 hp and powering either just the front wheels, or all four via Acura's Super Handling All-Wheel Drive system. Additionally, buyers can opt for the Sport Hybrid trim level, which pairs a 3.0-liter V6 with electric motors and a 7-speed dual clutch transmission, good for an overall output of 321 hp and 27 mpg in combined driving.
Ford Expedition/Lincoln Navigator
All-new for 2018, the Lincoln Navigator is built in Louisville, Kentucky alongside the also-all-new Ford Expedition. A long awaited update to the the full-size luxury SUV, the new Navigator has received considerable praise for its upscale design and amenities and is now heralded as one of the best SUVs on the market. Powered by a potent 3.5-liter turbocharged V6 putting out 450 hp, the Navigator is good for around 18 mpg in combined city and highway driving and a 0-to-60 time of 5.5 seconds — that's quite fast for a behemoth of an SUV like this one. The new Navigator also sets the industry standard when it comes to comfort, technology, interior design and amenities, making for an extremely compelling package overall. Standard and long-wheelbase versions are offered, both of which offer seating for up to eight passengers. All of this SUV doesn't come cheap though, and the Navigator tops out at close to $100,000.
Find a Ford Expedition for sale
Find a Lincoln Navigator for sale
Subaru Ascent
The all-new Ascent is built at Subaru's Lafayette, Indiana assembly plant. The Ascent marks a return to the 7-passenger SUV segment in which Subaru hasn't had an offering since the discontinuation of the controversial Tribeca after the 2014 model year. The Ascent is a great option for the Subaru loyalist who finds him or herself with a growing family and in need of more space. Subaru aimed for best-in-class fuel economy from the Ascent, and buyers should see around 23 mpg in combined driving from the Ascent's 2.4-liter, 260-horsepower turbocharged 4-cylinder, the only engine offered. Beyond that, the Ascent offers as standard all of the modern technology buyers should look for in a new SUV, including Subaru's full suite of driver assistance features, Android Auto and Apple Carplay compatibility and an absolutely insane 19 cupholders. Standard.