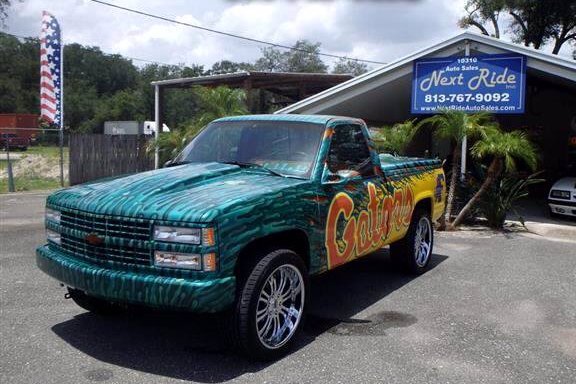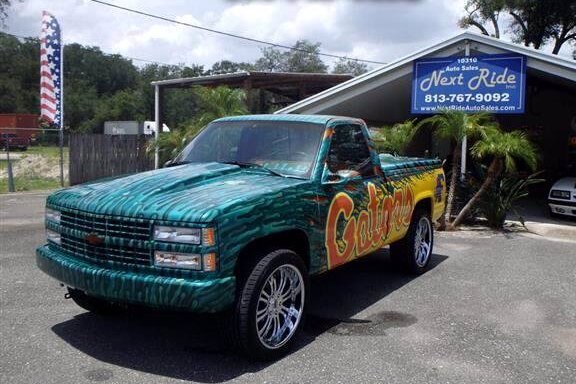 If you're a big Florida Gators fan, then have we found the truck for you. Today's Autotrader Find is a very special 1991 Chevrolet Silverado 1500 decked out in a custom Florida Gators livery. Just about every square inch of this pickup inside and out has been touched in some way by Florida Gators fandom.
Go Gators
Let's start with the paint job. The front is a dark green color painted in a way that kind of looks like water, but also kind of looks like the scaly skin of an alligator. It turns into yellow by the time you get to the bed with the "Gators" script logo emblazoned on both sides of the truck. Some exterior accents include chrome aftermarket rims, an orange Chevy bowtie emblem, and "F" Gators logos on either side of the bed.
Oh, and one more thing. A gator perched on top of the tonneau cover. The cover is painted to look like a stream the gator is swimming in and it even has some lily pads on it for an extra realistic touch. There's also a lounging gator painted on the tailgate along with another "Gators" logo.
That's just the exterior. The Gators themed paint job continues under the hood. Pop the hood and you'll find an orange engine bay and the scaly green paint job continuing all the way through the underside of the hood. The green scales even bleed down into the engine bay a bit. That's a real dedication to a custom paint job.
Is That Real Gator Skin?
The interior has its fair share of what is presumably faux alligator skin on the seats and the headliner. The dash and some other interior trim pieces are bright orange and the top of the dash has more of those green scales from the exterior bleeding into the inside of the truck. A nice technological touch is a Kenwood Excelon head unit with a navigation system in case you want to drive anywhere outside of Florida.
If you're anything but a die-hard Gators fan, this truck probably doesn't interest you. However, if you love the Florida Gators as much as you love Chevy trucks from the 90s, then this is the perfect truck for you. It's available for sale at Next Ride Auto Sales in Tampa, Florida with an asking price of $17,500. That price might be a little steep for a truck that's almost 30 years old with 179,711 miles on the clock, but you can be sure you won't see another one like it.