Well gang, it's December in Vermont, which means it's cold and leafless, and snow has begun to cling to the ground. If this doesn't sound like prime convertible driving weather to you, I'm with you. So, sadly, that means my Porsche 911 has been put into hibernation mode for the winter. It's currently sitting in a little storage building under a soft blanket, nestled among some other convertible friends, plugged in and eagerly awaiting the chance to run free again.
My wife and I bought the car all the way back in June with just a touch shy of 97,000 miles on it. Being a 1999 model, that means it's averaged only 5,400 miles per year since it was built. However, when I parked it a few weeks ago, the odometer read 107,634 miles. That's right: we very nearly doubled its average yearly mileage in just a few short months! Since it'll be a few more months before it goes any other adventures, I wanted to talk about how the car has treated us so far.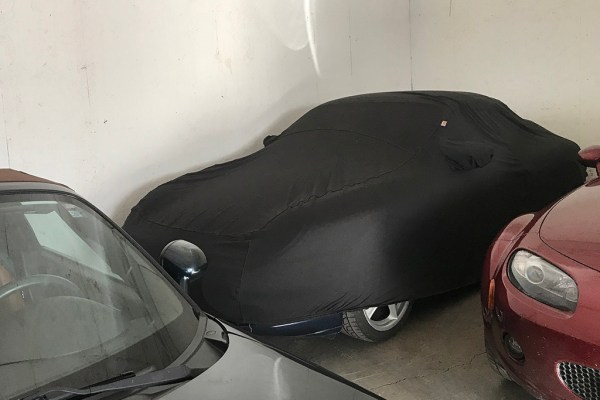 First, other than commuting to work with it regularly, the car went on several longer outings. I wrote about some of them here — like the time it went up Mount Washington and missed the sunrise by about an hour. There was also the time my wife and I took it to Albany, New York, to get the key we had ordered programmed to the car. Then my brother and I made our way to New Canaan, Connecticut, to check out what kind of beautiful cars would show up at Caffeine and Carburetors. On top of all that, we took it out and about several more times. For instance, we took it up the Mount Mansfield toll road and even traveled Vermont's Route 100 from top to bottom — which, save for a few miles, runs the full length of the state. Vermont is well-known for its foliage, so we spent a lovely day out in the Northeast Kingdom peeping at leaves. I once took a day off from work and drove it to Greenwich, Connecticut, to visit my friends at Miller Motorcars for a sneak peek at the Bugatti Chiron. In October, my wife and I took a few days off, filled the front of the car with clothing and supplies, and whisked away to spend some time in a great little town called Staunton, Virginia. It's a charming place that has lured us in a few times before, and it just so happens to also be near some unbelievable driving roads — assuming you keep your speed in check. It is still Virginia, after all.
Thankfully, the 911 has not yet blown up, so there are currently no plans for a LS swap or crazy Hoover-ish escapade like that. Instead, maintaining the car so far has been pretty simple and mostly routine. There was the aforementioned key thing, which came to $523.36. We changed the oil twice — and both times, we asked for a thorough check over to make sure we weren't headed for disaster. Both times, the car was given a clean bill of health. Along with mounting and balancing two new tires for the front of the car, all of that added up to $834.70.
On one of the last days I drove the car, it began to rain, so I stopped to put the top up. It came up just fine and the latch closed completely — but, afterwards, instead of raising the windows, the top would unlatch itself and try again — repeatedly. After driving it home with the top up but the windows down in the rain, I parked it in the garage and started some google sleuthing. As it turns out, there is a switch inside the catch part of the latch system that tells the car that the roof is closed. Sticking a screwdriver into the catch at just the right moment did the trick. I guess that's something I'll have to address in the spring. Also, if the budget allows, I'm going to address the seriously sandblasted windshield, apply some fresh wiper blades, and take care of the fact that the hinge on the center console cover is broken. But, since I still feel like we're in the honeymoon phase, we'll gloss over those things until next year.
So far, we've put $1,358.06 into maintaining the car. While that's a lot for a little over 10,000 miles, $500 of that was down to replacing the key, which is out of the ordinary. The oil changes could likely have been done for less too, but I wanted the oil changed by some people who know these cars inside out. In return, the 911 hasn't missed a beat and we didn't fret about taking it on any of the above adventures. It may be hibernating now — but, come the first time our dirt road isn't impassably muddy (so, June …), it's coming out, the top's going down and the flat six will wail again!
But, for now … good night. Find a Porsche 911 for sale
MORE FROM OVERSTEER:
Here's a Tour of the Flagship Mercedes S-Class From 1991
Autotrader Find: 2008 Lamborghini Gallardo With 1,800 Horsepower
Here Are All the Mercedes-Benz S-Class Models Ranked From Best to Worst