Car News
2008-2011 Infiniti G37 Coupe - Used Car Review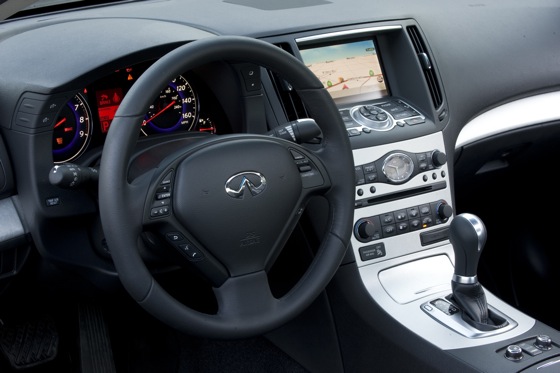 To own a coupe sometimes means making numerous sacrifices, especially if it's your only mode of transportation. You won't be shuttling the kids to and from soccer practice, nor will you be tapped to drive the office mates to lunch. You won't be asked to bring your vehicle to help your brother move to his new apartment and you probably won't vacation in remote areas far from the conveniences of modern day life. Then again, if none of these things sound particularly appealing to you, a coupe might be the perfect vehicle. Actually, the only thing a coupe is really good at doing is satisfying its owner, and perhaps one other lucky passenger. Coupes are escape artists, adept at ferrying you away from the tortures of a long day's work or the dreary existence of suburban life. Coupes are sleek and sexy and sought after, attributes that are also commonly held (real or imagined) by their owners. So, while there are numerous two-door temptresses from which to choose, we think one of the most alluring is the 2008-2011 Infiniti G37 Coupe. From its sleek lines and plush interior to its brilliant handling and reasonable price, Infiniti's G37 Coupe does everything right.
Why You Want It
The 2008-2011 Infiniti G37 Coupe offers handling on par with the legendary BMW 3 Series, luxury to rival the Audi A5 and an owner satisfaction and resale record any manufacturer would be proud to have. The G37 Coupe is snug inside, with a small rear seat that can technically fit two adults, but makes no promises as to how comfortable they'll be. Up front, the driver and passenger are treated to a set of marvelously contoured buckets seats covered in fine leather as well as a host of luxury features such as automatic temperature control, Bose audio and available voice-activated navigation. The G Coupe is without a doubt a blast to take mountain climbing, tackling twisting turns with all the confidence of Lance Armstrong in the Tour de France. But, unlike so many other coupes in this class, the G37's ride, though firm, is not punishingly harsh making it the perfect daily driver as well. Lastly, there's the G37's strong resale value, which may make it a bit more costly to purchase, but should also help you recoup a good part of your investment when it comes time to sell.
Notable Features & Options
The 2008-2011 Infiniti G37 Coupe is loaded with prerequisite luxury features including HID headlamps, Intelligent Key with push button start, leather seating, cruise control, XM satellite radio capability and 18-inch wheels. Among the many options available are Intelligent Cruise Control (a system that monitors and maintains a safe distance between you and traffic ahead), headlamps that turn in the direction of the steering wheel's aim, Bluetooth connectivity, voice activated navigation with real time traffic updates, heated seats, an 11-speaker Bose audio unit, and four-wheel active steering. The Sport Package adds 19-inch wheels, a six-speed manual transmission, sport suspension, a limited-slip rear differential, sport contoured seats and a more aggressive front end. All G37 Coupes include front side-impact airbags, side curtain airbags, electronic traction and stability control and anti-lock brakes (ABS).
Model Milestones
2009: The G37x with all-wheel drive joins the lineup, while a seven-speed automatic replaces last year's five-speed unit. Also new for 2009 is Infiniti's Scratch Shield self-healing paint that, when left in the warm sun, automatically removes small scratches in the car's clear coat paint.
2010: Changes are limited so some interior cosmetic upgrades to the G37's console and dash, the addition of rain-sensing wipers to the Technology Package, and a new navigation system.
2011: Infiniti rolls out is own in-house performance modification division called IPL (Infiniti Performance Line). The IPL-G Coupe distinguishes itself with unique front and rear fascias, a slightly more powerful V6 engine and improvements to the car's suspension, steering and brakes.
Engines and Performance
The 2008-2011 Infiniti G37 Coupe is powered by a 3.7-liter V6 engine that employs variable valve control for improved performance and fuel economy. The 3.7-liter engine pumps out an impressive 330 horsepower and 270 pounds-feet of torque. Hooked to a seven-speed automatic (five-speed in 2008) or six-speed manual transmission, the G37 transfers power to its wheels without hesitation or lag. While we love the short-throw feel of the six-speed manual, it's only available on the Sport model. Happily, the seven-speed automatic has a manual shift mode operated via steering-wheel paddle shifters that make driving the automatic version nearly as much fun. For the ultimate in performance handling, the G37x features an all-wheel-drive layout that uses an active center clutch to vary torque distribution as needed between the front and rear wheels. This means when you're going into a turn, the system may apply power equally to all four wheels, but as you begin to accelerate out, power shifts to the rear wheels for better control.
No matter which G37 Coupe you choose, you'll find the ride to be smooth and controlled, so long as the road is too. On bumpy pavement and uneven surfaces, the suspension can feel a bit stiff, more so with the Sport and IPL models due to their larger wheel and tire packages.
Recalls, Safety Ratings and Warranties
The National Highway Traffic Safety Administration, or NHTSA, has issued the following recalls for the 2008-2011 Infiniti G37 Coupe.
2008: A recall was issued for a possible defective control unit in the passenger seat that operates the airbag deployment system.
Recall repairs are required by law even if the vehicle is out of warranty. Your dealer can check to see if the repairs were performed and if not, will fix the car at no charge to you.
As for safety, NHTSA did not test the 2008-2011 G37, but the Insurance Institute for Highway safety gives it their highest rating of GOOD in the frontal offset and side impact crash test.
The G37 Coupe comes with a 4-year/60,000 mile basic warranty and 6-year/70,000 mile powertrain warranty. Infiniti also offers extended warranties that must be purchased when the car is new, but that are fully transferable. So, be sure to check if the car you're buying has such a warranty. If you buy your G37 Coupe through Infiniti's Certified Pre-Own program, the basic warranty period is extended to 72-months/100,000 from the vehicles in service date; you can also purchase an additional year of coverage through the CPO program.
Word on the Web
In general, the 2008-2011 Infiniti G37 Coupe earns high marks from consumers and consumer protection sites alike. Consumer Reports gives the 2008 and 2009 model average to good marks, but did seem to have a number of complaints regarding the brakes, electrical and audio systems. JDPowers.com gives the G37 line generally good marks for both reliability and initial quality. We did find some common complaints online about shift problems with the early model seven-speed automatic, but Infiniti has issued a number of flash upgrades to the computer's shift programming that seem to have solved the issue. Generally, owners love the G37's looks, its ride and handling and its fuel economy. Most love the Bose sound system, the handsome look and feel of the interior materials and cool Infiniti navigation system.
Competitive Set (say something about each, strengths and weaknesses)
If you're looking at a 2008-11 Infiniti G37, you might also be interested in the BMW 3 Series, which offers outstanding handling and luxury appointments, but is a bit pricier to own and maintain. The Audi A5 is much larger than the G37 with a usable rear seat, a more fuel-efficient but less powerful turbocharged engine and the availability of a manual transmission on AWD models. If you don't mind forsaking some of the luxury features and the premium brand name, you could shoot for a Ford Mustang GT. Or, you can save some money yet keep many of the high-end luxury trappings by getting into a Hyundai Genesis Coupe.
Auto Trader Recommendations
If we had our pick, we'd go with the Sport MT model every time. But, realistically, not many people enjoy driving a manual transmission anymore, especially in city traffic. This model is best left to the enthusiast. For everyone else, the G37x is the car to get. Its all-wheel drive layout improves the car's handling without sacrificing ride comfort, plus its all-wheel-drive layout makes it the perfect year-round car, a fact many northeasterners will come to appreciate come winter time.