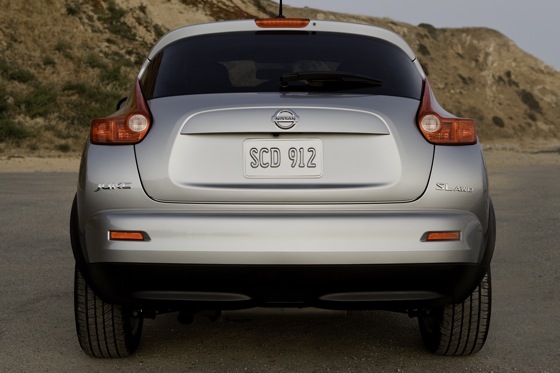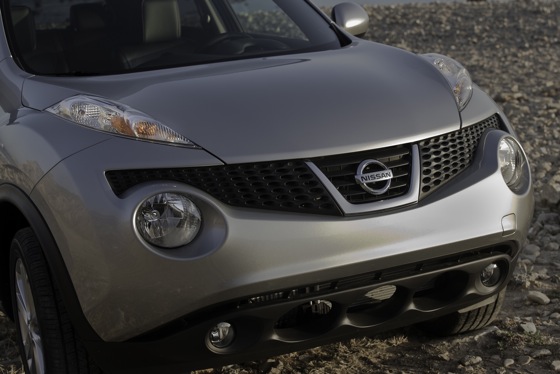 Pros: Quick-footed handling; responsive engine; available all-wheel drive; comfortable seats.
Cons: Limited cargo space; some cheap interior materials; lack of rear-seat headroom; love-it-or-hate-it styling.
What's New: Backup camera added to Navigation Package on SV model; revised Rockford Fosgate premium audio; new Midnight Edition with blacked-out styling; three new colors.
Inside and out, the 2013 Nissan Juke is one of the most interesting current offerings by any automaker. Part hatchback and part small SUV, this feisty little crossover has a sports-car-like personality and some seriously polarizing styling.
On one hand, the Juke offers the functionality of a hatchback. On the other, it delivers a fun-to-drive experience thanks to a turbocharged engine, precise steering and a sport-tuned suspension. Add a nice dose of cutting-edge electronics features, and you have a CUV intended for a more youthful set. But surprisingly, Juke sales have gone to people of all ages.
The Juke's exterior is the automotive equivalent of a piece of abstract art. From the front, it looks almost amphibious, with its gaping lower fascia and frog-like expression. Its taut, athletic profile wears a descending roofline and virtually no front or rear overhangs. The rear view is almost consumed by an oversize hatch. Ultimately, the Juke's styling is something that buyers will either be drawn to or won't be able to stand.
For those who appreciate the Juke's qualities, there's one more that might help seal the deal: affordability. The Juke has a base price that starts around $20,000, which is lower than most small crossovers. For everything it has to offer, that's a bargain.
Comfort & Utility
The Juke's distinctive design theme makes its way into the cabin with plenty of curvy surfaces and well-drawn lines. Shiny silver trim and accents add a punch of liveliness. The gauges are large and easy to read, and the switchgear feels solid and tactile. So does the thick-rimmed steering wheel, which is ideal for piloting the car through high-speed maneuvers. This cabin also benefits some well-conceived storage areas and compartments. Although the Juke has plenty of soft-touch surfaces, it has its share of hard plastics too.
The front seats are well contoured and supportive, and the side bolsters are amply padded. Both headroom and legroom are in abundance up front. But the rear seat is a different story. The second row offers decent legroom, but headroom might be an issue for taller passengers due to the Juke's low-angling roofline.
Regardless of its practical hatchback configuration, the Juke's cargo space is fairly limited. There are only 10 cu-ft with the rear seats up. Luckily, the second row folds flat to expand rear cargo room to a much more usable 36 cu-ft. But even that is much less than what many of its competitors have to offer.
The Nissan Juke is available in three trim levels: S, SV and SL. Standard convenience features for the base S include power windows and mirrors, cruise control, a 6-speaker stereo and a 60/40 split folding rear seat. The mid-level SV trim comes with sunroof, push-button start and automatic climate control. The range-topping SL includes leather upholstery and seat heat. Among the notable options is an upgraded Rockford Fosgate audio system, which is revised for 2013.
Another change for 2013 is the optional Midnight Edition styling package, which is available on all three trim lines. It includes blacked-out exterior details including 17-inch wheels, mirror caps and a rear spoiler.
Technology
The Juke offers several important advanced electronics features, including Bluetooth connectivity, which comes standard on all models. The up-level SV and SL both offer touchscreen navigation with real-time traffic and a USB interface. On the mid-midrange SV, opting for the nav package also adds a backup camera and premium audio.
Performance & Fuel Economy
The 2013 Nissan Juke is equipped with a 1.6-liter turbocharged inline-4 engine. Output is 188 horsepower and 177 lb-ft of torque. Energy is channeled to the front wheels by either a 6-speed manual transmission or a continuously variable automatic transmission (CVT). The Juke also offers all-wheel drive, but it's available only on CVT-equipped models.
EPA-estimated fuel economy for the front-wheel drive Juke is 27-mpg city/32-mpg highway with the CVT and 25/31 mpg with manual transmission. The all-wheel-drive Juke's fuel economy ratings are 25/30 mpg.
Safety
Standard safety features for the Juke include ABS, traction control, stability control, active front head restraints and six airbags: front, side and head curtain. The 2012 Juke earned the highest crash test ratings from the Insurance Institute for Highway Safety (IIHS).
Driving Impressions
First and foremost, the Juke's turbocharged engine delivers a healthy dose of exhilaration. Both off the line and in mid-sprint, this energetic little hatchback has plenty of get up and go. Passing is especially fun, as those you overtake are sure to give it a look that says, "What in the world is that thing?"
To customize the driving experience, Nissan equips the Juke with its Integrated Control System (I-Con), which allows the driver to select between three different operating modes: Normal, Sport and Eco. Each mode alters throttle response, steering speed and transmission settings based on your preferred driving style.
The Juke is an agile handler, benefiting from a precise steering system and a firm suspension. It's particularly nimble in corners, remaining stable and well planted even at higher speeds. And like most good sports cars, its performance seems to tighten up more as it's pushed harder.
The Juke is also very maneuverable at low speeds. Its small footprint and tight turning radius make it easy to navigate through city streets and crowded parking lots.
Add all-wheel drive to the equation, and the Juke becomes a very capable four-season vehicle. When there's no snow or mud to tread through, you can apply the AWD to a performance-oriented drive on a curvy country road.
Although the Juke is biased toward handling, its overall ride is, for the most part, comfortable and compliant. It might not be as plush as some rivals, but it's certainly adequate for daily commuting and longer road trips.
Other Cars to Consider
Chevrolet Sonic - The Sonic is less expensive but also less powerful. It offers about the same amount of cargo space as the Juke but in a smaller package.
Kia Soul - The Kia Soul offers much more cargo-carrying capacity, but the Juke is lot more powerful and a lot more fun to drive. Both vehicles have a descending roofline that compromises rear-seat headroom.
Scion xB - Like the Juke, the Scion xB is both stylish and tech savvy. The xB pulls ahead on cargo room, but the Juke wins on sportiness and performance.
MINI Cooper Countryman - The Juke and the Countryman are comparable in performance, but the Countryman is a good deal more expensive.
Mazda MazdaSpeed3 - The MazdaSpeed3 is comparable to the Juke in performance and offers more practical cargo space, but it's pricier.
AutoTrader Recommends
The mid-level 2013 Juke SV makes the most sense to us. You'll get a nice array of features without paying the premium that the up-level SL requires. The two main things you'll miss out on are leather upholstery and heated seats. We recommend you add the optional Navigation package, which includes a navigation system with real-time traffic, an upgraded sound system with subwoofer and a USB interface and a backup camera. For those living in colder climates, AWD is suggested. All others will be perfectly content driving the CVT-equipped front-wheel-drive Juke.