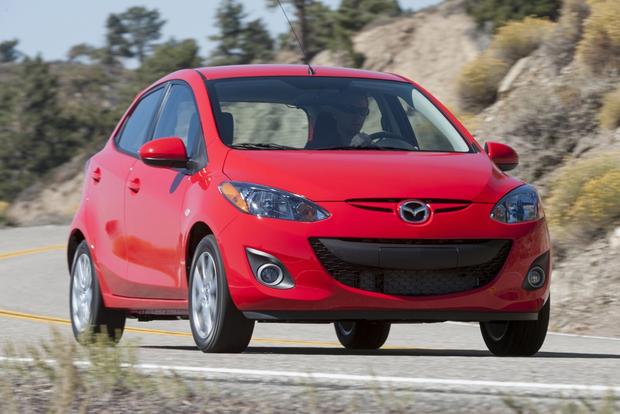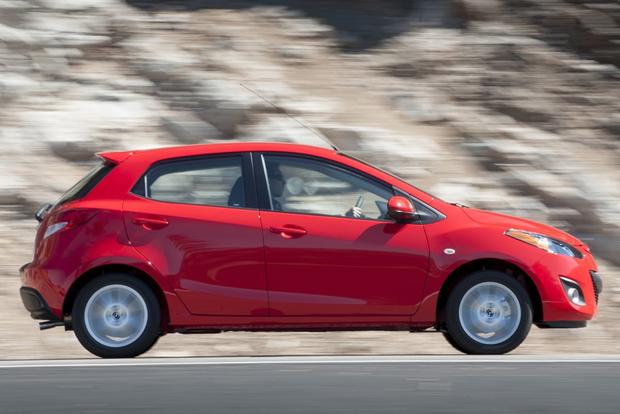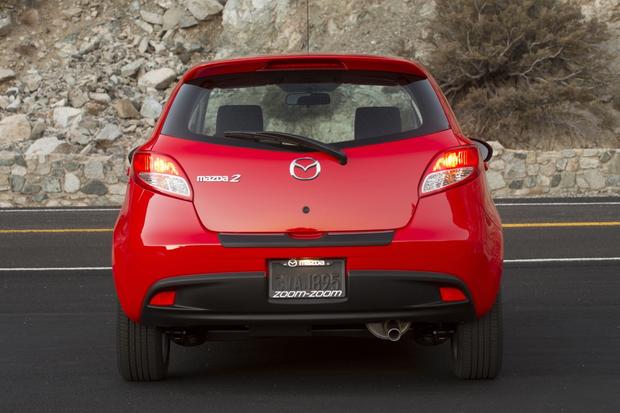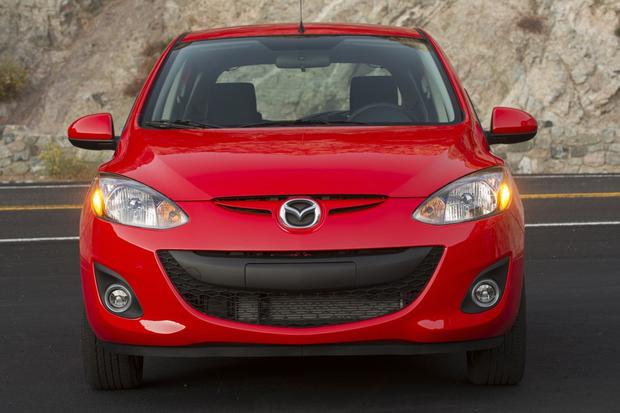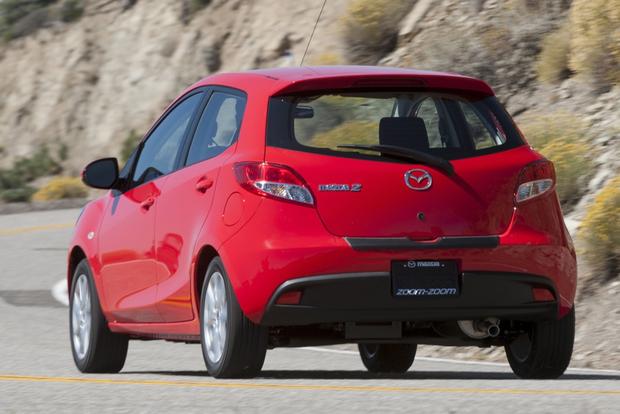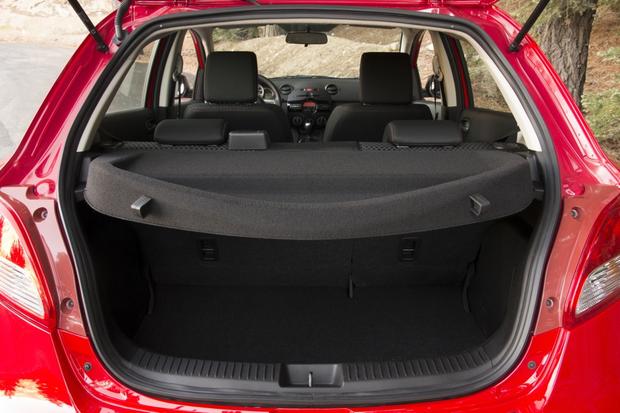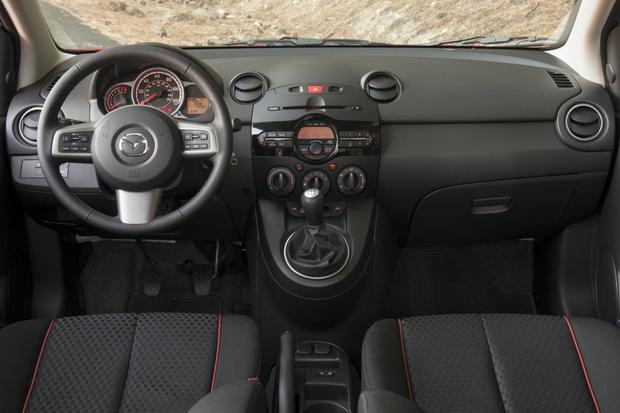 The idea behind the 2014 Mazda2 is a good one. Build a cute, fun, small car that gets great gas mileage and is affordable on almost every budget. It's a formula so simple Mazda is not the only car company implementing the idea. And therein lies the problem for the little Mazda2.
Kia, Ford, Honda, Chevrolet and Hyundai all offer a similarly sized car with more horsepower and more features for about the same price. If your target audience is first-time buyers in their 20s, your car better have features such as streaming audio and the ability to stream navigation or music apps. The Mazda2 does not, offering only a USB port. Compare what the Mazda2 offers to the Ford Fiesta, Kia Rio5 or Hyundai Accent, and you'll soon get the picture.
Things don't get much better under the hood, where a 100-horsepower engine comes up as one of the weakest in the subcompact arena. These may be nitpicks for this segment. The Mazda2 scores big in affordability, cuteness and economy, and fills the bill for those seeking basic transportation with a fun-to-drive streak. But if you desire a high-mileage small car with big-car, high-end features, there are better choices.
What's New for 2014?
There are no major changes to the 2014 Mazda2.
What We Like
Great handling; cool paint colors; clever styling
What We Don't
Small rear seat and cargo area; no high-tech audio or navigation features; 4-speed automatic transmission
How Much?
$15,515-$18,500
Fuel Economy
The 2014 Mazda2 is powered by a 1.5-liter engine good for 100 hp and 98 lb-ft of torque -- not the most powerful engine around, but peppy. Fuel economy with the manual is rated at an impressive 29 miles per gallon city/35 mpg hwy, while the automatic attains slightly lower marks of 28 mpg city/34 mpg hwy.
Standard Features & Options
The 2014 Mazda2 comes in just two trims, Sport and Touring, and offers few options.
The Mazda2 Sport ($15,515) includes a 5-speed manual transmission, tilt steering column, air conditioning, an AM/FM/CD/MP3 stereo with four speakers, keyless entry, 15-inch wheel covers, rear window defogger, rear wiper with washer, 60/40 split folding rear seat, height-adjustable driver's seat and power operation for the windows, door locks and side mirrors.
The Mazda2 Touring ($17,005) adds 15-in alloy wheels, fog lights, chrome exhaust finisher, a rear roof spoiler, leather-wrapped steering wheel, cruise control, two additional speakers, upgraded cloth upholstery and steering-wheel-mounted controls for audio and cruise control.
Options include a 4-speed automatic transmission, Bluetooth cellphone connectivity, center console armrest and a few other dealer-installed options such as floor mats and an auto-dimming mirror.
Safety
If you worry that a car as small as the Mazda2 may not be a safe choice for kids heading off to college, you can rest easily. Mazda equips every Mazda2 with front and front side-impact airbags, side-curtain airbags and electronic traction and stability control. In Insurance Institute for Highway Safety testing, the Mazda2 scored well in offset frontal and roof strength but earned only an Acceptable rating in the side-impact test.
Behind the Wheel
If you think we were not overwhelmed by the 2014 Mazda2, let us correct that: All complaints about lackluster audio technology and limited cargo space wither away once the Mazda2's ignition is engaged. The little Mazda is all about zoom-zoom, with a willing and responsive engine and a great manual gearbox. We prefer (and recommend) the 5-speed manual, which offers a sportier and, dare we say, almost Miata-like driving experience. Because of its fifth gear, the manual transmission allows the engine to rev a little lower at high speeds. The 4-speed automatic doesn't do much for us performance-wise; however, we imagine a good number of Mazda2s will go out the door so equipped.
The Mazda2's taut suspension is both agile and forgiving over harsh pavement, and the steering is so precise that we purposely went out of our way to find winding back roads and legal U-turns.
We did notice that the Mazda2's interior is noisy at highway speeds, especially the 4-speed automatic transmission, which makes the engine rev higher than the 5-speed manual.
Other Cars to Consider
Honda Fit -- The Fit offers more interior room than the Mazda2 and can be equipped with navigation and a backup camera, but we think the Mazda2 feels more sporty and agile.
Nissan Versa -- When it comes to interior roominess, the Versa is king. Plus, the Versa can be equipped with an inexpensive navigation unit and push-button start. However, the Versa lacks the Mazda2's coolness factor.
Kia Rio -- The Rio 5-door offers more power, better fuel economy, more high-end features and a better warranty than the Mazda2 but has slightly weaker long-term resale value.
Ford Fiesta -- The Fiesta is as cool as the Mazda2, offers Ford's SYNC communication system and has a much more upscale interior. The Fiesta also gets better highway mileage and has a more powerful engine.
AutoTrader's Advice
If a low price is your first priority, go with the Mazda2 Sport. If you're willing to spend $1,500 more, get the well-equipped Touring model, which has 15-in alloy wheels, cruise control, a 6-speaker stereo and upgraded cloth seats. Unless you deal with constant stop-and-go traffic, we recommend the manual transmission over the automatic.