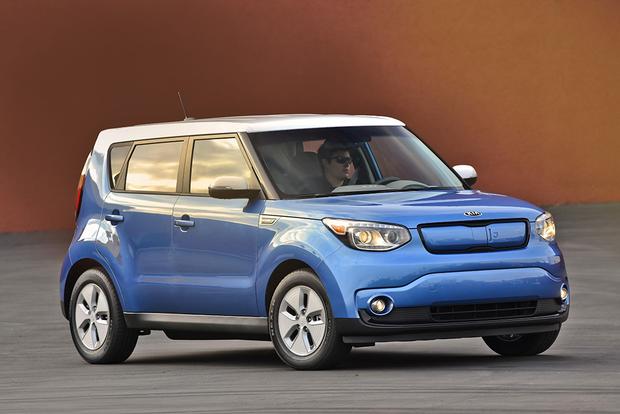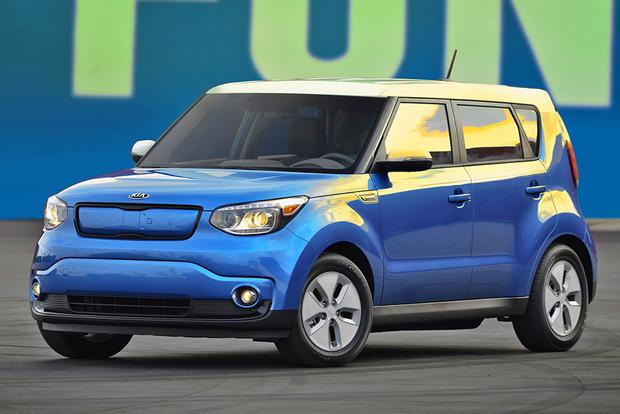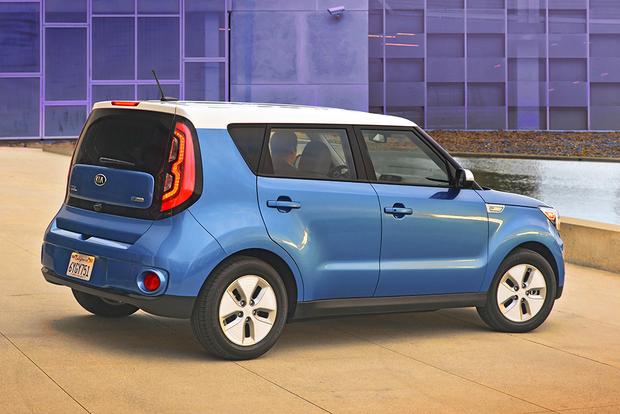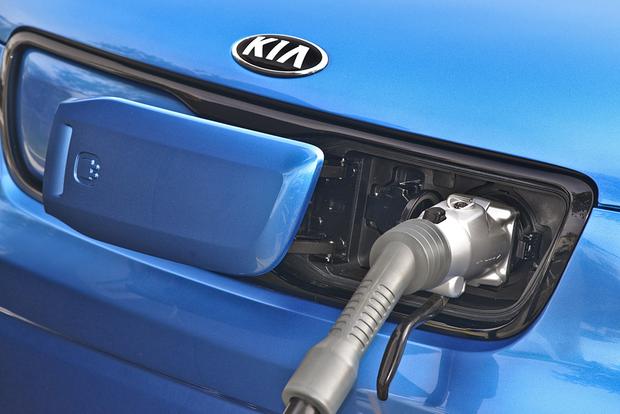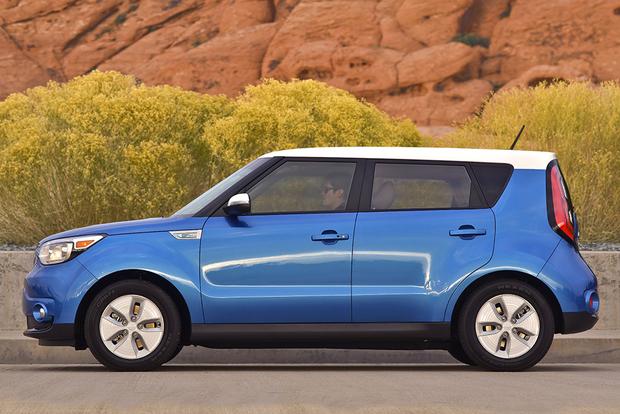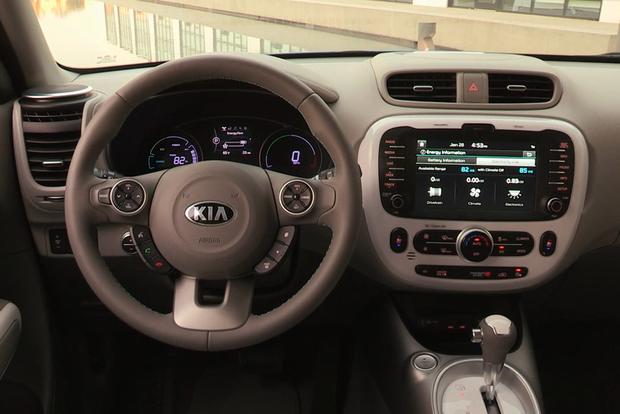 Once a novelty at best, the electric car appears to be here to stay. Leading the way is the 2015 Kia Soul EV, an electric version of the popular Soul compact that offers all the fun of its gasoline-powered counterpart, minus the emissions-emitting tail pipe. With a range of just over 90 miles, the Soul EV isn't quite ready to replace its combustion-engine twin, but for around-town driving and daily commutes, the Soul EV makes a lot of sense. When plugged into a standard 120-volt outlet, the Soul EV takes about 24 hours to fully charge, but that time drops to a mere 5 hours when using a 240-volt outlet. An 80 percent charge can be reached in as little as 33 minutes with the standard DC Fast Charge port. The Soul EV can even recharge its batteries while in motion thanks to a regenerative braking system that helps capture and store energy.
As good as it is, the Soul EV isn't the consumer's only choice. Sizewise, the $34,500 Soul EV's closest competitors are the Nissan LEAF and the Ford Focus Electric, each coming in around $30,000. The FIAT 500e and Volkswagen e-Golf are closer to the Soul EV in price, but like the Focus and LEAF, they can't match the Soul EV's range. When considering the overall cost of owning an electric car, remember to factor in the government's tax credit, which can be as high as $7,500 if you qualify.
What's New for 2015?
2015 marks the first year for the Soul EV. Aside from its electric powertrain, the Soul EV distinguishes itself from the standard Soul with unique colors, a white cap roof, flush wheels for improved aerodynamics and dual charge ports concealed behind a sliding panel in the plastic grille panel.
What We Like
Handles well; loads of cool features; good range on a single charge; roomy interior; batteries don't impede on cargo space
What We Don't
Price is a bit high; limited number of select markets
How Much?
$34,525-$37,500
Fuel Economy
The Soul EV is powered by an 81.4-kilowatt electric motor producing the rough equivalent of 109 horsepower and 210 lb-ft of torque. The electric miles per gallon gasoline equivalent rating for the Soul EV is 93 miles on the highway, 120 miles in the city and 105 miles combined.
Standard Features & Options
The Kia Soul EV is offered in two trims: base and Plus.
The Soul EV base ($34,525) includes 16-inch lightweight alloy wheels, keyless entry with push-button start, power windows, mirrors and door locks, auto headlights, automatic climate control with driver-zone-only feature, heated front seats, a heated steering wheel, a height-adjustable driver's seat, a tilt-telescopic steering column, a trip computer, a unique EV-oriented gauge cluster, climate scheduling (allows preset heating or cooling of the vehicle while charging), Flex Steer driver-selectable power steering and a rear backup camera, plus an AM/FM/CD/satellite radio with six speakers, navigation, UVO voice-activated infotainment and an iPod/USB port. Also standard is a 120-volt charging cable and dual charging ports (one AC, one DC Fast Charge).
The Soul EV Plus ($36,525) adds fog lights, leather seats, power-folding mirrors, front and rear parking sensors, heated and ventilated front seats, a padded leatherette dash pad and door armrests, an auto-dimming rearview mirror and heated rear seats.
Each trim is a complete package with no factory options, although a few dealer-installed items are available.
Safety
The 2015 Kia Soul EV comes with a complete armory of the latest safety features including front, front side-impact, and front and rear side-curtain airbags. Also on board are anti-lock brakes, electronic traction and stability control, hill-start assist, and because EVs run so silently, a pedestrian warning system that creates a virtual engine noise at low speeds.
As for crash-test results, neither the National Highway Traffic Safety Administration nor the Insurance Institute for Highway Safety (IIHS) has tested the Soul EV. The gasoline-powered Soul does very well, however, earning an overall 5-star rating from the government and a Top Safety Pick rating from IIHS.
Behind the Wheel
Like most electric cars, the Soul EV is quick, quiet and efficient. Thanks to its batteries' additional weight, the Soul EV feels more substantial than its gasoline-powered equivalent, but it also takes about a second and a half longer to reach 60 miles per hour. Handling is good but not as sharp or well-mannered as in the VW e-Golf. The Soul EV's 3-mode Flex Steer driver-selectable steering is an interesting attempt at improving feedback, but we found little noticeable difference between the Sport, Normal and Comfort modes.
The 81.4-kilowatt electric motor in the Soul EV produces 210 lb-ft of torque, which gives this little compact impressive power for off-the-line starts. It takes some time to get used to the way an EV accelerates, as the 1-speed transmission never shifts. Even more unsettling is the aggressive nature of the regenerative braking system that, once the driver's foot is removed from the accelerator, rapidly decelerates. Kia says the Soul EV will run to 60 mph in 11.5 seconds, with a top speed of about 90 mph.
Other Cars to Consider
2015 Nissan LEAF -- The LEAF costs less and has a more eccentric design than the Soul EV, but it also has less standard content and can't go as far on a charge.
2015 Ford Focus Electric -- Like the LEAF, the Focus costs less than the Soul EV but also can't travel as far. The Focus has pretty mainstream styling, which is a bonus for those who like its European-inspired design.
2015 Volkswagen e-Golf -- With the exception of the luxury Tesla Model S, Volkswagen's e-Golf is the most sophisticated, comfortable and quiet electric car on the market. Although it's not as hip as the Kia, the Volkswagen still demonstrates a clean, youthful look.
Used Chevrolet Volt -- The 2011-2014 Chevrolet Volt isn't a pure electric but rather a hybrid gasoline-electric that runs solely on electric power for about 40 miles. After that, a small gasoline engine powers the generator, which in turn provides power to the electric motor. Although it's not a zero-emissions vehicle, the Volt is much more practical for long trips.
Autotrader's Advice
Considering there's only a $2,000 difference between the two trims, we say go for the Soul EV Plus. Its heated and ventilated front seats are worth every extra penny, and the park-assist feature is a nice way to ensure that the bumpers won't get beaten up when parallel parking.