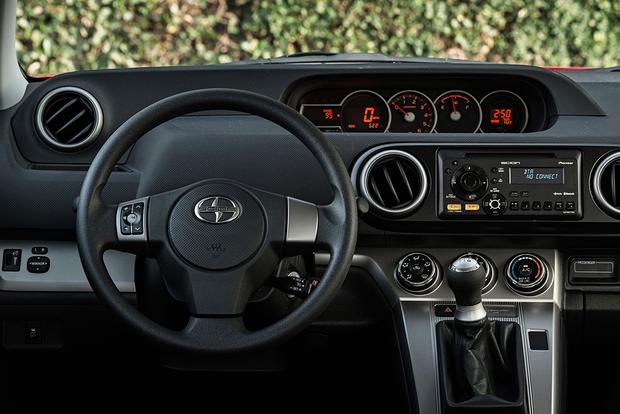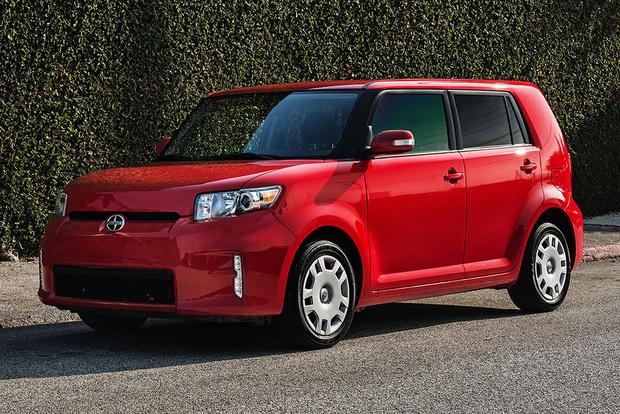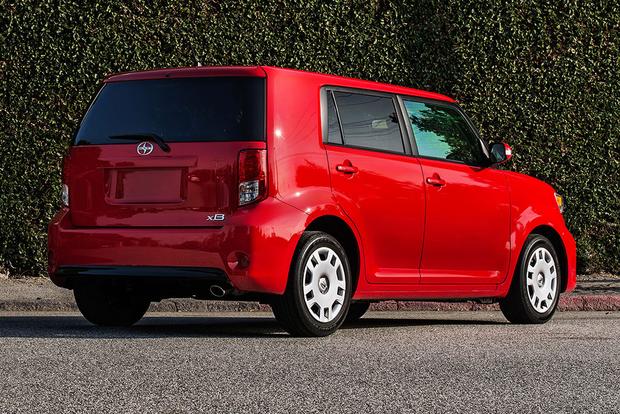 When it comes to pure utility, nothing beats a box. That's really what keeps the 2015 Scion xB relevant; its squared-off shape gives it almost as much cargo capacity as a midsize crossover SUV. As such, if your next vehicle needs to have a killer cargo-van mode, the xB merits close consideration.
But stay tuned, because this pony has more than one trick. The 2.4-liter engine, for example, was borrowed from the previous-generation Camry, so it's a lot of motor for a small vehicle. And despite its advancing age, the xB has stayed current with technology, offering a cool standard stereo and nifty smartphone connectivity features.
Also, the xB is as customizable as any Scion, so if you want a body kit, a sport exhaust or any other specific addition, your local dealer will hook you up, all without affecting your warranty in the least.
As for demerits, the 4-speed automatic transmission gives us '90s flashbacks (most rivals have five or six speeds), and it's one of the main culprits in holding the highway fuel economy below 30 miles per gallon. It's the same with the standard 5-speed manual shifter. Then there's the decidedly odd driving position, which we'd describe as a cross between a school bus and a UPS truck.
But the xB still offers more space efficiency than any other vehicle of this size, and it does so at a bargain-basement price with lots of available amenities. There's room for improvement, but we can understand why you might find Scion's box-on-wheels irresistible.
What's New for 2015?
The 2015 xB adds a rearview camera as standard.
What We Like
Energetic engine; ample cargo capacity; unique styling; plenty of technology features
What We Don't
Aging transmissions; poor fuel economy; buslike driving position
How Much?
$17,890
Fuel Economy
The front-wheel-drive xB is powered by a 2.4-liter inline 4-cylinder rated at 158 horsepower and 162 lb-ft of torque. A 5-speed manual is standard, with a 4-speed automatic available at extra cost.
Fuel economy is a lackluster 22 mpg in the city and 28 mpg on the highway, according to the Environmental Protection Agency (EPA).
Standard Features & Options
The 2015 Scion xB is offered in a single well-equipped trim level. Standard features include 16-inch steel wheels (with your choice of three plastic-cover styles), air conditioning, power accessories, cruise control, a first-aid kit, a tilt-telescopic steering wheel, a rearview camera and a 6-speaker Pioneer audio system with a Display Audio touchscreen interface, HD radio, and iPod/USB and Bluetooth connectivity.
Add-ons include alloy wheels in various sizes, fog lights, an upgraded Bespoke audio system (including a navigation system, Internet radio and social media accessibility) and a variety of mild performance aids such as lowering springs, stiffer shocks and a sport exhaust.
Safety
The 2015 Scion xB comes with standard stability control, 4-wheel anti-lock disc brakes and six airbags (front, front-side and full-length side-curtain).
In crash tests conducted by the independent Insurance Institute for Highway Safety (IIHS), the xB received the top rating of Good in all categories except the small-overlap front-impact test, where it was deemed Marginal (the second-lowest rating of four).
Behind the Wheel
In our interior evaluation, we found the xB's front seats to be distinctly firm and flat, offering little in the way of adjustability. Forward visibility is strange (the FJ Cruiser also comes to mind) thanks to the upright windshield, which seems like it's about five feet in front of you. The tilt-telescopic steering wheel is obviously an improvement over the tilt-only wheel in earlier xB models, but it still doesn't extend out far enough for lanky drivers. It's also angled forward pretty aggressively, even at its lowest tilt position; think big yellow bus here. At least the climate controls are user friendly for all.
The xB's driver information center consists of a row of four overlapping circles mounted toward the middle of the dashboard. The digital speedometer is the closest circle, so keeping track of your speed shouldn't be an issue, but we're not sold on the ergonomics of putting gauges somewhere other than in the driver's line of sight. Interior materials are mediocre, but we suppose plush polymers aren't really the point of a car like this. The standard touchscreen interface looks great, adding a bit of high-tech flair to what's already a pretty distinctive cabin.
Moving to the back seat, the xB offers such satisfactory accommodations for two that we consider it a viable alternative to compact crossover SUVs for passenger-carrying duty. The rear cushion is reasonably high, and legroom is plentiful. Cargo capacity is another of the xB's SUV-like traits, starting at just 11.6 cu ft. behind the back seat but expanding to a formidable 69.9 cu ft. with the rear seatbacks folded.
Under the hood, the Scion employs the same 2.4-liter engine that used to be in the Camry, and that's a lot of motor for a compact utility vehicle. Off the line, the xB really scoots, and the acceleration only tapers off once its bricklike exterior hits highway velocities. Unfortunately, both transmissions are down on speeds relative to most rivals. Although they work well enough, they're also largely to blame for the xB's subpar fuel economy.
On the road, the xB experience is dominated by its driving position. Reaching forward for a compact steering wheel that's angled away from you, with legs akimbo, means that you'll peer through a windshield that seems impossibly far away. It's memorable, to say the least. We admire the xB's responsive steering, though handling limits are ultimately quite low. The ride is firm and noisy at times.
Other Cars to Consider
2015 Honda Fit -- The Fit is a perennial all-star in this class because of its amazingly versatile interior, but the xB can actually swallow more stuff. The Honda gets better fuel economy, however.
2015 Kia Soul -- Perhaps the only competitor that rivals the xB's funkiness, the second-generation Soul is an all-around superior vehicle except for its so-so acceleration. Watch the price, though, as it can go considerably higher than that of the xB.
2015 Nissan Versa Note -- The hatchback Versa is even more bare bones inside than the xB, but it offers a huge back seat and surprising cargo capacity for bottom-dollar pricing.
Used Volkswagen GTI -- Want something a bit sportier? The GTI has a capacious hatchback body, an upscale interior and an exquisite turbocharged engine that gets over 30 mpg hwy. Make sure you get a certified pre-owned warranty, though.
AutoTrader's Advice
We think the trick with cars like this is to keep the price as low as possible, so give us a base xB with the 5-speed manual. That's a lot of car for not a lot of coin.