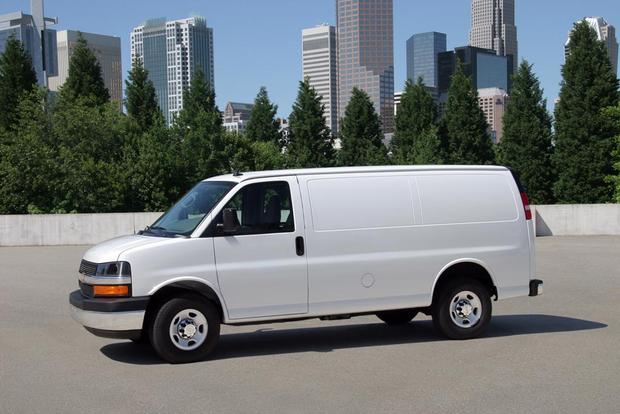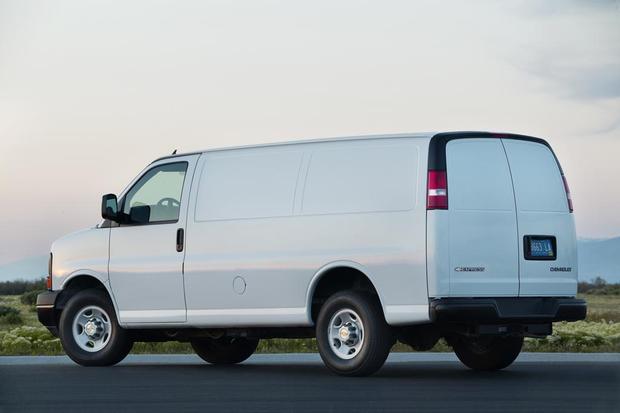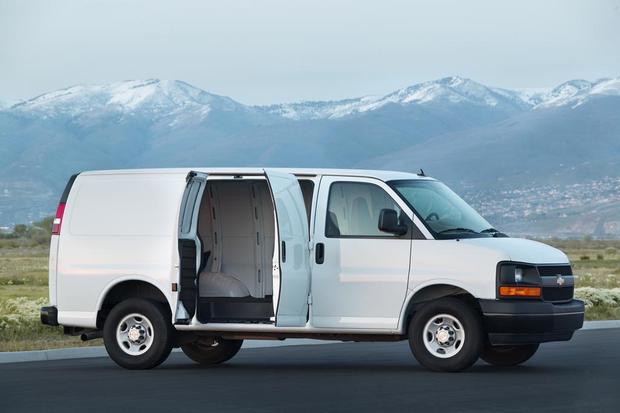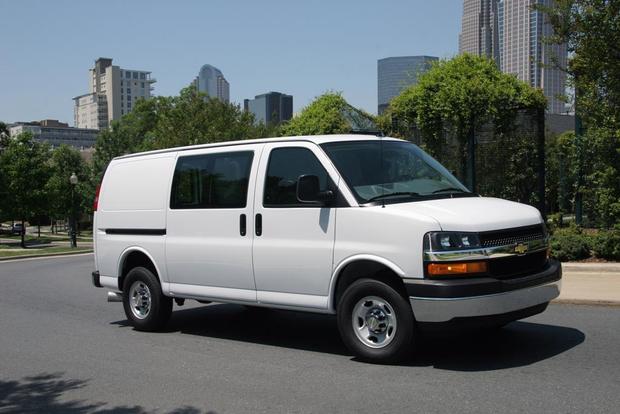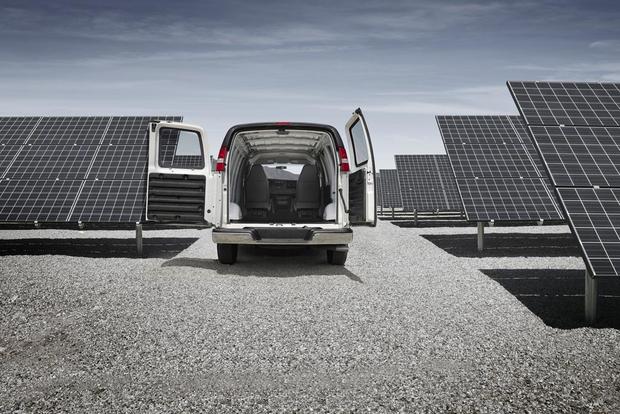 With a host of new full-size cargo and passenger vans coming to the market from a wide range of automakers, the 2016 Chevrolet Express 2500 is a veritable dinosaur -- one of the last old-school vans that can trace its roots back to the 1990s. And if you're in the market for a full-size van, you can tell.
There's no high-roof version for extra-large cargo like you can get in several rivals. There's no fuel-efficient diesel, no smaller engine for improved gas mileage and no multitude of body styles and wheelbase lengths (though, admittedly, the Express 3500 does offer an extended wheelbase). And the van certainly drives like it's from another era, with a large turning radius and sloppy handling.
Fortunately, there are a few changes for 2016 that keep the van somewhat relevant, including an improved optional infotainment system, additional airbags and a revised OnStar system with built-in Wi-Fi. But still, we'd suggest shopping the competition unless you get a really good deal on a new Express.
What's New for 2016?
The Express sees some important changes for 2016, including a revised OnStar system with built-in Wi-Fi, standard 12-passenger seating for passenger models and an improved optional infotainment system.
What We Like
Affordability; covered cargo area
What We Don't
Outdated design; inefficient engines; extremely low-rent base model; sloppy driving dynamics; not as spacious as rivals
How Much?
$31,600-$43,500
Fuel Economy
Three engines are offered. Standard is a 295-horsepower 4.8-liter V8, which touts Environmental Protection Agency (EPA)-rated fuel economy of just 11 miles per gallon in the city and 17 mpg on the highway. Towing capacity with the 4.8-liter V8 is 7,400 pounds as a cargo van or 6,700 pounds as a passenger van.
Drivers who want more power can opt for an optional 340-hp 6.0-liter V8, which enables the van to tow up to 10,000 pounds in cargo form or 9,800 pounds as a passenger van. The larger engine returns only slightly worse fuel economy of 11 mpg city/16 mpg hwy.
Although it was formerly reserved for the Express 3500, a diesel powerplant is also available in the Express 2500 Cargo. Starting at a pricy $43,500 with shipping, diesel models offer 265 hp and a whopping 525 lb-ft of torque, which makes them towing all-stars in the van segment. Due to its weight class, the diesel-powered Express does not earn EPA fuel economy ratings, though we wouldn't expect a major step up compared to the gas-powered models.
Standard Features & Options
The 2016 Chevrolet Express 2500 is offered in three trim levels: a base-level Work model that only comes as a cargo van and LS and LT trims offered as passenger models.
The base-level Express 2500 Work ($31,500) comes with only the basics. That means vinyl seating, air conditioning, a newly standard auxiliary port for music and little else. There aren't even power locks, power windows or other niceties.
Step up to the LS ($34,000), and you'll get a little more equipment, such as cruise control, power locks and GM's revised OnStar system with in-car Wi-Fi. More importantly, you'll get 12 seats, as the LS is the van's base-level passenger model.
Many more comfort and convenience features are standard on the Express 2500 LT ($35,800). Added items include keyless entry, cloth upholstery, power mirrors, power windows, power locks, a tilt steering wheel and interior carpeting.
Shoppers can also choose from various options -- even on the stripped-down Work model. Drivers who want a CD player, for instance, can add one; the same goes for the van's available power accessories. For shoppers interested in more luxury, Chevrolet also offers the Express with a newly updated MyLink infotainment system, a rearview camera, parking sensors and an iPod/USB interface.
Safety
All Chevrolet Express models include side-curtain airbags, front-side airbags, anti-lock brakes and stability control. Options include a backup camera and rear parking sensors, while passenger models feature GM's OnStar system as standard equipment.
Neither the Insurance Institute for Highway Safety nor the National Highway Traffic Safety Administration has crash-tested the Express 2500.
Behind the Wheel
Ponderous proportions typically make for ponderous handling, and in this regard, the Express 2500 delivers as expected. To their credit, GM engineers have done an admirable job of providing the aging platform with a range of powerful V8 engine choices.
As a result, the Express 2500 goes about its business with a surprising degree of eagerness, regardless of engine. But despite the Express' ability to navigate highways and byways, the arrival of recent competitors has moved the needle regarding customer expectations. The industry has moved forward, and ultimately, GM will need to modernize the Express to keep pace.
If space can be construed as a luxury, the Express delivers it in spades. Considering that it's a passenger van from Chevrolet, you'll find the level of comfort serviceable. Also, a visit to a van converter can provide all the additional luxury or decadence you're inclined to purchase.
Other Cars to Consider
2016 Chevrolet Suburban -- Yes, one of the most obvious competitors to the Chevrolet Express 2500 is in the same showroom. A Suburban will seat up to eight, and while it doesn't deliver the sheer cubic volume of the Express, it tops the van in comfort, capability and over-the-road demeanor.
2016 Ford Transit -- Ford's all-new full-size van is also offered in cargo and passenger configurations. But unlike the Express, it boasts several fuel-efficient engine choices, modern driving dynamics and high-tech optional extras.
2016 RAM ProMaster -- RAM's new cargo van is just the latest in a line of full-size vans that has made the Chevrolet Express look like the dinosaur that it is. The ProMaster offers more room, more engine choices and more configurations.
Used Mercedes-Benz Sprinter -- The Sprinter offers impressive capability and efficiency in a considerably more modern package than the Express 3500, but it's also more expensive, so you may want to consider a used model.
Autotrader's Advice
We'd shop the competition, but if we had to choose an Express, we'd opt for an entry-level LS (passenger) or Work (cargo) model with sparse options. As rivals have improved dramatically, affordability is this Chevy's last major selling point.