Editor's note: You may want to read more of Autotrader's model vs. model comparison car reviews as well as the 2017 Chevrolet Corvette review and Buying a Used Chevrolet Corvette: Everything You Need to Know.
The Chevrolet Corvette has earned its place as America's iconic sports car by generating excitement among driving enthusiasts for more than a half-century. Introduced as a concept at the 1953 New York International Auto Show, the Corvette was quickly pushed into production after an overwhelmingly positive response from the attendees. Nearly 63 years later, the 2017 Chevrolet Corvette, the automaker's seventh-generation C7 model, continues to follow the same original formula that calls for a front-engine, 2-seat, rear-wheel-drive coupe or convertible offered with a V8 engine (the first-generation C1 was fitted with an inline-6 for a short period). Continuous evolution, combined with innovative engineering, has polished today's offering to a level of refinement that makes the Corvette one of the world's best sports cars.
Chevrolet recently introduced its Corvette Grand Sport, which joins today's lineup as the third model. The enthusiast-tuned variant, which slots directly between the standard Stingray and the flagship Z06, promises to be "a purist model that leverages a half-century of motorsports success," according to the automaker. Rather than compare the three objectively on a spreadsheet, we climbed into the driver's seat and took each for a long spin to determine subjectively how each of the Corvette siblings differ. See the 2017 Chevrolet Corvette models for sale near you
Corvette Stingray
We hesitate to call the Corvette Stingray an entry-level model because it's a superb sports car even in standard trim — especially with a $56,445 base price. The composite-bodied 'Vette boasts a naturally aspirated 6.2-liter LT1 V8 in its nose, which is rated at 455 horsepower and 460 lb-ft of torque, and a choice between manual or automatic gearboxes. Standard equipment includes bucket seats, an independent suspension and staggered 18- and 19-inch wheels wrapped in performance tires. Its racy appearance is backed by its impressive performance — the standard 3,156-lb Stingray will accelerate to 60 miles per hour in 4.0 seconds flat and cover the quarter-mile in 12.2 seconds, which is faster than nearly everything at or below its price point.
The Stingray excels at being a GT, or grand touring, sports car that is able to effortlessly cover long distances at speed. Its bucket seats are supportive, keeping passengers comfortable, and the suspension tuning isn't overly aggressive — it makes easy work of canyons, but push it hard into a corner, and there is noticeable body roll and the tires lose traction (those who want a bit more composure during spirited driving need to order the Z51 Performance package). Minimal aerodynamic add-ons preserve outward vision and retain the sleek lines of the original designer, which adds to its classic appearance.
Chevrolet's Corvette Stingray, in standard trim, is for those who want to enjoy the styling and performance of a world-class sports car on a day-to-day basis, but don't plan on frequenting a racing circuit.
Corvette Grand Sport
In proverbial bang-for-the-buck terms, the all-new 2017 Chevrolet Corvette Grand Sport is a strong value at $66,445. While it shares the standard Stingray's interior (with a few cosmetic enhancements) and naturally aspirated 6.2-liter V8, it is bumped slightly in output to 460 hp and 465 lb-ft of torque and has been specifically engineered for track duty with improvements to its chassis and suspension. Passersby will note its wide rear quarter panels that accommodate its bigger 19- and 20-in wheels with summer-only Michelin tires and a more aggressive front splitter, rockers and a wickerbill rear spoiler. The suspension has been tuned to minimize body roll, and GM's excellent, adaptive Magnetic Ride Control (MRC) is standard equipment. An electronic limited-slip differential maximizes the amount of power that may be put to the ground when pulling out of a corner. The tuning delivers results, with Chevrolet saying the 3,252-lb Grand Sport is able to accelerate to 60 mph in 3.6 seconds and burst through the quarter-mile in 11.8 seconds — it is one of the quickest and best-handling sports cars on the market.
The Grand Sport has few equals on a racing circuit, especially when fitted with the optional Z07 Performance package that upgrades the standard brakes to Brembo carbon-ceramic units and fits Michelin Pilot Sport Cup 2 tires — they are as sticky as the law will allow. The upgraded chassis is unflappable, ensuring that all four tires maintain an optimal contact patch in even the most challenging sections — we saw peak lateral acceleration forces in excess of 1.5 Gs in some banked corners. The brakes were unfazed by countless stops from 120-plus mph, and we felt we were able to utilize every last drop of its hp on the circuit. On public roads, the Grand Sport isn't as comfortable as the Stingray. The upgrades upset its on-road manners, the tires are louder, and the ride is rougher (even when we had MRC on its softest Touring setting). Of course, that's the cost of the vehicle's additional talent.
A driving enthusiast who wants to maximize their vehicle's performance and intends to frequently exercise its full potential on a track will find the Corvette Grand Sport to be a perfect companion.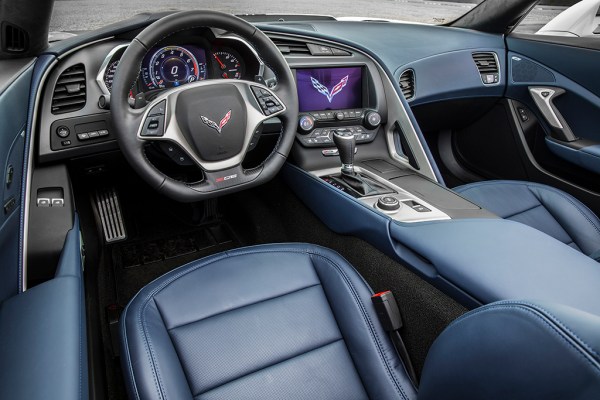 Corvette Z06
The range-topping model in the 2017 Chevrolet Corvette lineup is the Z06, which is the ultimate expression of performance: It's the quickest sports car General Motors has ever built. Under its hood is a supercharged 6.2-liter LT4 engine developing 650 hp and 650 lb-ft of torque, which is a mind-blowing amount of power in a vehicle that weighs 3,350 pounds. Chevrolet says the Z06 will crack the benchmark 0-to-60 mph sprint in 2.95 seconds and finish the quarter-mile in 10.95 seconds — assuming the driver is able to find enough traction to manage its power. The suspension, wheels and tires are shared with the Grand Sport, but the aerodynamic kit and standard brakes are larger to accommodate its increased performance (nevertheless, we still suggest upgrading to the Z07 Performance package with the carbon-ceramic brakes).
It is no surprise that the Corvette Z06 is at home on the race track, delivering equally as tenacious cornering grip and just as exemplary braking as its Grand Sport sibling, but the power from the supercharged engine was much more difficult to harness, and we found ourselves apprehensive about applying full throttle mid-corner. Our lap times suffered because we weren't as comfortable with its power delivery, which is often the case with overpowered sports cars. That said, driving the Z06 on public roads was a hoot — its aggressive styling is more than substantiated by its over-the-top performance. Thumbs-ups from admirers and waving children greet the sinister-looking Z06 on every outing. Its $80,395 base price is steep, but the Italians, Germans and British will gladly sell you less performance for twice the price.
A no-compromise sports car enthusiast who demands nothing but the best, and is able to harness neck-snapping performance on public roads and the track, is the ideal driver for the Corvette Z06. Find a Used Chevrolet Corvette for sale