Editor's note: You may want to read more of Autotrader's model vs. model comparison car reviews as well as the 2017 Honda Civic review and Everything You Need to Know about Buying a Used Honda Civic.
In a way, the difference between the 2017 Honda Civic Hatchback and 2017 Honda Civic Sedan is right there in the name. One has a hatchback cargo area, while the other has a trunk. Both have four doors, unlike the 2-door Civic Coupe. But unlike some other compact cars, there's actually more separating the Civic Hatchback and Sedan than just their cargo areas. Let's take a closer look at the differences between them.
Exterior
The Civic Hatchback and Civic Sedan's differing design traits are most evident at the rear. The sedan features a radically sloped, almost coupelike roof line that meets a short trunk-lid opening. The hatchback actually has a similarly sloped roof line, but its back window is attached to the hatchback, where it essentially meets the end of the vehicle. By forgoing the trunk, the hatchback loses 4 inches of overall length (178 inches versus 182). See 2017 Honda Civic models for sale near you
Now, besides the inherent visual differences between hatch and trunk, there are different styling details as well. The hatchback features large black cut-out areas on the outer portions of both the front and rear bumper, which are intended to look like large vents. Most of the sedan's chrome trim, specifically in the grille, has been replaced by glossy black elements. The wheels are black, too. And if you opt for the hatchback's unique Sport or Sport Touring trim levels, the Civic gains a central exhaust, an enlarged spoiler at the leading edge of the hatchback and enhanced lower-body cladding in gloss black. Altogether, the hatchback is the more aggressive, though perhaps fussier, design.
Interior
Really, from the front seat forward, the two Civic body styles are essentially the same. That's a great thing, as the Civic has a spacious, comfortable and versatile cabin highlighted by great seats and a clever center-console design. The hatchback's back seat actually has 0.3 inches of extra headroom, but its legroom is reduced by 1.4 inches. That's actually not that big a deal, since the Civic sedan has an abundance of space. A pair of full-size adults should be able to sit back-to-back in both body styles.
Perhaps obviously, it's in the cargo area where these two Civics differ the most. With 15.1 cu ft. of cargo space, the sedan actually has a very large trunk for a "compact" car, rivaling midsize sedans like the Honda Accord. The sedan's cargo area can be expanded through the 60/40-split folding rear seat in the EX trim level and above, but its immovable parcel shelf obviously restricts the size of the items that it can carry.
That's where the hatchback has the advantage — lowering its seats allows you to carry any number of large items, including bicycles, boxes or whatever else you can cram inside. The Civic Hatchback's novel side-mounted cargo cover makes that easier, since you don't have to physically remove the unit as you would in other hatchbacks, wagons and SUVs.
With the seats raised, the hatchback's cargo area doesn't have quite as much length as the sedan. However, it does have a comparable amount of width, and its greater height allows for taller items to be stored beneath its glass hatch. Now, the radical slope of that hatch may put the Civic at a slight disadvantage compared to boxier rivals when carrying certain objects, but it possesses class-leading total cargo space at 25.7 cu ft. with the back seat raised. What it lacks in space up above, it makes up for with a bigger cargo-floor area.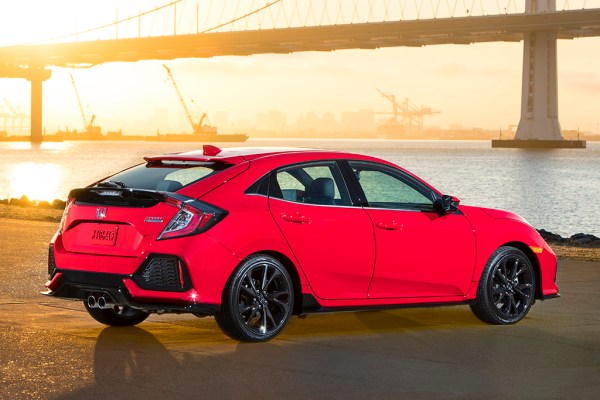 Mechanicals
The Civic Sedan's LX trim level comes standard with a 2.0-liter 4-cylinder engine that produces 158 horsepower and 138 lb-ft of torque. It's a capable and smooth engine, but its output is merely average for the segment. Every hatchback comes with the same 1.5-liter turbocharged 4-cylinder included on the sedan's EX-T, EX-L and Touring trim levels. It produces 174 hp and 162 lb-ft of torque. However, in the hatchback's Sport and Sport Touring trims, it produces 180 hp and 177 lb-ft of torque with the 6-speed manual.
In any guise, the Civic's little turbocharged engine offers an extraordinary combination of best-in-class acceleration and fuel economy. With the continuously variable automatic transmission, it can return 31 miles per gallon in the city, 40 mpg on the highway and 34 mpg combined. Opting for the manual transmission or the Sport trim levels only knocks those estimates down by an insignificant 1 mpg.
Beyond the engine, the hatchback features different suspension tuning that results in improved cornering but a firmer ride. Its steering has also been altered for a slightly higher effort on center and a smoother turn-in, which creates a sportier driving experience.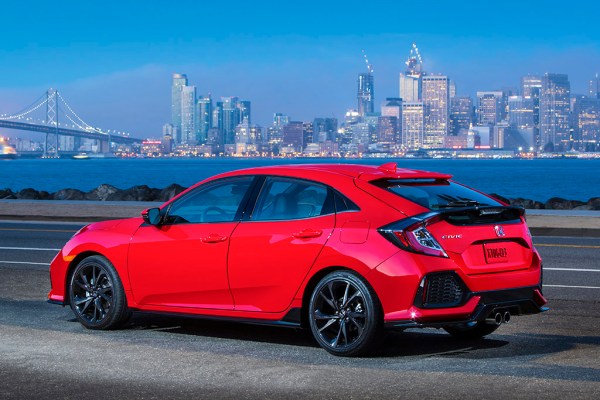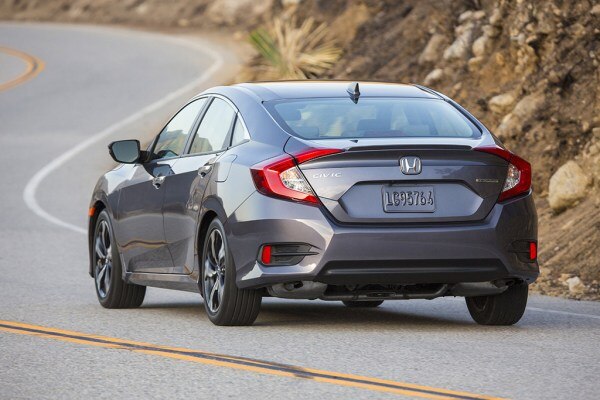 Features & Technology
Both the sedan and the hatchback are available with the same infotainment and safety technologies. Standard equipment includes a rearview camera, Bluetooth phone and audio, a USB port and an audio system controlled by a 5-inch color screen and a traditional set of buttons and knobs. It's pretty easy to use.
The EX trim gains an additional USB port, Honda's LaneWatch blind spot camera, Apple CarPlay, Android Auto, Pandora Internet streaming radio control, satellite radio and a 7-in touchscreen controller. The latter is frustrating to use; many customers have complained about its functionality and reported some gremlins.
The Honda Sensing package standard on the Sport Touring and optional on the LX, EX and EX-L, includes a forward-collision warning, collision-mitigating brake assist, lane-departure warning, lane-keep assist and adaptive cruise control. These systems do a good job preventing accidents, though the forward-collision warning system can be a little hypersensitive compared to rival systems.
Driving Experience
The hatchback's revised suspension and steering make it the more engaging car to drive, with flatter and more controlled body motions through corners and a sportier steering feel. The hatchback was tuned to meet European driving tastes, and it feels that way. It also comes with a firmer ride, especially with the Sport trims' 18-in wheels, so if rough roads are on your daily driving menu, it's definitely something to pay attention to on a test drive.
New for 2017 on every Civic body style is a 6-speed manual transmission paired with the turbocharged 4-cylinder. This is one of the easiest manuals to operate in any car, with a slick shifter and a nice-and-easy clutch that is easily modulated. The engine's relatively ample torque and the transmission's dual-mass flywheel make it much easier to drive smoothly with this engine-transmission combo than some past Hondas.
Interestingly, the manual also notably changes the engine's character. The continuously variable transmission (CVT) tends to keep the engine in its torque-rich sweet spot around 3,000 rpm, where the engine is rather gruff and growly. It sounds more like a Volkswagen than a Honda. But with the manual, you spend less time in that gruff-and-growly rev range as you work your way through the gears, giving you that typical, mechanical zing of higher revs that we've all come to expect in a Honda. For traditionalists of the brand, the manual is the transmission of choice. For everyone else, the CVT does a commendable job.
Safety
Apart from the previously mentioned safety-technology features, both the Civic Sedan and Hatchback have received perfect 5-star ratings in every government crash-test category. The Insurance Institute for Highway Safety named the sedan a Top Safety Pick+, since it received the best-possible ratings in all tests. There's no reason to believe the hatchback would receive different ratings.
Conclusions
There's certainly more to the Civic Sedan and Hatchback than their cargo areas. Which one will be a better fit for you could indeed come down to whether you want a trunk or a hatch, but we think the Hatchback's Sport trim levels, extra power and sharper driving dynamics may have greater appeal to driving enthusiasts.
Find a Used Honda Civic Sedan for sale