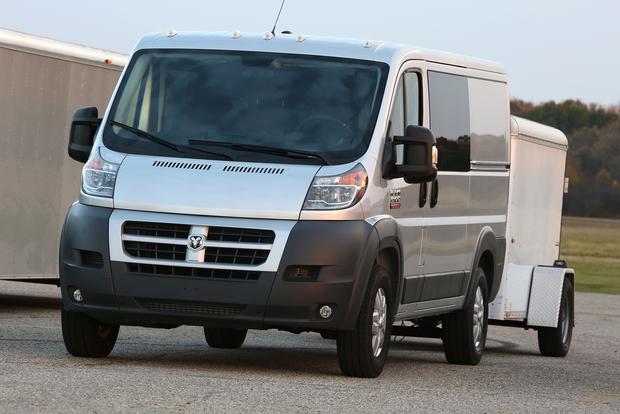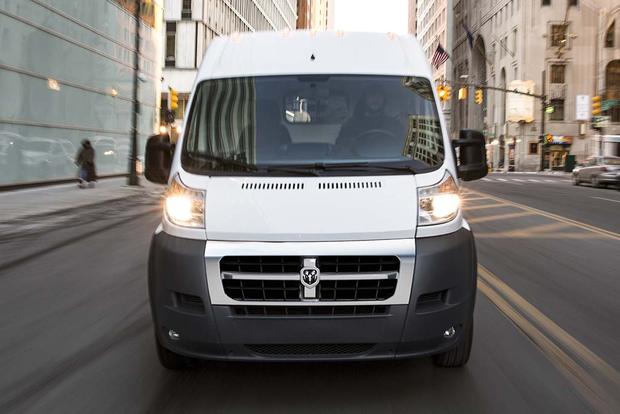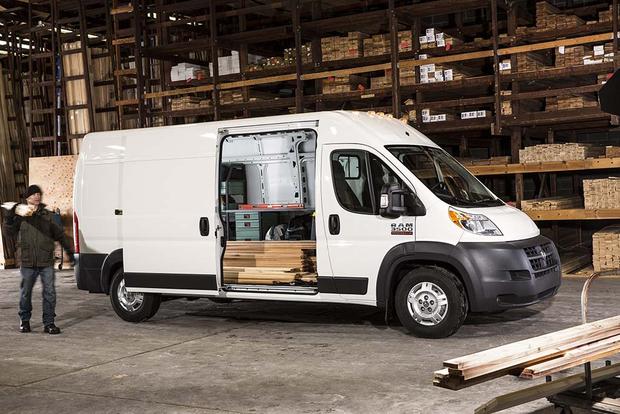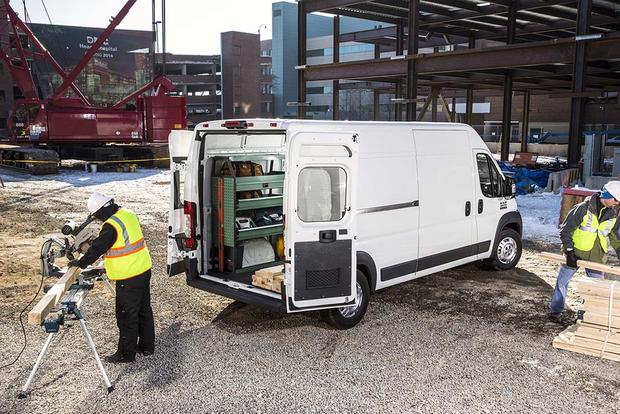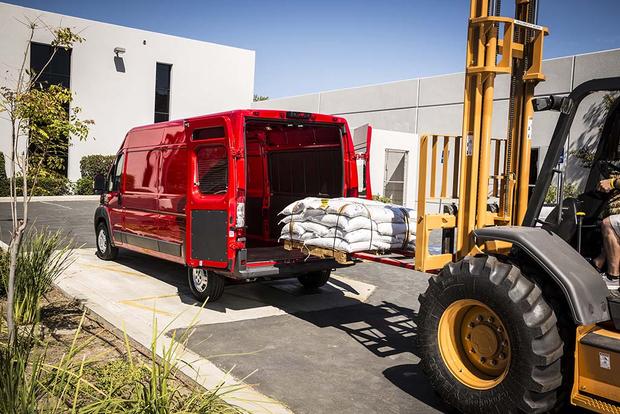 If you're looking for information on a newer Ram ProMaster 1500, we've published an updated review: 2018 Ram ProMaster 1500 Review
The 2017 Ram ProMaster 1500 marks Chrysler's return to the cargo-van business following a hiatus that lasted since the brand dropped its Dodge RAM Van in 2003. Oh, sure, there were a few years where you could get a Dodge Sprinter -- now a Mercedes-Benz or Freightliner -- but the ProMaster is all Chrysler.
Well, a FIAT-Chrysler at least. You see, the ProMaster comes to the States courtesy of FIAT, which sells the van overseas as the Ducato. In the United States, it's marketed as a Ram and is offered with a simplified lineup and additional equipment. It also feels more carlike than commercial vans of the past, trading in brute force and a truck-based chassis for improved gas mileage, a lower load floor and more cargo room.
So how do we like it? We like it quite a bit, as far as cargo vans go. Sure, it's slow, it's not terribly attractive, and the driving position is odd -- but this van is all about transporting cargo, not turning heads or long-distance comfort. In that sense, the ProMaster delivers exactly as expected.
What's New for 2017?
The ProMaster is unchanged for 2017.See the 2017 Ram ProMaster 1500 models for sale near you
What We Like
Huge space-efficient cargo area; available high-roof body style; lots of available features; fuel-efficient diesel engine; excellent capabilities
What We Don't
Odd driving position with no tilt steering wheel; 1500 model lacks 159-inch wheelbase; unwieldy handling; diesel engine's jerky automated manual transmission
How Much?
$30,000-$31,695
Fuel Economy
The ProMaster offers two engines. Standard is Chrysler's 3.6-liter Pentastar V6, which makes 280 horsepower and 260 lb-ft of torque. It comes standard with a 6-speed automatic transmission and, unique to a commercial van, front-wheel drive. This should be appealing in poor weather areas where rear-wheel-drive vans can be a handful.
Optional is a fuel-saving 3.0-liter turbodiesel 4-cylinder power plant, which makes just 174 hp but has a muscular 295 lb-ft of torque. It comes with a 6-speed single-clutch automated manual, which you may find to produce jerky responses at low speed. Though the ProMaster is exempt from Environmental Protection Agency fuel economy ratings due to its size, we'd count on about 15 miles per gallon with the gas-powered V6 and 18 mpg with the diesel.
Standard Features & Options
Although the 2017 Ram ProMaster 1500 doesn't offer trim levels, it comes in three available configurations: There's a low-roof model with a 118-in wheelbase, a low-roof model with a 136-in wheelbase and a high-roof model with a 136-in wheelbase. There's a longer wheelbase available on the 2500 and 3500 versions, which are reviewed separately.
Priced from $30,800 with shipping, each trim level is equipped about the same. Standard features include 16-in steel wheels, air conditioning, keyless entry, power windows and locks, a passenger-side sliding door, a USB port and an auxiliary audio jack.
The ProMaster is also offered with a wide range of options. They include rear parking sensors, a navigation system, a backup camera, heated seats, a driver's side sliding door, Bluetooth, cruise control, steering-wheel-mounted audio controls and alloy wheels.
Safety
Like most cargo vans, the ProMaster isn't crash-tested by the federal government's National Highway Traffic Safety Administration -- and it's not rated by the nonprofit Insurance Institute for Highway Safety, either.
But it offers a wide variety of safety features, from standard items such as front and side-curtain airbags, anti-lock brakes and traction control to options such as a backup camera and rear parking sensors. We'd like to see a few more safety features available on the ProMaster -- including a blind spot monitoring system, which can be a huge help on windowless cargo vans.
Behind the Wheel
The Ram ProMaster drives exactly how it looks: like a huge van. That means vague steering, lots of body roll and an overall size that sometimes makes you question whether you're driving a bus. Don't take these comments too harshly, though: They could be applied to almost every other commercial van. "Almost every," because you're likely to find the ProMaster to be far more maneuverable than the truck-based GM and Nissan vans.
For better and worse, the ProMaster's driving position stands out. Thanks to a cab-forward design with the seat almost over the front axle, the ProMaster gives you a sweeping view of the road and the van's corners. Unfortunately, the driving position itself is reminiscent of a bus, with you perched awkwardly above its immovable steering wheel.
When it comes to engine performance, we suspect most shoppers will prefer the V6. It's a more traditional engine with a more traditional transmission -- and its capabilities are about the same as the diesel's. With that being said, the diesel might offer enough of a fuel economy benefit to justify its additional cost and potential transmission-related annoyance.
In terms of capabilities, we like the ProMaster's low, flat load floor, which is excellent for loading cargo. We also love the high roof option, which isn't available on all the ProMaster's competitors. Once you're able to walk around inside the back of a cargo van, you'll wonder how you hunched and crawled around all those years.
Other Cars to Consider
2017 Ford Transit -- The Ford Transit is built in the United States and replaces the ancient Ford E-Series. It offers a very similar experience to the ProMaster -- right down to the strong visibility and flat, low load floor.
2017 Mercedes-Benz Sprinter -- Few vans offer the all-out capabilities of the Mercedes-Benz Sprinter, but it's an expensive van to buy. As such, you may want to consider a used model. And if the Mercedes-Benz name seems too ritzy for your business, remember that it's also sold as a Freightliner.
2017 Nissan NV -- Nissan's full-size NV van offers high and low roof configurations and a capable, truck-based chassis. But it's a lot less fuel-efficient than the ProMaster, and it's cumbersome to maneuver.
Autotrader's Advice
Although we generally love diesel engines, we don't think the ProMaster's diesel power plant is worth the money. We'd get a ProMaster 1500 with a few options and the Pentastar V6 -- and we'd order a high roof configuration and the 136-in wheelbase, just to maximize our cargo-carrying capabilities. Find a Ram ProMaster for sale