Editor's note: You may want to read more of Autotrader's model vs. model comparison car reviews as well as the 2017 Toyota Camry review and the 2018 Toyota Camry review.
Rarely does such a wildly successful car get such a wildly revolutionary redesign, but that is exactly what you're looking at with the 2018 Toyota Camry. From its design to the way it drives, and from the engines up front to even the Camry script on the back, this is as all-new as all-new gets. Let's take a closer look at these changes to see all that's different between the 2017 and 2018 Camrys.
Exterior
Well, the Toyota badge is the same, but that's really it. The new Camry is longer, lower and wider than before, with the side glass in particular considerably lowered to create the appearance that the cabin has been sunk into the body. There's a tasteful but bold character line running down its length, while the more sculpted, expressive face not only makes the old car look dowdy and disjointed, but it improves aerodynamics as well.
As with the 2017 Camry, however, the exterior differs based on the trim level you choose — specifically in regard to the more traditional, conservative LE and the sportier, more expressive SE. Both of these looks are enhanced in the more luxurious XLE and XSE, respectively. In both the 2017 and 2018, look for bigger wheels in the SEs and darker trim in the grille and elsewhere. The front styling does differ more between the two for 2018, however, particularly in the lower airdam area.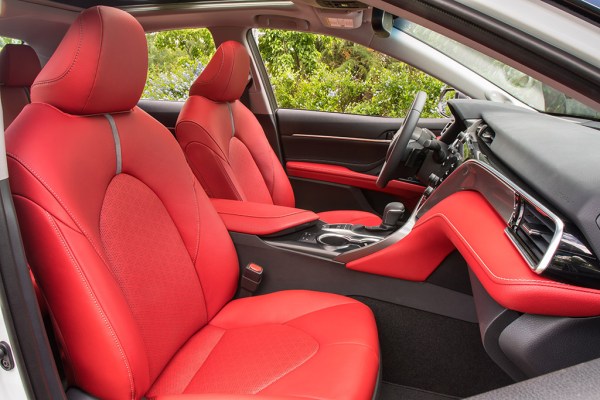 Interior
As handsome as the new Camry is on the outside, it's the inside improvements you're likely to appreciate even more. The 2017 Camry's cabin is put together well and has plenty of features, but there are too many hard, inexpensive-looking plastics; the design is far from attractive; and even the most luxurious trim levels lack a certain polish. It was one of the least appealing in its segment.
That flips for 2018, with the new Camry gaining one of the most appealing cabins. The quality of materials is much better, with more soft-touch and nicely textured surfaces, along with distinctive seat upholstery choices (even Toyota's not-kidding-anyone SofTex vinyl has been upgraded to be more leather-like). Most impressively, there's not much of an aesthetic or quality gap between the volume LE trim and the supposedly higher-lux XLE — sure, the latter has more features and leather, but the LE still has the same handsome look, attractive stitched, simulated leather on the dash and a tasteful band of wood-look trim.
Space is still excellent in the 2018 Camry, with the lowered side sill and thin front pillars improving visibility. However, the roof is lower, the windshield seems more raked and the driving position is more hunkered down — it's feasible some may prefer the old car's greater perceived headroom and perch-like driving position.
Fuel Economy
The 2018 Toyota Camry features new engines in every version. The biggest change is with the volume-selling 4-cylinder engine, which still displaces 2.5 liters but now produces 203 horsepower and 186 lb-ft of torque (the XSE trim makes slightly more). That's a big improvement over the old Camry's 4-cylinder, which managed 178 hp and 170 lb-ft of torque, as well as the entry engines of every competitor. We therefore expect it to lead the way in acceleration — or, at the very least, be awfully close to top dog. Fuel economy is also excellent, with an also-new 8-speed automatic transmission contributing to estimates of 28 miles per gallon in the city, 39 mpg on the highway and 32 mpg in combined driving (the base L gets slightly better). That would be class-leading and compares to the prior Camry's estimates of 24 mpg city/33 mpg hwy/27 mpg combined.
There is once again a 3.5-liter V6 engine optional on the XLE and XSE only, but it, too, is new to the Camry. It produces 301 hp and 267 lb-ft, which is also very strong for a family sedan engine upgrade. So, too, is its fuel economy at 22 mpg city/33 mpg hwy/26 mpg combined in the XLE, with the XSE being ever-so-slightly lower. The 2017's V6 produced 268 hp and 248 lb-ft while returning 21 mpg city/30 mpg hwy/24 mpg combined. On the other end of the powertrain spectrum, the Camry Hybrid returns, but we'll cover that separately.
Besides the engines, the Camry gets new suspension, steering, structure … you name it, it's different and almost certainly improved from what was there before.
Standard Features & Options
The 2018 Camry boasts an impressive amount of standard equipment, even on the traditionally rental-spec base L trim level. With it, you get adaptive cruise control, forward-collision warning and automatic braking, lane-departure warning, LED headlights, Bluetooth and a 7-inch version of Toyota's latest Entune 3 touchscreen (it's easier to use, faster to respond and has fresher graphics). Those advanced safety features are particularly impressive as they're options on every competitor.
Other features that are new for 2018 but that show up on upper trim levels include a full-speed adaptive cruise control system that can crawl along in stop-and-go traffic, additional USB ports, multiple drive settings, a color head-up display and a JBL sound system that includes Clari-FI digital music enhancement. There's also an 8-in version of Entune 3.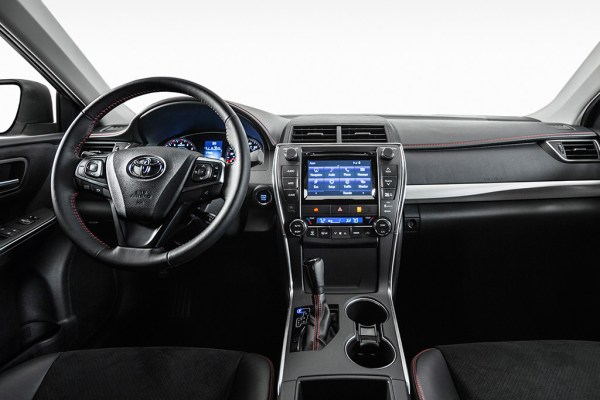 Behind the Wheel
For 2017, the Camry SE and XSE were generally considered the better versions to drive, with sharper steering that was more communicative and confidence-inspiring, and suspension tuning that was more buttoned down. It really wasn't sporty, per se, but it did feel more in keeping with the modern family sedan norm than the rather disconnected and cushy LE/XLE.
For 2018, the SE and LE move closer together in their driving feel, with both improving in the process. The steering of both feels more natural and fluid in its motion, and the difference in effort between both can be difficult to detect. The suspension also demonstrates improved and impressive composure around corners and over big bumps and undulations. Yes, the SE still feels a bit sportier, but it's not a huge difference. Importantly, the ride is still quite comfortable with both trim lines, resulting in a more balanced driving experience that should rival any other midsize sedan — and possibly exceed it.
We would note, however, that the V6-powered versions don't feel quite as connected as their 4-cylinder counterparts. The steering in particular feels more artificial, probably due to the greater electric assist needed to counteract the weight of the heavier engine.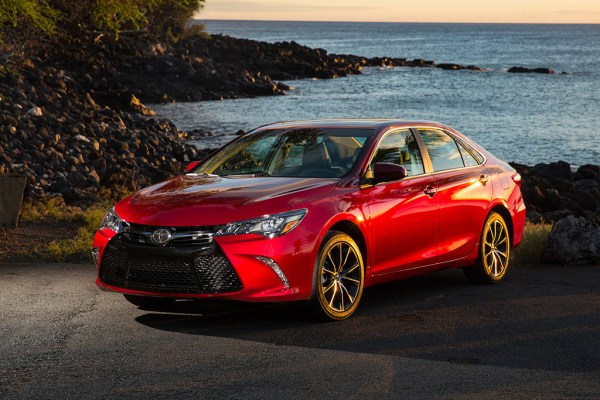 Safety
Both the 2017 and 2018 Camry come standard with anti-lock brakes, side-curtain airbags, front- and rear-side airbags, front-knee airbags and a backup camera. From there, however, they differ, as a forward-collision warning system with automatic braking, as well as lane-departure warning, have been added as standard equipment for 2018. Those desirable accident-avoidance technologies could only be had on the 2017's range-topping XLE and XSE trims in the Technology package, which also included blind-spot and rear cross-traffic warning systems (they remain optional).
Third-party crash testing has not yet been conducted on the 2018 Camry, but it's a safe assumption that it should match and likely surpass the 2017's capability. The government gave it 5-star overall and side-crash ratings, along with a 4-star frontal-crash rating. The non-profit Insurance Institute for Highway Safety named it a Top Safety Pick+ for its top performance in crash tests and for its Advanced frontal-crash avoidance system.
Autotrader's Advice
The 2017 Toyota Camry was a capable, comfortable, spacious and reliable car with good resale value. The 2018 Camry is all of that — but with much better looks, a much better driving experience, a more luxurious interior, more safety features, better power and class-leading fuel economy. You'd probably kick yourself if you didn't get the new one.