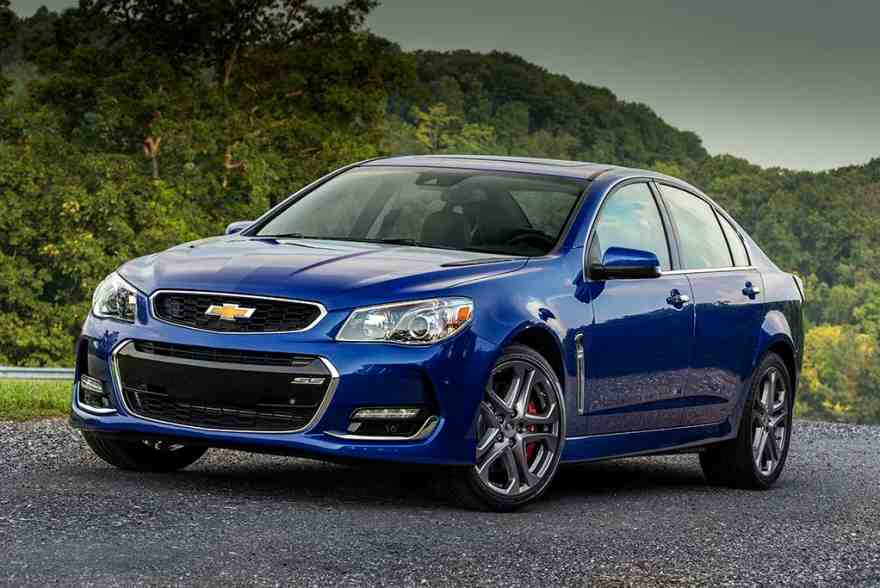 I was walking down a street back in November when I saw one of the rarest new cars on sale today. I got all excited, checked it out for a minute or two, and then I took a few pictures to send to friends. That was 3 months ago, and I haven't seen one since.
The car I'm talking about wasn't some high-priced exotic or limited-production sports car — it was a Chevrolet SS.
Yes, that's right, a Chevy sedan is one of the rarest cars on sale today. A boring ol' 3-box, 4-door Chevy sedan that's so nondescript it looks like the kind of thing that would cause your grandfather to angrily throw a fit in a supermarket parking lot because his remote isn't working — until he realizes that he's driving a Toyota and it's parked two aisles away.
Tell Me More
For those of you who don't know about the SS, allow me to enlighten you. Yes, it's a dull 4-door sedan on the outside. But underneath its monotonous exterior, the SS is one of the coolest cars on the market — a roomy full-size sedan with a 415-horsepower V8 that brings the car to 60 miles per hour in less than 5 seconds, rear-wheel drive, an available 6-speed manual transmission and GM's excellent Magnetic Ride Control, which is the automotive suspension equivalent of magic.
It's not just a wolf in sheep's clothing — it's a wolf dressed up as a cardboard box. And when you go to pick it up, it bites off your face.
And I don't think it ever really stood a chance of being a success.
In fact, I think the Chevrolet SS was doomed from the start — destined for a life of poor sales and rarity before it ever went on sale.
One reason I say this is Chevrolet's own promotional strategy for the car. Although I must admit that I'm not privy to the internal memos and PowerPoints of the General Motors marketing team, it seems to me that the SS's marketing strategy can be summed up in the following way: Shhhhh. But what about the excellent perform … shhhhh. But what about the handling … shhhhh. But what about the … shhhhh.
The marketing team was so quiet about the SS that it seemed like they were trying to keep the thing a secret. And while I'm no brilliant automotive marketer, one of the strategies I would employ if I were trying to sell a car is I would tell people about it.
But General Motors kept the SS relatively quiet from day one when they decided not to release the car at a giant auto-show press conference, with a huge Internet release or in a major Super Bowl ad — but rather in a dimly lit airplane hangar adjacent to the Daytona International Speedway. Fortunately, there were hors d'oeuvres.
The reason they chose this venue was the SS's NASCAR tie-in. Daytona International Speedway was, at the time, playing host to the Daytona 500, and Chevy expected a large portion of the car's fanbase — and success — to come from its appearance in NASCAR races. Only, there's a problem: The old "win on Sunday, sell on Monday" philosophy is gone, and these days you need more than a few NASCAR wins under your belt to sell a car; you need actual advertising dollars and maybe a reality show or two.
What General Motors would say to this is that there was no point wasting advertising dollars on the SS, as it was always destined to be a niche product — a small-time vehicle aimed at the few sport-sedan enthusiasts who could afford its $48,000 base price — to which I would respond, "It didn't have to be."
Fully Loaded
Yes, the SS was pricey, undoubtedly in part because every single one was imported from Australia, but the SS's high cost wasn't solely because of its production situation. It's also because Chevy loaded it with every single feature they could find. It's almost as if they had a team meeting (and more PowerPoint slides) about the SS entitled "What Else Can We Put In It?" and the person who suggested the most stuff won an electronic stapler.
Seriously, the SS came standard with an automatic parallel-parking system. It also came standard with heated and ventilated seats, forward-collision alert, rear cross-traffic alert, a 9-speaker Bose sound system, keyless access with push-button starting, a remote starter, dual-zone automatic climate control, a navigation system and a backup camera. What was the problem, Chevy? You couldn't also get an indoor ski slope in there?
So the SS has struggled to find buyers at $48,000. If Chevy stripped out all the stuff, though, I suspect it would've been a lot more popular with enthusiasts as a basic high-performance rear-wheel-drive sedan for $35,000. Of course, if you want that you can always pick one up used on Autotrader — a land where used SSs roam free for an average price of around $38,000, as long as someone remembers to search for them.
Name Recognition
And then there was the problem with its name. Although SS was intended to conjure up memories of previous high-performance Chevy models, the truth is that the same designation has always been a trim level — such as the Impala SS, the Chevelle SS and the Camaro SS. It's almost as if Chevy didn't want to use up one of its names on the car, so they just skipped right on to the trim levels. Imagine, if you will, a new Honda called simply the EX — or a Toyota XLE.
So what you had with the SS was a good idea on paper: a high-performance sport sedan designed to appeal to car enthusiasts. Unfortunately, things went awry from there. It has a dull exterior look, high pricing, a dull name and the marketing strategy of a military secret. The result hasn't exactly been a success. But then, maybe that should've been obvious from day one.