The 1990s were the off-road SUV's heyday. Still more like pickups with an enclosed bed and a rear seat than passenger cars with a tall cabin, SUVs of the 1990s almost universally boasted decent 4-wheel-drive capability. Even though they had decent ground clearance and rugged trucklike construction, '90s SUVs such as the Ford Explorer rarely got dirty when they were fairly new. By their second or third owner, however, 4-by-4s will have depreciated to the point where a few scrapes from foliage or bumper scuff from a rock won't hurt nearly as much.
Here's a look at five '90s SUVs that are easy to find used and are ready to go on adventures.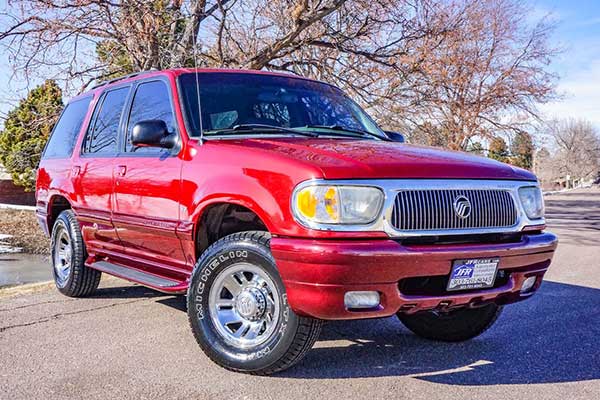 Ford Explorer/Mercury Mountaineer
Once as ubiquitous as baggy jeans, the Ford Explorer is an icon of the 1990s. When the original Explorer bowed for 1991, Ford made no effort to conceal that its new SUV was closely related to the Ranger pickup. The two shared an interior, a front end and their powertrains. That inherent truckiness made the Explorer a wandering behemoth on-road, but it endowed it with decent, rarely explored (see what I did there?) off-road chops.
The 1995-2001 examples offered more power, a relatively modern front suspension and up to four airbags, making them tolerable daily drivers even two decades on. For off-roaders, stick to the standard V6 engines, since the available V8 came only with an all-wheel-drive transfer case. Personally, I'd opt for the comparatively rarer 1998-2001 Mercury Mountaineer, since its upside-down Explorer grille was peak laziness. Ford could have simply slapped a Mercury badge on the truck (which it did for 1997) and sold plenty, since nearly every driveway had an Explorer by the mid-1990s. Here's a clean 1995 Explorer outfitted in rugged Eddie Bauer trim. Just check out that color-matched interior! Find a Ford Explorer for sale or Find a Mercury Mountaineer for sale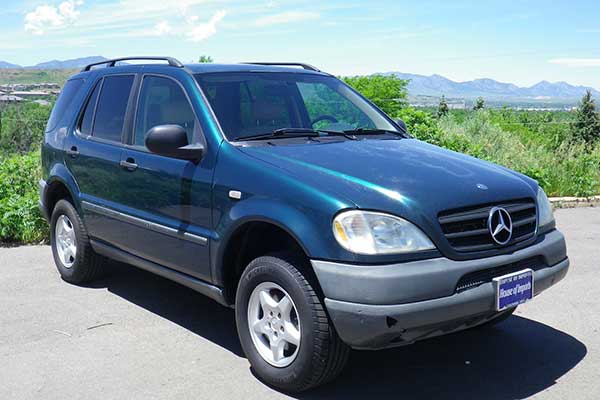 Mercedes-Benz ML320
It may look like a minivan, but the Mercedes-Benz M-Class actually boasts serious off-road chops. Remember, this is the brand that brought us the military-grade G-Wagen. The Alabama-built M-Class bowed for 1998 with V6 power and standard 4-wheel drive that included a trick traction control system that could direct power to just one wheel if needed. A button on the carlike dash activated low range, too.
The ML 320 rode on a separate ladder chassis that was developed specifically for this application and then never used again. Amazingly, one owner even took a then-new ML 320 to the challenging Rubicon Trail in California. The ML 320 didn't earn a reputation for build quality new, though well-kept ones with lots of miles are easy to find now. I like this white 1999 with just 129,000 miles for $6,500 in Austin, Texas. Find a Mercedes-Benz ML320 for sale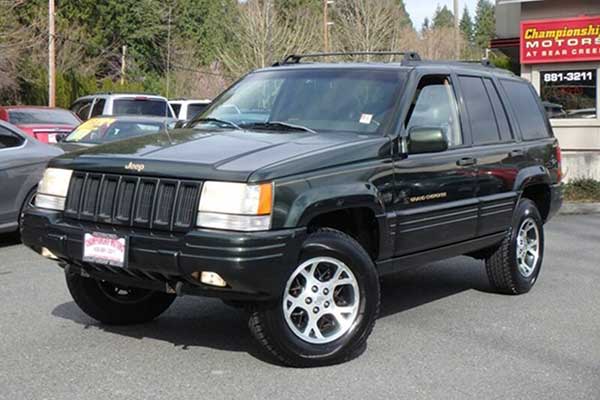 Jeep Grand Cherokee
Of course Jeep builds off-road-capable SUVs — haven't they always? Well, let's forget about the short-lived Compass. But the Grand Cherokee that debuted in 1993 was designed to replace the beloved Cherokee and the Grand Wagoneer in one fell swoop. It did the latter, but not the former, and it carved out a solid place for itself as one of the longest-running SUV nameplates. The original Grand Cherokee — codenamed ZJ — blends carlike unibody architecture with solid axle off-road chops. It's comfortable and capable.
As long as you grab a 4-wheel-drive version, all Grand Cherokees are remarkably capable. Look for the Up Country suspension, which was Jeep's factory lift kit, and then pick the best one you can find. For $3,500, this 1996 Grand Cherokee Orvis outside Seattle ticks a lot of boxes: Up Country, check. V8, check. Green leather, why not? Find a Jeep Grand Cherokee for sale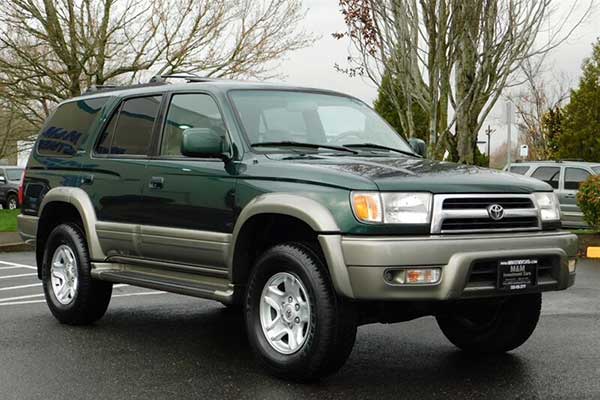 Toyota 4Runner
Toyota's third-generation 4Runner, offered from 1996 through 2002, was a classic design, with its athletic shape, high ground clearance and a reliable powertrain as its three biggest assets. There's a 4Runner for just about everyone, as long as you look hard enough. Most are powered by a durable V6 teamed with an automatic gearbox, though a 5-speed manual is findable if you look hard enough.
There are plenty of nice 4Runners on Autotrader, a testament to the truck's inherent build quality. The best of the bunch is one with the locking rear differential, which was generally more common on higher-trim versions such as this lovely Imperial Jade Mica example priced at a not-inexpensive $12,990 that bends the rules slightly as a 2000 model-year truck. Hey, its basic design dates to the mid-1990s, right? Find a Toyota 4Runner for sale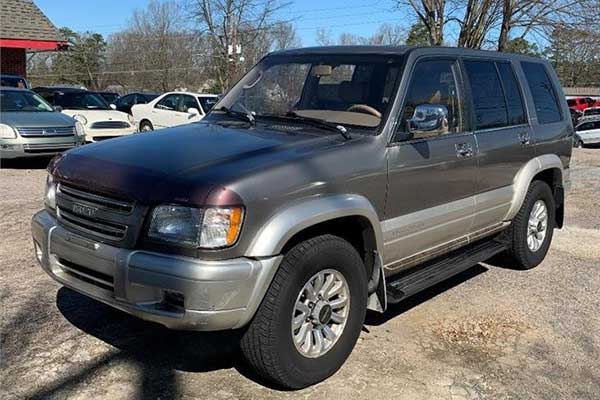 Isuzu Trooper
The boxy Isuzu Trooper was the longest-lived of a wave of Japanese SUVs in the 1990s. The second-generation truck was designed to offer Range Roverlike opulence in a more palatable package and, frankly, it mostly did. It was never a big seller, but it has held up well, and it only got better with age.
In 1998, a 3.5-liter V6 arrived along with the much-improved Torque-On-Demand transfer case that finally allowed the Trooper to be driven in an AWD mode. A manual was offered, but the automatic was more common. This 2000 Trooper in Raleigh, North Carolina, is loaded up to Acura SLXlike levels and has had just one owner, according to its Carfax. For $3,995, it's perhaps the best buy on this list. Find an Isuzu Trooper for sale
MORE FROM OVERSTEER
The Suzuki Equator RMZ-4 Was an Off-Road Truck Named After a Dirt Bike
5 Ridiculously Cheap V12 Cars for Sale on Autotrader
Autotrader Find: 2003 Volkswagen Passat W8 Manual With a New Engine