I spent much of my youth pining for a new Acura. When I was just getting out of college, their showroom was one of the best in town. From the Integra to the CL and TL up to the mighty NSX, the mix of technology, reliability and speed was something to actually aspire to. But at some point, they lost their way. Hopefully, this new RDX A-Spec is a step in the right direction — and with the new "diamond pentagon" corporate grill replacing the much maligned "beak," I'll admit that it is quite a looker. I just spent a week with one, so I thought it was time to look at where the company was, and where I think they're going, based on this new important crossover release.
The year was 1999 and I was fresh out of college. The 1996 Camaro that I drove the last couple of years of undergrad made way for a sensible 1999 Honda Civic EX. Sure, it was a manual — and yeah it had the "upgraded" 15-in five-spoke wheels, and it also had a spoiler that I deemed a "little too big" at the time. But it wasn't what I would call "fast." My roommate's 2000 Honda Accord EX V6 trounced me every time, and plus it was more comfortable. I wanted something better.
I wanted an Acura.
At the time, the entry level option was the Integra, back when cars had real (made-up) names. The mighty Type-R was out of my own entry-level corporate price range, so I set my sights on the GSR trim. You can still find some amazingly unmolested Integras out there — for instance, here's a great example with only 93,000 miles I found right here on Autotrader!
The rest of the lineup was full of fun, too. The cool CL coupe started around $23,000 with the sedan version, the TL, around $28,000. The RL, the only car in the lineup I would have labeled as a bit bland, started close to $42,000. Then there was obviously the NSX (and the NSX-T) and an SUV that I had completely forgotten, the SLX — basically a luxurious Isuzu Trooper. The showroom oozed fun, and the fact that most cars came with a manual transmission and had pretty reliable powertrains was a bonus. I wanted one. But after a couple of years with the Civic, I ended up buying a 2001 Honda Prelude — not because I wanted a Honda more, but I just happened into a good deal. Or maybe I didn't. It's hard to tell, I was only 22.
The Acura lineup evolved over time, in some good ways, and in some bad. The TSX was a nice little sports sedan, and the TL became an impressively capable midsize offering. Then things went a little sideways in the U.S. The Integra disappeared, eventually replaced by the RSX. But even the RSX disappeared after a fairly short lifespan, replaced with, well, nothing. The relatively fun TSX and TL were merged into the TLX. They also sold some SUVs, as one does — but aside from some angular styling, they weren't very exciting. We then had to endure the "beak" years, where all models came with the same large V-shaped chunk of metal (or plastic, or something) across the grill. It wasn't good.
But we're entering a new era — or, at least, I hope so. They loaned me a new 2019 RDX A-Spec SH-AWD for a week and I'm genuinely starting to get that fizzy feeling about the brand again. Twenty years later, the current lineup reminds me of that 1999 lineup. It's simple, not confounding buyers with a dozen different models, then piling on coupe and fastback variants on top of that. If you want a car, you can choose from the ILX, the TLX and the RLX. If you want an SUV, you can get the RDX or the MDX, depending on what size you want. If you need a supercar — and who doesn't? — the mighty NSX is back, and it's pretty great.
So back to this RDX A-Spec thing. What's it all about? Well, the compact crossover class is red hot, whether people need it or not, they are buying them like crazy. So the RDX is an important vehicle for the company, and it's the first of what they deem the "new generation" of products. Starting at an impressively low $37,600, it needs to be all things to all people. The run-of-the-mill RDX does a pretty good job of that, but I need something more exciting, something with a little bit of theater. The A-Spec does just that, and I started to fall for the little SUV after a short time behind the wheel.
Outside, you get the requisite badging and lots of black accents, 20-in wheels, LED lights front and back, larger exhaust outlets, and what Acura calls an "NSX-inspired rear diffuser." I'm not sure if it's actually diffusing anything, but it looks neat. Inside, it's just as cool, as they've delivered a pretty functional layout that caught my interest immediately. Most luxury brands have gone super conservative on the inside, while the RDX makes a show of it. Between the little animations and noises that pop up here and there, to the cool center stack of buttons to put your A-Spec in park, drive or reverse, it's all just fun.
The A-Spec trim also gets you a nice chunky perforated leather wheel, chrome paddle shifters, some cool accent stitching, and "Ultrasuede" inserts on the nicely bolstered seats. There's also real aluminum trim and a fancy 16-speaker ELS Studio 3D audio system. There are even speakers in the ceiling. Grammy award-winning recording engineer and producer Elliot Scheiner has been involved with Acura for some time, and produced one hell of a stereo system.
My biggest criticism on the inside of the RDX surrounded the touchpad interface. Even after the Acura rep showed me how it works, I still had some issues using it. It's probably something that you would get used to after owning it for a while — but after a week, I was still a little confounded at times.
But I didn't care that much, because the RDX is pretty engaging to drive. Some of my colleagues have dinged the turbocharged inline four that produces 272 horsepower and 280 lb-ft for being a little too anemic, particularly paired with the 10-speed automatic. Others have found the stability control to be a bit tiresome, keeping the RDX from getting too out of control. Which is … basically the reason for its existence. It's a small crossover, not a track car folks.
The Super Handling All Wheel Drive helps the RDX handle most normal driving situations and, and it's pretty entertaining on curvy roads. As is the exhaust note, especially in Sport+ mode, a function switched on by turning the big chrome dial in the middle of the dash. Sure, some of the sound is piped into the cabin, but I don't care. Lie to me all you want if it makes me smile! It's engaging and fun, and I liked the A-Spec way more than I should like a small crossover made by Honda.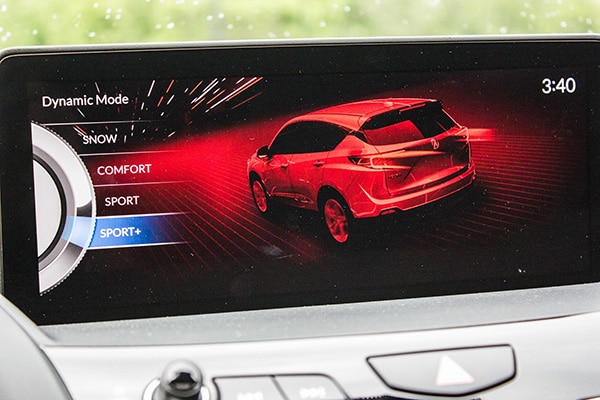 So how much will all of this cost you? The as-tested price of my loaner was $46,000 before destination and handling fees, and that includes the pretty Performance Red paint color that I absolutely loved. In a sea of gray and black luxury SUVs at my gym, I could always spot the A-Spec. Competing with other compact crossovers like the BMW X3, the Audi Q5, the Mercedes-Benz GLC 300 and the Volvo XC60, the RDX has its work cut out for it. Thankfully, its base MSRP is thousands cheaper than the rest — and even with this as-tested price, you get an impressive amount of stuff for the money.
Sure, I lament the lack of a sporty, entry level coupe in the current lineup, but that can be remedied. It's not like Honda doesn't have something to build from. If Acura could deliver me a Type-R based sedan or coupe that looks a bit more (a lot more) adult, but with similar performance, I'm in. In the meantime, I'm pretty smitten with this stupid little bright red crossover. If this is the future of the brand, I'm pretty impressed. Find an Acura RDX for sale
MORE FROM OVERSTEER:
Video | The Buick Grand National Was the Ultimate 1980s Muscle Car
Video | Hyundai Has Come a Long Way Since Its Horrible XG350L
These Are the Best-Preserved 1980s Cars for Sale on Autotrader