General Motors has been here before. The automaker says that it will unveil a hybrid version of its big pickup trucks at the virtual 2021 Consumer Electronics Show, but let's not forget that GM has a surprisingly long history with electrified pickups — a longer history than any of its rivals, too.
All the way back in 2004, Chevy Silverado and GMC Sierra hybrids were offered in select markets. This early attempt — less than a decade after the Toyota Prius was first unveiled — used relatively simple tech, even for the time. Four 12-volt automotive-style batteries fed power to an electric motor housed in the transmission's flywheel housing. The gasoline engine was GM's then-mainstream 5.3-liter V8.
The electric motor didn't provide any ability to actually drive on its own, unlike the Prius, but it did let the V8 gas engine turn off at stoplights to save fuel while idling. Because the hybrid system contained a 2,400-watt generator, GM pitched the trucks as saviors for contractors since there were four 120-volt outlets available to allow the trucks to run or charge power tools.
Fuel economy wasn't really a selling point, though at 17 mpg combined in rear-wheel-drive form the trucks were rated at 1 mpg ahead of non-hybrids. GM also offered a four-wheel-drive hybrid, which of course weighed a little more and thus used a little more fuel.
The trucks were only offered in a few markets, and the hybrid package could only be had in mid-level LS trim. GM charged $1,500 for the package, which also added rear disc brakes (due to the regenerative braking system) and slightly larger tires.
Rumor has it that GM bought back the majority of these trucks, although there's currently one on Autotrader.
Round Two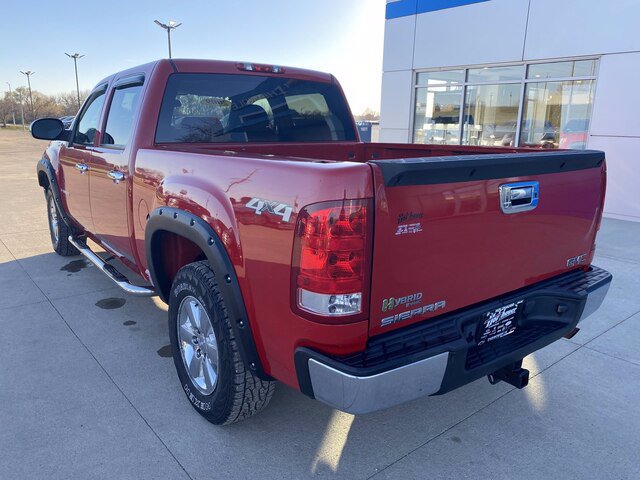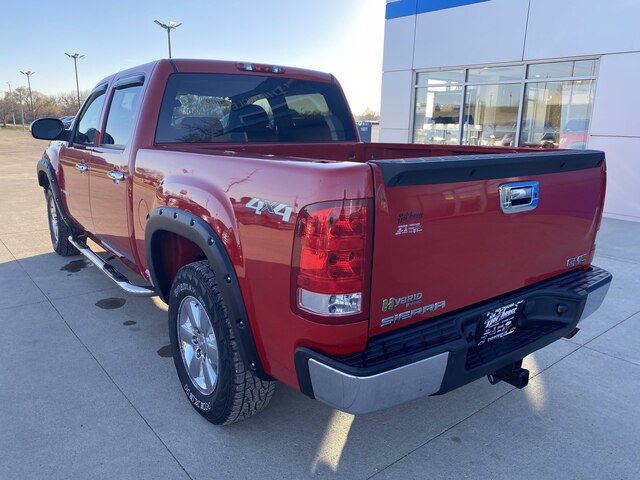 The redesigned Silverado and Sierra trucks that bowed for 2007 spelled the end of the hybrid experiment, at least at first.
By 2009, Chevy and GMC were back with another hybrid, and this time GM took a different approach. A version of GM's 6.0-liter V8 was this time paired with a continuously variable automatic transmission (CVT) with two electric motors located in its bell housing. A 300-volt nickel-metal-hydride battery was located beneath the rear seat (the trucks came only has crew cabs).
Other tweaks such as electrically-assisted power steering and a revised air conditioning pump helped improve fuel economy considerably. The EPA rated the trucks at around 20 mpg combined.
To amortize the presumably hefty development costs, GM offered the same powertrain in its closely-related Chevrolet Tahoe, GMC Yukon, and Cadillac Escalade trucks.
These hybrids rode and handled pretty much like standard Silverados and Sierras, though contemporary reviewers noted so-so steering feel and a certain uneasiness to the brakes. The CVT also found few fans.
Oddly, GM didn't fit any household-style AC outlets in its second-generation hybrids, so the trucks couldn't work like mobile generators.
The hybrid was also rated to tow just 5,900 pounds with four-wheel drive, a little over half of what a non-hybrid version's maximum tow rating was at the time.
That said, around 20 mpg was good for the time, but it is amazing how far we've come in a decade. Today, GM sells several Silverado and Sierra configurations that average above 20 mpg combined, and the rear-drive turbodiesel models are rated as high as 33 mpg on the highway.
The trucks started a smidge under $39,000 and they quietly existed in the Chevy and GMC lineups through the 2013 model year when the big pickups were redesigned for 2014. The only eco-friendly pickup to arrive then was, curiously, a zero-emissions Silverado… made out of paper, which you can still download and assemble today if you have enough ink in your printer.
If you're looking for a full-size Silverado or Sierra hybrid, plan to spend some time looking on Autotrader. Here's a 72,000-mile one in Cincinnati with chrome wheels and a bench seat, so you can bring along a few buddies on your next fuel-sipping drive. Find a Chevrolet Silverado Hybrid for sale or Find a GMC Sierra Hybrid for sale