Later today, I'm going to show you the ins and outs of the McLaren 570S — a car that could be the next great exotic-car bargain, largely because of its price tag: The 570S starts at just $190,000, which is cheap for an exotic car — and in a few years, I suspect you'll be able to pick up a 570S for about the same price as a new Porsche 911.
But if you don't want to wait a couple years, here are a few cars that might pique your interest: the cheapest McLaren models currently listed for sale on Autotrader. Enjoy!
The Cheapest: 2012 McLaren MP4-12C — $118,000
This is the cheapest McLaren on Autotrader: a 2012 MP4-12C with 28,000 miles offered for sale by World Class Automobiles in the New York City suburb of South River, New Jersey. Painted in a handsome dark blue, this car has a clean Carfax report and a well-kept interior and exterior. Its $118,000 asking price proves these are coming down, even without rebuilt titles and huge miles — to the point where they'll probably hit $100,000 in the next year or two. Find a 2012 McLaren MP4-12C for sale
The Second Cheapest: 2012 McLaren MP4-12C — $132,800
The second-cheapest McLaren on Autotrader is this one: a 2012 model finished in red. (It's described as Volcano Orange in the listing, but it seems more reddish to me.) This MP4-12C is surprisingly more expensive than the cheapest one, at $132,800, but it has fewer miles, at just 21,800. It, too, has a clean Carfax report, and it's offered by Chicago Motor Cars in Chicago. Find a 2012 McLaren MP4-12C for sale
The Cheapest Convertible: 2013 McLaren MP4-12C Spider — $142,500
If you want the cheapest McLaren convertible, you'll have to skip the 2012 model year altogether, as the MP4-12C Spider didn't make its debut until 2013. This one looks the part: Offered by Luxury Auto Collection in the Phoenix suburb of Scottsdale, Arizona, it's finished in a gorgeous dark red and it's traveled just 15,000 miles with one owner. With that said, its Carfax report shows "very minor damage" after a slight rear-end collision. Assuming it's been repaired well, this could be a good deal for drivers who want to drop the roof in their McLaren. Find a 2013 McLaren MP4-12C Spider for sale
The Cheapest 650S: 2015 McLaren 650S Spider — $182,500
The 650S came out for the 2015 model year with a lot more brawn than the MP4-12C: 641 horsepower, to be exact, compared to the MP4-12C's mere 616 hp. Given the 650S's newer design and far more recent model year, it's still pulling big money — in fact, huge money, as the cheapest one for sale nationwide is this 2015 650S Spider at Luxury Auto Collection in Scottsdale for a whopping $182,500. This one has no Carfax accident history, though its "low" price is likely a result of the mileage — 18,700, which is high for a 2-year-old exotic sports car. Find a 2015 McLaren 650S Spider for sale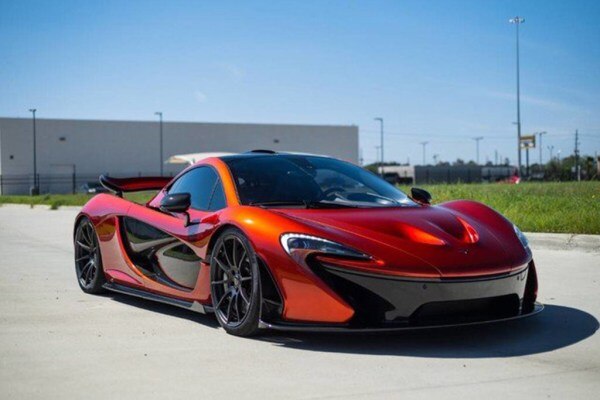 The Cheapest P1: 2014 McLaren P1 — $2,097,770
Yes, you can find a McLaren P1 on Autotrader. In fact, there are a few, and this is the cheapest: a Volcano Orange example offered by McLaren Houston with a price tag of just under $2.1 million. What exactly makes something the "cheapest" P1? In this case, it likely has to do with the mileage: This P1 has traveled 7,663 miles, which may not seem like much — but most of these ultracars have a far lower odometer reading. Still, $2.1 million isn't so bad — especially considering the original MSRP was likely around half that. Find a 2014 McLaren P1 for sale
Doug DeMuro is an automotive journalist who has written for many online and magazine publications. He once owned a Nissan Cube and a Ferrari 360 Modena. At the same time.
MORE FROM OVERSTEER:
Here's What You Get in a $100,000 Cadillac Escalade ESV Premium
Fact: The Same Person Designed the Chrysler PT Cruiser and Chevy HHR
Yes, Some States Allow Punctuation on License Plates