Let's take a minute to talk about the Dodge Ramcharger, a big 2-door SUV doomed to eventual failure just like every other 2-door SUV that doesn't say "Wrangler" on it. Like many of you, I assumed that the name died in 1992 with the truck itself.
If you were paying attention to car magazines like I was in mid-1990s, you would've seen something interesting happening. The growth of the full-size, 4-door SUV. In 1995, General Motors decided to give us what looked like a shortened Suburban and name it the Chevy Tahoe and GMC Yukon. A couple years later, Ford took the design of their trucks in a different direction with curvy, rounded styling. Then they created a large 4-door SUV and called it the Expedition. In the middle of all that, Dodge redesigned their trucks to have a muscular, mini-semi-truck design motif. They also debuted the original Dodge Durango with the same brawny, front-end design.
Of course, the Durango was only offered with four doors — and unfortunate decision for those of us interested in unusual cars, but a good one from Chrysler, who by then knew the market for 2-door SUVs was bleak. That meant the end of the line for the 2-door Dodge Ramcharger after 20 years and two generations.
Well, I'm delighted to report, it seems that Dodge actually did make a third generation Dodge Ramcharger — they just didn't let us have it here in the United States. I learned this fact by accident when I was doing some fact-checking for another Ramcharger-related post.
The third-generation Ramcharger was available from 1999 to 2002, and it was a 2-door, rear-wheel-drive-only SUV that was solely built in sold in Mexico — where the demand for such a thing was clearly a little higher than, say, places that get snow.
Unfortunately, it was not a looker. Sure, it had the front of the Dodge Ram as you'd expect — but it goes downhill from there. The rear looks like the cross between a Durango and a Caravan (I think the tailgate actually came straight out of a Caravan!). Not exactly a good combination. Plus, it didn't have four wheel drive as an option, which meant that it sat low to the ground like a modern crossover — not high up where many Americans want to sit.
Once you stepped inside, the front seats were your typical buckets with a big bench behind that. The cargo area is where things get a little interesting. Dodge decided to give its owners a choice. You can either bring five people and all of their stuff, or you can bring seven people and none of their stuff, thanks to a flip-down, sideways-positioned jumpseat — just like the Land Rover Defender.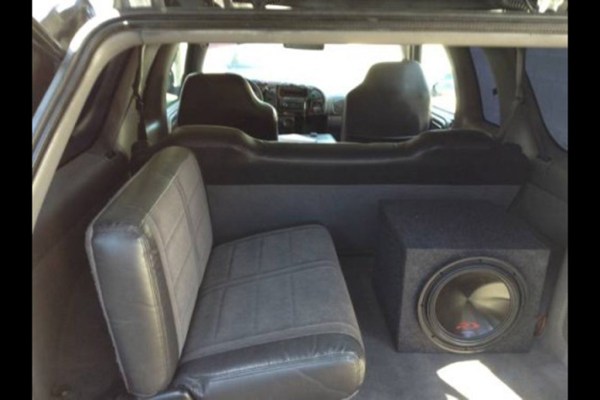 There you have it. The third generation Dodge Ramcharger is not a myth … though probably not a legend, either. Still, it's an unusual vehicle that most people don't know about — and one of the few American-brand SUVs not offered in the United States. So, who's going to import one in 2024?? Find a Dodge Ramcharger for sale
MORE FROM OVERSTEER:
Here's Why the Ferrari 348 Is Better Than You Think
5 Cars That Don't Deserve Their Bad Reputations
Remember Nissan's Coin Slot Sunroof?