Car Review
1999-2006 Chevrolet Silverado 1500: Used Car Review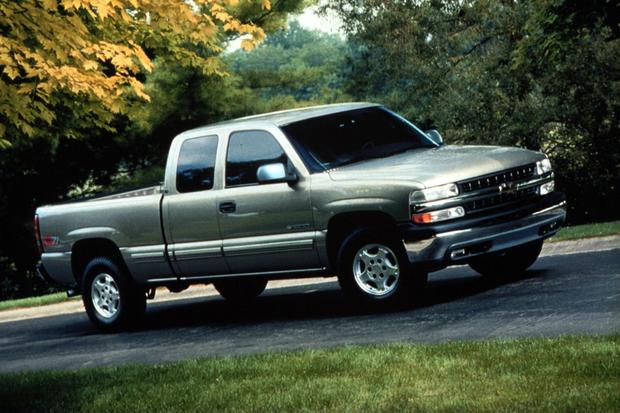 With the 1999 model year, Chevrolet gave its previous C/K Series full-size trucks the Silverado moniker, evoking adventure and wide-open spaces. Starting out with a much stiffer, hydroformed frame, Chevrolet's all-new light-duty, full-size trucks featured a new lineup of small-block Vortec V6 and V8 gas engines, vastly improved brake systems with anti-lock 4-wheel discs standard across the lineup and the more luxurious LT trim for an expanding number of personal-use buyers. The 1999-2006 Silverado 1500 was offered in 2-door Regular Cab, 3- and 4-door Extended Cab and 4-door Crew Cab configurations, with long and short beds in Fleetside and Sportside styles. Chevrolet entered the hot rod pickup segment with the high-performance Silverado SS Extended Cab from 2003 to 2006, and showed its green side with a gas-electric Silverado Hybrid in 2005-06. The 1999 Silverado was named Motor Trend Truck of the Year.
Why You Want It
Silverado is the best-selling nameplate in the General Motors line and, most days, the second-best-selling vehicle in the United States (first is the Ford F-Series). Like other full-size pickups, the 1990-2006 Chevrolet Silverado 1500 is relatively inexpensive to purchase, will run hundreds of thousands of miles with minimal care, can take abuse in stride and is roomy and available with that evergreen workhorse mill, the small-block Chevy V8. Silverados can be configured as simply as a rubber floor mat, V6 2WD Regular Cab Work Truck all the way up to a leather-lined, LT-trimmed 6.0-liter V8-powered 4WD Crew Cab and everything in between.
Notable Features and Options
Base Silverado equipment includes a vinyl bench seat and floor covering, automatic headlamps, tilt steering wheel, PassLock II theft deterrence, 26-gallon fuel tank, AM/FM stereo, split bench seat, intermittent wipers, tachometer and an engine hour meter. Extended-cabs have swing-out rear windows and rear-seat headrests.
Moving up to LS gains carpeting, cloth seats, A/C, CD player, cruise control, leather-wrapped tilt steering wheel, front center armrest, security system, auto-dim mirror, compass, chrome wheels, chrome bumpers, keyless remote and power windows and door locks.
The range-topping LT packs in leather front power bucket seats with memory and lumbar adjustment, heated rear window and mirrors, aluminum wheels, foglamps, the 5.3-liter V8 and automatic transmission. All LTs through 2004 are Extended Cabs.
Steering is rack and pinion on 2WD trucks and recirculating-ball on 4WD rigs. Optional Quadrasteer on 2002-2005 models improves both low-speed maneuverability and high-speed stability by turning the rear wheels up to 12 degrees in concert with the fronts.
Front suspension is coil-spring on 2WD models and torsion-bar on 4WDs.
The Z71 Offroad Package is popular with outdoorsy types, and includes gas shocks, skidplates, special anti-roll bars, off-road jounce bumpers, limited-slip rear differential and a high-flow air cleaner. Also optional is the driver-selectable ZX3 package with adjustable damping.
Two shift-on-the-fly 4WD systems are available. Insta-Trac on base and LS trims have the traditional range lever on the floor, while LT trims feature the Autotrac push-button-activated system. As its name implies, Autotrac is an automatic 4WD system that defaults to rear-wheel drive unless slippage is detected, whereupon the system engages 4WD High range. A limited-slip rear differential is also available.
The 1999-2006 Silverado 1500 offers towing capacity that's competitive with the Ford F-150, Dodge Ram 1500, Toyota Tundra and Nissan Titan. This ranges from just over 5,000 pounds with the base 4.3-liter V6 to more than 10,000 pounds with one of the larger-displacement Vortec V8s.
Model Milestones
2000: V8 engines get a 15-horsepower bump, 4.8-liter engines moving up to 270 hp and 5.3-liter engines up to 285 hp. The 4-door version of the Extended Cab debuts midway through the model year with the addition of a rear-hinged driver's side rear door. The 3-door Extended Cab is dropped.
2001: OnStar communications system added to LT models midway through the model year; composite cargo bed offered on short-bed 4WD models with Z71 off-road package; new 1500 HD introduced midway through the model year with HD frame, 4-door Crew Cab body with four conventional front-hinged doors and 300-hp 6.0-liter V8.
2002: Optional Quadrasteer 4-wheel steering becomes available on short-box Extended Cabs. All trims get a chrome grille and bumpers.
2003: Facelift gives new front-end appearance resembling Avalanche and TrailBlazer. XM Satellite radio is a new option. SS performance model is introduced on 4WD Extended Cabs with 345-hp 6.0-liter V8, lowered ride height and 20-inch alloy wheels. Flex Fuel 5.3-liter V8 option allows use of regular unleaded or E85 fuel. 2WD Work Truck version of base model debuts with standard 34-gallon fuel tank and without CD player or cruise control. Bose audio system is offered; new dual-zone climate control.
2004: The 4.8-liter V8 output raises 15 hp to 285, and the 5.3-liter V8 raises 10 hp to 295. The 4.3-liter V6 loses 5 hp to 195. A 1500 Crew Cab model replaces the 1500 HD. The Work Truck package extends to all Base trim 2WD and 4WD Regular and Extended Cabs. Power door locks, cruise control and an AM/FM/CD stereo are now standard on all models but the Work Truck.
2005: The Sunroof package is offered. Gasoline/electric mild Hybrid Extended Cab with 2WD or 4WD and LS trim is introduced in a few states. Using a 18-hp starter-generator, the hybrid shuts off the engine at stoplights to conserve fuel and restarts the 295-hp 5.3-liter V8 when the driver lifts his foot off the brake. The hybrid also features four 120-volt power outlets under the rear seat and in the bed for operating portable power tools and equipment. Elsewhere in the lineup, a higher-output 5.3-liter V8 with 310 hp is offered in 4WD Extended Cabs. Standard 2WD final-drive ratio moves from 3.42:1 to 3.23:1 to save fuel. Likewise, dual electric cooling fans replace the single engine-driven one.
2006: All models get a bolder grille and power-dome hood from the HD 2500/3500 Series. Quadrasteer is dropped. 2WD version of SS is offered. Extra-short 5-feet 9-inch box from the Crew Cab is now available for Extended Cabs. Availability of Silverado Hybrid is expanded nationally. A 345-hp VortecMax Package is optional to enhance the 1500 Crew Cab's towing ability.
Engines and Performance
A 4.3-liter V6 is the base engine in all 1999-2006 1500s except the upscale LT trim, SS performance model, Crew Cab and Hybrid. The 4.3-liter makes 195 to 200 hp at 4600 rpm and 260 lb-ft of torque at 2800. Optional on Base, Work Truck and LS trims is a 4.8-liter Vortec V8 with 255 to 285 hp and 285 to 295 lb-ft of torque, and a 5.3-liter Vortec V8 265 to 310 hp and 320 to 330 lb-ft of torque. The 5.3-liter V8 is standard with LT trim and used in conjunction with an 18-hp starter-generator in the 2005-2006 Silverado gas-electric Hybrid. A 300-hp 6.0-liter Vortec V8 from the Silverado HD is used in Crew cabs, and a special high-performance 6.0-liter V-8 with 345 hp and 380 lb-ft of torque is used in the sporty SS Silverado Extended Cab. A 5-speed manual is standard on Base Work Truck and LS trims, with a 4-speed automatic transmission optional (except LT, SS, Crew Cab and Hybrid, where it is standard). The 4-speed automatic features tow/haul mode for better control and performance when trailering. Tow/haul delays upshifts and gives earlier downshifts, when activated.
These are big, heavy workhorses with fairly large engines and blocky body shapes, so fuel mileage is nothing to brag about. Estimates from the Environmental Protection Agency (EPA) range from 17-mpg city/21-mpg highway for 2WD Regular Cabs with the 4.3-liter V6 to 13-mpg city/17-mpg highway for the high-performance SS or Crew Cabs with the 6.0-liter. The 5.3-liter V8 offers the best combination of power and fuel economy, and it's available in a Flex Fuel version that can burn E85 or regular unleaded. The Silverado gas-electric Hybrid can save up to 2 mpg in city driving.
Recalls, Safety Ratings and Warranties
The National Highway Traffic Safety Administration (NHTSA) announced the following safety recalls for the 1999-2006 Chevrolet Silverado 1500.
1999: On some extended-cab 4WD trucks, the steering-box mounting bolts were not tightened to specifications.
1999-2000: Contact between the right front brake pipe and body could cause a leak, affecting braking ability.
1999-2002: In rust belt states, the corroded wheel-speed sensor may cause unwanted anti-lock brake operation.
1999-2004: Galvanized tailgate support cables may corrode and break; dealer to replace with stainless-steel cables.
1999-2005: On manual-transmission trucks with worn brake linings; parking brake may not hold on hill.
2000: Airbag sensing module may fail to deploy front airbags in a crash.
2000: With 4-wheel disc brakes, system may have incorrect front/rear balance.
2005: Automatic transmission gear indicator in dash may not illuminate.
2005: Intermediate steering shaft may separate from steering box.
2005: With 5.3L V8, fuel can leak from fuel-injection rail.
2005-2006: Defective power steering hoses may rupture, resulting in a loss of steering boost and potential fire.
NHTSA did not test the 1999 Silverado. It gave 2000-2002 models a three-star rating for the driver and four stars for the front passenger in frontal impacts. For 2003-2006 models, the ratings were reversed, with four stars for the driver and three for the passenger. None of the 1999-2006 Silverados were rated by NHTSA for side impacts.
The Insurance Institute for Highway Safety (IIHS) rated the 1999-2006 Silverado as marginal for frontal offset collisions but did not test for side impacts or roof strength.
The 1999-2006 Silverado came with three-year/36,000-mile bumper-to-bumper and powertrain warranties with roadside assistance. Corrosion perforation coverage expanded to 72 months or 100,000 miles.
The 1999-2006 Chevrolet Silverado does not qualify for Chevrolet's certified pre-owned program because used trucks older than the 2007 model year, or with more than 75,000 miles or five years, are not eligible. Newer trucks that pass the mileage and age tests get a 172-point inspection and are sold a one-year/12,000-mile limited warranty with roadside assistance and a five-year/100,000-mile powertrain warranty.
Word on the Web
Consumerreports.org reported on 1999-2006 2WD Silverados and predicted average to above-average reliability. When it came to 4WD versions of Chevy's full-size truck, however, 2003-06 models were cited for below-average reliability in the drive system, climate control, suspension and brakes. In a road test of a 2004 Silverado Z71 4WD Crew Cab, it gave the truck high marks for cargo capacity, operation of its full-time 4WD system, quietness, acceleration and transmission shift quality while knocking it for a stiff ride, large turning circle, safety-belt comfort, fit and finish and emergency handling. Overall, CR gave the Silverado line a Recommended Buy rating.
Motortrend.com tested a 2003 Silverado SS Extended Cab sport truck, praising the brisk 6.6-second 0-to-60 mph acceleration with its 345-hp, 6.0-liter V8, impressive 119-ft 60-to-0 stopping ability and AWD traction but took issue with its harsh ride over freeway divider strips, less-than-premium fit and finish and lofty price tag.
Competitive Set
The full-size pickup buyer is the most loyal in the industry, so GM, Ford and Dodge must be doing something right. In every major category that counts--engine choices, towing and hauling ability, durability, resale value and cab and bed choices--the Ford F-150 and Dodge Ram 1500 are neck and neck. From a strippo regular-cab work truck to a leather-lined and loaded 4WD crew cab, it really comes down to a matter of personal choice. The F-150 offers perhaps a greater variety of trim and equipment packages. The Ram 1500 has a lot of curb appeal with that big-rig front end look. The Toyota Tundra and Nissan Titan offer well-equipped personal-use trucks in the more popular extended-cab and crew-cab configurations but don't offer the variety of the Chevy, Ford or Dodge.
Auto Trader Recommendations
If you are looking for a Silverado that will take plenty of abuse, handle most of the tasks you throw at it and go the extra mile without eating you out of house and home, our recommendation is to look at an Extended Cab 2WD with LS trim, the 5.3-liter Vortec small-block V8 and 4-speed automatic transmission. Upgrade to 4WD if weather or terrain dictate, but a good set of snow tires and some weight in the bed will do wonders for traction. We'd stay away from the gas-electric Silverado Hybrid, as repair components will get dear at some point. A V6 or manual-transmission truck may seem to be a thrifty way to go, but fuel economy is almost the same as the V8/automatic, and a strippo truck won't draw much interest at resale or trade-in time.
Always choose lower-mileage examples, if possible, and get a vehicle history report to make sure the Silverado's safety recalls and product updates have been completed.