Editor's note: You may want to read more of Autotrader's model vs. model comparison car reviews as well and the 2016 Lexus LX 570 review.
Since our earliest moments as tiny toddlers, we learn that newer things are generally better than their predecessors. We're constantly getting new phones, remodeling our homes and buying new cars. Newer items are typically more efficient, practical, capable and nicer to look at — with the exception of a child's favorite blanket or an especially loved stuffed animal, items that seem to become better with age.
But does the sentiment "newer is better" ring true in the car world? We rounded up two examples of Lexus' version of the Toyota Land Cruiser — the 2006 Lexus LX 470 and the 2016 model — one of the most durable, timeless vehicles on the market. The differences are mostly down to bodywork and a few features and options. We spent some time driving the two back to back in order to see what we thought.
In one corner, we have the 2006 model — an excellent example of the model's 100 series, which was sold from 1998 to 2007, that's owned and loved by one of our Autotrader staffers. In the other corner, we have a 2016 Lexus LX 570, recently face-lifted with a bolder, more aggressive look and filled with an almost unending array of today's latest gadgets and features. Here's what we think.
How Much?
Before we get started, we should cover one of the most important questions in any comparison test: How much do these things cost? The 2016 LX 570 starts at $89,900 and offers only a few options, including a Luxury package ($1,190) with improved trim and upholstery, a dual-screen rear entertainment system ($2,000), a full-color heads-up display ($900) and a Mark Levinson surround-sound audio system ($2,350) with — this is completely true — 19 speakers. All told, you'll probably spend over $90,000 for one, and you might be into the six figures once you add on taxes and fees.
Considering the LX 470's age — it's now a decade old — you might think it'll be cheap to find and buy, but it isn't. There are only 35 different 2006 models listed on Autotrader across the country, and their average price is nearly $22,000. Compare that to the LX's closest competitor back in 2006, the Range Rover, and you'll find nearly 250 examples listed on Autotrader with an average price of just over $16,000. In other words, the LX is hard to find and it holds its value well.
The Similarities
It's important to understand exactly what makes these trucks similar. They're both full-size SUVs, for sure, but it isn't just that. On paper they have a lot in common, from a huge V8 under the hood (it's a 275-horsepower 4.7-liter in the old model and a hulking 383-hp 5.7L in the new one) to a comfortable ride, a smooth-shifting automatic transmission, unique fold-up rear seats, an advanced 4-wheel-drive system and (it's worth noting) abysmal fuel economy. The LX 470 returned 12 miles per gallon in the city and 15 mpg on the highway, while the 570 doesn't do much better at 13 mpg city/18 mpg hwy. However, the new version does deliver over 100 hp more and gets slightly better fuel economy.
Indeed, executives at parent company Toyota know a winning formula when they see it, and these high-dollar, highly capable SUVs aren't subject to many major changes or experiments. It seems that Lexus — and their customers — like the SUV exactly how it is.
Gadgets and Technology
With that said, there's no question the LX is evolving, even if two models separated by 10 years have a lot in common. And the most obvious differences relate to the SUV's gadgets and technology.
Yes, the LX 470 was an advanced vehicle when it was on sale, but by modern standards, and especially Lexus LX standards, it's a dinosaur. Here's a list of some of the items you'll find in an LX 570 but not an LX 470: a wireless charging tray, a heads-up display, a 19-speaker stereo system, a 12.3-inch center display screen, Lexus' Enform infotainment system with app capability, USB ports for music, a 360-degree camera system, a power-folding third-row seat, ventilated seats, heated rear seats, adaptive cruise control, lane-departure warning — and on and on and on. So if technology is your thing, the answer to the question we posed in the title is simple: Yes, newer is always better.
You could say the same for safety, too. While the old model offered virtually everything you'd expect at the time, it lived in a world where forward-collision warning was still an idea in an engineer's mind. While the old LX 470 — a full-size SUV with a full complement of airbags and a few electronics designed to keep you on the road — won't exactly kill you, only a few modern vehicles strike us as safer than the new LX 570. Once again, if safety is a priority, you'll answer yes to the question we asked in the headline.
On the Road
And yet, with all the improvements on the inside, it seems like there's something missing when you're behind the wheel. Sure, the new model has 108 more hp than the old one. It also has 71 more lb-ft of torque (332 vs. the new model's 403) and three more gears on the transmission. But everyone who piloted the 2016 model back to back with the 2006 version seemed to have the same opinion: The old one feels better.
One reason is undoubtedly the grand heft of the new one. While the LX 570 is only 5 inches longer than its predecessor, that doesn't tell the whole story. It's wider. It's taller. In an era when cars are getting lighter, it's a whopping 500 pounds heavier. And, most important, it just feels more insulated from the road than the outgoing model. More comfortable? Maybe. But you also feel like you're less sure of what's going on around you, thanks to wider fenders, a bigger, taller hood and continuously shrinking window openings in the name of style.
Floor the accelerator, and you'll notice it most of all. The new one — the one with the 108 extra hp, 71 more lb-ft of torque and three more gears — somehow manages to feel slower than the outgoing model because it further insulates you from the speed and from the road. Is this a good thing? Car enthusiasts interested in road feel and obsessively hyperaware of their surroundings will probably say no. People who spend $90,000 on a luxury SUV, however, may feel differently.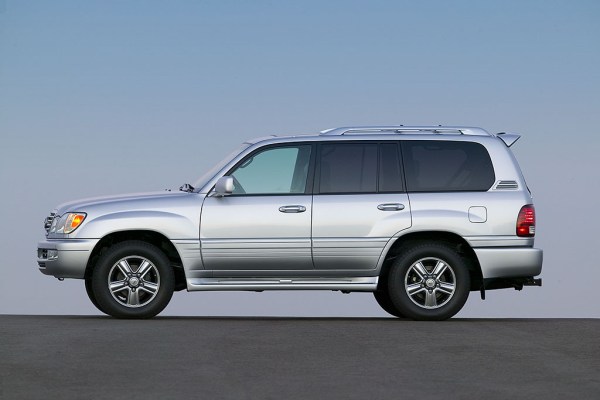 Our Take
On paper, everything about the 2016 Lexus LX 570 is better than everything about the 2006 Lexus LX 470. It's more powerful, more efficient, roomier for passengers and cargo, better equipped and chock-full of an enormous amount of extra gadgets, equipment, safety features and luxury amenities. It also looks more modern — inside and out — and offers a smoother, cushier ride.
But there's something we still love about the old LX 470 that we wouldn't say about, for example, an old Camry in comparison to a new one. The old LX comes from a different era — one when the design was about function rather than form (compared to the brash, look-at-me styling of the new version), the driving experience favored road feel rather than comfort, and the Toyota engineers were scratching their heads to figure out how to add extra ground clearance rather than extra stereo speakers.
Yes, there's no doubt that the new LX 570 is the better vehicle. But the LX 470 might just be the better overall experience. It's the worn child's blanket we've come to know and love and can't seem to give up, even when the alternative is 800-thread-count sheets.