Car Review
2012 Toyota Camry Hybrid: New Car Review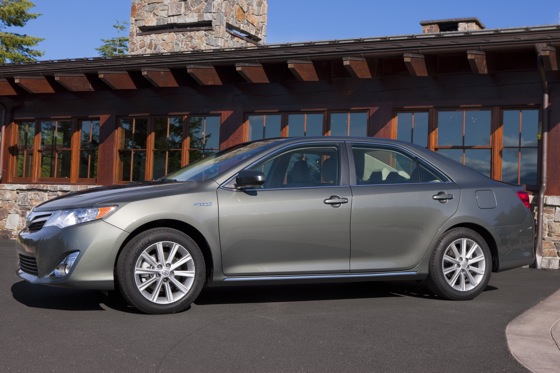 With significantly higher fuel economy, incredible value, multiple trim levels to choose from and the same Camry comfort as its non-hybrid brethren, the 2012 Camry Hybrid is an easy choice for the modern family, reflecting the growing acceptance of hybrids among the car-buying public.
Interior
New for 2012 is an LE version of the Camry Hybrid. The Camry Hybrid LE comes nicely equipped including auto on/off halogen headlamps, front and rear disc-brakes, Bluetooth connectivity, a six-speaker audio system with USB port, remote keyless entry with push-button start, dual zone automatic climate control, 6-way adjustable driver seat, cruise control, and power windows with auto up/down.
The upgraded Hybrid XLE trim adds rear seat vents to the climate control system, an upgraded audio system with a 6.1 inch touchscreen, expanded Bluetooth capabilities such as music streaming, an 8-way adjustable driver seat, steering wheel-mounted audio and Bluetooth controls, fog lamps, and larger 17-inch alloy wheels.
As with all 2012 Camrys the front seats suffer from a lack of bolstering. Simply put, the seats don't do a great job of holding occupants in place during hard cornering. The only category in which the Camry Hybrid loses points compared to the non-hybrid is in trunk capacity. Given that the batteries are stored there, the hybrid trunk is a full 2 cubic feet smaller-roughly 15 percent-than in the non-hybrid.
Technology
Upgrades on the tech front include optional features such as Toyota's new Entune entertainment and internet search system, navigation, satellite radio, backup camera and integrated HomeLink garage door opener. Entune works well and includes such applications as Pandora Internet radio and Bing search. If you're into that kind of stuff, you'll need to opt for the Hybrid XLE because those items can't be added to the Hybrid LE.
Performance and Fuel Economy
With an EPA rating of 39 mpg highway and 43 city, the 2012 Camry Hybrid LE delivers nearly 30 percent better fuel economy compared to the outgoing model. Even with its fuel sipping behavior, the new powertrain puts out 200 horsepower, a 13 horsepower increase.
Toyota was able to achieve this feat by tweaking the same 2.5-liter, four-cylinder engine found on the base Camry and mating it to their time-tested hybrid system. Additional gains come from a new feature that sends exhaust gas back through the engine to be burned again. The end result of this Exhaust Gas Recirculation system (EGR) is lower emissions and increased fuel efficiency.
While the Hybrid XLE is rated at a lower, but still stellar, 38 highway and 40 city mpg, over the course of our day's worth of test driving in that model we were able to achieve 43 mpg in mixed driving conditions without really trying by engaging the ECO mode. As is the case with all cars that rely at least in part on electricity, mileage can vary quite a bit based on driving habits.
Ride and Handling
While the 2012 Camry Hybrid adds much in the way of increased fuel economy, it doesn't seem to sacrifice much when compared to the non-hybrids. Handling is on par with our four-cylinder non-hybrid XLE tester-perhaps even slightly enhanced due to the better distribution of weight between the front and rear axles from the placement of the battery in the trunk. The Camry Hybrid's CVT-a transmission usually associated with uninspired performance-felt more refined than in past models.
Acceleration is also brisk compared to the four-cylinder model. However, you can still feel the gasoline engine kicking in as the car transitions from electric drive to gas/electric. It's not as pronounced as in the previous Camry Hybrid but that somewhat odd driving dynamic isn't totally gone. There's also a good deal of whine from the regenerative brakes. It seems a little more pronounced than before but that regenerative system now adds juice back to the battery over a wider range of braking conditions. Thankfully, the Camry Hybrid's brakes are not grabby as with some other hybrids.
Value
In years past, Toyota has positioned the Camry Hybrid as an upscale trim level within the Camry lineup, typically viewing it as a green alternative to the higher-priced, V6-powered sport sedan.
But with consumers increasingly placing importance on fuel economy and accepting hybrids as a normal type of vehicle, 2012 marks the first time the Camry Hybrid will be sold in more than one trim level: a mid-grade LE and an upscale XLE.
Both trims represent a significant savings over the outgoing model. At a base price of $25,900, the Hybrid LE is a full $1,150 less expensive than the base 2011 model, and at a base price of $27,400, even the Hybrid XLE represents a savings of about $800 over a comparably-equipped 2011 model.
Other Cars to Consider
The obvious alternative to the 2012 Toyota Camry Hybrid is Toyota's own Prius. Similarly equipped, both cars cost about the same but the Prius does have a techier vibe. Those looking to save money and can do with less interior space will want to consider the Honda Insight and it's sub $20,000 price tag. The real Camry Hybrid challenger is the new Kia Optima Hybrid. It's about the same price as the Camry Hybrid LE but has a more youthful look and a few more compelling features. The Ford Fusion Hybrid is also worth considering although the Camry feels like a larger car overall.
AutoTrader.com Recommends
The best value is clearly the LE version of the Toyota Camry Hybrid. Its cost along with reasonable comfort and convenience features make it the best choice for buyers who want a functional, reliable, and efficient sedan.