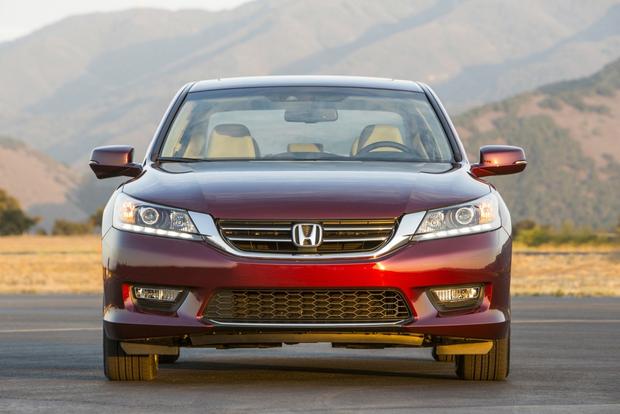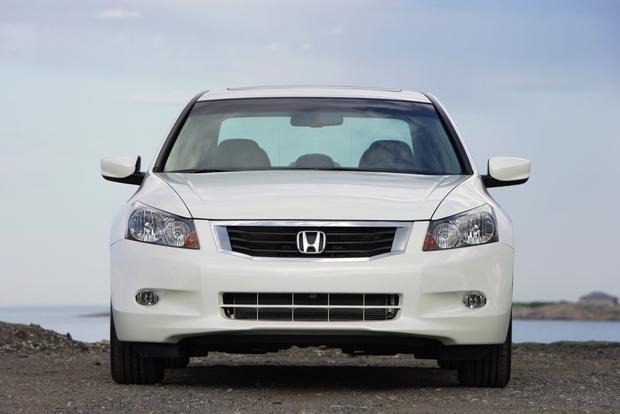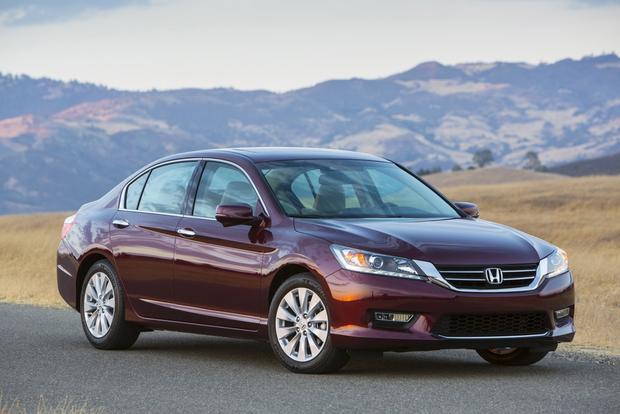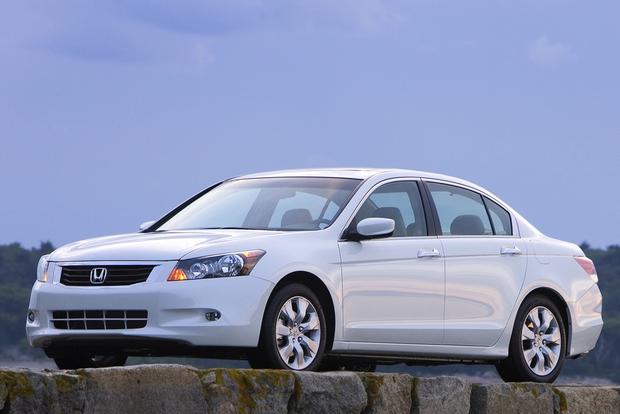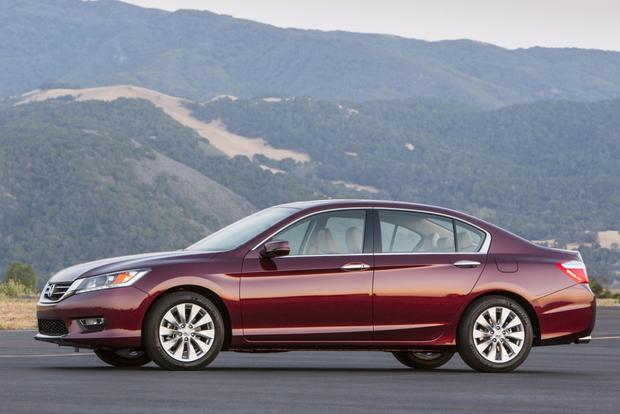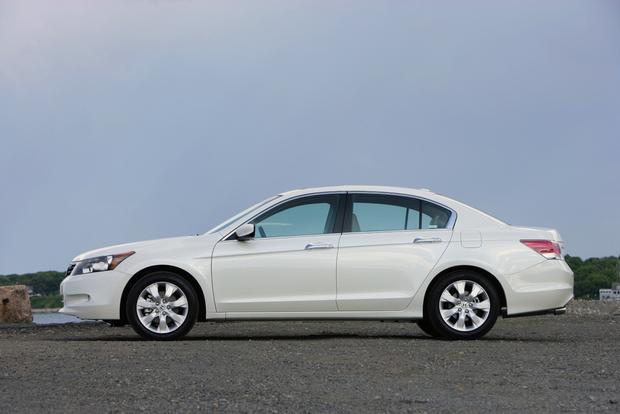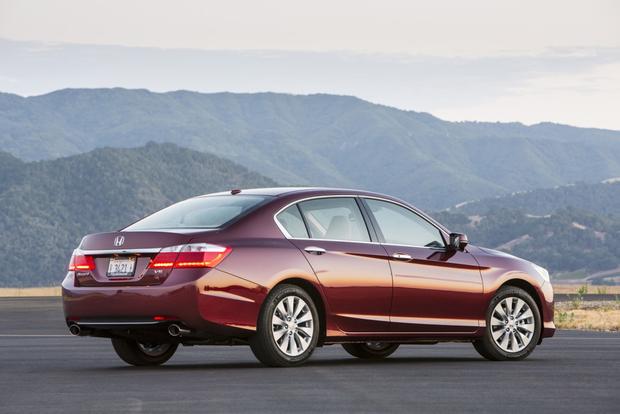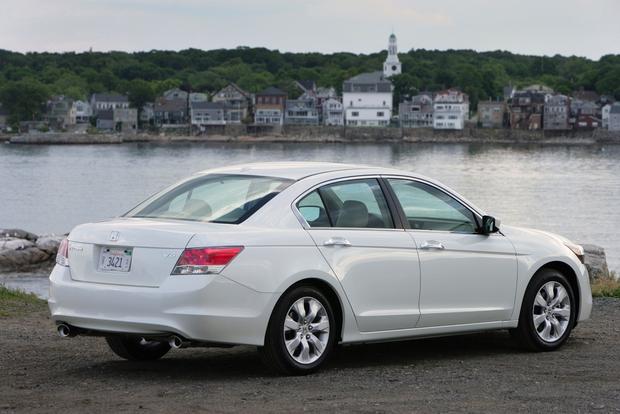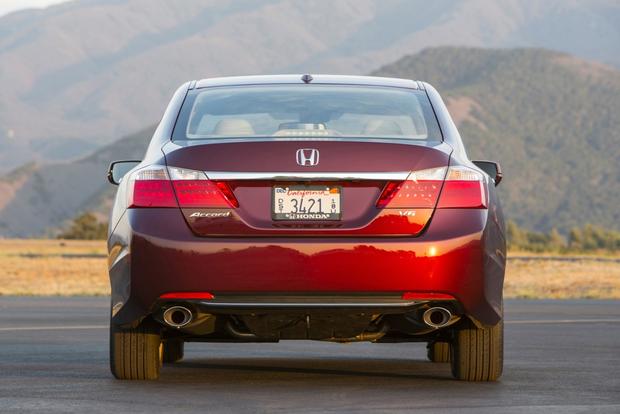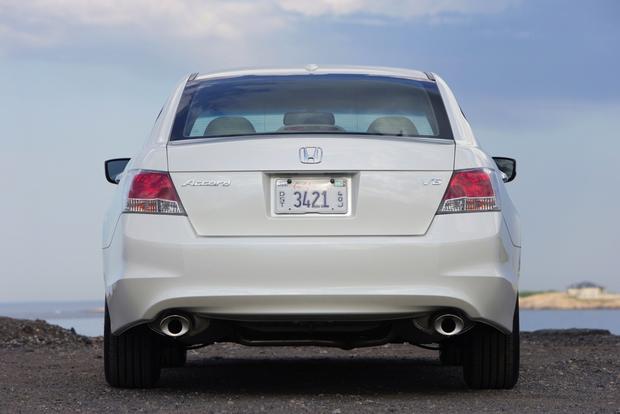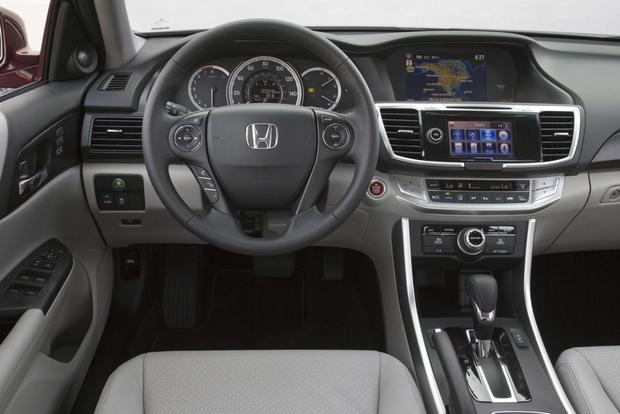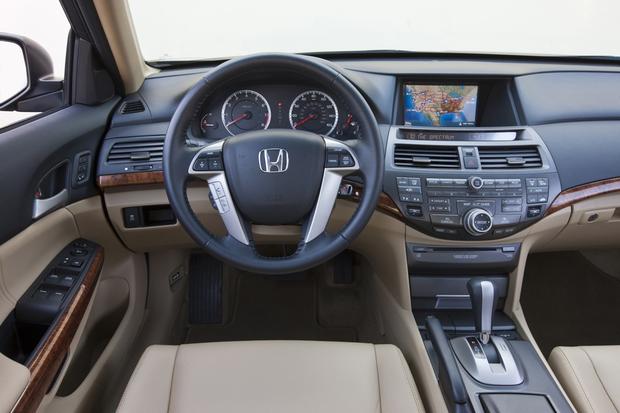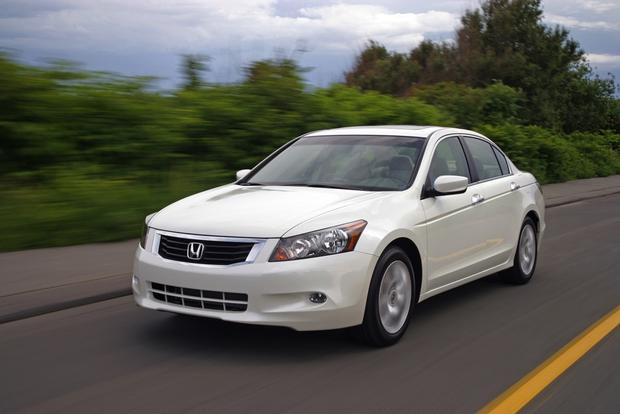 Introduction
The 2013 Honda Accord is completely redesigned, replacing a model just five years old. One of the best-selling vehicles in America for more than two decades, the Accord continues in mid-size 2-door coupe and 4-door sedan configurations, adding new connectivity features and safety technology as well as a more fuel-efficient Earth Dreams 4-cylinder engine.
In this installment of New vs. Used, we focus on the Accord Sedan models and decide whether the changes are dramatic enough to recommend a new Accord instead of a well-maintained used Accord. Let's take a closer look.
Fuel Economy
The previous generation Accord Sedan, sold from 2008 to 2012, came standard with a 2.4-liter 4-cylinder engine with a manual or automatic transmission, and offered a 3.5-liter V6 engine as an option. So does the new 2013 Honda Accord Sedan.
The difference now is that the standard 2.4-liter 4-cylinder is brand new--what Honda calls an Earth Dreams engine--and that the optional V6 includes Variable Cylinder Management (VCM) technology, a cylinder deactivation system that shuts half of the cylinders down under certain driving conditions to conserve fuel. The 2013 Accord also has new manual, automatic and continuously variable transmissions.
In the 2008-2012 Accord, the standard 2.4-liter 4-cylinder engine generated 177 horsepower in LX, LX-P and SE models, and 190 hp in EX and EX-L models. A 5-speed manual transmission was standard on the LX, LX-P and EX, while the SE and EX-L models included a 5-speed automatic transmission. In combined driving, the EPA fuel economy rating was 27 mpg regardless of transmission choice.
The new 2013 Accord's 2.4-liter 4-cylinder engine makes 185 hp in all models except for the new Accord Sport, where it develops 189 hp. A manual gearbox is standard in LX, Sport and EX models, equipped with six forward gears instead of five. A new continuously variable transmission (CVT) is optional on these models and standard on the EX-L and Touring trim levels. Fuel economy ratings range from 28 mpg to 30 mpg in combined driving, depending on transmission.
Last year, the Accord's available 3.5-liter V6 made 271 hp and came paired with a 5-speed automatic transmission. The EPA gave the Accord V6 a 24-mpg rating with the automatic. The new 2013 Accord's 3.5-liter V6 makes 278 hp and is bolted to a 6-speed automatic transmission. The fuel economy rating is 25 mpg in combined driving, thanks in part to the extra cog in the transmission and Honda's VCM technology.
Given a 1-mpg upgrade in combined fuel economy ratings for the manual transmission and models with the V6 engine, the 2013 Accord doesn't make a compelling argument if fuel economy is your top priority.
However, most people buy an Accord equipped with a 4-cylinder engine and without a clutch pedal. For 2013, there's a 3-mpg difference in combined driving for the volume model, the 4-cylinder/CVT combo. This is a worthy improvement, especially on the more affordable trim levels, where an increase in horsepower accompanies the increase in fuel economy.
Safety
As a part of the Honda Accord's complete redesign, the midsize family sedan includes new safety features, starting with the car's underlying structure.
Like the previous generation Accord, the new Accord employs Advanced Compatibility Engineering (ACE) construction designed to make the car more compatible with a wider variety of vehicles. The difference in the new car is that it features next-generation ACE II engineering with higher grade steel.
Though the new Accord continues to offer just six airbags (many competitors offer seven or more), it does have SmartVent side-impact airbags that eliminate excessive deployment force and, in the process, the need for occupant classification sensors. Additionally, the new 2013 Accord comes standard with standard Bluetooth connectivity, SMS text messaging capability, hill start assist, an expanded-view driver's side mirror and a reversing camera.
People wanting anything more in terms of safety features need to upgrade to the Accord EX, EX-L or Touring models. Honda's new Lane Watch blind spot information system is standard on all three of these upper trim levels but, strangely, only monitors the right side of the car. The EX-L and Touring include a multi-angle reversing camera, a forward collision warning system and a lane departure warning system. The Accord Touring comes standard with adaptive cruise control.
Clearly, the redesigned Accord is better equipped in terms of safety technologies. But do these features make the car safer than the old Accord in a collision?
The 2008, 2009 and 2010 Honda Accord Sedans missed a perfect 5-Star overall crash-test rating due to a 3-Star side-impact score for the front seat passenger. The 2011 and 2012 Accords resolved that issue, earning a 5-Star overall rating, including for rollover resistance. That's rare--especially because for 2011 the National Highway Traffic Safety Administration (NHTSA) strengthened the requirements necessary for such a rating.
The Insurance Institute for Highway Safety (IIHS) named the 2012 Accord Sedan a Top Safety Pick. In 2008-2011, however, the Accord missed the mark due to a roof crush strength rating of Acceptable instead of Good.
Unfortunately, as of this writing, neither NHTSA nor the IIHS has performed crash tests on the new Accord, but Honda claims the redesigned Accord will repeat the 2012 model's excellent performance. Furthermore, the IIHS is now performing a new small overlap frontal-impact test that will certainly test ACE II's mettle--or metal, as is the case.
In summary, if you simply want the safest car at the lowest price, a used 2012 Accord Sedan does an outstanding job of protecting occupants. If you want the latest safety engineering and technology, the new Accord is the best choice.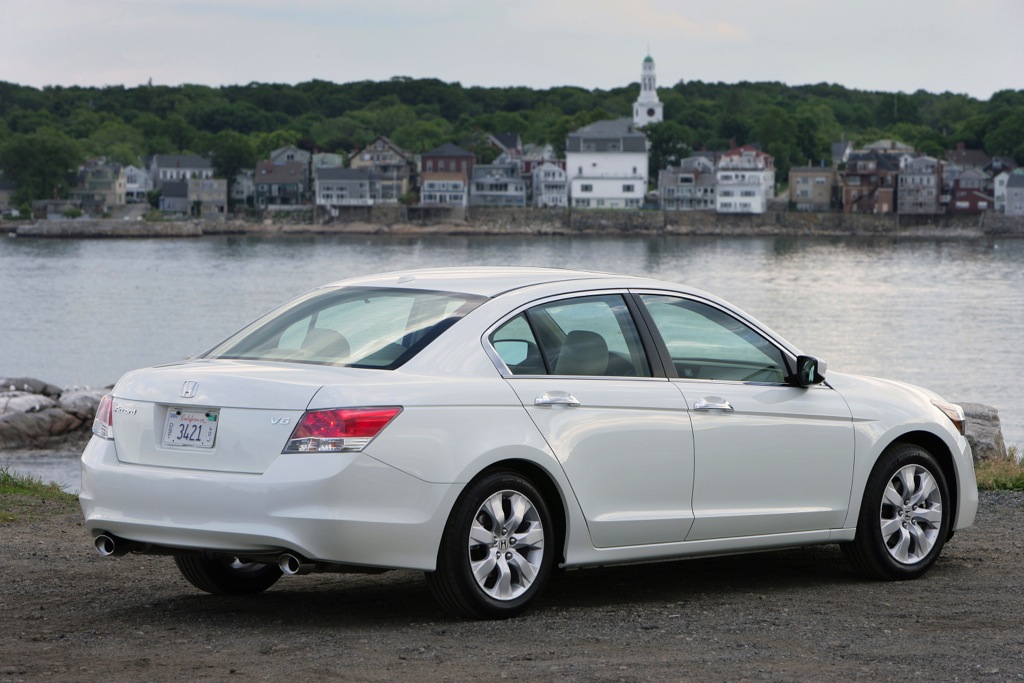 Reliability
Generally speaking, the previous generation Honda Accord proved dependable, though data from Consumer Reports does reflect owner complaints about the braking system.
Honda's Certified Pre-Owned (CPO) warranty will cover trouble with brakes. Honda CPO vehicles include extended bumper-to-bumper coverage for a minimum of one year or 12,000 miles from the CPO purchase date and a maximum of four years or 48,000 miles from the car's original in-service date when new. Accords sold under Honda's CPO program also have a 7-year/100,000-mile powertrain warranty, undergo a 150-point vehicle inspection and come with a CARFAX vehicle history report.
By comparison, a new Honda Accord provides a 3-year/36,000-mile bumper-to-bumper warranty and a 5-year/60,000-mile powertrain warranty.
Value
Depending on trim level and equipment, certified pre-owned 2008-2012 Honda Accord Sedans with average mileage range in price from $12,500 to $29,000. The redesigned 2013 Accord LX Sedan starts at $22,470 with a manual transmission. An Accord Touring Sedan with all the fixings costs $34,220.
When financing a used car, interest rates are often higher. Through Honda's CPO program, low-interest loans are available to qualified buyers, making a used Accord more appealing. However, the deals might not match the rates and terms offered on new models.
Technology
In a tech-driven world, redesigned cars typically gain new features reflecting the latest information, safety and entertainment technology. That's true for the redesigned Honda Accord Sedan, as demonstrated above.
In addition to new safety technology, every 2013 Accord offers Bluetooth, streaming audio, Pandora Internet radio compatibility and dual-zone automatic climate control. Keyless entry with push-button ignition is standard on the EX, EX-L and Touring, while the EX-L and Touring include LED taillights and HondaLink technology, which pairs with a smartphone to run mobile applications from remote servers (a.k.a. "the cloud"). The Accord EX-L V6 has LED running lights, and the Accord Touring includes LED headlights.
Clearly, the redesigned 2013 Accord provides car buyers with greater access to modern technology than the previous generation model, especially on the more expensive models.
AutoTrader's Recommendation:
The redesigned 2013 Accord is a better car than the one it replaces. The new Accord gets better gas mileage, provides more safety and convenience features on all trim levels, and includes new structural engineering and airbag design to help it better protect passengers in a collision. Plus, the Accord LX, which includes everything you really need in a new car, costs just $23,270.
The previous generation 2011 and 2012 models are safe and reliable, and those covered by Honda's CPO program offer an extended warranty and low-interest financing rates. There's a real value story here, especially if you're on a strict budget or just don't care about having the latest technology.
If the bottom line is your first concern, you'd do well to carefully consider a 2011 or 2012 Honda Accord. However, the new Accord Sport model is something you're not going to find as an older model (at least not right away) and the $24,000 price tag is about the same as the asking price for a used Accord EX that's just one or two years old.
Finally, the 2013 Honda Accord's available safety and connected features like Lane Watch, standard Bluetooth, Pandora and HondaLink are fairly compelling. Most shoppers simply expect these kinds of features even on lower priced cars.
The Honda Accord is such a good car that both new and older versions are worth considering. For 2013, there are many compelling updates and most are features you just can't get on an older Accord. You may be able to save a little bit of money on an older Accord, but we don't think the price difference is enough to justify missing out on the newest and latest in-car tech and safety features.