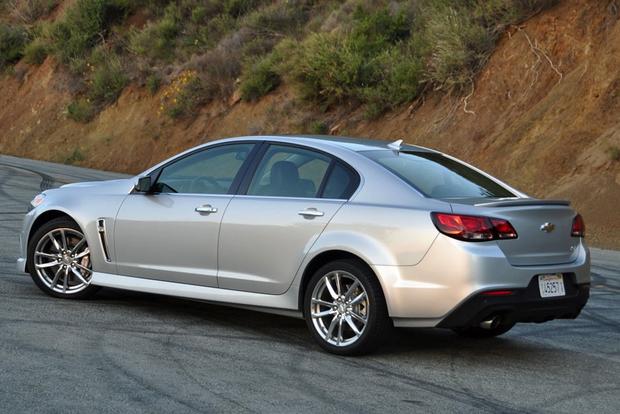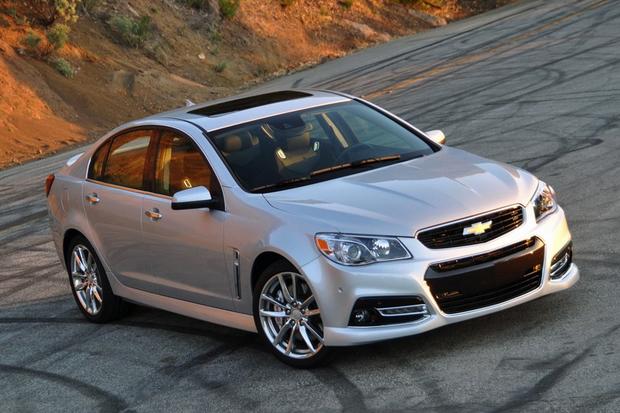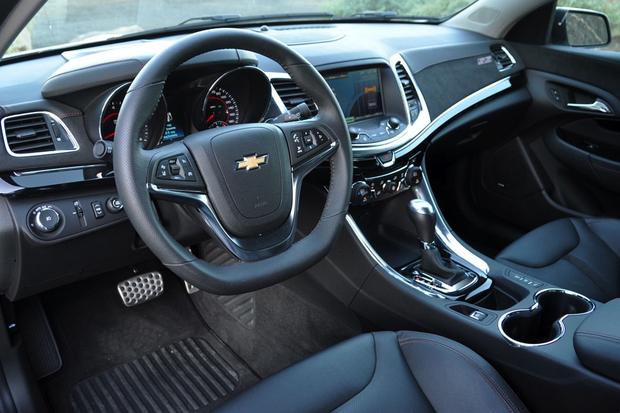 Super Sport, or SS, runs deep at Chevy. Ironically, the letters resemble an aerial view of a driving enthusiast's favorite kind of road, but the first Chevrolets to wear the SS emblem were good at going fast only in a straight line. Today, that's no longer the case, as I discovered during a week spent with a 2014 Chevrolet SS, which rightly sits atop a 5-car lineup as a performance-oriented halo model, casting a positive glow upon Chevy's mainstream sedans.
As a kid, one of my first thrilling/terrifying rides in a car came in my uncle's Nova SS. While I was flung around the back seat -- remember, these were the days before seat belts -- he burned rubber and slewed that Nova around our Detroit suburb as though he had an unlimited budget for gas and tires. Fast forward more decades than I care to count, and I found myself giving my own kids a dose of Chevy SS fun while finding out just how practical this $45,770 car can be.
SS Performance
Now, before you choke on that price tag, it helps to understand exactly what a 2014 Chevrolet SS is. In Australia, General Motors builds a car called the Holden Commodore, a rear-wheel-drive sedan with lots of performance potential. The Chevy SS is basically that same car, built in Elizabeth, South Australia, and jam-packed with a 6.2-liter V8, which produces 415 horsepower and 415 lb-ft of torque.
According to Chevrolet, it takes just five seconds to get the SS sedan to 60 miles per hour. By the seat of my pants, that's a believable number. Better yet, the SS has no problem when it comes to tackling set after set of S-shaped curves. Visit the Chevy website, and this 4-door sedan is listed on the Performance menu with the Camaro and Corvette. Having driven the 2014 Chevrolet SS extensively in the mountains above Malibu, that makes sense to me.
Real-World Value
The question, then, is this: How does the Chevy SS perform in the real world, the one in which parents shuttle children, sit in traffic and trundle through mall parking lots? Can a driving enthusiast faced with a decade or two of child rearing trade the keys to a sleek and sexy coupe and be happy with the SS?
Before answering that question, let's tackle the issues of cost, both in terms of the sticker price and the dismal fuel economy. You're going to need to be among the higher-earning mommies and daddies if you're planning to use a 2014 Chevrolet SS as a daily driver. That sticker price is inflated by a $1,300 gas-guzzler tax, necessitated by fuel economy ratings of 14 miles per gallon in the city and 21 mpg on the highway. Do a little math, and you'll be spending about $70 every 300 miles or so in order to keep this family car fed with its recommended premium fuel.
As for the sticker price, there are two ways to look at the value proposition. One is to recognize that the SS is loaded with everything except a power sunroof, and you can't touch an Audi S4, a BMW M3 or even a CLA45 AMG for the same amount of money. On the other hand, you could also buy any number of mainstream family sedans for much less, saving money that you'll need one day to pay for college tuition.
Good Fit for Kids and Parents
Whatever your situation, the 2014 Chevrolet SS works just fine as a kid hauler. The trunk is huge at 16.4 cu ft., and I had no trouble loading a full-size stroller, which easily fit lengthwise against the rear seat backs. While the SS doesn't have folding rear seats, it does offer a center pass-through that is larger than most, enhancing the car's practicality.
Installing child safety seats is a snap, thanks to LATCH anchors that are easy to access and use. My 3-year-old could barely reach to kick the driver's seat back. I put a reverse-facing child seat into the SS, too, and it fit with no trouble.
Parents will be comfortable in the 2014 Chevrolet SS, too. Up front, the 10-way power performance seats are exceptionally comfortable, and they slide back far enough to accommodate taller people. Leather with suede microfiber inserts comes standard, and everywhere you're likely to rest an arm or elbow is softly padded. Plus, the SS is extremely well-equipped, and except for that glittering gold Chevy badge, could legitimately be considered a luxury sport sedan.
The Chevy SS has not been crash-tested, but this car comes standard with a long list of collision-avoidance technologies. Plus, six free months of OnStar service is included, which means that if you do crash and the car's airbags deploy, an Automatic Crash Response system automatically alerts authorities.
Some people say car enthusiasts are a dying breed. I don't believe it. Apparently, Chevrolet doesn't either, and while the Chevy SS won't ever sell in big numbers, it does offer a unique proposition to sport-sedan buyers who are looking to drive something different from what everyone else owns.