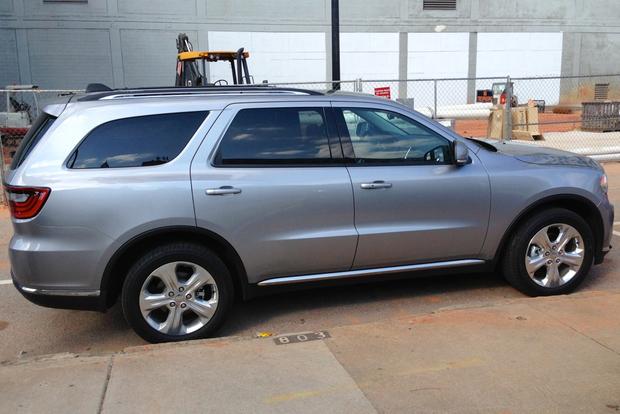 For many car shoppers, the Dodge Durango nameplate brings up visions of a truck-based, brawny SUV designed more for towing and hauling than family outings. And that is an accurate description of the Durango's first two generations, which used trucklike body-on-frame construction and styling inspired by the Dodge RAM pickup.
But the 2014 Dodge Durango is different. Now built on the same crossover-style, unibody chassis as the Jeep Grand Cherokee, the latest Durango is touted as a rival to 3-row family SUVs. So, is it? We spent a week with a 2014 Durango Limited to find out.
Gorgeous Inside and Out
Several staffers drove our 2014 Durango test car during the week we spent with it, and they each had the same positive impression of its interior and exterior styling. The exterior especially drew praise for its clean lines and handsome proportions. Maybe our only complaint is that the Durango's styling could still be a bit too bold compared to rivals that offer a smoother, curvier look.
The interior mainly drew comments about its clean appearance, its comfortable seats and its unusual rotary shifter, which gives the SUV an upscale look and feel. Staffers who drove the Durango were also impressed with its paddle shifters, which go a long way toward creating a high-end ambiance, even if we never plan to use them.
Excellent Powertrain
The biggest surprise during our week with the Durango was its excellent 3.6-liter Pentastar V6. You might think a 3-row SUV such as the Durango would need a big V8 in order to get up and go, but you quickly shake that notion in the Durango, thanks to its Pentastar V6 and a responsive 8-speed automatic transmission, which is new for the 2014 model year.
Of course, the V6 isn't especially adept at certain jobs, including towing. While it's capable of pulling a strong 6,200 pounds, the real powerplant for towing is the still-available HEMI V8, which boasts a whopping 360 horsepower and 390 lb-ft of torque. Still, the V6-powered Durango's 290 hp is more than adequate for most situations, and some staffers returned an impressive 20 miles per gallon in combined city and highway driving. Spend most of your time on the highway and you can do even better, as the Environmental Protection Agency rates the Durango for 25 mpg hwy.
Interior Pros and Cons
While we liked the look of the Durango's cabin, we noted a few drawbacks. Yes, the seats are comfortable, and the Durango Limited's list of amenities is exceptional, ranging from leather upholstery to a remote starter and an 8.4-inch touchscreen display.
But we found issues with the Uconnect system, which is different from the one we've enjoyed in the latest Dodge Dart. In the Durango, the system was occasionally slow to respond to demands and didn't include real-time traffic. We also noted that the automatic tailgate took its time going down and coming up, and the third-row seat was small, even for a third-row seat. Second-row legroom also wasn't as impressive as you might expect given the Durango's size.
3-Row Grand Cherokee?
SUV buyers know and often protest that the Jeep Grand Cherokee can't be had with a third-row seat. But since the Dodge Durango is built on the same assembly line using the same engine, transmission and drivetrain, isn't the Durango just a 3-row Grand Cherokee?
Yes and no. While the 2014 Dodge Durango offers many of the features that we love about the Grand Cherokee, including its infotainment system, comfortable seats and driving position, it doesn't boast the Jeep name, which commands something of a premium over the Dodge brand. As a result, we found it hard to swallow the $47,000 MSRP of our test car. The Durango is an excellent vehicle, but we think many shoppers will think twice before spending that kind of money for a Dodge. We don't think they'd have the same issue with a Grand Cherokee.